Alert: Regardless of the fact that I say Pinterest ten million times (drinking game, anyone?) this wasn't paid or perked by them or anyone else. We're just eye-candy obsessed gals who love a good pin-fest. Sometimes while eating Oreos.

You guys know my Pinterest addiction runs deep from this heartfelt post of yore. So when Katie called me to say that she thought we should challenge ourselves to make one thing each season that's inspired by all the amazing stuff that we've pinned over there (and call it… wait for it… The Pinterest Challenge) I thought it sounded like fun. It's a welcome slap of stop-pinning-and-start-doing. Because I've pinned 738 things. And I've done four (this one, this one, this one, and this one). Well five if you count this haircut – but I outsourced that.
Look, Katie even whipped up a spiffy little graphic:

Oh and because Katie and I geek out whenever we're together (even just virtually for a little self-issued challenge) we got more than a little goofy and decided to make this video to explain the whole idea of the challenge. And there's a pretty exciting cameo in it (and I'm not talking 'bout Burger- although he does try to steal the show). So don't scroll down before watching the video unless you're a fun-hater and you wanna ruin the surprise (or you're at work so you can't watch videos – well I would still watch it on silent before scrolling, but that's just me):
Ah outtakes. They're my favorite thing ever. I'm working on a theory that outtakes are the window to the soul. My soul's apparently a total nerd, but hey, nerd is the new jock. Anyway, I told you Katiekins and I go crazy when we team up, so you were adequately warned. Or maybe it's just the camera that makes it impossible for me to act normal (as demonstrated here). That's another theory I'm working on. Camera-induced-insanity.
But back to my Pinterest project. John and I were brainstorming a chandelier or hanging pendant light for the laundry room and came up with the idea of using a mega-amount of clothespins to create some sort of shade. And what do you know, when we searched Pinterest to see if anyone else has tackled something similar, the perfect pinspiration (har-har) popped up in the form of this project (originally from here) and this project (originally from here). What are the odds? Not one but two clothespin light fixtures to use as a jumping off point. Oh happy day.
So far we've installed a $5 light kit from Ikea…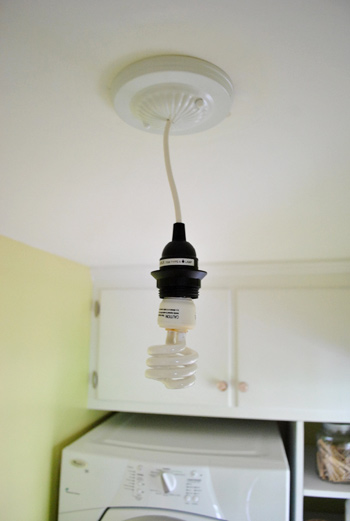 … and have picked up these materials for the shade part of the pendant: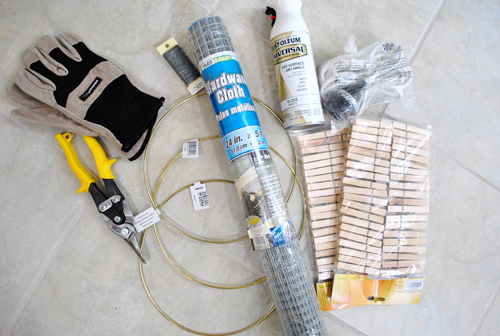 We're definitely going to put our spin on things (so it might end up looking like sort of a hybrid between the two amazing fixtures above) but we'll just have to see where we end up. I know I'm weird, but sitting on the floor playing with various clothespin patterns sounds like a good time to me.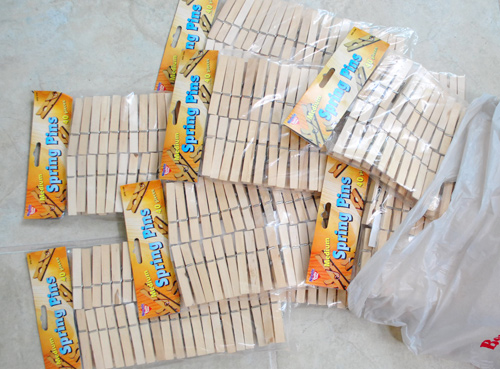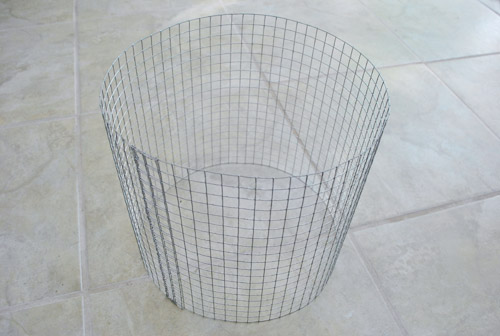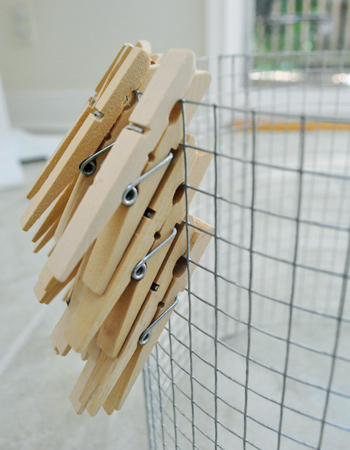 Oh and did you catch the part in the video where we invited you to partake in the challenge along with us? First, here's the "us" breakdown:

So here's the part where I extend my arm with a warm smile and a wobbly curtsey and humbly invite you to join in and do your own spin on something you pin. You know, if you're into that sort if thing. We figured we'd give everyone (and ourselves) the weekend to work on stuff and reconvene next Tuesday morning (the 2nd) to share our projects. We were hoping this thang (yes, I got twangy on you) could turn into a fun little creative par-tay for anyone else who wants to get in on the fun, so just drop in next Tuesday to see what we've done – and submit links to stuff that you've done so we can see what you've been up to. Maybe we'll even pin it. And so the vicious cycle continues…
Psst- We're talking about how photo albums are dead to us over on BabyCenter today. Check it out and tell us what you do with all your pics.
Update: If you want to get in on another challenge (with prizes), we just learned that Rebecca over at BetterLifeBags does one every month. So be sure to check that out too!