Even though we declared our kitchen project done over a month ago, there are still little dangling tasks hanging over our heads. Some, quite literally. See that shadeless stick of a pendant hanging down from the ceiling in the fireplace area?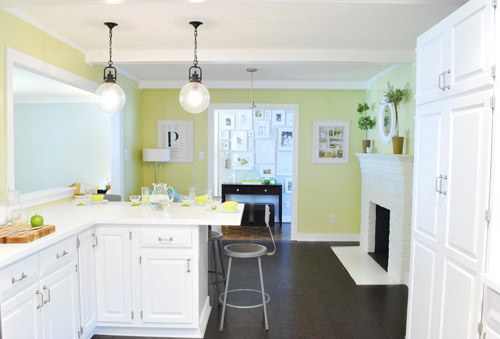 That old pendant has been broken forever (despite me fixing it once already) so that half of the room has been cloaked in darkness for months. Well, or least in comparison to the rest of the room which has been light and bright since our little lighting overhaul during the kitchen reno.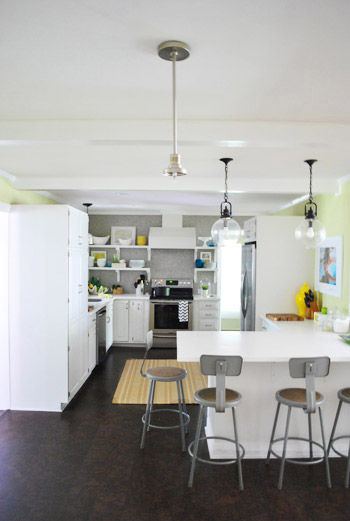 Our temporary lighting solution has been this floor lamp tucked in the corner. But it too has woes of its own. One of the switches broke, so leaning over behind the chair and unplugging it/plugging it in is now the only way to turn it off or on. Not the end of the world, but not the nicest thing on the ol' back when you're doing it multiple times a day. We were over it after a few weeks and it has been the routine for a few months now.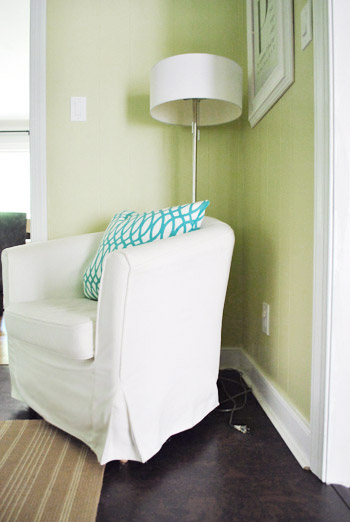 We even grew to call it the Bend & Snap (Legally Blonde, anyone?) – and although it makes the "exercise" mildly more entertaining, we were always keeping our eyes peeled for the perfect replacement for the broken ceiling pendant. And it took a while to find it.
The struggle that we were having was finding something that doesn't compete with the other pendants in the room. We wanted something pretty flush (since I'm a tall guy and I didn't want anything that felt too close to my head in such an open area), but nothing boob-light-ish. Oddly enough a ton of flush mount lights in our price range were what Sherry affectionately calls boob lights. Any lighting industry peeps listening? There's a hole in the market for good clean-lined and simple, not-curvy flush mounted fixtures that don't cost an arm and a leg. Sure there are a few crisp drum shade-ish options, but not the same insanely wide variety that there are for their buxom counterparts (frosted boob lights, marbled boob lights, ORBed boob lights, etc).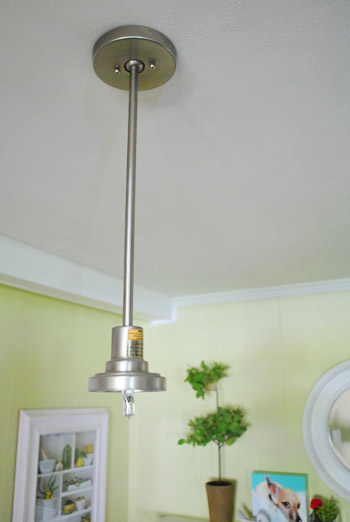 Finally, at our recent trip to Ikea, we came across Aläng. Let's just call him Alan for short. No wait, let's do Alän since I just learned how to type that umlaut and I'm feeling proud of myself (ALT+U then whatever letter you want under it, fyi).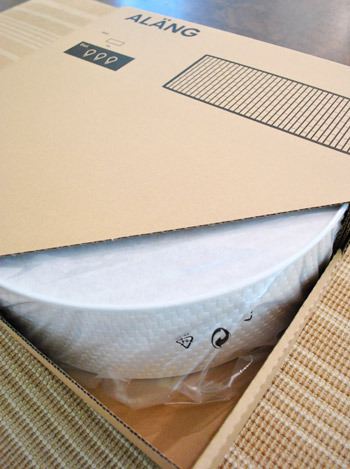 Anyways, Alän came in two sizes and we got the larger 18″ version for $40. Gotta love Ikea prices (many 18″ drum shades alone are around $40 without the light itself). But like most Ikea pieces, he required assembly – giving me flashbacks to assembling Max in our bedroom.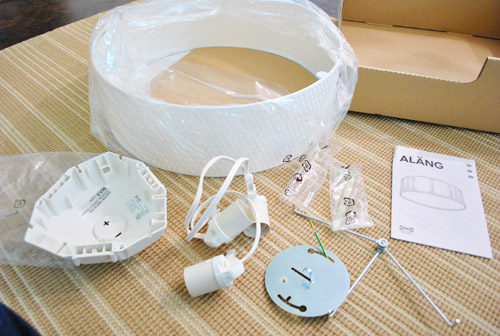 It wasn't that bad, though. First I had to pop each of the three light sockets into the central fixture. Easy. Though it created a bit of a jumble of wires that made me raise an eyebrow.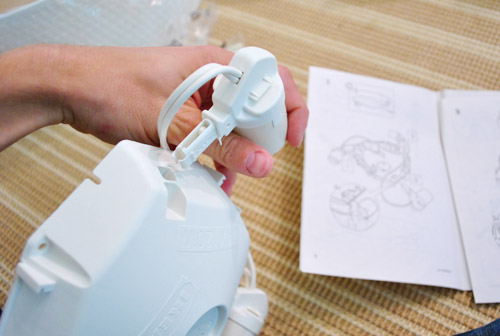 But it looks like Ikea was one step of ahead of me, having already placed clips and channels to wrangle the cords. My eyebrow returned to its default position.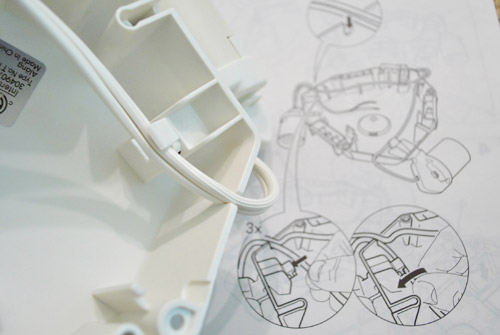 You can see how the wires are held against the sides of the central fixture in the pic below. Though I actually took this picture to show off how Space Invader-y this thing was starting to look once I added the spokes that would eventually hold the shade in place.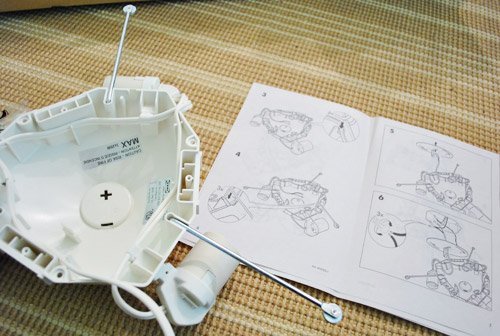 With the light as assembled as it could be without actually attaching it to the ceiling, I flipped off the power to the whole house (since neither our fusebox nor my memory is labelled well enough to be sure what breaker controls what) and began removing the old light.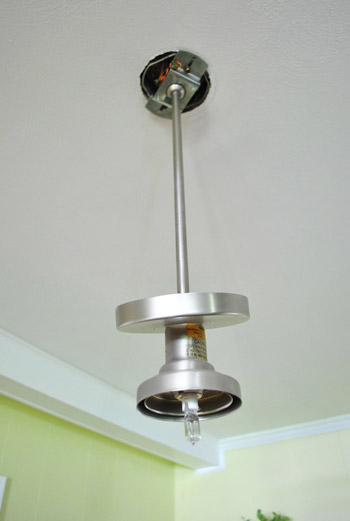 With old light out, Alän could begin taking his pläce. Here's he is all wired up and ready to be set flush against the ceiling.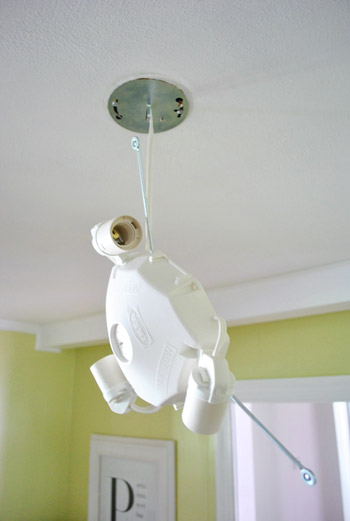 The system that secures the central fixture to the ceiling is kinda just a glorified zip tie, which was a little strange to me – I'm used to screws and bolts for these things. But it was easy and seemed to work great, so I shouldn't complain.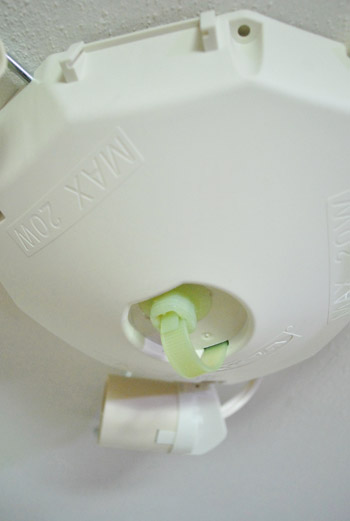 Then came turning the power back on to make sure my wiring was successful (it was). Oh and these incandescent bulbs were the only bulbs that we had three of at the time – but we've since replaced them with… wait for it… LEDs! And we love them so far. We'll have to give you a full report down the road as to how they last and how we like them over time. But they give off a really nice bright glow and we love that they should last an unbelievably long time and save us loot in the long run.
But back to hanging the shade. You may be wondering how it's secured. Well, those little spokey dudes are MAGNETIC. Yup they're tiny, very very strong magnets. Like the Altoids of magnets.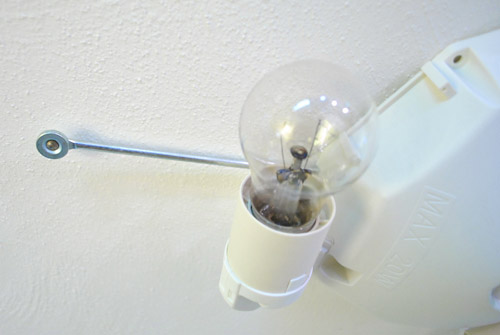 This, like the zip tie, they had me doubtful at first – but as soon as I felt the shade snap firmly into place with pretty surprising force I was all smiles. It was easy and quick to do and I'm pretty sure I don't have to worry about it falling on my head anytime soon (but if I did, the shade is pretty darn light anyways).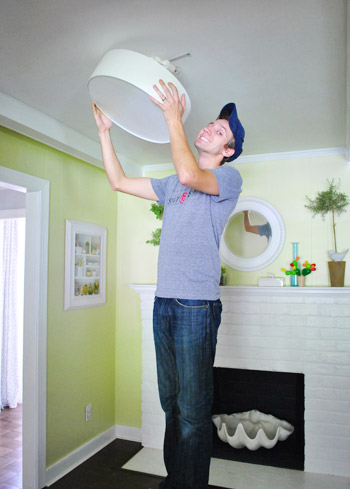 This is one of those can't-capture-the-true-beauty items that we own, but in person everyone who walks in comments on it. This picture is the closest thing to showing the pretty subtle woven detail and the soft glow that it gives off. Update: lots of folks are asking if it gives off a lot of light, it's not a glowing beacon that blinds you or anything but it should definitely be bright enough for a decent sized room or hallway. It only takes three twenty watt bulbs, but if you use CFLs or LEDs, they give off more light at lower wattages.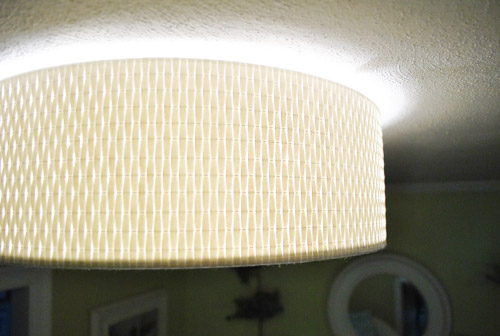 Of course that awesome subtle texture is lost in further away pics (but oddly enough, not in person – maybe because these pics are much smaller than life sized?), but here's Alän from further away. Ta-DÄH!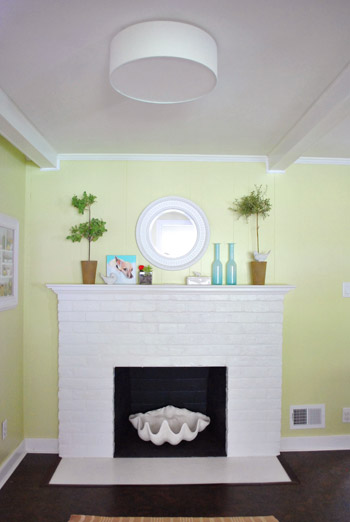 I don't know why I stood semi to majorly off-center to take the shot above and the shot below, but in person it's centered exactly between the two beams and it lines up with the mirror if you stand in the right spot. Düh.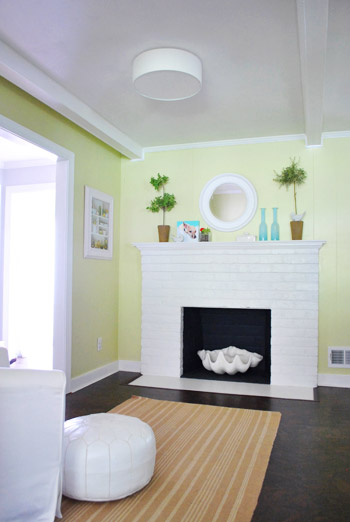 But enough with the celebratory umlauts. In short: Sherry and I are thrilled with it. It's pretty much exactly what we were looking for. Something that doesn't fight for attention with the other pendants. Something that we're not going to bump our heads my head into. And something that's not very boob-like. Plus it helps define that area over by the fireplace and feels more in proportion with that space than a single can light (or a directional light aimed at the fireplace) that we could have installed instead (we weighed both of those options and decided a nice clean-lined shade really helped add to the "casual living zone" feeling of that side of the room).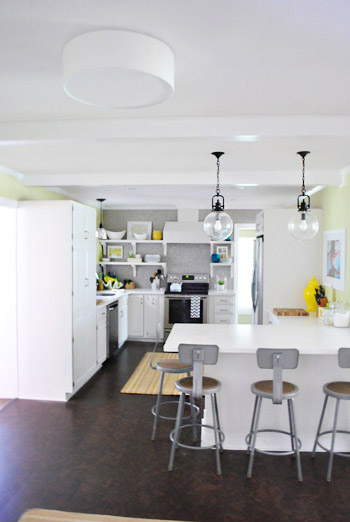 Heck, from the kitchen side of the room when he's off, you hardly even know he's there.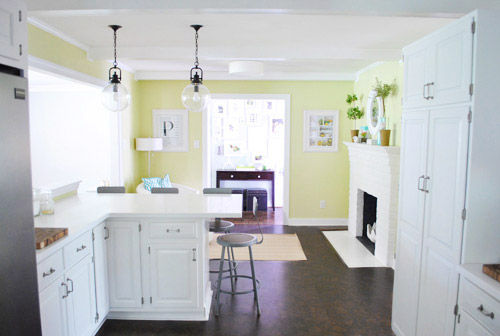 Though when the light switches are flipped on, we definitely appreciate his presence since it means the room is (finally!) evenly lit and we no longer have to bend over to plug in that darn floor light in the corner. In fact that light has since been banned from the room. We just don't need it anymore (huzzah! no more bending and snapping!) and now that corner with the chair looks more balanced.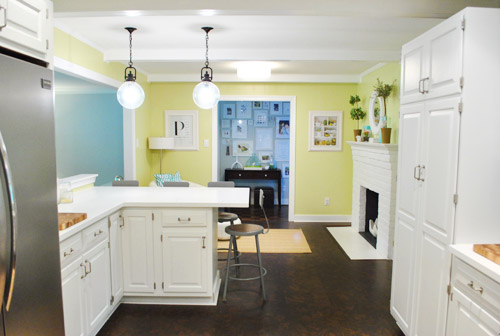 It's hard to tell in these wide room shots since it just gets kinda blown out and the detail is lost because they're small pictures (as opposed to actually standing in the room with it, where things are all life-sized), but in person the texture is such a nice detail that makes the light look special – but not so special that it's fighting with the more special over-sized globe pendants over the peninsula (don't tell Alän I said that). It's a delicate balance. Wish we could capture this guy better for you, because the photos here really don't do him justice. You'll all just have to come over for tea and scones or something.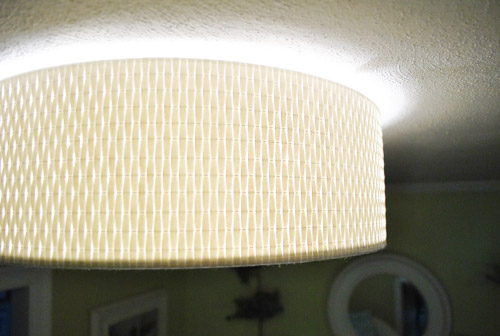 So that's one thing off of our lingering kitchen to-do list. Although Sherry and I have been talking about spray painting our stools at the peninsula (we wanted to live with them as-is for a while before making any rash decisions) and we're still not sure which way we'll go. We're hunting for a more permanent rug for the living area of the kitchen (the zone in front of the fireplace), so we'll wait to get that pinned down before making any final stool decisions. You know in case we find an awesome rug with some tone that we wanted on the chairs that would then be overkill if it was in both places. But we promise we'll keep you posted! For now we're just trying to enjoy having a nice, well-lit spot for our nightly dance parties with Ms. Clara. Have you guys installed any lights lately? Or had any issues finding the right flush mounted fixture? Are you currently debating painting metal stools or some other accessory in your house?