The other day I flipped on the lights in our kitchen and noticed one of the two pendants over the table was out.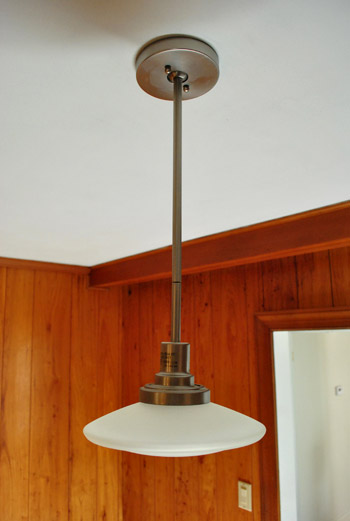 No biggie, right? The previous owners had thoughtfully left us a spare bulb (since they take tiny special ones) so I popped it in there and voi… nothing. Darn. Apparently my fix wouldn't be that easy.
I'm no electrician, but I figured-slash-hoped I could diagnose and solve the problem without having to call in help and/or buy a new light. Not that we have any special attachment to these fixtures in particular. In fact, we'll probably replace them for one larger light fixture over the island that we plan to add when we start overhauling the kitchen. But since we aren't quite ready to go down that road (which always seems to snowball into chaos if you're not ready for it), I had my sights set on saving this fella first. So off went the power to the whole house (call me Captain Better Safe Than Sorry) and down came the light.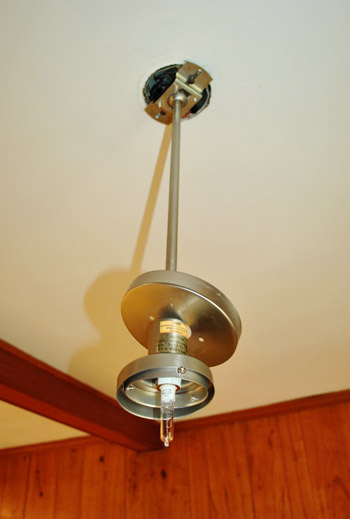 I tried tightening the wire caps in the ceiling. Maybe something had come loose? No luck.
I tried swapping bulbs with the working light. Maybe my spare bulb was a dud? Nope. Not it.
I tried removing it and reattaching it entirely, just because I was running out of ideas. Still nothing.
At this point Sherry was batting her eyelashes and sweetly requesting that I "leave it alone for now" (read: give up) because she could tell that I was losing patience with all of my light-related failures. And also because I accidentally dropped a screwdriver on my face (and might have cursed pretty loudly) during my latest attempt. Go me.
Speaking of short fuses, I even tried cutting the now-frayed wire ends off of the fixture and exposing some new fresh wire to see if that would help. All I ended up with was shorter wires. But still no illumination. Sigh.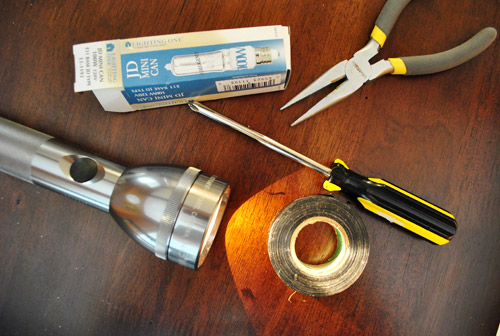 Thanks for sticking with me through this riveting play by play by the way. At this point I'm ready to take Sherry's advice and admit defeat.
My last task is just to put the darn thing back together so no wires are left exposed while we go light shopping. That's when I noticed something on the bottom of the light. The white wire going into the light socket had somehow become unattached. I hadn't noticed it before, so my guess is that maybe it was loose to start with, and all of my recent manhandling had knocked it completely out. So after a bit more manhandling (and basically disassembling the socket completely) I was able to get the white wire secured back into place: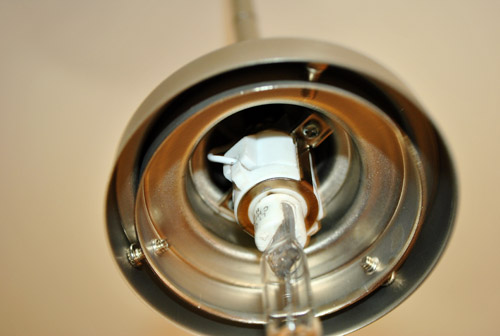 And that, my friends, is how I showed this light who's boss.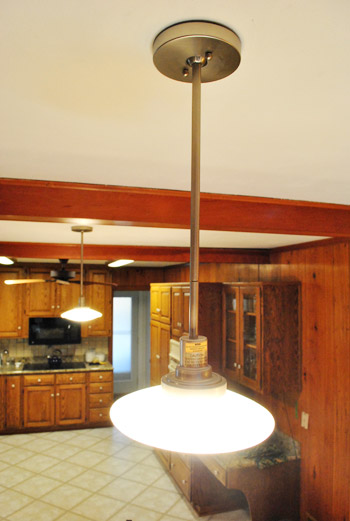 Don't mind the wonky shade, I straightened that out after snapping this photo (well, after Sherry pointed out that it looked crooked).
Now I realize the specifics of this electrical solution smackdown hardly apply to everyone who ever has a light out, but it does go to show you that sometimes a little persistence (and a screwdriver dropped on your face) can solve a problem if you stick with it. Kinda like when we managed to fix the pocket door in the last house by flailing around aimlessly and trying a few different things. Maybe we'll put the money that we saved on buying an interim replacement fixture towards a slightly more expensive permanent fixture someday when we actually dive headfirst into the whole kitchen redo. Call it a celebratory splurge. In case you're wondering, Sherry has her eye on this one in white. Although knowing us we'll be too cheap to pull the trigger and it'll sell out, forcing us to DIY something or hit up a local lighting outlet in search of something else that lights our fire. And that my friends, is my second post of the day that ends with a cringeworthy pun. You're welcome.