***This giveaway is no longer expecting entries – see who won below!***
Random.org once again spun its wonderful wheel of randomness and selected our two winners as… Amy @ Larryspearslive.com and Amanda Deerr. Congrats ladies!
Raise your hand if you want a $50 Lowe's gift card. Or better yet, give me a "hootie hoo." And if the thought of being one of two lucky winners doesn't instantly get your brain spinning with all of the potential projects that you could tackle, Lowe's Creative Ideas will happily fill your head with… wait for it… creative ideas. You may already know of the free Lowe's Creative Ideas magazines (if not, you can subscribe to 'em here), but even we didn't realize how much content they have on their website and Facebook page. And along with bigger building and DIY ideas they've also got decor tutorials (like stamping curtains) and crafty stuff (like making silhouette art) too.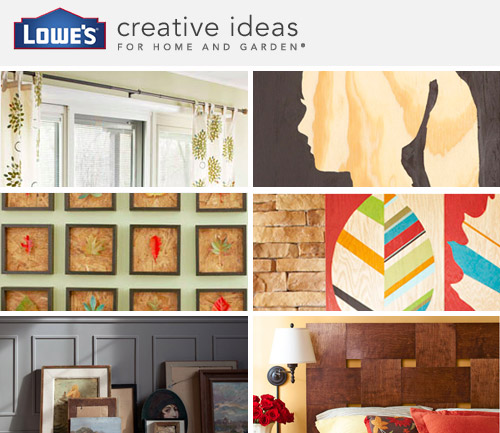 PRIZE: A $50 gift card to Lowe's courtesy of Lowe's Creative Ideas
TO ENTER: Comment on this post with the words "IDEA ME" and…
BONUS QUESTION: … tell us about your all-time most creative idea. Was it an awesome solution to an everyday problem? A delicious spur-of-the-moment recipe? An ingenious fix to home decor dilemma? Maybe you've just stumbled upon a simple household trick that makes your life easier (like letting the dog eat scraps around the highchair instead of vacuuming)?
GIVEAWAY CLOSES: Wednesday, September 14th at 8pm EST
NUMBER OF WINNERS: Two
PRIZE SHIPS: The 50 United States (although we do try to wrangle as many international giveaways as possible)
USUAL STUFF: One entry per e-mail address is permitted. The winners will be selected using random.org and announced on Thursday as an update to this post. That's right, come right back here on Thursday for the announcement of our winner. Good luck…
Note: We weren't paid or perked for hosting this giveaway, we just do 'em to thank you awesome folks for stopping in. See our Giveaway FAQs page for more info. Pics courtesy of Lowe's Creative Ideas.