To everyone who has been asking about Teddy's birth story, thanks for your patience. I like to let those things simmer a little while before I write about them (Clara's took me almost a year thanks to all of the mixed emotions I had going on) but Teddy's birth was a lot less scary and a lot more straightforward. Thank goodness! After going through such a traumatic first birth, nothing sounded better to me than a completely routine, scheduled, no-surprises-at-all delivery this time around – which it mostly was, for which I'm SO GRATEFUL. There were still a few surprises, but the primary challenge of this birth (and the whole pregnancy process) was fending off the worries, fear, and worst-case scenarios that my last experience had cemented so vividly in my head. In some ways, Teddy's birthday was like the culmination of four years worth of emotions.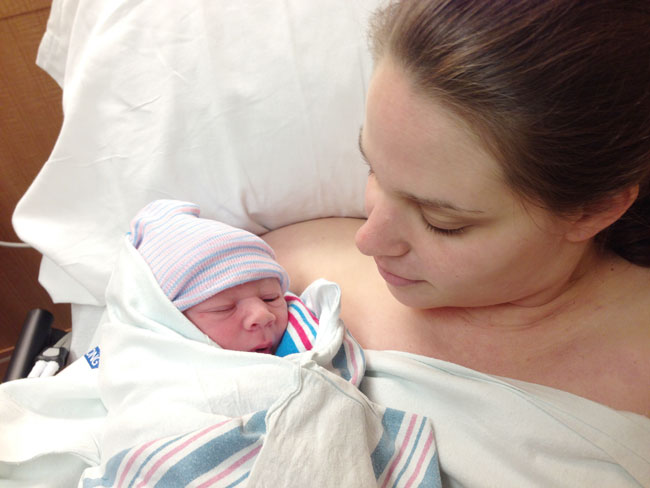 I had a scheduled C-section this time around, just due to the dangers of going into labor for myself and Teddy (that's what triggered my placental abruption with Clara) so while it felt sort of weird to know his birthday ahead of time, it was the kind of information my brain embraced. I felt so out of control with Clara's birth that I was happy to cling to any and all "constants" this time around.
April 16th was the day, and it came without any false (or real) labor scares beforehand. That alone was a huge blessing. We had to be at the hospital around 6:30 am, so we left Clara at home with the grandparents and off we went. It definitely felt weird to drive to the hospital without any contractions (on my way there with Clara I had been in a lot of pain). In some ways the calmness was nice (no pain is a good thing! who complains about no pain?!) but in other ways it gave space for the worries to start creeping in. The last time I was in the hospital having a baby, everything was fine… until it wasn't. So that whole it-came-out-of-nowhere thing was lurking in my head.
When we got there, they were quick to get me into a gown and then came the IV. I joked with the lady that I have the worst veins ever and it usually takes a few tries. She smiled and gave it a go. Yup, that vein of mine wouldn't cooperate. So it took three tries by three different people – the last one being an anesthesiologist who had to numb my hand before digging around to find the right spot. Apparently since I had been banned from eating or drinking that morning I was especially dehydrated, which made my usually-stubborn veins even harder to hit.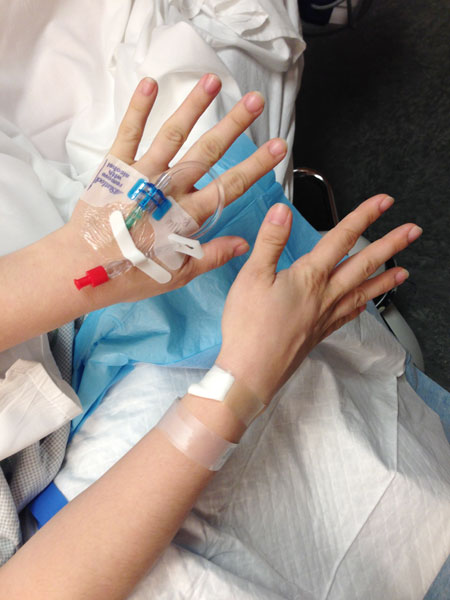 But the little IV challenge was good. It kept my mind busy so I wasn't just laying there freaking out. There was a monitor on my belly the whole time, which was reassuring, and the anesthesiologist was hilarious so we were all just chatting and having a good time. We learned his daughter had just slept through the night for the first time, so he said he was in a great mood and it was a going to be a great day. Before long it was time for the epidural, which meant that I would be wheeled alone into the operating room and John could join me after it was in.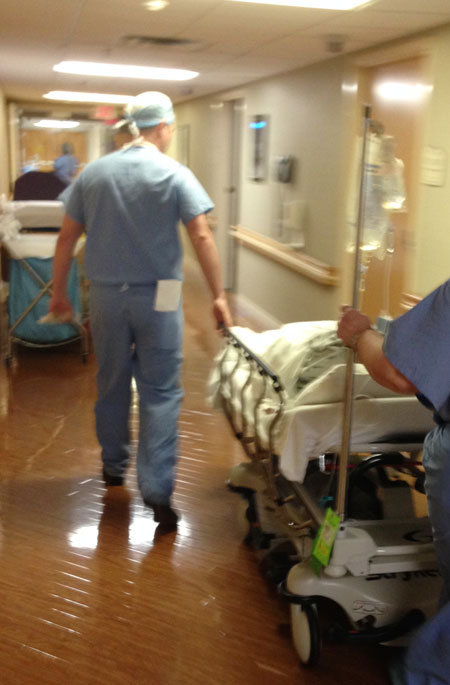 I know it sounds completely crazy, but John and I were separated during my emergency c-section for a little while (he was right outside the OR and I was inside) so as they wheeled me down the halls I had a nice little panic attack. It felt like my chest caved in and I couldn't breathe. After I realized I actually could breathe I was mostly just embarrassed. "Get it together, this is an awesome day" I repeated in my head.
Once inside the operating room, they had me sit up and curl my back so they could get the epidural in. This is when the mood got a little lighter again, because just like my stubborn veins, apparently my spine was being stubborn, so it took a bunch of attempts to get it in correctly (at one point I felt something dripping down my back and asked if it was blood – turns out it was spinal fluid). That might sound gross to you, but I LOVE that stuff, so it once again kept my mind nice and busy (no way! spinal fluid?!). Soon enough the epidural was in, and I was laid down and lifted to the operating table. And then I looked up.
SAME ROOM. I was in the same room that I had been in when Clara came into the world not making a sound. I'd recognize that ceiling anywhere. I had stared at it for what felt like forever while willing Clara to cry. It hit me so hard. I later learned that John was outside making the same realization. Same hallway. Same door. Just standing there again, nervously wondering what was going on inside.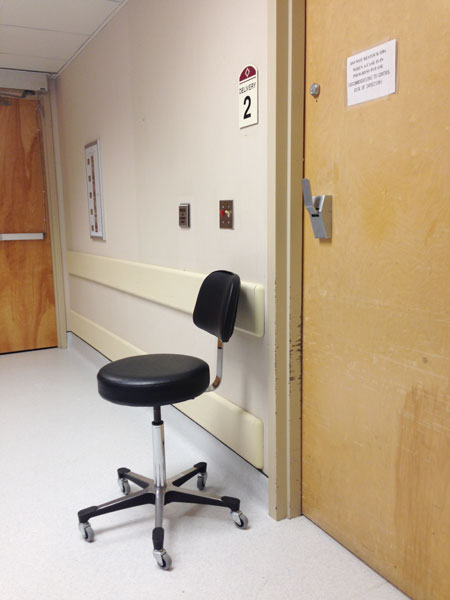 But as soon as they got me laid down on the table, John was allowed in. He grabbed my hand and everything was ok. Suddenly I felt a rush of excitement. We were going to meet our little boy! I might have squeezed John's hand too hard, but he didn't complain. I didn't even know he took this picture (my eyes were squeezed shut a lot of the time) but I loved discovering it on his phone a few days later. He said we missed so many photos during the frenzy of Clara's birth (we hardly have any at all) that he wanted to make up for it this time.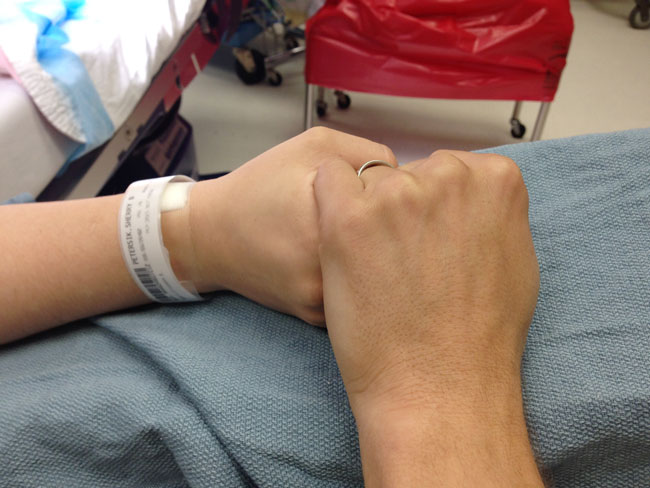 Maybe ten or fifteen minutes passed and the doctor said "he has so much hair!" and "he's so big!" and "oh my gosh, his kicks are so strong!" I remember saying something like "why isn't he crying?!" because that is literally all I wanted to hear, and she laughed and said "he's still inside, I'm getting him out right now" and then he started wailing. It was amazing. I'm welling up just thinking about it. It was the greatest release. He was out! He was crying!
They brought him over to me to do skin to skin a few seconds later, which felt so good. He was just laying there breathing, occasionally opening his eyes just a sliver to peek at me.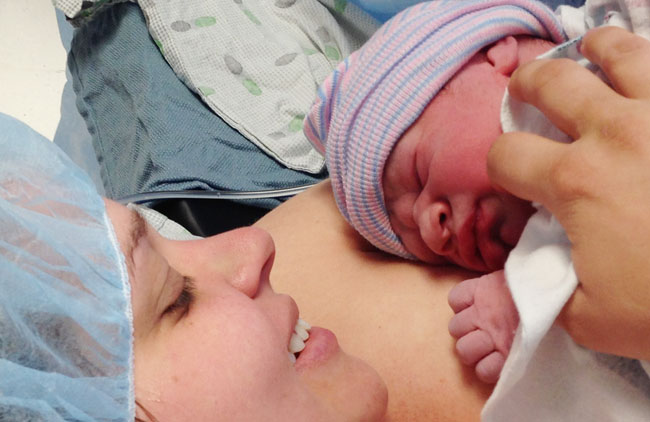 John and I blinked back tears and studied him. He was so close to my face I could see every little hair and freckle. We had a good laugh over the tiny baby hairs on his shoulder. Our little werewolf, we joked. They took him over to get cleaned up, weighed, and measured and he started crying again. John and I were both still just laughing and crying. It was one of the best feelings ever.
There was some excessive bleeding on my end (apparently my uterus wouldn't clamp down, so they had to give me a shot of pitocin to get it under control), but thankfully that worked and I didn't need any blood transfusions or anything. After I was all stitched up, I got to nurse Teddy. I just laid there, soaking up every detail of his tiny face. I looked up and saw John's eyes getting teary again. I know healthy babies come into the world every day, but it felt like a gigantic miracle to us.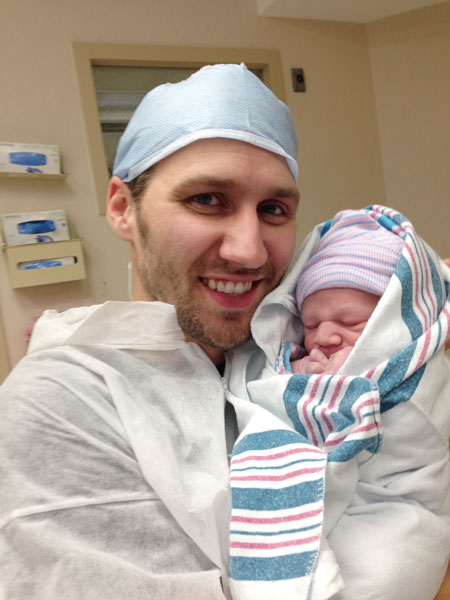 After we were settled in our permanent room, we got to introduce him to John's parents, my mom, and Clara. And just when I thought my heart couldn't burst any more, seeing Clara gently pet his head and asking to climb into bed with me and Teddy – well, I almost can't explain the euphoria. I am so grateful to the amazing people who helped us get both of our kids safely into the world and cared for me throughout this pregnancy.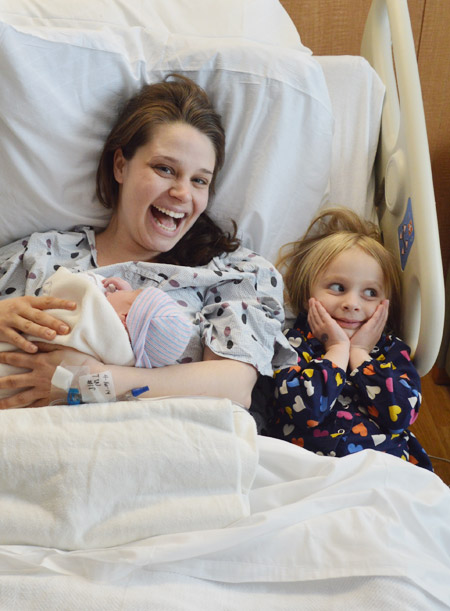 As for my second c-section recovery, it seemed a lot easier this time. I had a lot more trauma/blood loss the first time, and even my incision was smaller this time around, so I was up moving around in the hospital by the next day (I even got a morning shower!) and was off pain pills by the time I was back at home. One tip to other c-section mommas out there is that I LOVED the abdominal binder the hospital provided after I had Clara (I brought it with me and used it again after Teddy). It's this wide white band that you velcro around your waist and it just seems to hold everything together.
You know how it hurts to laugh or sneeze after a c-section, so you brace yourself against a pillow? Well, the abdominal binder is like constantly being braced, so those things don't hurt as much. And instead of walking around all hunched over, it helped me stand up straight and move around with less pain (I wore mine until about four weeks postpartum). I assumed everyone got one, but when I mentioned it randomly on an instagram comment about a week after Teddy's birth, I heard from so many moms who hadn't heard of them so I wanted to pass that tip along in case it helps. I'm sure most hospitals have them if you ask, and it made such a difference for me both times.
Weird abdominal binder sidebar aside, I wanted to thank you guys so much for the love and support you shared throughout this pregnancy and during the birth.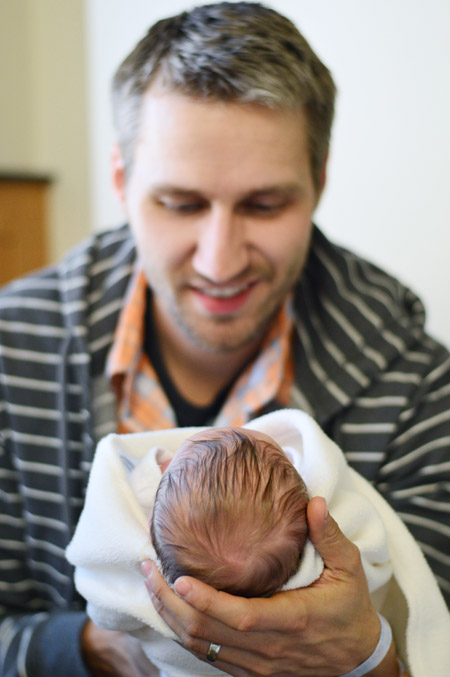 I can't explain how comforting it was to have your well wishes and support during such an emotion-filled time. Big wet kisses to all of you. Also, I think Teddy has a present in his diaper for you. Oh wait, that's for John ;)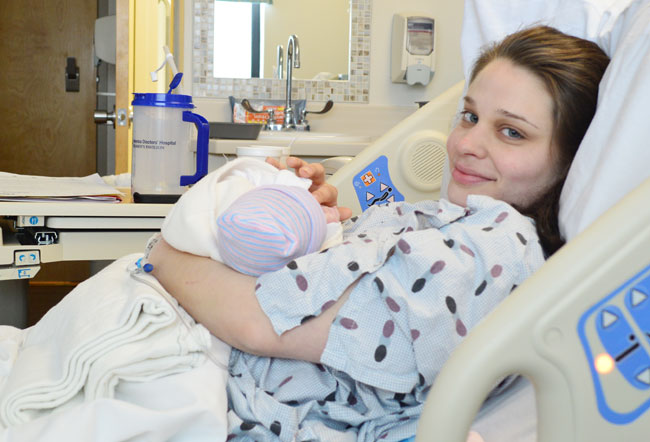 One more thing. How is my baby boy this big already?! INSANITY!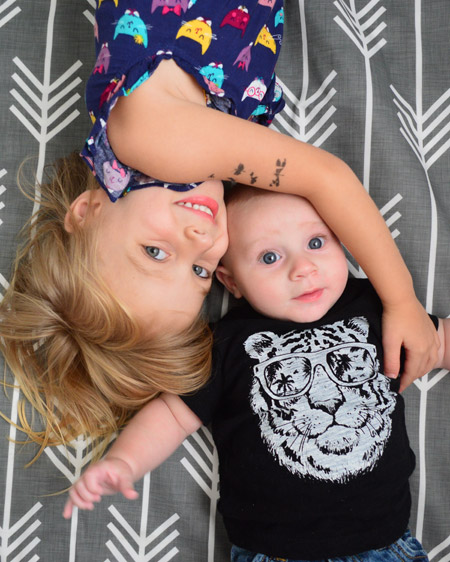 &nbsp
That was my description after we got our tile up on the wall. And under-cabinet sweaters are something I can get behind. It seems like just last week we were installing laundry room tile (oh yeah, because we were), but this time around we got to break out the tile we bought a while back for the wall behind our washer and dryer. Suddenly the room feels a lot more upgraded than the blank box that we started with, and it only took 13 sheets of tile to do it.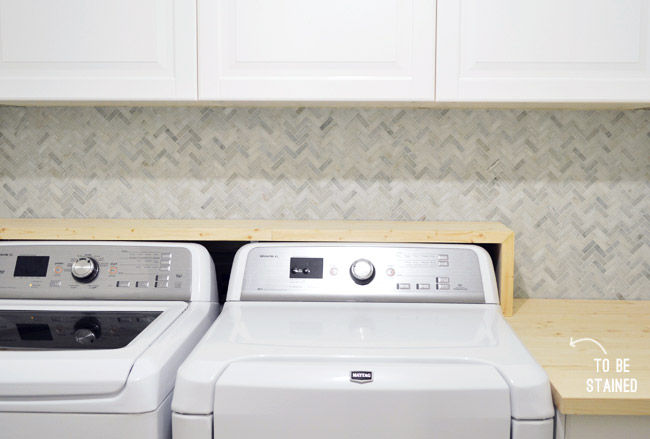 Try to ignore the unfinished shelf /counter since it's half done (still needs to be stained/sealed/installed, so we'll tackle that later this week). The important things to note about the shelf is that it will rest on some L-brackets and be completely removable, so we will still have easy access behind the appliances (we can even reach into that triangle between them while the shelf's in place to shut off the water in an emergency). But thanks to that new shelf, no random socks will fall back behind the washer & dryer anymore – plus it'll add some nice warmth & texture to the room.
The only reason we constructed the shelf/counter before tiling that area is so we could mark a line to indicate how far down we needed to tile (and make sure we didn't tile where those brackets would go, since hanging them first and tiling around them would be a lot easier).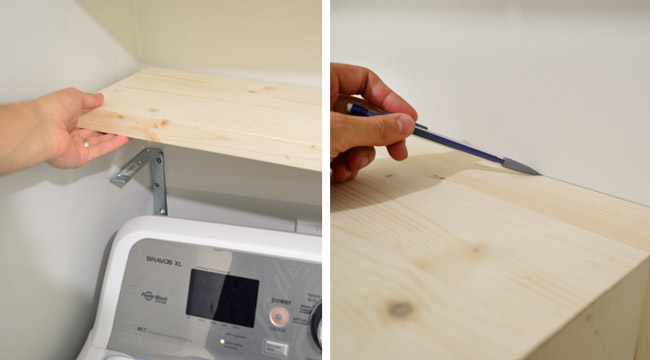 We'll be staining the wood slightly darker, maybe somewhere in the vicinity of #1 in the mood board below (you can also see the wall tile down there as #9, which is the Hampton Carrera marble from The Tile Shop, in the small herringbone pattern). We hear it's back-ordered now, so we wanted to be sure not to make any bad cuts that would result in us running out of tile and needing to wait months to finish this job (hence drawing that line above and taking things nice and slow). Note: all sources from this mood board are in this post.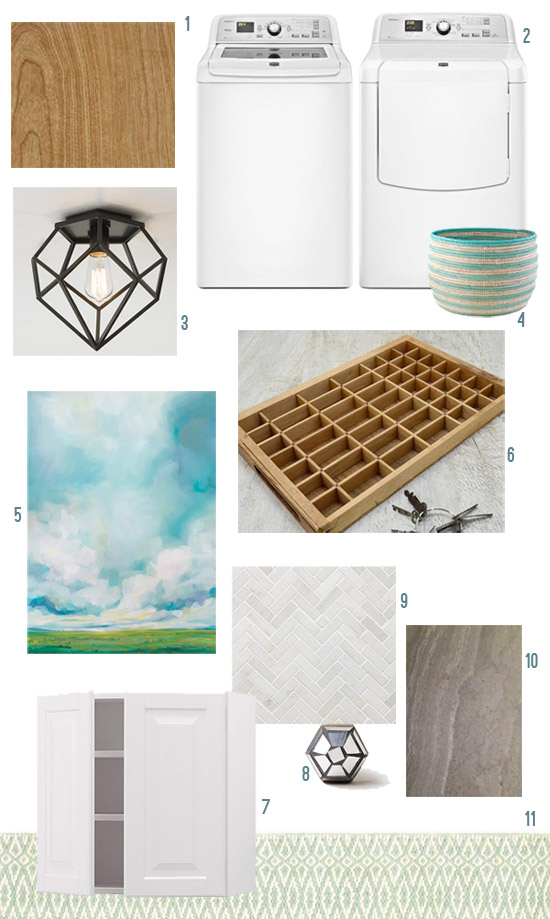 Two things were new about this tile job for us. We were taking a new type of tile for a spin (we made our own larger herringbone pattern out of marble subway tile from Home Depot on our old fireplace, but this tinier marble herringbone came in mosaic sheets, which we'd never used in combination with marble before – just on our ceramic penny tile). We were also using mastic for the first time, which would allow us to tile right over the painted drywall (we did sand it to get it a bit grittier first, though).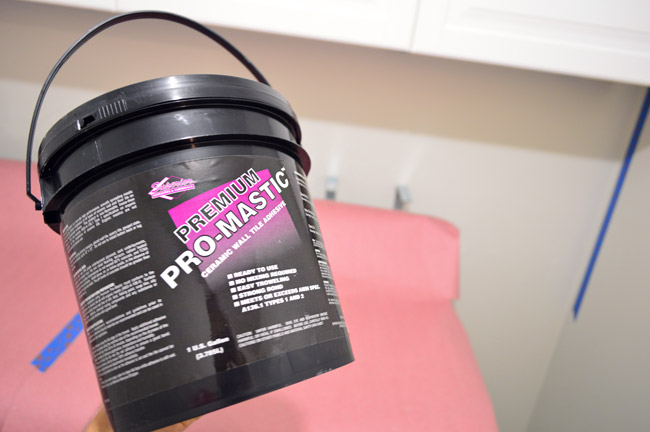 The mastic (from The Tile Shop) comes premixed and is sort of the consistency of spackle or drywall mud, but the process ended up being pretty similar to applying thinset, like we used on the floor. Although for the combination of mastic + this smaller mosaic tile, we used a smaller 3/16″ v-notch trowel to apply it.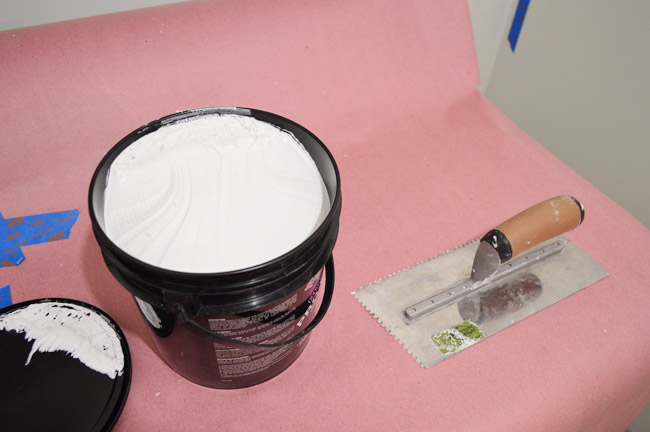 One thing that had us a little nervous about this project was cutting the tile without ruining too many pieces since it's on back-order. Last time we used a mosaic sheet was the ceramic penny tile in our kitchen, and it took some trial and error to figure out how to make clean cuts (spoiler: the wet saw made a mess of the mesh, so tile nippers ended up doing the trick).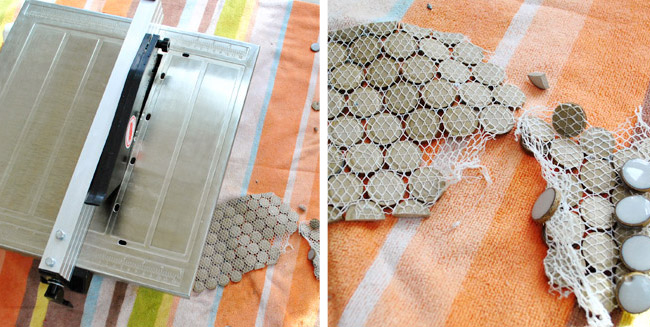 But some tips that we read online about marble mosaics had us convinced that the wet saw was the way to go this time. And it actually worked WONDERFULLY (did you hear our sighs of relief through the computer?). One big help was putting two scrap tiles (we hear you can use wood too) on either side of the blade so the mosaic sheet has a flat place to rest as it goes through and is cut.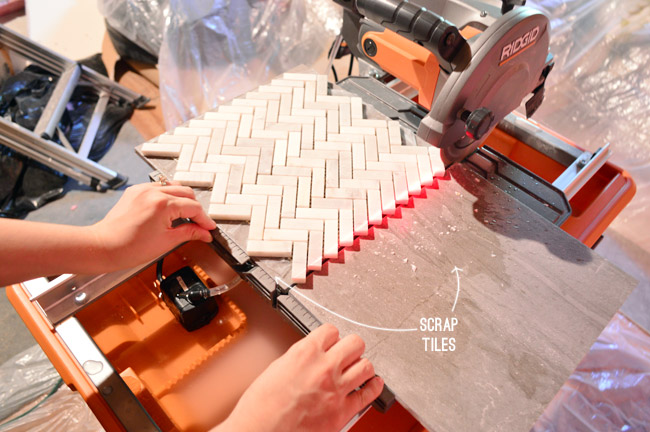 We were mostly just cutting the top off of a few tiles (so they'd sit flush against side walls or the underside of the cabinets), so we worried the blade would just push the little corners out of the way. But as long as we didn't push too fast (and made sure there was sufficient water on the blade) it cut everything really well. Also, Sherry now wants to take the tile saw out to dinner. We have ourselves a love triangle.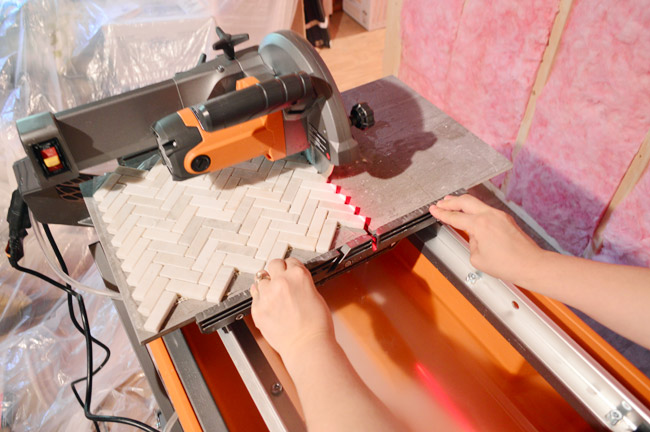 I'm pretty certain we wouldn't have had the same luck with my old wet saw, since the rolling tray on our new saw helped to make this process really smooth (the laser line really helped us keep our cuts straight along the angled tiles too).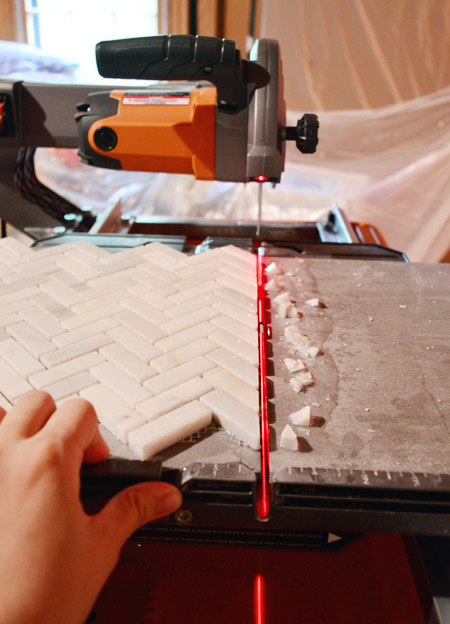 This is the only shot I got of applying the mastic, so don't mind the skip ahead to being halfway done. Mastic does set faster than thinset (in our experience) so we only spread enough for two sheets at a time.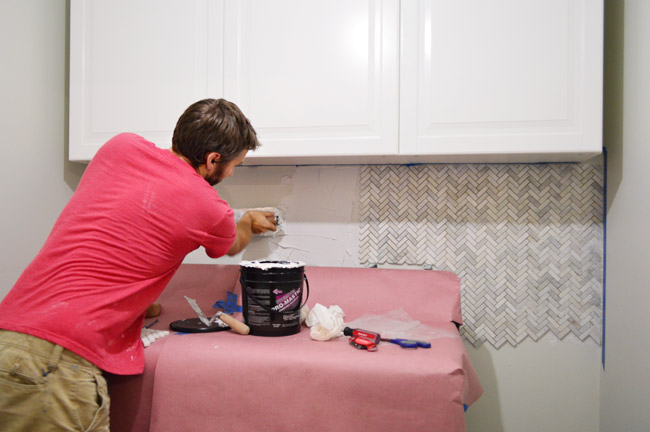 Once I got the mastic spread with the flat side of the trowel and then scraped with the v-notched side, Sherry took on the task of applying each sheet of tile and positioning it so it nested in without a seam. The instructions said to "twist" the tile slightly to make a good bond. Making crazy gnarled looking fingers is completely optional.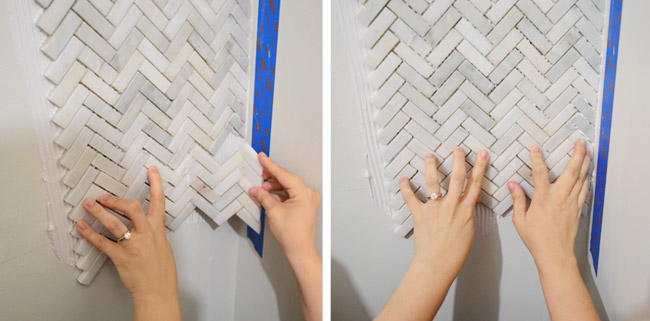 Much like laying sheets of penny tile, there was a careful eye needed (thank goodness I have Sherry) to make sure the pattern lined up between sheets. Some of the spacing on the sheets themselves wasn't flawless, and sometimes if you stepped back you could see an obvious seam, so you had to sort of maneuver things to get them to fit better. Below is an example of an obvious vertical seam forming (see how that vertical zig-zag seems a little further apart than the rest?). To eliminate those, Sherry slowly smooshed the sheets together, or pushed them slightly higher or lower to bridge those gaps so they matched the rest.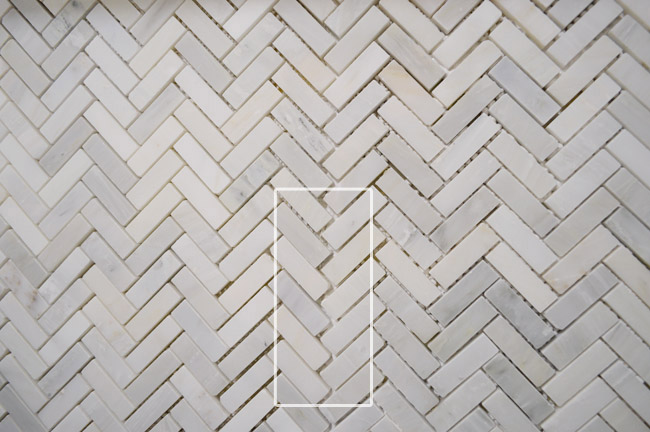 One thing that helped was to snip out some of the mesh backing that hung over the side that would nest better with the already set tile (we found that sometimes it got in the way of positioning the edge tiles close enough, so cutting it out made everything go more smoothly).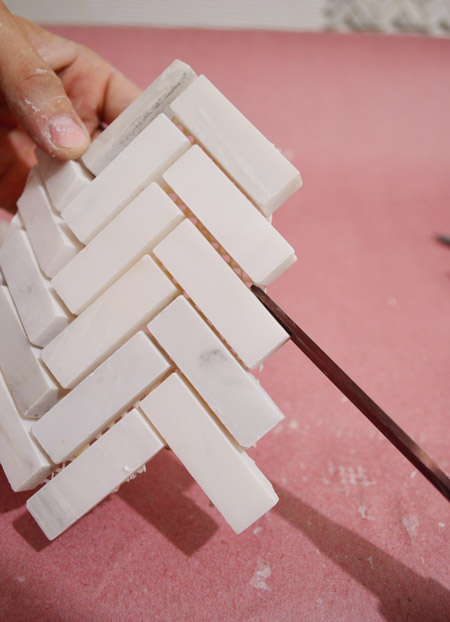 The other thing we did was that we staggered our sheets to further disguise any horizontal seams. Since we only needed 1.5 sheets (vertically) for the areas above the appliances (and 2.5 for the two vertical rows above the counter) it made it easy to start one vertical row with a full sheet at the top and a half-sheet on the bottom, and then start the next vertical row with the leftover half sheet at the top and a full sheet on the bottom.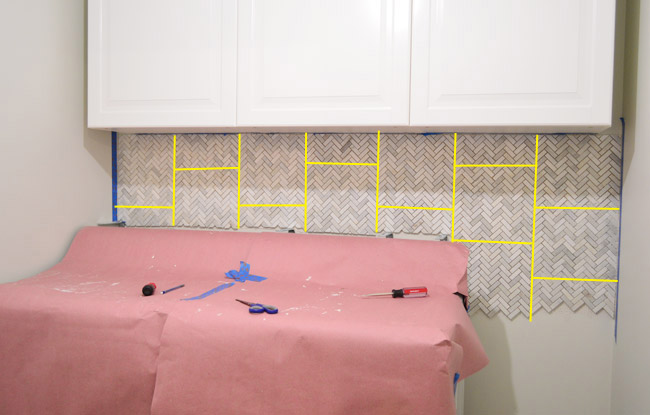 If all of the horizontal seams lined up across the entire back of the splash (for example, if all the top pieces were full tile sheets), it could create an obvious seam across the entire back wall, and we wanted to avoid that.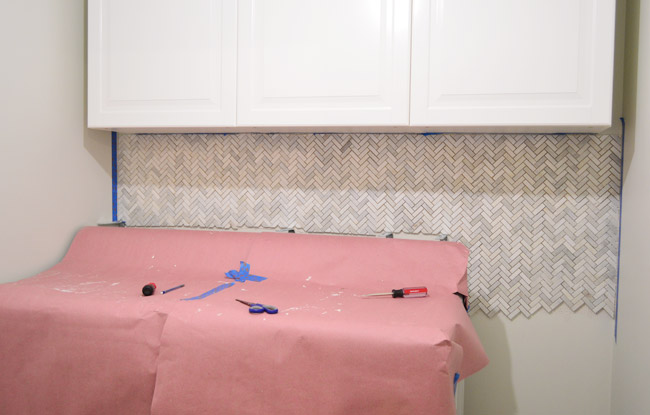 We managed to get it hung in about two hours on Saturday afternoon while Clara napped and Teddy kept himself mostly occupied thanks to a playmat-bumbo rotation (there may have been a nursing break in there). The mastic – which dries a lot faster than Thinset – was probably dry enough to grout on Saturday night, but we waited until yesterday morning just to be safe. Since the spaces between the tiles are larger than an eight of an inch, we used sanded grout (in the Standard White color from The Tile Shop).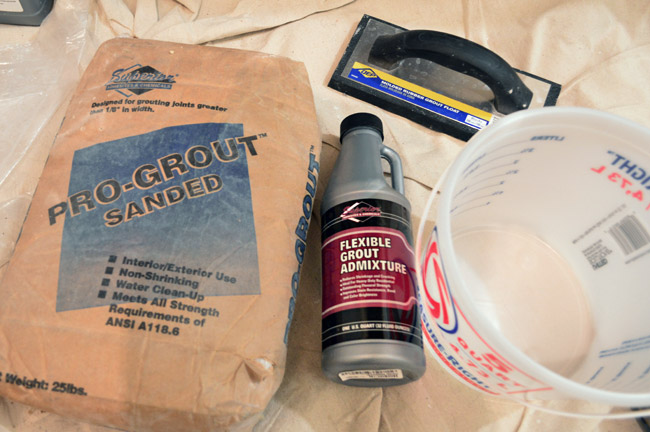 Even though this was a smaller area than the floor, it would require much more grout because of all of the gaps between the tiles. I mixed up enough to do about half of the wall, since I knew it would take more effort than the floor (so many cracks to smoosh it into!) and I didn't want it drying out on me.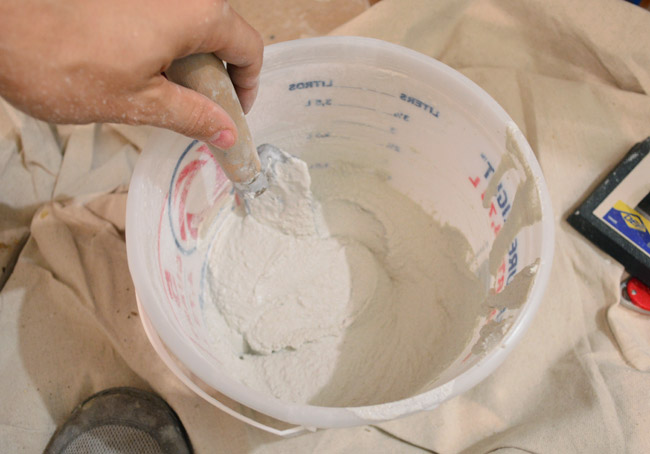 I also laid a scrap piece of wood where the shelf would sit to help catch drips, that way I didn't grout half of the floor behind the washer and dryer while I was at it.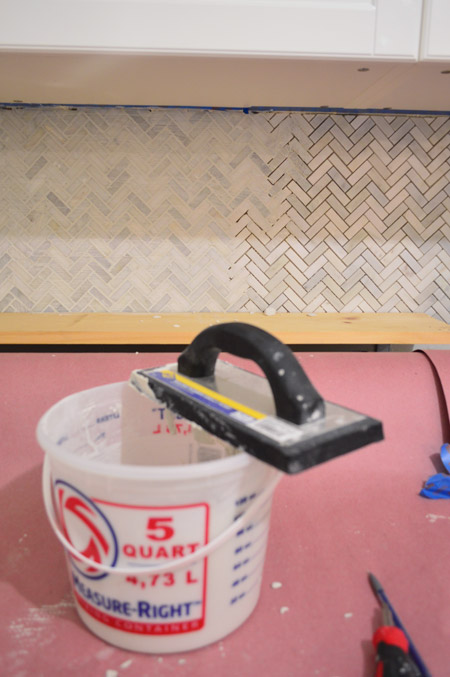 Once I had fully applied the whole bucket of grout (which covered about half of the wall) I wiped it down with a lightly damp sponge to smooth it out and remove some of the excess.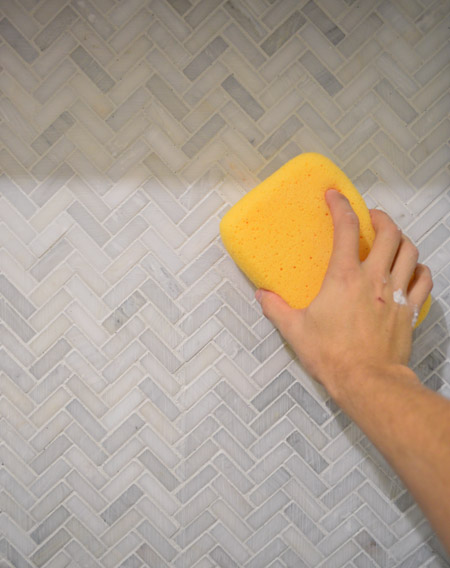 By now we know to expect some haze to appear as the grout start to dry. It used to freak us out (oh no, we didn't sponge well enough!) but now we know it's just an inevitable part of tiling (as least for us) and there are a few different ways to get it off.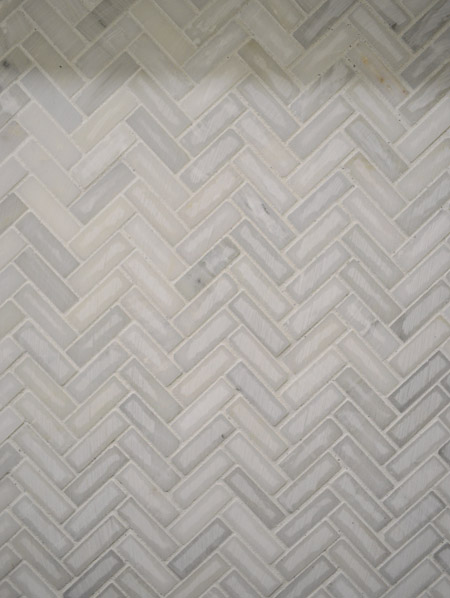 In the case of polished marble, a chemical (like a haze remover) isn't recommended. So it was up to another weapon I like to call elbow grease. I used a microfiber cloth to buff some of the drying haze off the tile. It wasn't a fast process, but it made a big difference.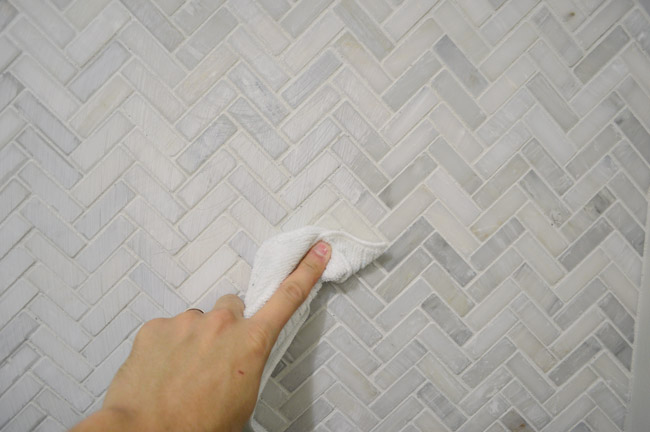 Here it is after two buffing passes, although Sherry wants to do one more, just to get it as gleamy as possible (polished marble can look dull unless you get every trace of haze off of it). I realize the edges looked a little ragged on the bottom, but…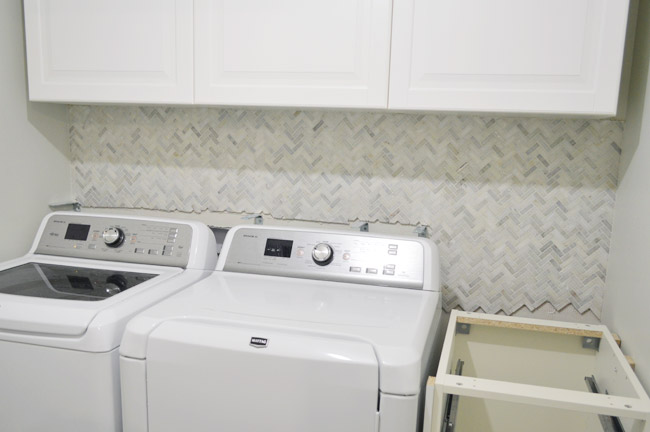 … that's the beauty of the shelf and counter that will be going over it, once they're all stained and sealed.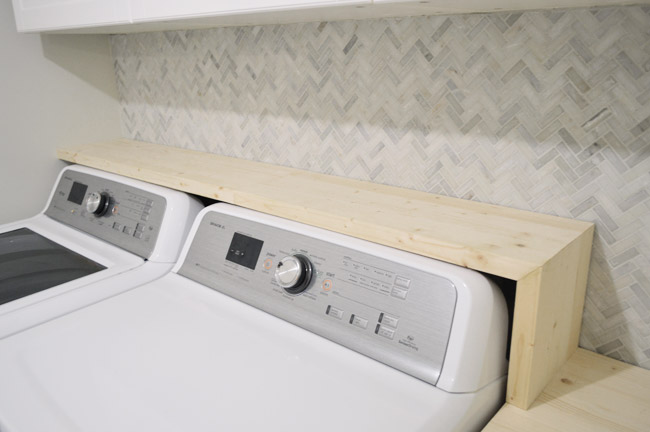 Update: Some questions came in about what happens if we get a new washer/dryer someday and need a new shelf placement and more tile. Width-wise, a new washer/dryer could slip right in since the spacing is standard (that side cabinet & counter could stay) but the height may vary slightly, so we might have to remake the little shelf on top (it's removable so it wouldn't be too hard). We couldn't tile much lower since the brackets were there, but we did save extra tile & grout, so we can add that later if needed.

Speaking of staining the shelf & counter, we've started doing some tests on some scrap pieces to see what stain/sealer combo we want to use.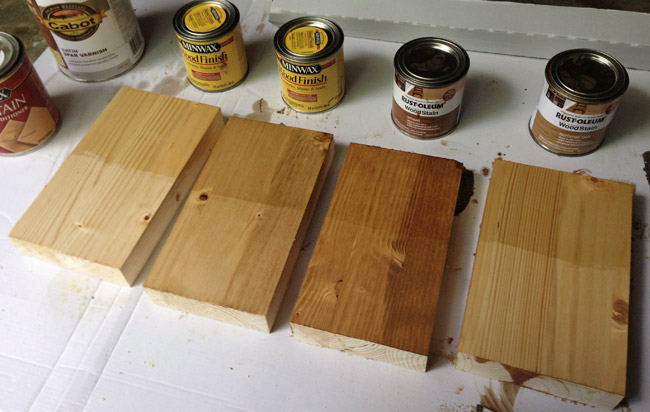 We hope to be back with the finished shelf & counter in a few days (just realized we owe you details on installing the washer/dryer and hooking up the overflow drain, so that'll be in the next post too). Until then, here's an updated to-do list:
Move washer & dryer and remove cabinetry (more on that here)
Demo cased opening, side wall, back wall, part of the floor and the attic step
Frame new walls & doorways

Move laundry plumbing hook-ups & drains

Move laundry electrical plus other outlets/lights (more on those last four bullets here)

Move dryer vent & HVAC duct (more on that here)
Hang drywall (more on that here)
Add insulation (more on that here)
Mud, tape, and sand all the drywall seams in the new room (more on that here)

Prime & paint laundry room and hallway walls (more on that here)

Tile & grout new laundry floor (more on that here)
Hang upper cabinets and install lower cabinet
Reinstall washer & dryer (more on those two bullets here)
Stain, seal, and install the wood counter & shelf
Rehang the laundry door & add our new glass door to the future bunk-room
Add cabinet fillers, crown molding, baseboard, & door casings
Install cabinet hardware & soft-close drawer upgrades
Add a ceiling light fixture & under cabinet lighting
Hang art, ironing board, and bring in other laundry room items (drying rack, trash can, etc)
Finishing touches and repairs (fix the drywall in the garage, add the step to the attic, etc)
We still have seven bullets to check off, but having a working washer & dryer again definitely feels like we're in the home stretch. Also, there's a fair chance that Sherry is petting the tile as I type this. An intervention might be necessary.
&nbsp