Saving Money
Quick note: Tonight we'll be in Miami at 7:30pm at Books & Books on 265 Aragon Ave in Coral Gables for a talk and a book signing. The event is free and open to the public but to get a book signed this store requires you to reserve your copy and RSVP at this number to get a line ticket: 305-442-4408. We'd love to see you there!

Who knew posting one little picture on instagram with Clara would start a tell-me-more-about-the-bangs frenzy? You guys are a curious bunch, demanding a post about my hair. Haha. There were even conspiracy theories that they weren't real and I was pulling a Kim K on you guys by flipping my ponytail and faking them. Hilarious! But they are in fact real. Can't say the same thing about my chest (just kidding). I just got off the sofa on Saturday afternoon, walked into the bathroom and cut them, came back out and sat on the sofa, and waited for John and Clara to notice. They seemed not to mind them (in fact John said they made me look "young and hot" so I'll take it) and they do very conveniently cover my forehead wrinkles. So… score!
Because I cut them in the bathroom mirror all by myself, they're definitely not perfect, but they seem to pass as actual bangs in real life, as opposed to looking like a child who took the kitchen scissors to her head. And since many (many) of you guys demanded a tutorial, here she blows.
I guess we should call this the sister post to the how-I-cut-John's-hair post that I shared here. It's pretty straightforward so quite honestly the most awkward part was getting these photos taken. Gah, I'm terrible at posing for John. So it went something like this:
John: click, click, click, "Do you need anything else?"
Me: "Ahh, this is stupid. Nevermind! We're done."
John: "What? I only took three photos? You sure?"
Me: "Ok, what about one like this? Ahh, too close. Back up! back up! Maybe we need to buy a lens to make my face artfully blurry."
John: "Um… ok. So we're done?"
As for the actual tutorial, it goes like this:
All I did was pull the hair in front that I thought should be bangs (which made a soft curved shape at the crown) forward and then I pulled the rest of my hair back into a ponytail to keep it out of the way. My hair might look ambiguously wet/dry in the picture above, but it's fully dry.
Which leads us to step 2…
I looked up a few pictures on google of people with blunt bangs just to notice where they stopped. The ones I liked most sort of grazed the eyelashes (good thing I looked since my first instinct would have been to cut them above my eyebrows- eeks!). Then I cut them dry while looking in the mirror with the part of hair that I sectioned out just flopping in front of my face. Cutting them dry is key for me since wet hair can look heavier and longer and then dry and shrink up, thereby ruining your life. Well, that's a little dramatic, but it can definitely pull a fast one on you, so dry hair seems to work best for ending up with bangs at the actual intended length.
Then I dipped my head into the sink to get my bangs all wet and used a blow-dryer to blow them dry in front of my face. This was helpful because after I dried them a few long stragglers stuck out and I snipped them straight across for a more blunt look. I have a ridiculous cowlick, so I'm trying not to be a crazy about how they fall. Although in this instagram picture there was a funny comb-over effect going on since a few from the other side of my head danced over to that side (hence those few guesses that this was a bang hoax I guess, haha).
Thanks to the aforementioned cowlick, sometimes I pull them apart like this. Just if it's humid and they're being wonky. Sorry about this bad self portrait, I was past the point of embarrassment after posing for John, seeing the pictures he took, deleting them in horror, and telling him to back out of the room slowly while whispering "it's not your fault this is just so awkwaaaard."
I can still pin them all back with two tiny bobby pins and rock my regular old pony (which I did last night for the Austin signing since it was crazy rainy and my hair + humidity = Frizz-fest 2013). So I guess I get three looks from this little snip-fest: 1) blunt bangs, 2)parted bangs, and 3) no bangs at all thanks to Mrs Bobby and her friend Pins.
Anyway, I hope this quick little tutorial helps someone out there save some money on a bang trim or something. Or just gives you all a good laugh at how uncomfortable capturing these photos actually was for me. It might sound crazy but I'm used to taking pictures of the house, not my mug. So it took me right back to high school yearbook photos and I was all clammy and weird about it. Seriously I didn't know where to look, how to smile, it was a mess. Anyone else tackling some DIY haircuts at home? Or rocking some freshly shorn bangs? Tell $herdog all about it.
When Sherry and I hosted our first yard sale over four years ago, we remember feeling rushed to get everything outside and set up, being stressed about how to price everything, and constantly obsessing over how much money we had made as the day went on. It's like we were both so excited to sell stuff that we didn't like (so we could go buy more stuff that we did like) that it became a bigger deal than we initially expected.
Fast forward a few years (we also had a moving sale back in 2010) and we found ourselves hosting another clear-things-out yard sale now that it's 2012 (I guess our pattern is every two years?), but this time we aimed for a distinctly more relaxed attitude. Why? Because this is how we approached it:
Our singular goal was to get rid of stuff. Any money that we made was just icing.
We sold a few higher-value items on craigslist ahead of time (to get more money for them and not have to stress about them during the sale).
Everything else was priced to sell. If someone picked it up, we wanted them to take it even if it meant selling it very cheaply.
We were so focused on getting rid of stuff because somewhere between moving to this new house (and not having a use for everything that worked in our first house) and generally collecting items for various blog and book projects, we found more and more of our house turning into storage (hello playroom or basement – even our sunroom was filling up). So it was about time to send a slew of stuff home with other folks (where it would get more love than we could show it, and free up three rooms that we'd love to be functional for us instead of piles o' stuff).
Oh and since we know folks will ask- the reason we didn't tell the entire interweb about our yard sale was safety and manageability. We didn't want to dole out our home address to the world at large, and since we didn't want to spend extra money and time hauling everything to a more neutral location (the goal was to get rid of stuff simply and cheaply), it just had to be something that we did the old fashioned way- with signs and an ad on craigslist without revealing we were the hosts. Hope you guys understand!
Even though we were trying to keep it low key, it still took a bit of pre-planning on our part. We had to pin down what we wanted to kick out of the house for good, so last month we got our purge-hats on, sorted through closets, cabinets, and full rooms to sift out what we could part with. We did our best to be ruthless. If it hadn't been used in a while and we couldn't articulate a specific future use for the item, it got moved right to the yard sale pile. That pile lived in our sunroom for the days leading up to the sale, but starting bright and early (actually it wasn't even bright yet) on that Saturday morning it all made its way out into the driveway.
Our inventory was actually a mix of our stuff and my sister's – although some of the tables that you see below were just for display (we didn't sell those two white pedestal guys on the right). We didn't bother pricing anything ahead of time (again, this is our low key approach) and since we both agreed that the goal was purging, we didn't stress about how accurately our prices were set (truth be told, they were all probably lower than they could have been, but it meant things moved quickly and no one walked out empty handed). For us, if someone left with something, that was a victory. It was really freeing to just say "how about a dollar?" and watch things clear out nice and quick. Of course the bigger items like chairs and dressers and bookcases went for a little more, but all of the stuff on the tables and laid out on blankets was pretty much a dollar or less. I think if you're in the mindset that we were in our first sale you might want to price things higher, but it does mean that you run the risk of selling a lot less.
We didn't get any great shots of the sale in action since there was, well, lots of action that kept us both busy. It was only at lulls like this that we broke out the camera. But this was after around 60% of our items had sold.
The crowd was pretty strong through about 10am. When things started to slow down, Sherry and I made the decision to expedite the process and we dropped prices to ridiculous lows. At this point the goal of getting rid of stuff overrode even our patience to sit in our driveway all morning. Yup, we priced our pile of kids clothes at five for fifty cents, pillows were two for $1, and we even stuck "free" stickers on items like the old ladder that the previous owners had left in our basement (easy come, easy go).
Oh yeah, and if you're wondering where Clara was this whole time, her Grammy took her on an outing when she woke up around 8am (we were up a few hours before she arose setting things up, and were so grateful that she slept so long) and then returned her around 11am. After that she just hung out and upped the cute factor of our sale by drawing in the driveway.
By about noon things were so slow (and our inventory was so low), that we were actually only left with these four big-ish items (and about 30 small things that fit into two manageable Goodwill boxes). So we slapped a "free" sign on the few remaining large items and posted a curb alert on craigslist for them.
They were all gone within a few hours. Hooray for curb alerts. The great thing about them is that you don't even have to be home. Which was handy since we weren't. We were busy dropping off those two boxes of leftover stuff at Goodwill. Yard sale key: nothing comes back into the house!
By the end of the day I think we made somewhere in the neighborhood of $350 at the sale itself. Not our most profitable, but once you throw in what we made by selling a few items on craigslist ahead of time we were more in the neighborhood of $650. Not bad, right? As for those other items that we sold on the side (via craigslist & neighborly word of mouth) we happily sent all eight of our old dining room chairs off to live with someone else (she's planning to recover them all – and send us pics!).
And we also sold our two extra new dining chairs to another person (for our purchase price of $62 each) who already sent us this photo of them living it up on her porch:
It felt great to give all of that stuff a nice new home. The lesson there? Had we wanted to make more money we would've sold more stuff on craigslist. But since photographing, listing, and coordinating pick-ups eats up lots of time, it was more efficient to achieve our "get-rid-of-all-the-things!" mission by putting most of our stuff in a kill-a-million-birds-with-one-stone yard sale. In the end, we're both really happy with how the yard sale turned out – mostly because it taught us that we don't need to be all uptight about hosting one. Which will hopefully encourage us to hold them more frequently and keep unwanted things from building up in our house.
Has anyone else hosted a yard sale recently? Do you have any tips or interesting stories from yours? We had a tense moment during ours when our wires got crossed and Sherry accepted money for an item that I had already set aside for someone else. Neither woman would back down so we did the mature thing and let a coin toss decide who took it home. Take that Judge Judy!
Ever since this post about Clara's clothes, I've actually gotten a surprising amount of requests for a post about how I save money on my own clothes, what my staples are, and how I generally get by without spending a ton of my momdrobe – er, I mean wardrobe. And although I'm hardly a fashion plate (that idea makes me snort-laugh) I do love a deal, so here's a rundown on how I save money when I'm shopping for myself along with some sneaky sale tricks I've learned along the way and a few general dressing rules that seem to work for me (slash keep me from buying stuff I'll regret/never wear/stare angrily at in my closet). And I'd love to hear from you guys when it comes to how you score deals and try to resist buying things you don't need/wear – so please drop in on the comments with all of your wardrobe words of wisdom!
Tip #1: Just ask. About a year ago I found a dress with no price on it at Old Navy. I asked them how much it was and they said it was an online-only return that ended up in their store, and they could sell it to me for 50% off. Just like that, a $30 dress was $15 – plus I could stack another mailer coupon I received on top of that. So worth just asking about it, right? Note: Please pardon this crazy face. I do that sometimes. Gathering all of the pics of myself for this post was beyond awkward.

Tip #2: Organize your clothing coupons. I use this method, which helps me know what I have and use them before they expire. Definitely helps me save some loot.
Tip #3: Know the rules. Many stores have special deals that run for cardholders. For example, you can get 10% off every Tuesday when you use an Old Navy, Gap, or Banana Republic card – on top of any markdowns from other coupons, discounts in the store, etc. I recently spent around $25 at Old Navy to get $65 worth of stuff. How? Well, first I used something they call Super Cash (it's like Old Navy bucks that they give you after you buy stuff to put towards your next purchase, so I had a $20-off voucher to use if my total was over $50) but I also was shopping on a Tuesday so I got an additional 10% off, plus I was buying one item that was an online-only return, so that was 50% off plus 10% off on top of that! In the end I saved $40 just stacking discounts, shopping on the right day, and remembering to use my Super Cash voucher before it expired.
Tip #4: Figure out your favorite haunts. That'll help you learn their store/sale policies, and it'll also save you time since you'll get to know:
what sizes work for you in those stores (for faster shopping/fewer returns)
which cut of jeans you love/wear most (and which ones you don't so you can avoid them)
when their end of season sales will be (and what they might have there, based on what you found the previous year, etc)
We're also huge fans of outlet shopping, so when we go to the beach (usually around Memorial Day and Labor Day) we hit up the outlets where it's not unusual to get things for 50-70% off. If I were forced at gunpoint to make a list of my favorite haunts, they'd be:
Gap (great for staples like jeans)
Old Navy (I usually love their tops)
Banana Republic (I troll their sale rack for tops, skirts, and dresses)
Banana Republic Outlet (this is where I grab long-term quality items, like a black trench coat)
J Crew Outlet (I got a great pair of teal skinny jeans there for $35 thanks to tons of sales)
DSW (nearly all of my shoes come from there)
TJ Maxx (they're awesome for discounted designer bags that last forever)
Tip #5: Don't water down your wardrobe. I like to look at it as an "overall closet average." Say I have ten outfits I love love love in my closet. I'd call them all favorites and on a scale of 1-10 I'd score them all a ten. That makes my overall closet average a ten. Then say that I see a sweater I kind of like (let's say I'd give it a seven). And it's on sale, so it's tempting. The way I completely resist grabbing that sweater – which I'm guaranteed to like less than everything else in my closet – is to think of my closet average. Right now my overall closet average is a ten. If I get that sweater and it's a seven, it'll bring my entire closet average down, and I can just picture myself choosing other things on my hanging bar over and over again since it wasn't something that I love love loved from the start. That helps me hold out for things I really truly love and stops me from grabbing anything I probably won't wear or appreciate as much. Everyone loves a good closet GPA, haha – and it keeps that dreaded closet-clutter at bay (you know, when you have a bunch of stuff, but feel like you have nothing to wear).
Tip #6: Know what works. I'm a whopping 5'2″ – and I have the opposite of a long model-esque neck (it's short like the rest of me) so I've learned that I look best in a v-neck. Somehow it makes me look like I have more of a neck and lengthens me in general, so I've learned what works for me.
Knowing that helps, because when I see some high-necked sweater or a boat necked t-shirts, I save myself the time of trying them on (and hating them) and I save myself from any temptation to buy something because it's a pretty color/print/fabric or has a certain alluring designer name (or seductive sale price) since I know I'll completely regret the purchase if it doesn't actually flatter my body type. Heck, even my favorite swim suit has a deep V.
And we can't forget my purchased-48-hours-before-the-big-day wedding dress.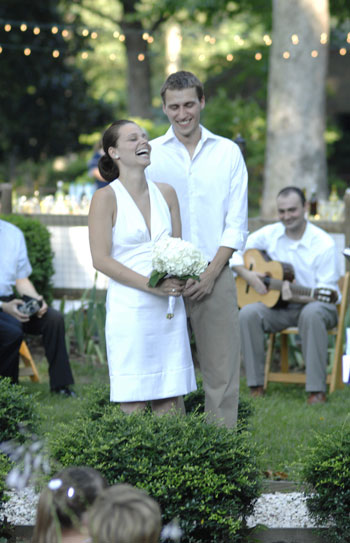 Tip #7: Think about what you can pair things with. This is sort of like decorating. I try not to grab something that won't go with anything in my closet, because much like buying something that matches nothing in my house, it would necessitate buying lots of other things to go with it. One great trick I have is to remember a few of my favorite outfits or pairings. For example: a denim pencil skirt + black t-shirt + leopard heels. If I see a pretty red pencil skirt when I'm out, immediately in my head I can think about the black shirt & those leopard shoes and know that it could be subbed in for the denim skirt for a different look with a similar silhouette (which I know I already love).
I try not to be as boring as buying the same things in a bunch of different colors, but I also go back to tip #3 (know what works) and remember that I tend to love a few silhouettes since they're easy for me to wear and work well with my body type (ex: pencil skirts that aren't too long for my short legs, skinny jeans, v-neck shirts, etc). Here's another example of how I might grab something that can work with a variety of things in my closet. Take this coral tank top, that I have under this brown jacket…
Here it is under a black blazer at Haven (thanks for the pic Rhoda!). Little staples like colored tank tops seem to be inexpensive and easy to layer, so they might be less specific than a big patterned sweater or something.
Here's another one in dark plum. For a girl who wears a ton of black, colorful tanks are a nice low-cost way to add some color in without breaking out in hives. Ooh plum, look at me. I'm a rebel.
Tip #8. Pick quality for things you'll wear all the time. It adds up to longevity. For example, I'm extremely cheap. But in the purse category, I usually buy one and wear it for 2-3 years. Sometimes even longer. So I'm happy to splurge if it means something will be better made and will last that whole time without looking all murky and disheveled. When I say splurge, I don't mean $500, I mean something in the $120-180 range. I know, it probably sounds super high to some folks, but I actually think if you figure out your cost per wear on a cheap purse, it might surprise you.
For example, say over three years you buy/wear four $30 purses from Target. That actually works out to the exact same cost as getting one great Michael Kors or Cole Haan bag from TJ Maxx for $120 and wearing that for three solid years (something I've done for over a decade now, without any issue of things getting worn out or me getting sick of them- you just have to hold out for something you're truly obsessed with and that love goes on and on). So I guess it goes back to my whole "don't water things down" theory (tip #5). I just like to buy one great purse that I'm enamored with and wear the heck outta it. It usually takes me about a year to find "the bag" though, so I don't rush into anything (a few years is a long enough commitment that I take it super seriously and refuse to settle). And then I take a cell phone pic of it and text it to my BFFs to celebrate my purse victory. Dork for life.
Another example of how I try to go for quality would be with coats. I got this trench for $80 at the Banana Republic Outlet (marked down from $150+) a few years ago, and have worn it like crazy. Spring and fall for at least two years now, and it's still going strong (no ripped lining, buttons popping off, etc). I used to try getting cheaper jackets at places like Target & Old Navy, but learned that they didn't last as long, which ended up being more money in the long run, so for things like bags and coats I try to go for quality (but I look for that item in an outlet or discount store like TJ Maxx to try to keep costs down).
Tip #9: Spice things up with accessories. Most of my formative learning-my-style years were spent in NYC (I lived there for six years, through college and those first-job years afterwards) so I definitely have an affinity for the "New York look" (lots of black, a big handbag, long lean jeans, blazers, black sunglasses) but I also have always loved to spice things up in two areas: jewelry and shoes. One of my first pair of fancy pointy toed shoes were a pair of pink Nine West heels that I loved with all of my heart. And I'd pair them with a black blazer and jeans for a little dash of color without feeling too matchy-matchy (which might happen if I paired them with a pink sweater of the exact same color). I also had a pair of lime green Roberto Cavalli sandals that I scored for cheap at Century 21 (an awesome outlet-ish store in downtown Manhattan with a ton of clothes & shoes that are marked waaay down). Still to this day I love wearing a navy or black top with jeans and bright red peep toe heels…
I also love bright earrings, so it's not unusual to see me in a black shirt, jeans, and some big coral or emerald colored earrings. John got me these guys for Christmas and I love them.
Here's more dangly earring evidence (this shot is from back in NYC when we first started dating).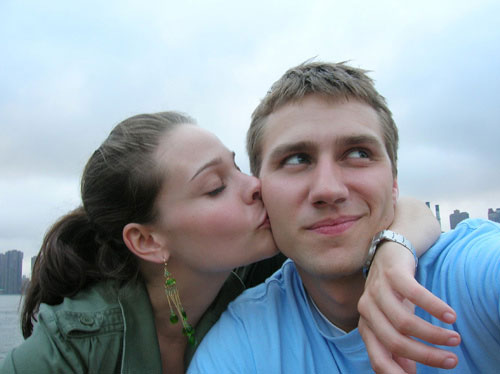 And here's Exhibit C, with even more earring action going on. It's just a quick way to add some "I'm-trying-a-little" to my usually questionable mom uniform. Haha.
It might not be a perfect equation for everyone (big bold earrings + basic black shirt + skinny jeans + some sort of shoe that works for being a momma but still doesn't look too frumpy & is occasionally a bright color or print) but that seems to be the sweet spot for me.
Tip #10: Don't try to make everything the star. I think this is sort of a sister tip to the one above, and it's also one of those tips that rings true for how we decorate our house. Much like you don't want every item of furniture and accessory competing for attention (you want some to fall back while others are free to be the focal point), you probably don't want everything on your body to be vying for attention. It's why I love slipping on my favorite pair of skinny jeans and a plain black top, just so my big crazy earrings or bright shoes can be the stars.
Another way to interpret this could be that if you have an awesome printed dress, a nude shoe could be a nice way to play it up. And we've all heard the "you shouldn't wear a big statement necklace with big statement earrings" rule, which definitely seems to ring true for me. The way this tip saves me money is if I have an event in mind and I know what dress I'll be wearing and I'm searching for shoes or jewelry, I can pin down whether the dress will be the star, and if it will I'll get shoes and jewelry that won't compete (instead of coming home and trying everything on together and hating the outcome).
Tip #11: Do your own thang. Don't follow any of my tips word for word since goodness knows I've read tons and tons of clothing advice that might ring true for someone else, but is laughably terrible advice for someone like me with my body type. So while I know it's incredibly clichéd to tell you to embrace who you are and just wear what you like, but at the end of the day, it's kind of the best advice of all.
And now since someone will ask for it, here's a pic of me with my hair down. I do it sometimes, but not often, just because I'm a ponytail girl. It helps me keep the paint and the peanut butter and jelly outta my hair. Haha.
Now it's your turn. Shower me with your tips and tricks when it comes to stocking your closet on the cheap. Where do you save and splurge? I'm sure it's different for everyone, so I'd love to hear what works for you guys!