Painting
So yeah… our fridge is white now.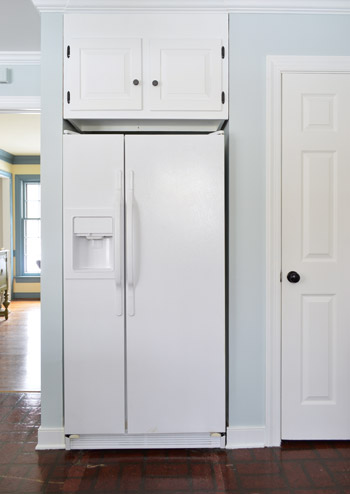 It's not a new fridge, it's just our old almond-colored one "freshened up" a bit with some appliance paint so that it would play along more nicely with our white cabinets. After tons of you (literally dozens) mentioned that you had great luck with appliance paint in this post, we were encouraged to give it a try.
I'll admit that I initially had my doubts, but after hearing such rave reviews from you guys, we figured at its best, this update would help an old fridge blend in more until we save up enough money to replace it during Phase 2 of this kitchen makeover. And if it completely tanked, we could tell you guys the truth, share the awful photos, and just generally save you the trouble of doing whatever it was that we did.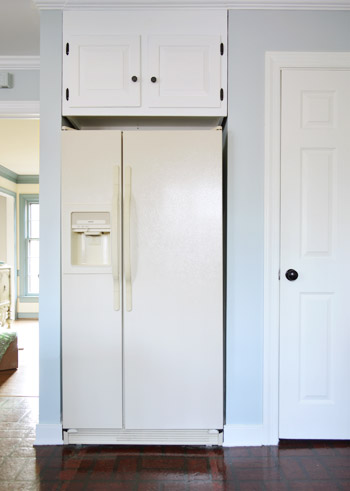 After doing a little bit of what-had-good-long-lasting-reviews research, we settled on this Specialty Appliance Epoxy that was $15 from Home Depot, which was only available in exactly the color we needed: gloss white. I know it's not as cool or trendy as something like chalkboard paint (which Sherry had mentioned a few times) but I'm weird about chalk and all that dust near my food source gave me the heebies jeebies. Plus I knew if we craigslisted this fridge down the line we could probably ask more for a white one than a chalkboard painted one.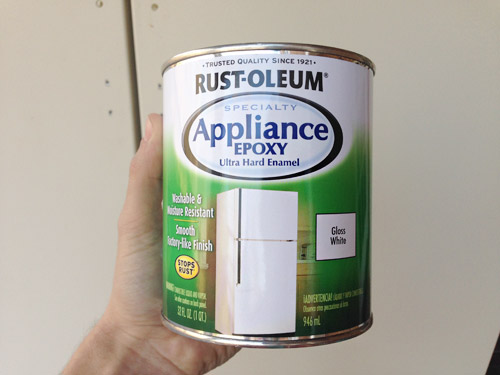 The refrigerator "refinishing" process itself was pretty darn easy. It was the prep that took some muscle – namely moving the fridge outside so that I could paint without stinking up the house (the epoxy smelled like rubber cement, so we definitely wanted to follow their "do this in well ventilated area with a mask on" instructions). After I turned off and disconnected the water line, my dad came over and with a dolly we got it ready to head out to the sunroom… until we realized the handles made it too big to fit out the doorway.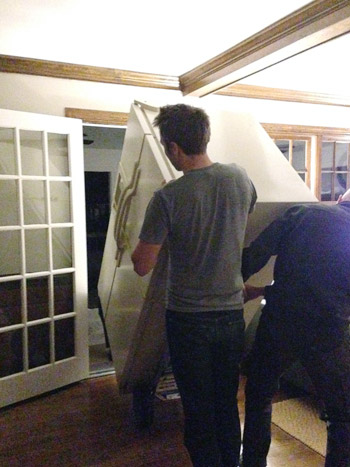 So off came the handles (well, and one of the doors too – it's a long story) so we could bareeeely squeeze it out the door. We actually left most of the food inside (except for some especially heavy, breakable, and spillable stuff that temporarily came out during transport) to avoid the extra hassle of unloading and reloading everything. Oddly enough, it worked.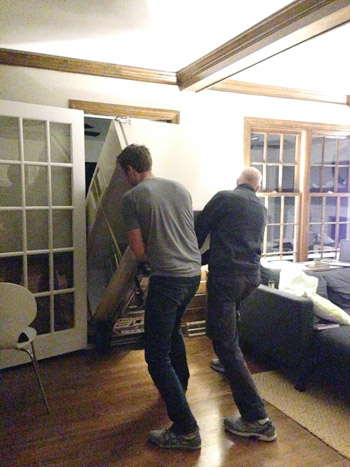 The move took place on Friday night so that we'd be ready to go on Saturday morning, since the weather forecast was nice for the weekend and the epoxy is supposed to be used in 50°+ temperatures. We weren't the classiest neighbors for a couple of days, but at least it's better than having it on the front porch. We even plugged it in out here so the food would keep. Nothing like going outside to get milk for your cereal in the morning.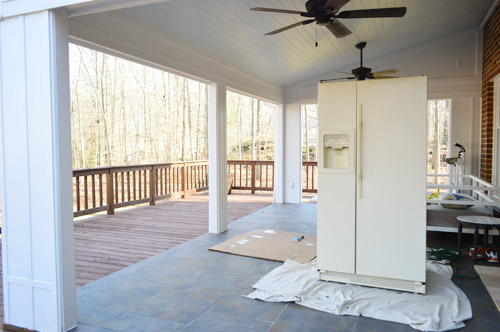 The project didn't get going until later in the day on Saturday (once temps crept up enough to meet the can's requirements). Obviously I had reattached the one door that we took off to keep the food cold, but Sherry decided it'd be best to have both handles off when painting for the most seamless and hopefully drip-free result. All it took was popping off a cover on either end and then unscrewing them.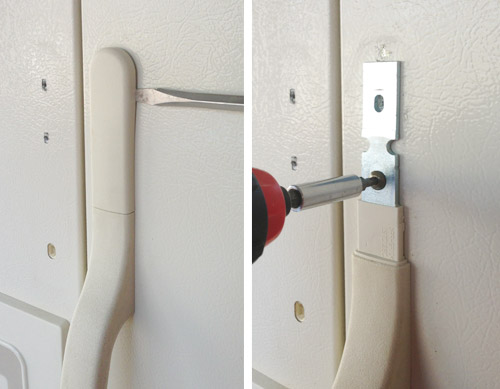 Per the directions on the can, Sherry and I started by lightly sanding the whole fridge – just enough to get the gloss off. A power sander felt like overkill, so we each used sanding blocks of 150 grit.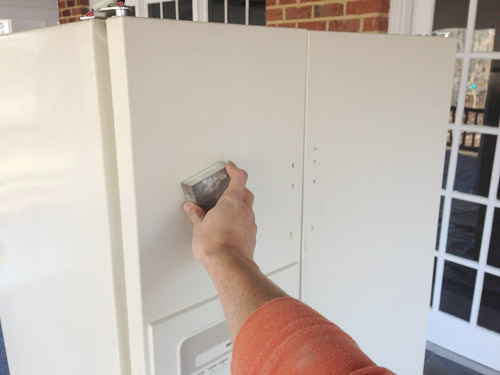 I did the front two doors while Sherry did the sides. You can see the difference between the door I roughed it up and the door I hadn't done yet in this picture.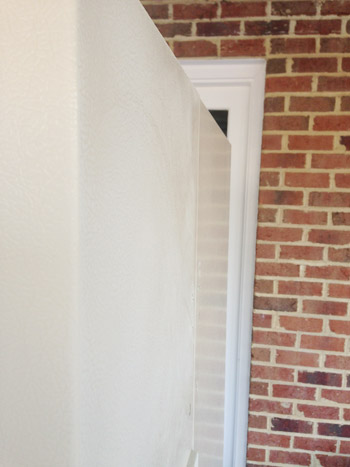 Then we went over it with a damp cloth to get all of the sanding dust off followed by a dry cloth to, um, dry it.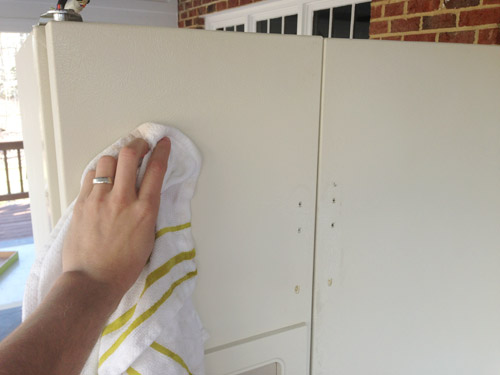 I used a foam roller to apply to epoxy while wearing a mask, just as the instructions suggested (and Sherry, Burger, and Clara went inside and steered clear, so they weren't exposed to the stink). This stuff basically has the exact consistency of paint so the process wasn't unfamiliar at all. It goes on a little bubbly but it quickly smooths itself out.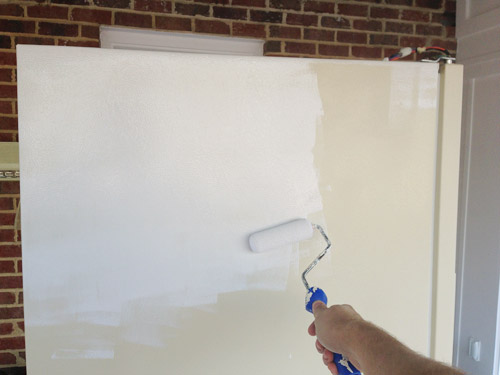 I did break out a brush to help me get into some tight spots, like some of the nooks around the doors and the ice dispenser. We chose to just paint right over that whole area too (covering up the much coveted "Hot Point" brand logo – gasp!). The paint doesn't actually touch the water/ice dispensing apparatus (that's tucked up under a cover) so it was nice to know that this definitely-not-food-safe product wouldn't interfere with anything that goes into people's mouths – but we could achieve an all-white look from the front instead of having to leave some trim parts cream or something.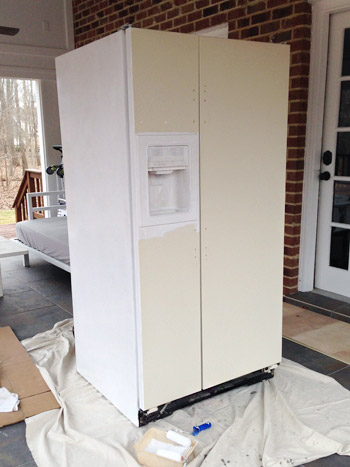 I painted three sides and the top, leaving the backside unpainted. There were enough cords, tubing, and venting back there that it didn't seem worth the hassle (in what installation scenario is that visible?). I probably didn't need to do the top either but someone even an inch or two taller than me would get an okay view of it, so I just did it to be thorough.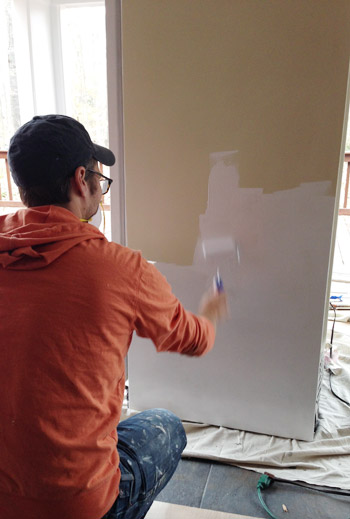 Sherry had spread out all of the little parts – the handles, door hinge covers, bottom grille, etc – on a piece of cardboard so that I could paint them separately. It was easier this way and also minimized the opportunity for drips on the main fridge.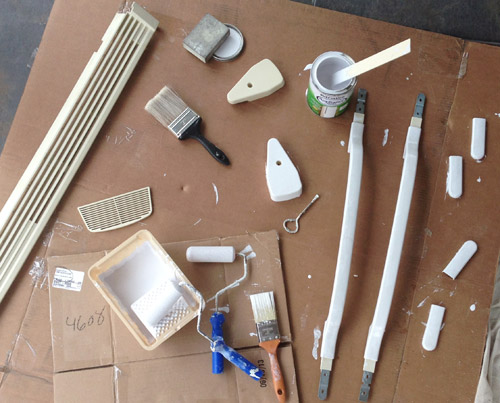 The can said you can recoat in one hour assuming that 70° temperatures were met, so I decided to give it at least overnight before continuing since it was only around 55 degrees on Saturday. But at least the fridge was looking somewhat less offensive out there in white. I'm sure that's exactly what the neighbors were thinking: "Oh nevermind, honey! It's white now so no need to call the HOA anymore. I wonder if there's any beer in that thing…"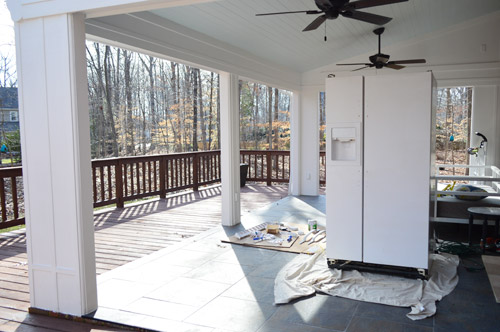 You can't really tell in pictures, but it did need a second coat. So on Sunday morning I rolled on another one pretty quickly and let it dry in the awesome 70° day that we were suddenly having.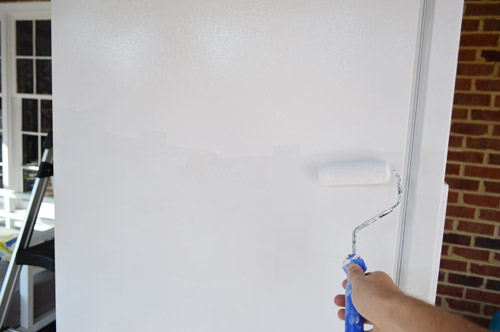 We didn't get it rolled back inside until it was too dark to take pictures on Sunday night (which is why this post is coming to you today, and not yesterday as we originally planned) but here it is, back at home looking much more blendy with the cabinetry.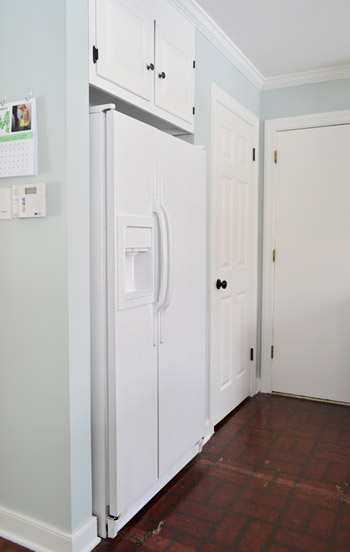 It's not a perfect color match (the fridge is slightly whiter in color) but it's only about a shade off instead of being a lot more noticeably clashy like it was when it was cream. Our white range hood is the same slightly whiter tone as the fridge, so we think appliances just tend to be that color when they're "gloss white." It's actually a surprisingly big help in making the room feel a bit more current (I'll admit that I didn't think it would make as much of a difference as it does).
And it's definitely a vast improvement from what this corner looked like back in the day: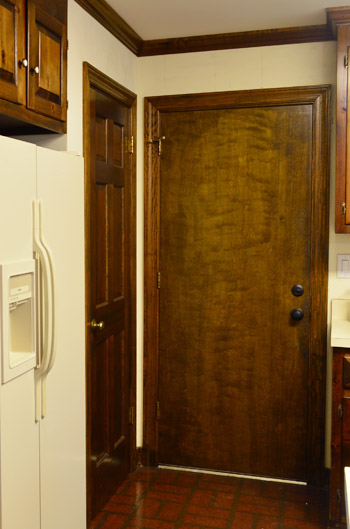 As for how the epoxy feels, it's very smooth, very hard, and looks/feels pretty much just like the fridge was always this color. If you stare at the glint of light reflecting off the fridge in the picture below you can see how the sort of lightly marbled texture of the fridge was maintained, and it's glossy and convincing, just like a factory finished white fridge would be. I actually don't think you could tell that it was painted unless someone told you. And I'm not just saying that. Picture me as the negative naysayer who had to see this to believe it.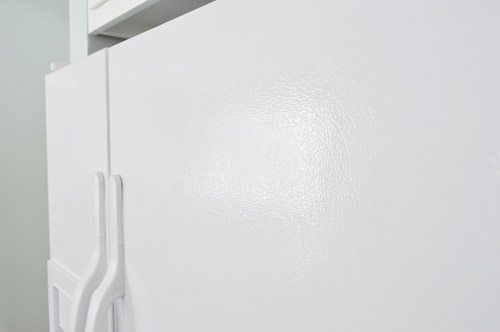 We'll keep you posted on how it holds up over time, but from what we've heard from you guys and read in reviews, it seems to be good for 5+ years and we're hoping to get to Phase 2 a good deal faster than that. So it won't be a big loss if it nicks or chips as we go, but it'll still be interesting to see if this stuff is as good of a cheap and easy upgrade ($15!) as it seems so far.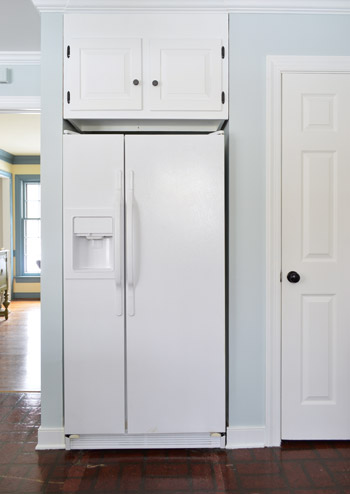 Has anyone else had luck with appliance paint? We hear for a stove you need to use high heat paint, which seems to only come in spray form. Or has anyone done anything different or bold with theirs? We were contemplating painting the handles an accent color (like navy or ORB) but it just didn't feel right for our goal, which was just to let this guy blend into his surroundings and draw attention to the better stuff like our succulent art, rope chandelier, and the rough wood dining table nearby.
&nbsp&nbsp&nbsp
This kind of spoils the whole "wait for it… here it comes…" build-up, but I had to lead with an after picture for you guys.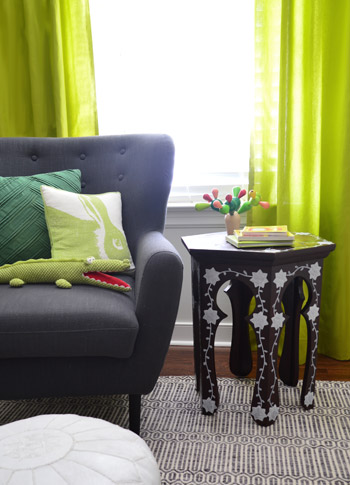 It's a super affordable, deceivingly simple thrift store table upgrade. Seriously, don't tell me you can't do this. You can.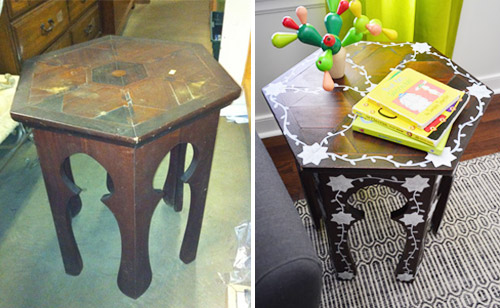 And I'll give you one of these if you say you can't.
Do you remember the $25 thrift store Moroccan table that I brought home nearly two years ago?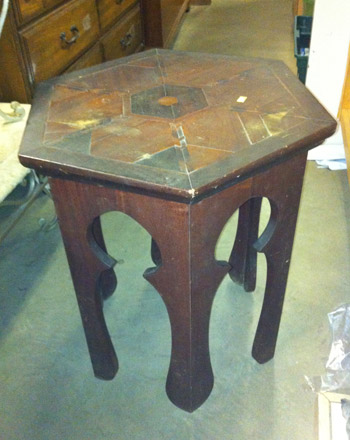 Even after cleaning it up, the top still had a few issues, but I didn't want to rush into altering it right away (like attempting to putty, sand, prime, and stain/paint it) so I just tossed a few things on the top to hide those cracked and water-stained areas. John and I really liked the wood tone and the cool interlocking shapes on the top anyway, so we thought living with it as-is for a while was the way to go.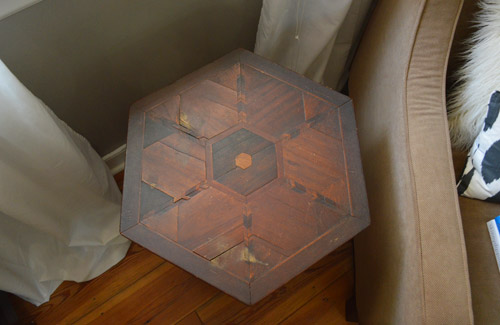 Fast forward nearly two years, and well, we've definitely lived with it for a while. No sir, there was no rushing into anything with this guy. But the years haven't been very kind to the top of the table. And by "the years" I mostly mean Clara, who figured out that she could pull little wood shapes out of it like a puzzle.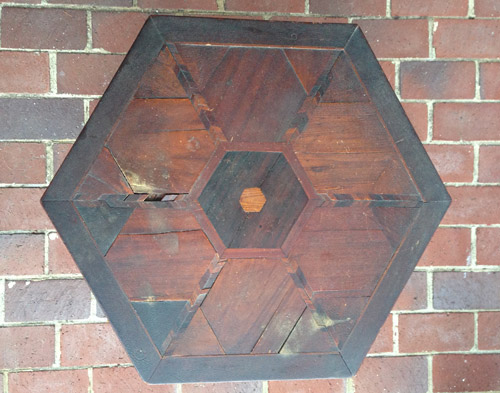 Some areas were a lot looser than we thought, and a few pieces even started to pop out and get lost in the shuffle.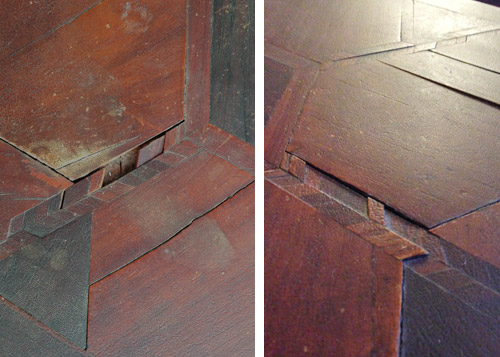 The temptation to paint our bedragged little table definitely came back full-force as it continued to fall deeper into despair. Especially when we started noticing sweet little versions like this and this popping up. Meanwhile, our old thrift store find was giving off that "uh, you don't really have much to lose at this point" vibe. So we thought "let's just try refinishing it, and if that backfires we can always paint it as a backup." The first step was sanding it and adding some wood filler to those cracked, broken, or uneven areas.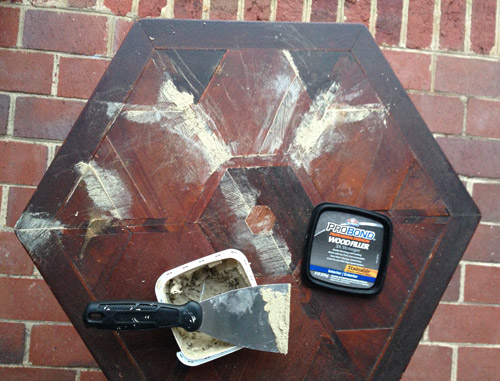 We had luck using this same type (and tone) of wood putty with our dark-stained kitchen cabinets (more on that here), so although we debated running out to buy some darker wood putty for this project, we figured we'd have the same luck with being able to even things out with a little more stain on those puttied areas. That last sentence is foreshadowing. Feel free to read into it.
After everything was dry, we sanded those areas, and then it was stain time.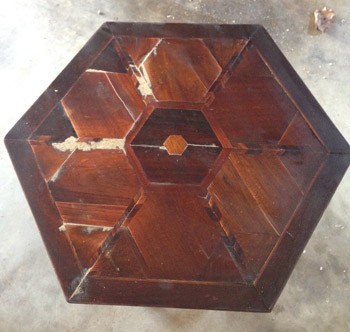 We wanted the same rich reddish-brown tone that it had always had, so we went with Red Mahogany stain by Minwax (we've had the same can since using it on Clara's two-tone dresser four years ago). After two coats – applied with a brush and wiped off, per the instructions – it was clear that those wood puttied areas were being a lot more stubborn than they had been when it came to our kitchen cabinets. Bummerz.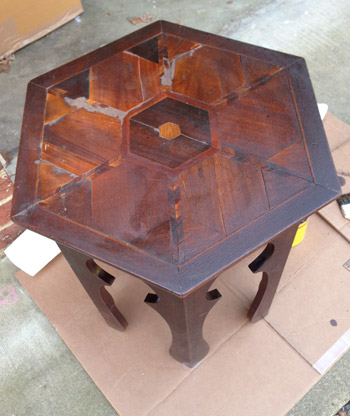 So I did what I usually do whenever a project goes wrong. I stepped away from it for a while and John and I started working on something else and ran to Home Depot for some other materials. In other words I just tried to forget about it for a little while – hoping some solution would come to me. Honestly I expected the solution to be "well, we said painting was a backup plan and it sounds like that's the best option."
Then as we pulled into our garage after returning from Home Depot, stain markers popped into my head. I knew we had one in a dark color since I occasionally use it to touch up the dark wood furniture items that we have (like our foyer console table, Clara's dresser, our sofa table, etc), so I figured I could just give that a go on the wood puttied areas to see if it might darken them up so they blended better.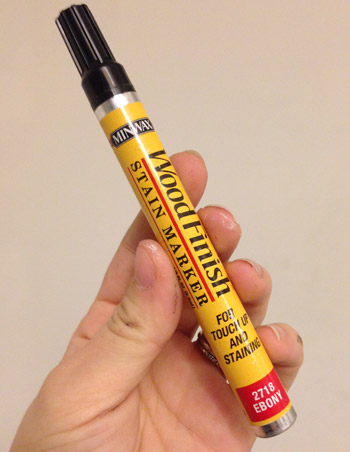 Miracle of all miracles, it worked. I just scribbled it on and gently wiped it with a paper towel to blend it all in.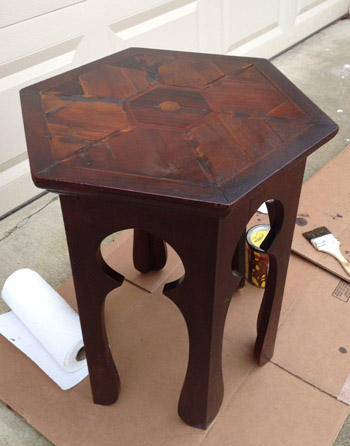 It didn't completely hide the putty (you still can see those spots when you stare at the top in this picture) but it definitely was a nice leap closer to the not-as-obvious effect that we were going for.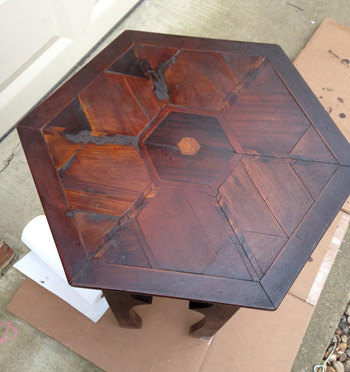 And that's when I had another idea to completely obscure them. What if I didn't paint 80% of the table, but I added some interest in a few areas with an inlay inspired detail? I figured that might draw the eye away from those patched spots while adding some fun detailing without completely robbing the table of the wood look like a full-on paint job would. I even found this example in an binder full of magazine tear sheets since I vaguely remembered thinking about that as a "down the line" idea a year or two ago. Turns out I had even written myself a little note so I wouldn't forget.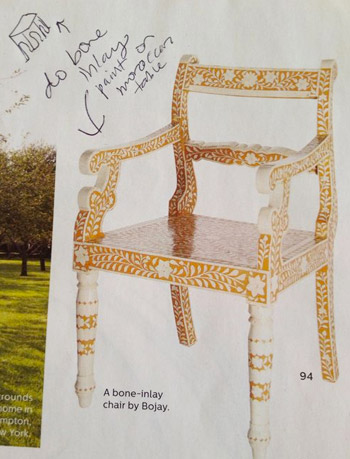 It's definitely not a tame idea (ok, maybe it falls into the "kinda crazy" category) but I figured we didn't have much to lose, and John was down with the idea too. So with his blessing it just came down to the "how" of the project. I considered everything from stencils and stamps to attempting to freehand the whole thing, and landed on a combo move: freehanding the leafy vines that connect everything but creating a cardboard template for the star-like shapes that seem to be on a lot of Moroccan designs.
I thought a paint pen would give me more control than a paint brush, so I decided to try that first. Thankfully this Sharpie paint pen worked well, so I'd recommend it – but be sure to use their oil-based version (they also have a water-based one that I love) if you're using it on a stained piece of furniture to avoid any bleed-through. To avoid fumes, I just opened a bunch of windows and Bane-d things up with my respirator so I wasn't breathing anything in that I shouldn't be.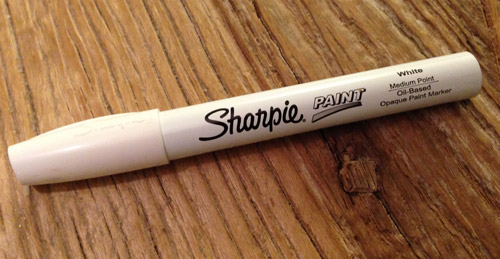 To make my cardboard stencil I found a seven pointed star online, printed it out onto card stock in a bunch of different sizes, picked the size I liked best, and cut that one out. As for how I landed on seven sides for my shape, I noticed some Moroccan designs that had five, six, seven, or eight pointed stars – so because seven is our favorite number I went for that.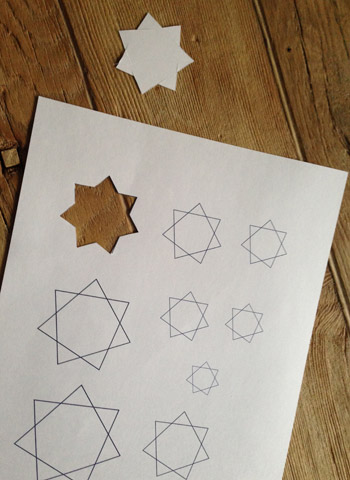 I traced that onto a piece of cardboard and cut it out. Then it was as simple as tracing around that like a template right onto the table, and filling it in (it took a few coats of "filling in" for things to look nice and solid, so pardon the sketchy look of these progress pics). Note: in hindsight I wish my stars were a smidge smaller, so choosing a star printout that's a little smaller than the one you want will probably yield the perfect size since the traced outline makes it slightly bigger.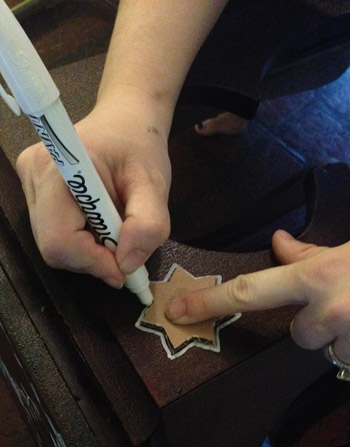 I drew one of them in the middle of the top and one on each of the corners, and then I just made random sort of wavy lines to connect them all.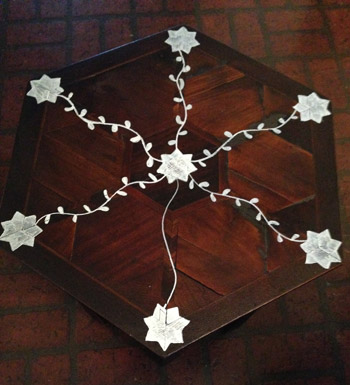 Those were the simplest part, and adding little leaves on alternating sides turned those squiggles into vines. If you tell me you can't do this I'll challenge you to a duel with a paint pen, because you can. Anyone can. Just practice with a marker on a piece of paper, and make some wavy lines and add some leaves. It's crazy easy, I promise.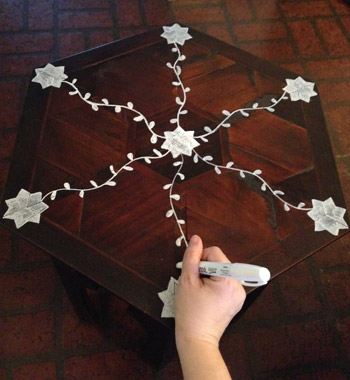 Then I just added more vines to connect the outside edges. This is before I did one more "coat" for the stars, so it's still a bit sketchy looking in a few places. The cool thing about adding the faux inlay detailing was that it made the puttied parts virtually invisible, thanks to adding a lot more contrast with that white detailing. Can you even tell where the putty is anymore? It's amazing what a little "look over here" diversion can do for a cute-but-flawed patch-job on an old secondhand table.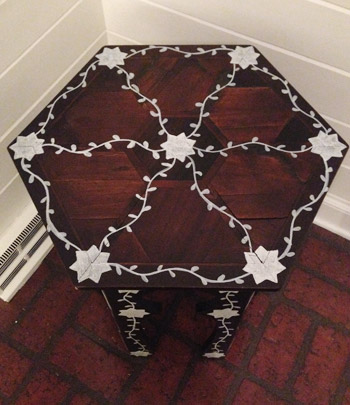 To do each of the six sides of the table, I laid it down on its side and worked on each one at a time – adding a star to the top, middle, and bottom of each leg, and connecting those with a hand-drawn leafy vine.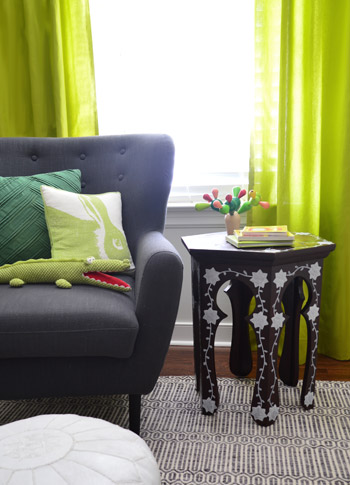 As I mentioned, the paint pen filled those stars in sort of sketchily, so I went back over all of them with another "coat" to make them look more solid. The vines were fine with one coat though, so it didn't take too long. I actually might do one more star coloring session to make sure they're solid looking before I use Safecoat Acrylacq to seal it all in (that's our favorite non-toxic poly alternative).
Overall this entire refinishing process took a few hours and the inlay inspired stenciling/freehanding probably took two more, so it wasn't as fast as painting it a solid color, but it was really fun to try something new – especially since this design is so common on Moroccan tables, and we still get to enjoy that pretty wood tone coming through.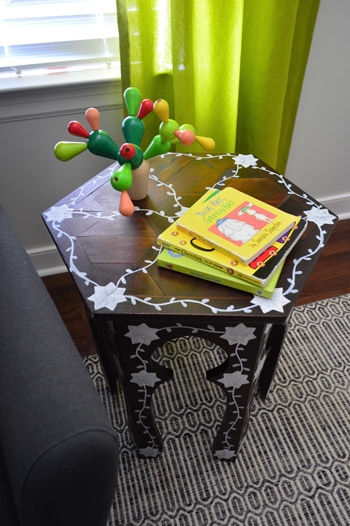 Considering that some of the real-deal mother of pearl inlay tables sell for over $1000 (!!!) I'm cool with this $25 "look for less" result with some paint on our sweet little thrift store find. We had everything that we used in our arsenal already, but even if you had to buy wood putty, stain, a stain pen, and a paint pen, you'd only spend around $25 on materials.
It's definitely one of those bolder furniture moves, so it's probably not for everyone, but it was fun to try something different. And the nice thing is that it's not too much of a commitment, so if we tire of it down the line we can always sand it down and re-stain it, or even paint it a solid color someday.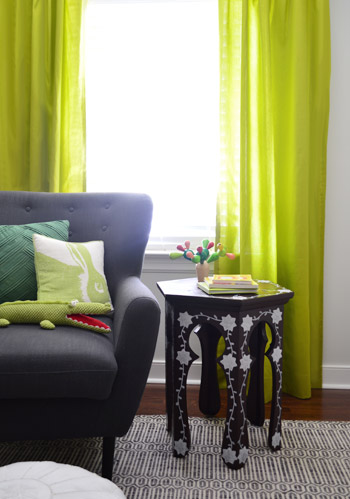 Right now it looks pretty sweet in the nursery since there are other wood elements in there (the built-in dresser tops, the crib drawer, the wood wrapped toy cabinet, the wooden bike frames) but we're not sure if it'll stay there for the long haul. You know we'll keep you posted!
Were any of you making over any furniture this week? Have you ever tried one of those stain pens on wood putty? Or a Sharpie paint pen? I was so relieved that the stain pen helped and the paint pen actually worked (I think my lines would have been a little harder to control with a craft brush). When a project stalls out, how do you deal with it. Do you walk away and work on something else? Google around for ideas? Consult your all-knowing chihuahua?
&nbsp&nbsp&nbsp