How about a post about hunting for knockers? Nope, not those knockers. This is just the follow-up we promised yesterday about updating our door knocker and doorbell.
Here was the situation before: a nice but quite aged door knocker whose main flaw was that the previous owner's last name that was etched into it (it's a little hard to see because I slightly blurred it for their sake).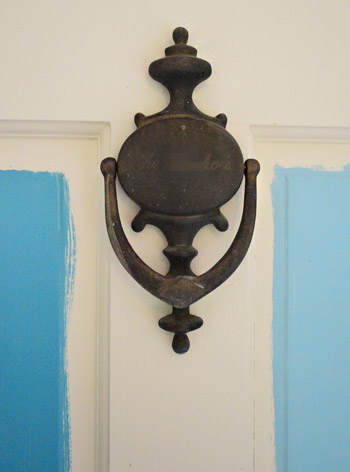 We took the engraving as a sign that it needed to be replaced, rather than salvaged, so we figured we'd use the opportunity to buy something unique and statement piece-y. First we hit up our favorite local hardware store (Pleasant's Hardware) which had some animal kingdom inspired options that Clara couldn't keep her hands off of. But with those prices ($188?!) Sherry and I had no trouble.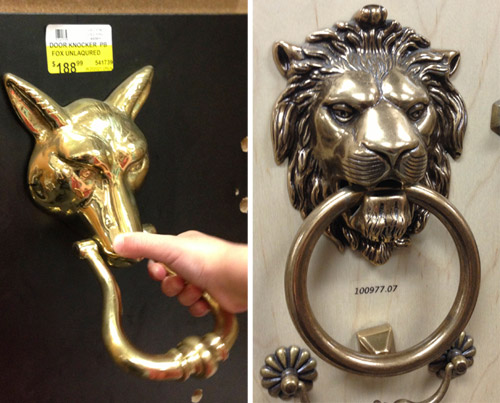 Our next stop was a local architectural salvage place that's always full of interesting pieces (Caravati's). They had some cool options – we especially loved the chunky ring in the bottom right – but the prices were still about one digit longer than we were hoping to spend (that one was $185). I guess I never really thought about how much a door knocker could cost.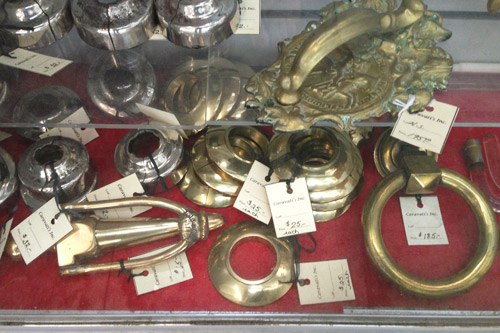 Next we scoped out Lowe's and Home Depot, which both had options like these. The price was certainly right, but it was the same basic urn style knocker that we already had except smaller and not as "original" looking. Plus the size difference would mean we'd have to make new holes in the door to achieve basically the same look.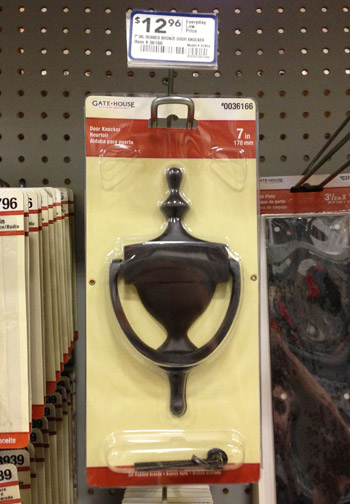 When the big box stores failed to excite us, we hunted online a little and found some interesting and slightly more affordable options at both Restoration Hardware and Anthropologie. Never did I think I'd put those two stores in the same sentence as "slightly more affordable" but compared to our first options their $50-ish price tags felt like a deal. But these were both about half the size (or less) than our original knocker, so we worried they'd look a little lost/piddly on our two-story facade.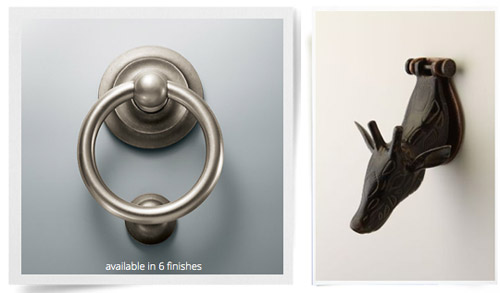 Feeling a bit KO'd by knocker hunting, we started to look at our existing knocker with fresh eyes. A gentleman at Caravati's had mentioned we could take it someplace to get the engraving buffed out… but maybe it was worth attempting an at-home buffing first? After all, my Dremel had some sanding pads that seemed built for a job like that.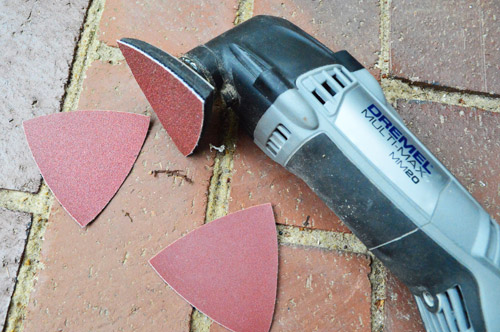 Figuring we didn't have much to lose, we removed the knocker and I attached the lowest grit sand paper to my Dremel (the one with the roughest texture) in hopes that it would scratch out the old owner's name.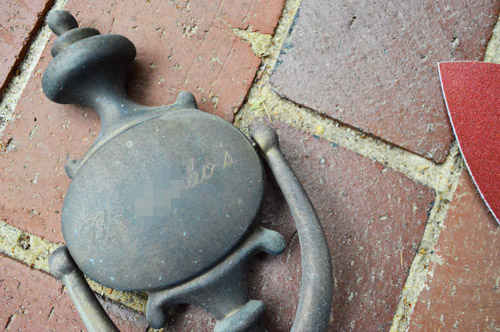 Scratching achieved. I stopped at first, worrying I was permanently damaging it, but Sherry assured me that a new coat of paint should cover it up. So I charged on, er, buffed on.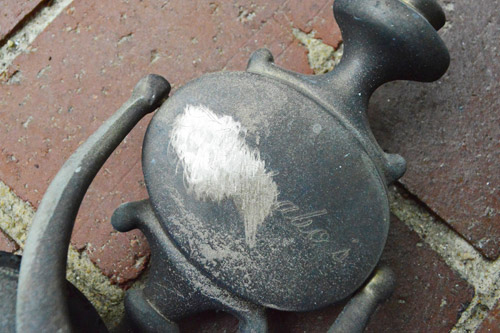 After a few passes with the low-grit sandpaper, I went back over with the high-grit stuff (which has a much smoother texture) to minimize the scratches by buffing them. It still had slight traces of my buffing pattern, but it certainly got smoother. It even revealed a gold finish that's probably close to what the knocker looked like decades ago.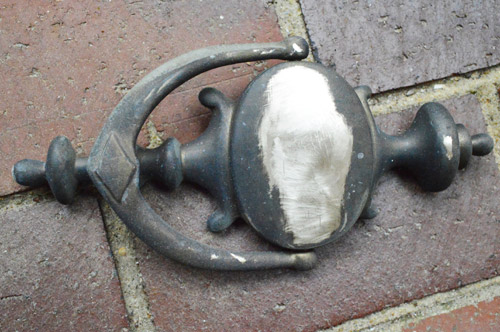 If gold was what we were going for – and if I had the patience to buff every nook and cranny – it could've been a very exciting discovery. Instead, I was just happy to get that engraving off so Sherry could get down to oil-rubbed-bronzing it to match the door hardware as well as some other dark-toned items on the porch (more on those in a second). She used her favorite self-priming spray paint by Rustoleum (Universal All-Surface Spray) and just applied three thin coats (more of a mist than a coat, so they built up gradually without dripping).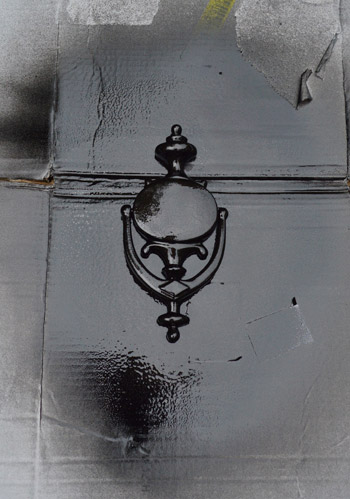 Once dried, the de-personalized knocker looked right at home on our new blue door. You can see how its fresh shine is reflecting the front yard – there's even a reflection of Sherry standing in front of it taking the picture, but the area that I sanded down is exactly the same color and texture as the rest of it. Thank goodness for small use-what-you-got victories.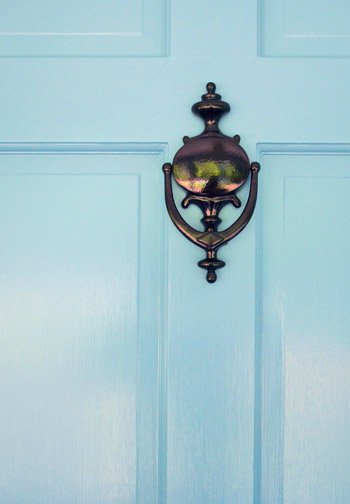 Here's a detail shot of the door open to try to capture the smooth finish for you with less of the porch reflection thing going on.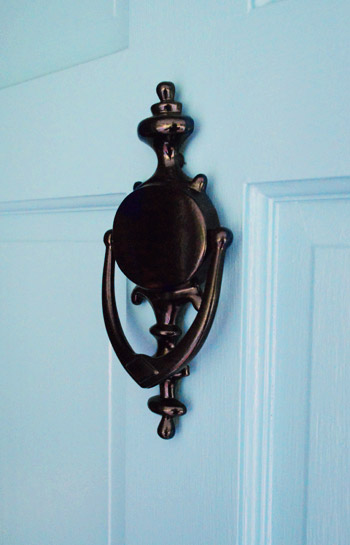 While we were at it, we decided to clean up the doorbell too. We liked the shape, so it just needed a coat of the same oil-rubbed bronze finish as the knocker to cover the sloppy looking over-painted areas that had obscured its interesting shape.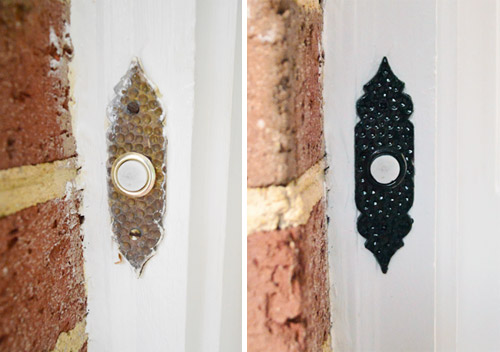 Sherry's trick for keeping the button from getting painted was to press a piece of sticky-tack over it (you know, that poster putty that you use in college to hang Weezer posters?). It was much easier than trying to cut painter's tape in a perfectly sized circle. And as you can see above, it worked out pretty nicely – she just yanked it off after the paint dried and the button was clean and unpainted underneath.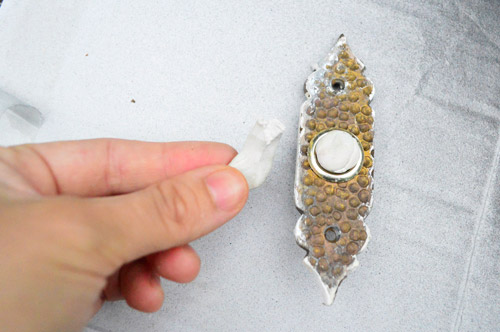 So that's how one can of $7 spray paint allowed us to keep and update two etched and painted over items on our porch. Hopefully it'll come in handy for anyone else out there with a not-quite-there-yet door knocker or doorbell. We really like how the new darker finish helps them stand out more while tying in with the door handle, the black planters on the porch, and even the black rule around the doormat.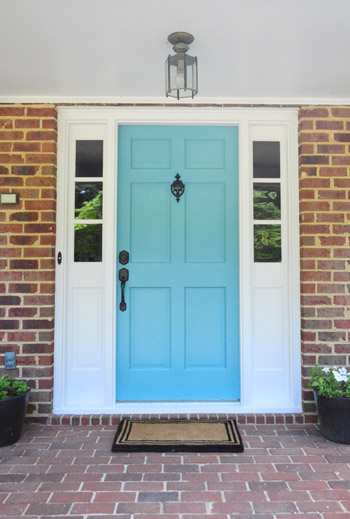 Now if we can just do something about that bug-infested crooked light…
Psst- Clara's at it again, being all funny and cute over here.