Our First House
This week's craft project has me skeered, I'm not going to lie. For the past month and a half I've had fun doing a simple and quick crafty thing each week, like making a fall wreath, stenciling a pillow, painting baskets, decorating pumpkins & gourds, making vacation keepsake globes, and taking ceramic paint for a spin on a bowl full of colorful cacti. Each of those projects took under an hour, and they were pretty easy and straightforward (paint this, wrap this around that, caulk this) – so I don't know what got into me this week and whispered "how about painting a little portrait of your first house?"
It easily took me five times as long as any other Weekly Crafty project that I've tackled, but I'm nervous about it. I don't know, it's kinda cute and simple and John really likes it (and if you see where it started – woof! – well, it came a long way) but it's a far cry from those amazing house portraits on Etsy. This blog has always been about sharing the good, the bad, and the ugly though, so here's how it all went down…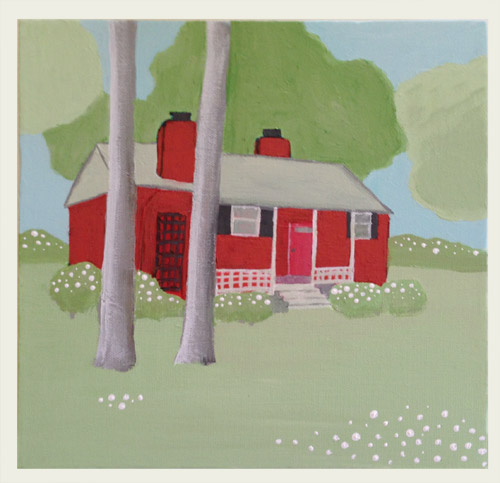 First of all, it's a 10 x 10″ canvas from JoAnn (snagged during one of their 50% off sales for $4) and I used a set of acrylic paints that I already had, but I think if you need to buy one it's around $12 at most art/craft stores (unless it's priced higher at a place like JoAnn since they assume you'll use a 50% off coupon).
By far the most fun slash cringe-worthy part is watching the progression of this little painting of mine. Here's a "slideshow" of sorts with ten shots that I snapped as it went – many of which make me groan out loud – but I was channeling Dori pretty much the entire time. "Just keep swimming painting, just keep swimming painting."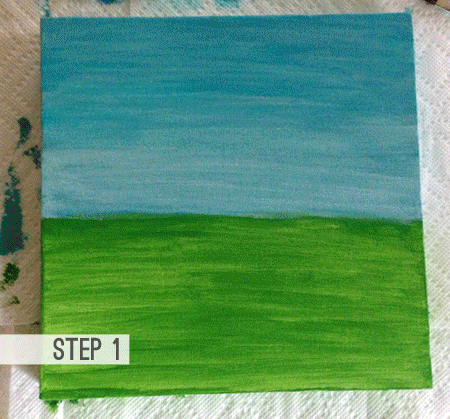 I thought a breakdown of each step might be helpful in case anyone was wondering how I "built" the portrait in about ten different layers/stages, so…
Step 1: I quickly spread some green paint on the bottom and some blue on the top, just for a base coat for the grass and the sky. They both felt too bright and primary for me, but I thought it was fine for the base, knowing I'd be layering paint on top of it as I went.
Step 2: I stared at an old picture of our house and then just tried to transfer the shape of the house onto the canvas, capturing the general perspective, and including the chimneys and stuff. I ended up hating how brown/dark it was, but again, I knew I'd be layering more paint on top of it as I went, so I tried not to freak out.
Step 3: I added the roof in black and some red paint on top of the original brick color I had chosen to de-brown it. I also outlined the edges with a thin line of black, just to give it a little dimension.
Step 4:  I used black paint to add the shutters, the chimney caps, and the lattice thing after I was sure all the red paint was dry (there was about an hour-long break just to avoid any smearing). Oh and for every single step of this portrait I used one brush, which I cleaned throughout the process. It has a nice flat tip, so I could get some good lines for things like the shutters and the lattice just by using the edge of it, so that kept things nice and simple. Although I did think about Bob Ross and his happy little fan brush. Oh Bob Ross, you were such a stud.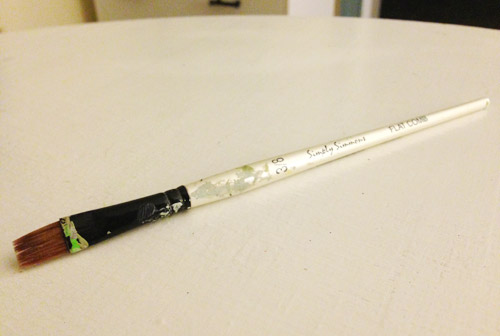 Step 5: With a few shades of green paint, I added the bushes on the sides of the house, and the trees. I just sort of mixed some colors up to get a few different tones (some darker, and some lighter) to hopefully achieve something that looked a little less flat than using all one color.
Step 6: Next I added all of the white details, so that meant the porch and the window ledges. This is when I realized I hadn't even accounted for the porch in the roof-line, so I extended it and gave the roof a lighter layer of paint. I also lightened up the neon-ish grass that I started with by mixing a lot of white into a few green globs of paint.
Step 7: After lightening the grass, I thought it was time to lighten up the trees and bushes, so those got the same treatment. Oh and I was just mixing all of my colors on an old plate and dabbing them on paper towels.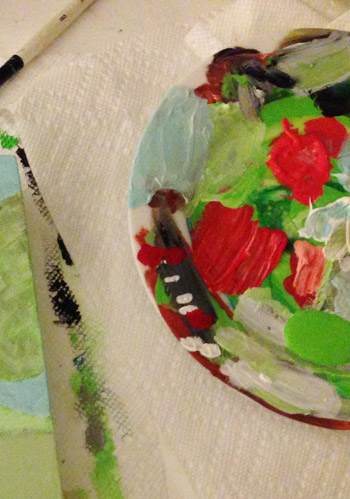 Step 8: I finally added the two trees in front of the house on the left side, and since I had some gray-brown paint on my brush, I just played around with it on a few other surfaces (like the roof, the trees, the bushes, etc)…
Step 9: … but it looked dirty and muddled to me, so I layered more light green onto the bushes and trees and realized that a lot of times the roof reflects the greenery around it, so I took some artistic license and made that an even lighter green tone. It seemed a lot more harmonious than the stark white did, so I decided that adding a little tint of color, even to the porch, would make it fit into the scene a little better.
Step 10: Here's where I went dot crazy. I thought that it would be fun to use the back of the paintbrush to make some little elevated dots on the bushes in front of the house since they were white azaleas. And when I did it, I loved the look so much…. that I went a little nuts. Before I knew it, I had added them to all the other bushes and even did dark green dots on the tree behind the house. BAD! So I quickly painted those dark dots out of the tree, and left just the ones in the bushes (and a few in the grass) that I thought were sweeter.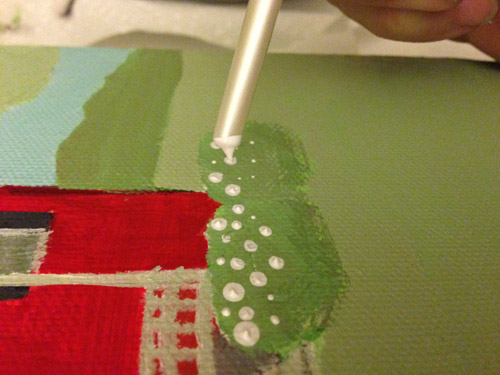 Then I stared at it for a good ten minutes and finally said "I'm calling it done." All told, it was probably five hours of painting (spread across three days) and for the most part I really enjoyed the process. There was something comforting about knowing that I could always just add another layer of paint over something if I didn't like how it turned out. It was like a challenge with endless do-overs.
After I was sure I was finished, I just let it dry for a good 24 hours and then I realized I should seal it, so I emailed an artist friend of mine and asked what she uses on top of her acrylic paintings to make them glossy and finished looking.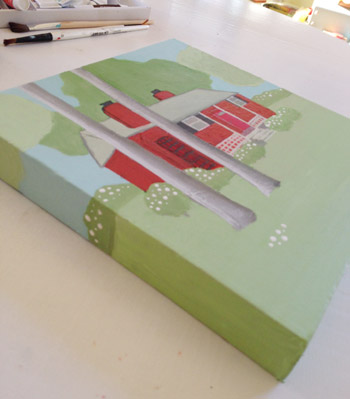 She clued me in on Liquitex High Gloss Varnish, which I think I vaguely remember using years ago in college, so I grabbed some at Michaels (yes, predictably with a 50% off coupon) for about $9 I think, and applied three thin and even coats about four hours apart. I was surprised this stuff was so much money ($18 regular price for a small size) but it's really thin – sort of like poly – so a small bottle like this could easily last you 30+ paintings. So now that I have it I just have to try not to lose it. And to try and drum up the confidence to paint something else…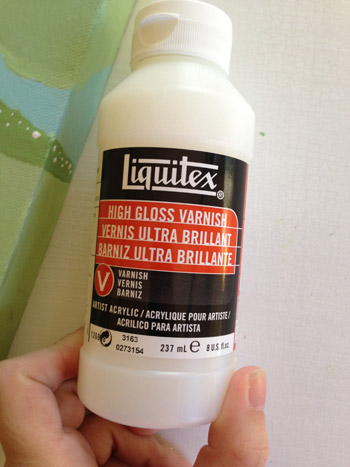 Here it is all hung up in a corner of the office. John has been earning mad husband points by saying it looks really nice there, but I think it would look better paired with another painting… maybe of our second house if I ever get the urge to dive back in and make one.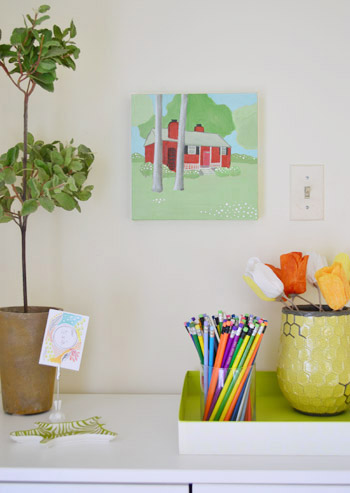 When I peer a little closer, that's when I say "this is kinda cute" so I thought I'd toss in a little detail shot for you. I debated painting the sides of the canvas white or green or even charcoal but in the end I wrapped the image around the side by just continuing the sky/trees/bushes/grass, which I think ended up being a good call.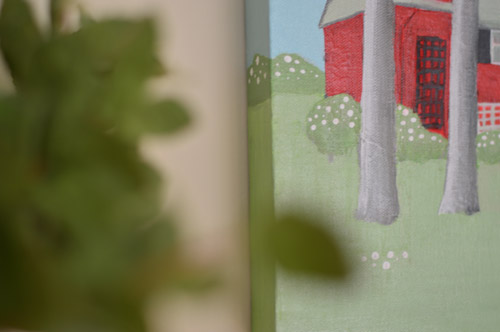 So that's the story of my crafty house portrait pursuit this week. Upon further reflection, I think I wish I had done the middle tree behind the house in the lighter green tone and the two on the outside in the slightly darker green color. That might have looked a little more like the house had kind of a halo of lightness with the darker things on the outside edges.
Have any of you guys attempted a house portrait? Was it with paint? Mixed media like fabric or decorative paper? Did you do something in photoshop with one of those filters like watercolor? Or did you shoot a portrait with your camera and get it all framed up and matted nicely?
&nbsp&nbsp&nbsp
Psst- We just learned about another awesome way to raise money for the relief fund for the Sandy Hook tragedy thanks to some generous Etsy artists who are donating money that they make this week from their Etsy shops to the cause. Check it out here.
We're putting the finishing touches on Clara's DIYed Christmas present, so we'll be back with a ton of pictures and details for you tomorrow (ahhhhhicantwait) but in the meantime, lots of folks have requested a post about what we'd do differently if we were decorating our first house now, instead of 2-6 years ago. See, back in this video we mentioned that when we look at old pics we love it, but there's always at least one or two things we'd change if we were living there now – and you guys have been asking for more details. Sing it with me "if I could turn back tahhhhhhhm." So without further ado, here's the room by room lowdown.
The Living Room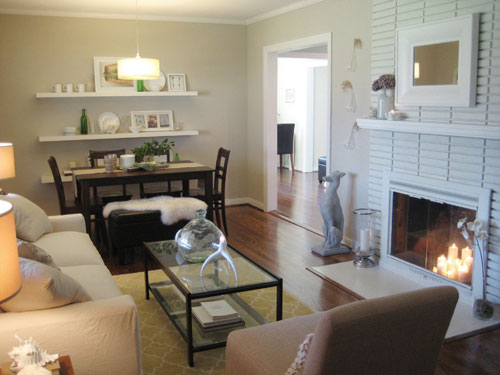 What we'd change:  We really didn't use the living area of this room as much as we would have liked, especially in such a small house (it was only 1250 square feet). So anything to make it more functional/enticing might have made the difference. Like a round coffee table like this to use for games as opposed to our pretty glass table that was always full of props (our current padded ottoman never has anything on it so it's always ready for Clara's toys or game night). We also would have added more color, so from sofa and chair cushions with pops of happy color (like this) to patterned curtains or lamp shades and even brighter art, we definitely would have punched up the tone-on-tone look.
Wait, this would be more fun with a moodboard. Whoop, here it is. This isn't a moodboard for one room, it's a mish-mash of whole-house items that we think would add interest and color everywhere (I quickly linked to sources here and then explained where they'd go in the copy along with each room/picture).
1. This fabric is from here 2. This chair is from here (that price is for two, but still a little high so maybe a craigslist/thrift makeover could get the look for less) 3. This fabric is from here 4. This rug is from here 5. This sconce is from here (the outlet near our house carries them for 60% off sometimes).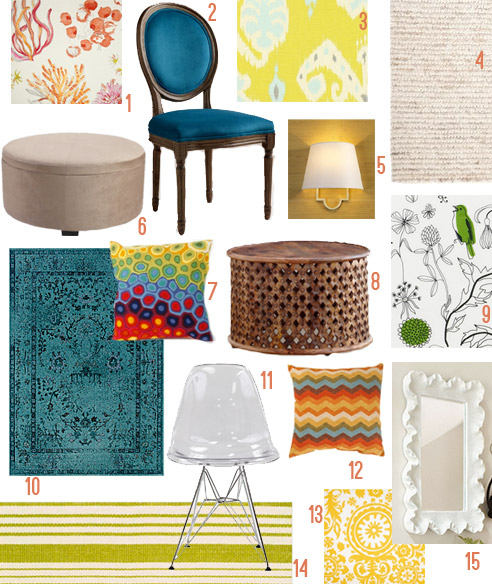 6. This ottoman is from here 7. This pillow is from here 8. This coffee table is from here 9. This fabric is from here 10. This rug is from here 11. This chair is from here 12. This pillow is from here 13. This fabric is from here 14. This rug is from here 15. This mirror is from here.
The Kitchen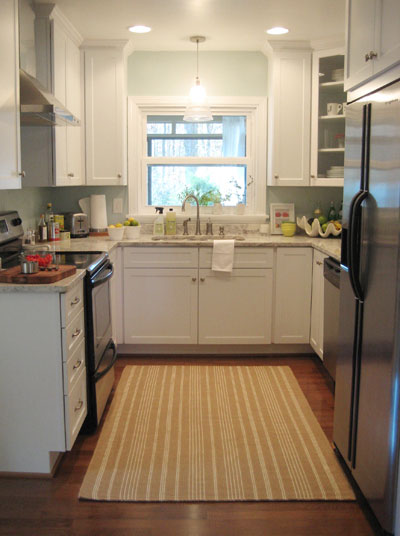 What we'd change: We loved that little kitchen of ours, even if it was narrow enough to touch both sides of the counter while standing in the middle. One thing we always wished we could change about it was to have a window that looks into the backyard (instead of looking into the sunroom, which the kitchen window in our current house does too!) but since that's not a very easy change (moving a sunroom and detached basement) we probably wouldn't have done that no matter how long we lived there. I definitely think things like the area rug and the wall color would have been switched out after a while, just to keep things feeling fresh. Maybe a colorful striped Dash & Albert rug like this with dark and moody chocolate or navy walls like this could have been a fun alternate kitchen universe!
The Nursery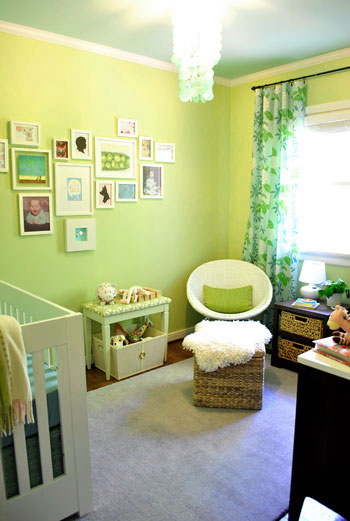 What we'd change: Since we did this room a few years after some of the other rooms that we've looked at so far, it's nice and happy and bright, which is more our jam these days than the more neutral tone-on-tone thing we had going on in the living room. So maybe just for fun we'd change out accessories like the rug (maybe for this cool one?), but in general we still love – and miss! – that sweet first nursery that we made for Clara nearly three years ago.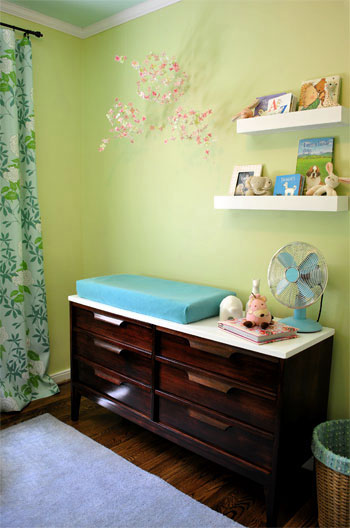 The Master Bedroom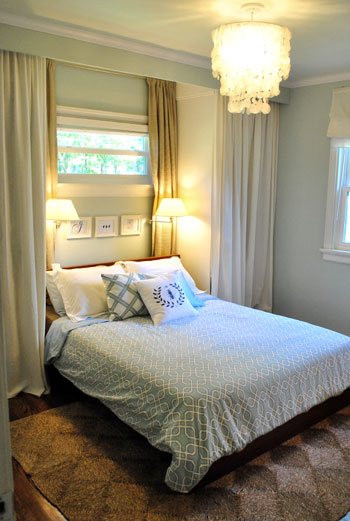 What we'd change: Our bed was always on the low side, so I'd love to have built it up to have storage under it (that room was tiny so it would have been really functional too). I think I also would have changed out the bedding over time, probably with a fluffy white duvet and a bunch of patterned pillows like this. Oh and switching out the tan curtains on either side of the window for some patterned fabric like this could have been interesting. The neutral jute rug also worked just fine, but something plush and shaggy like this would have been an extra luxurious upgrade.
The Master Bathroom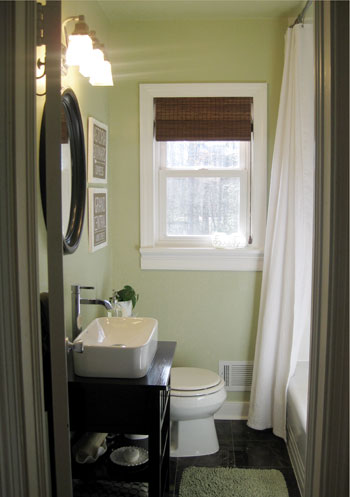 What we'd change: This room was also something we did more towards the end of our life at that house (about a year before we moved, as opposed to 3-4 years before) so I think it feels more like our aesthetic now since there's some color on the walls, some contrast with the dark mirror and the dark floors and the homemade vanity. Although I think if we lived there now I would have chosen a printed fabric like this for a roman shade in the window (sort of like the one in our current hall bathroom's window), just to inject a little more print/interest into the room.
The Office/Guest Bedroom/Playroom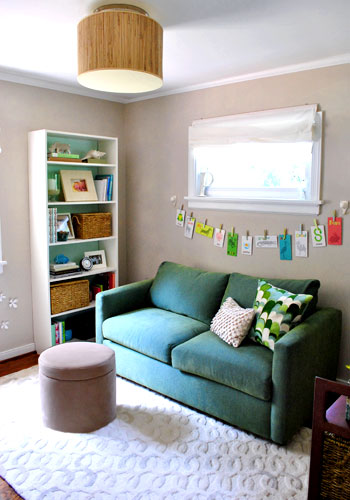 What we'd change: I was afraid to put floor length curtains in here with the sofa in front of the window, but I think we could have popped the sofa out from the wall a little (like we did with the floor length curtains that ran behind the sofa in the living room) and it would have been fine. Don't you think long dramatic curtains in like this would have been awesome hung high and wide on both windows? I think it would have made the room feel taller and more airy (it was very very tiny in real life). And as for those sad desk chairs (we reused table chairs with little seat cushions from World Market) I think today we'd totally go for chairs like this (maybe found on craigslist and then self-reupholstered to keep costs down?). Oh and this larger and wider (more storage!) ottoman would be awesome in the place of the little thimble-ish one we had.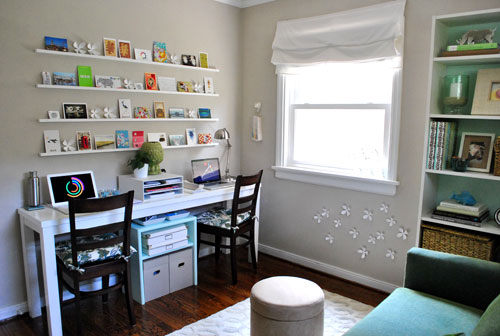 The Den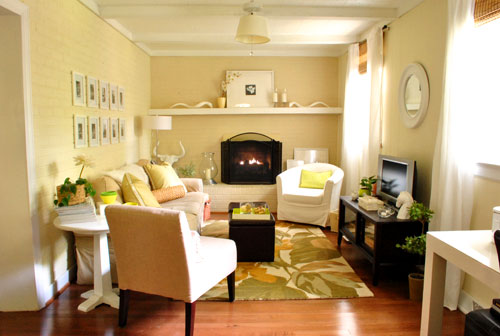 What we'd change: The addition of that sweet Clara rug helped to wake up the room (here's where we started moving towards pops of color and prints in rooms to add interest since the old jute rug that was in there was a little too tone-on-tone and washed out for us). And I can see how in taking this photo I even tried to get other pops of bright color into the room (the pillow on the chair, the bowls on the round table to the left, the tray on the ottoman, etc) so I think we would just take that further if it were our room today. One giant piece of colorful art above the entire sofa (like this, which has meaning since it's a map of NYC – where we met and fell in love) would have been awesome along with brighter pillows and maybe even subtly patterned curtains.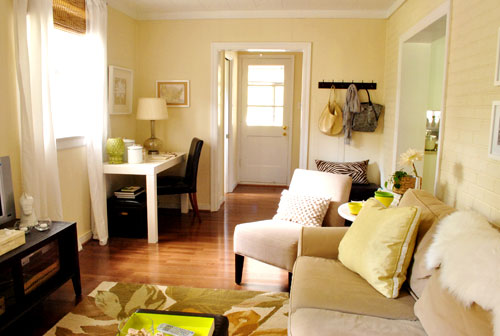 What we'd change: I also think switching out the desk chair with something less traditional and more fun, like this (and adding a bold patterned lampshade on the desk) would have been awesome. And to balance things out I'd hang a brighter scarf or bag on the coat rack on the right for balance (there was always in-rotation stuff as well as I-just-hung-it-there-because-it's-pretty stuff up there). Your house should make you smile, right?
The Laundry Nook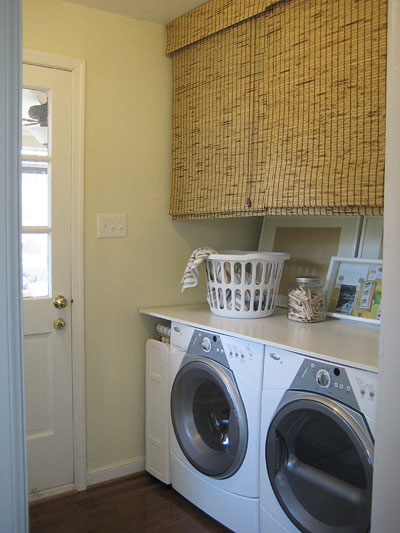 What we'd change: This was actually a really functional and fitting space for us (we still miss it, actually) so we really liked that we could watch TV in the adjoined living room while doing laundry and shove a whole bunch of ugly stuff up into the shelves above the counter, which were hidden by bamboo blinds. Other than switching out some of the art leaning along the back wall for things with a few more pops of color, and maybe changing out some things on the counter for bolder and happier items, I don't think we'd change much. Oh but you know I'd ORB the gold doorknob in a hot minute.
The Half Bathroom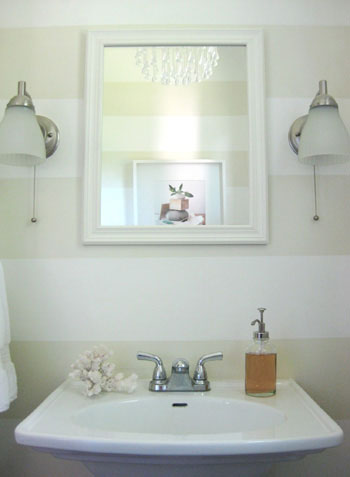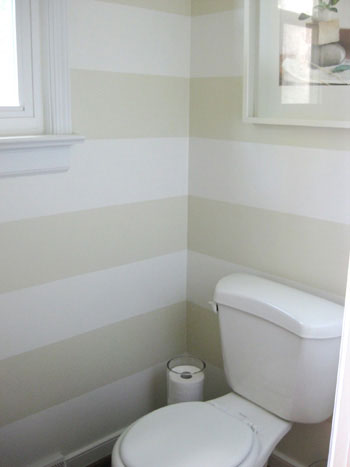 What we'd change: We really liked the stripes, so hmm… what would we change? I definitely think the sconces could have been more fun, maybe something like this (the lighting outlet near our house has lots of discounted Shades of Light sconces like this)? And the mirror could have been a lot cooler – like this guy (who I've been obsessed with for years) perhaps? And then we could bring in some brighter and more playful art and a patterned fabric shade made from this fabric (not sure I could get John on board with it, but a gal can dream) on that crisp white window frame would have looked awesome.
The Sunroom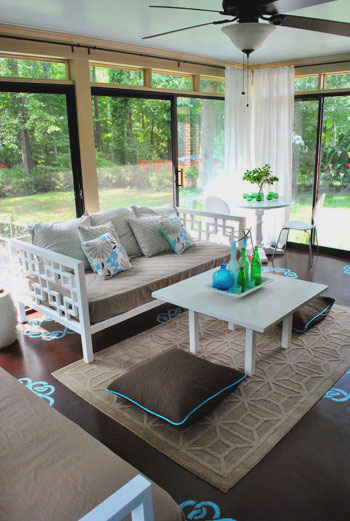 What we'd change: We'd get a bigger rug I think, maybe jute and a few feet wider and longer so both daybeds could sit on it a lot more and feel nicely defined by the larger rug (which would ground the room). I also think the floor cushions could have been a lot more fun if they were covered in this fabric. And these pillows could live on the daybeds instead of the mostly-tan ones that were there before. And as for the stenciled floor, with a larger jute rug I think we might have been tempted to paint it all chocolate brown again and let the textiles in the room be the focus (as well as the view). We also loved the blue ceiling but if we were going to be there for years longer we probably would have manned up and painted the walls (so. much. cutting. in.) bright white to play off of the color in the daybeds and the other furnishings in the room (instead of leaving them tan like they were when we bought the house).
The Patio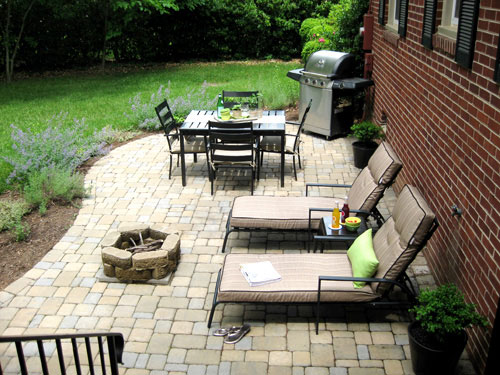 What we'd change: More color! Planters in lime and teal and even tangerine full of flowering plants would have been awesome along with some bright outdoor cushions like these for the chairs and loungers. And I think we'd plant more colorful plants around the perimeter too.
The Basement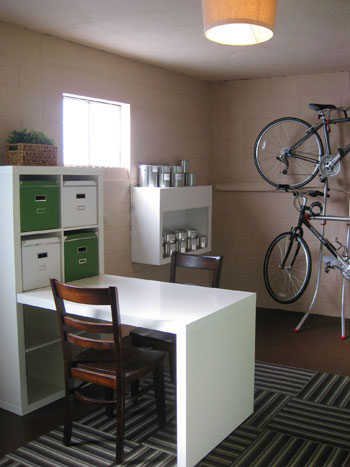 What we'd change: This basement upgrade was actually a really fun project for us, so I think we'd do a lot of things the same way. I don't think we'd have chairs down there (we didn't really sit much, although we did use the desk area to take tupperware bins out of storage and open them up to find certain things). I probably would have painted the door bright red like the front door, just for fun. And I definitely think we would have outgrown that paint storage method (we have about 50% more cans now) so we'd have to add another shelf or two for more can storage.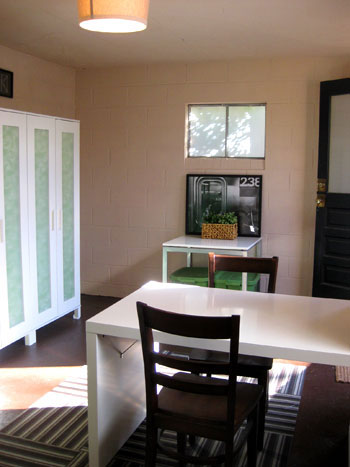 The Front Yard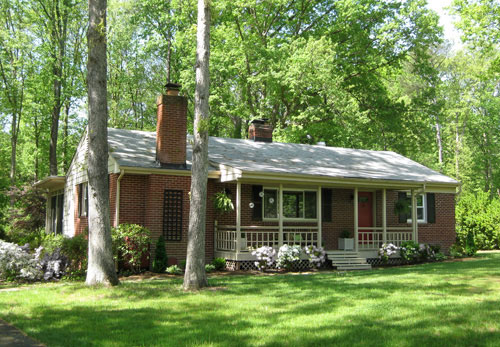 What we'd change: Well, this might be the boring answer, but not much. Haha. We hated the light-colored worn-down roof that you see in this picture but we got a nice new one about a year before we moved (no idea why we never updated the pic!) and the new roof seemed to help with resale as well as general curb appeal. We still miss this cute little facade and the big green lawn. Although one thing we'd probably change about that lot if we could would be to have less to mow and rake (there was much more to mow/rake out front, on the side, and out back then we currently have to mow here since more of our property is woodsy and wild). So maybe we'd turn the side yard and more of the back yard into a wooded space by adding trees, bushes, and mulch over time.
The Front Porch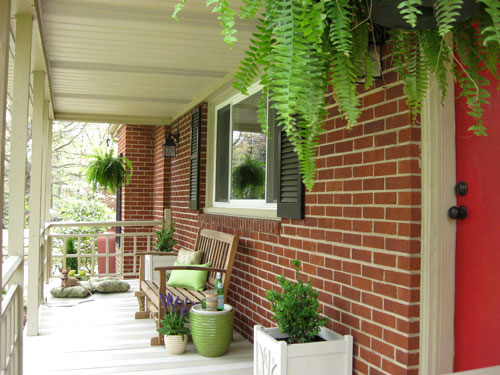 What we'd change: For some reason the outside spaces are harder for us to say "that's not really our style anymore" (as opposed to the rooms inside), but I think we would have loved to build big planter boxes for all the front windows, which might have meant moving the rocker and the glider a bit (along with the potted planters too).
The Backyard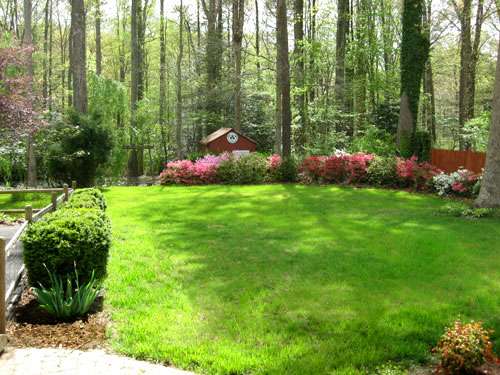 What we'd change: As I mentioned in the front yard blurb, I think having less to mow would have been nice, so maybe naturalizing more of the yard so it was half the size (still large enough for kid & dog pursuits) and adding more trees and bushes and other wild no-need-to-mow items would have been nice. I'm not going to lie though, we loved this lot. It was so private and sweet. We still miss it all the time!
So there you have it. A brain dump of what we might do differently if we were to decorate our first house now instead of 2-6 years ago. Do you guys look at photos of your previous homes (or even rooms in your current house) and think about what you might do differently now? It's so funny how our style seems very similar in some ways (we still love wood floors, white cabinets, textures like jute and faux sheepskin, dark wood and white furnishings, floor to ceiling curtains, and white frames) yet our current house seems a lot more colorful, playful, and happy to us (just click here and scroll down to see what I mean).
&nbsp&nbsp&nbsp