Kids & Pets
Clara's at an age where she beams with pride whenever we display her art. Nearly every painting, drawing, and stickered or glued creation that comes out of her school bag is met with the question "Can we hang this on my bell-etin board?!" (that's how she says it). So we were excited to hook her up with a giant wall-mounted cork board with a nice framed in look and lots of room for art galore.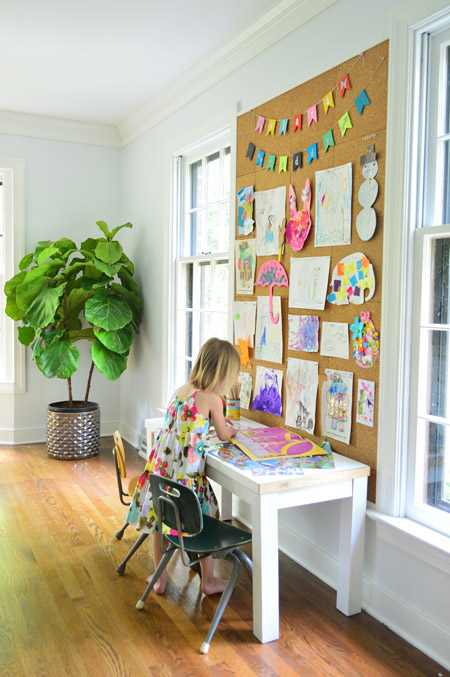 The "bell-etin board" that she used to be referring to was this smaller fabric-covered cork board that hung in our office for the last eight months or so (it was originally made by Sherry for our old closet) – but it had been getting pretty crowded. And the patterned fabric mixed with her colorful creations made for sort of a busy look instead of letting Clara's art do all the talking.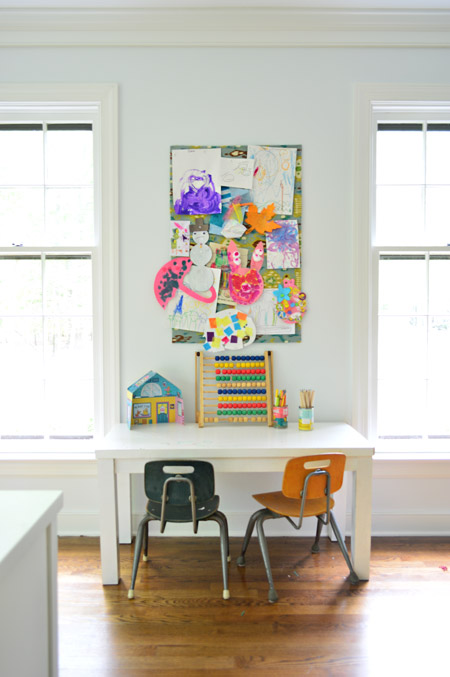 Sherry had the idea to turn things up a notch and take that cork board from window-to-window so that we'd have more room to display stuff – and so that it would more clearly define that little section of the room as Clara's (and eventually Teddy's) work space. So we started by hanging a thin wood base for the cork squares to be adhered. Not only would this make the squares hang more securely than individually tacking them up, it would solve a slight problem of the existing board: some of the pushpins poke all the way through the cork and into the wall, which would mean a plethora of wall holes over time from window to window if we skipped the backing.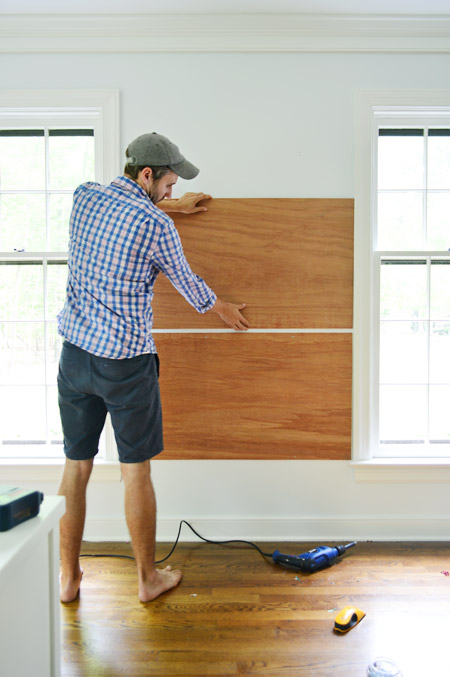 Now we'll only have a few screws to remove if we ever want to take this down, and a few small holes to fill – as opposed to a swiss-cheese-like wall full of divots.
The wood backing was made of three 2 x 4′ sheets of 5mm underlayment from Home Depot. All of them needed a little trim to fit the 43″ wide gap between the windows. I clamped them together tightly and cut them all with one slice of my circular saw.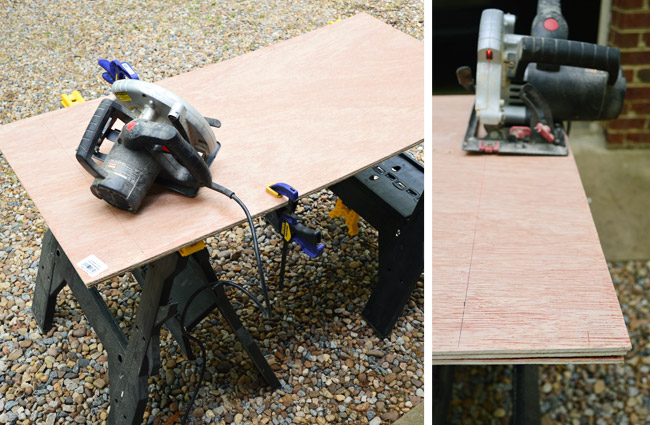 Starting from the windowsill, I attached each board with a few 2″ wood screws each, using my stud finder to be sure they were going securely into studs.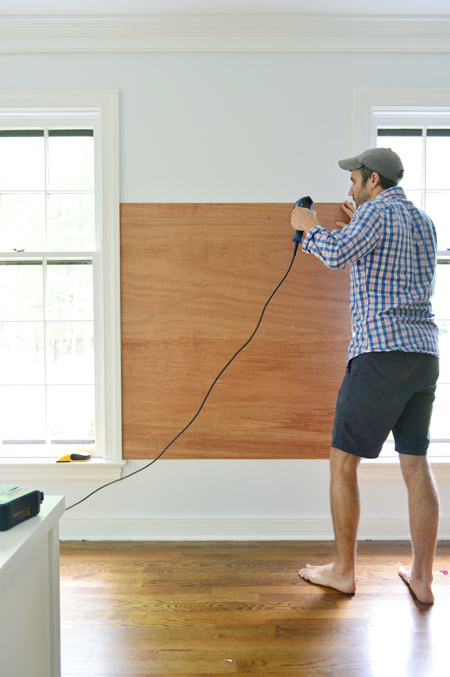 We wanted the third board to stop just slightly below the window for a stepped-down inset effect, so Sherry stepped back and eyed things so I could mark where it needed to be cut with a pencil. I also sliced two thin strips of wood to act as a basic molding for the top and the bottom, just to give it a more polished look so the cork didn't just end.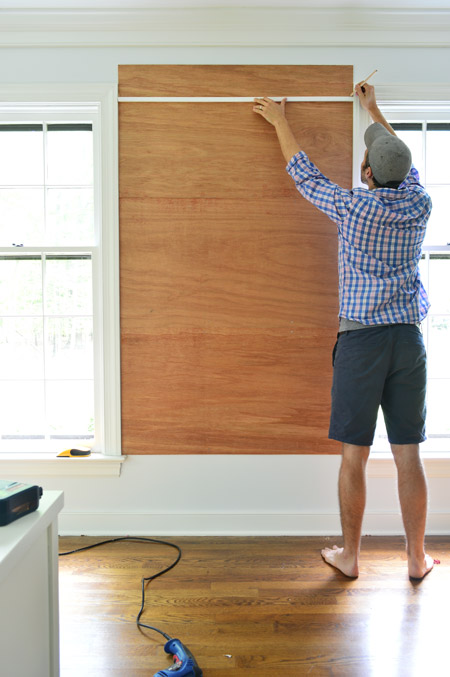 With the boards all cut and attached to the wall, we could start attaching the cork squares. We used this Loctite Spray Adhesive, since the back specifically said it worked for bonding cork to wood. It suggested spraying both surfaces, but since I didn't want to spray indoors – I just spayed the back of the cork outside and Sherry carried each square in and stuck it up. Seems to have worked just fine so far.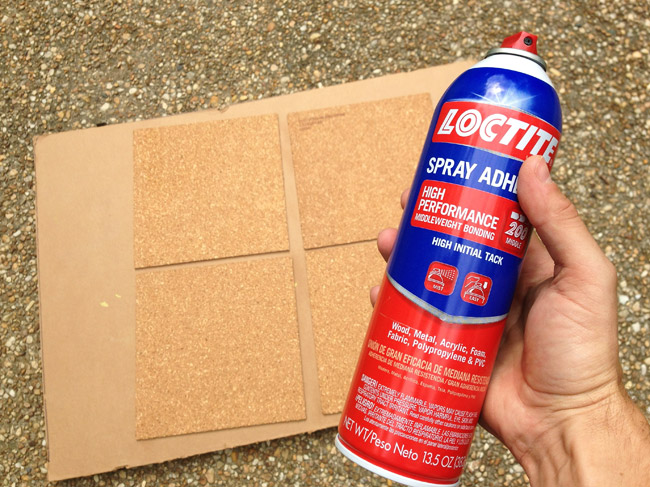 Tiling the wall was pretty straightforward (read: it went really fast), especially since we could use full squares for most of it and we were tag teaming things. We did all of those first before doing any partial pieces.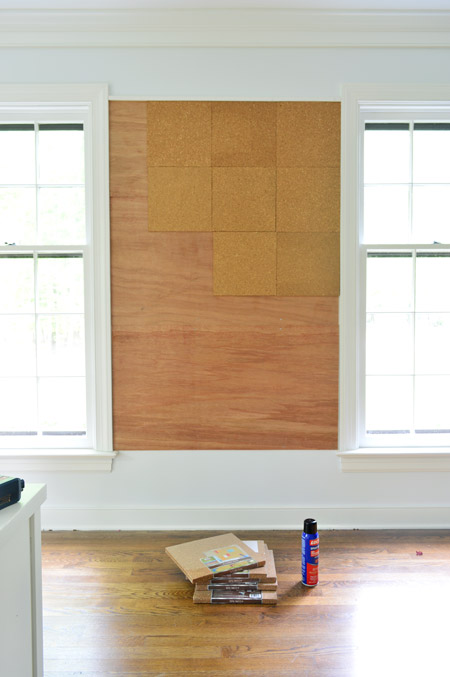 Sherry marked the partial squares with a pen and a ruler and then we just used regular old scissors to cut them. We discovered that making small cuts (rather than using the entire length of the scissor blade) helped keep the cork from cracking, which made for a cleaner edge.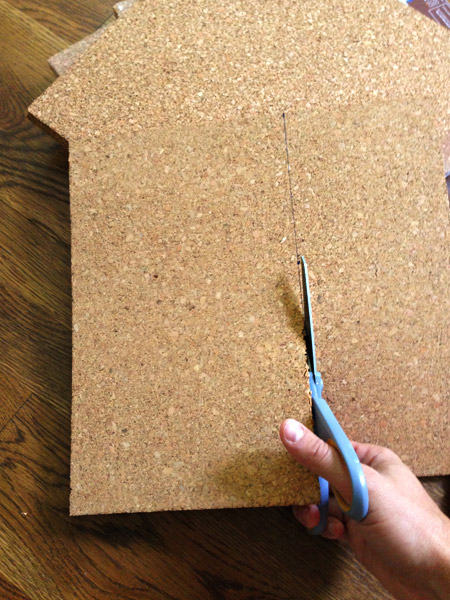 Here's the finished cork board. Ideally the seams would be less visible (we even considered covering it in fabric or painting it a pattern, or just the plain wall color) but ultimately decided that once art went up the lines would be a lot less noticeable. So since we both liked the natural color and texture it added to the room, we opted to leave it as is for now.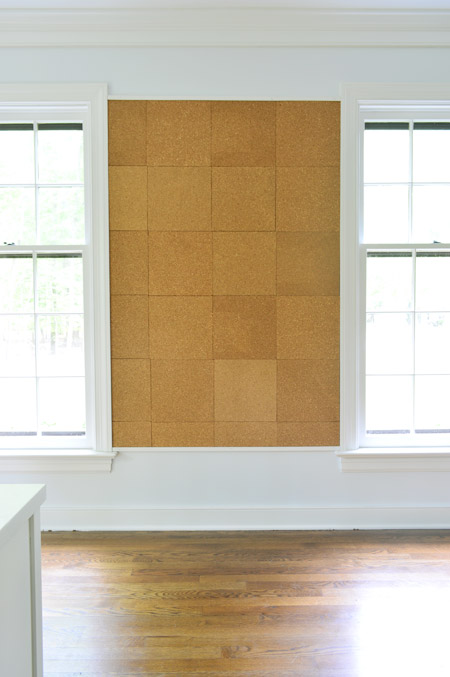 Sherry literally sprinted to arrange Clara's current body of work on the board the second we finished hanging it (picture her rubbing her hands together and whispering "faaaavorite part starts… now!" Clara helped with choosing what to put where, and after a few minutes of shuffling things around, we ended up here. The artist herself was also quick to assume the role of producing more stuff to hang, although we've explained that even with a bigger board, we'll still need to switch things out to make room for new stuff. So far she's cool with it. She even seems to like the challenge of choosing what to remove to make room for her newest creation.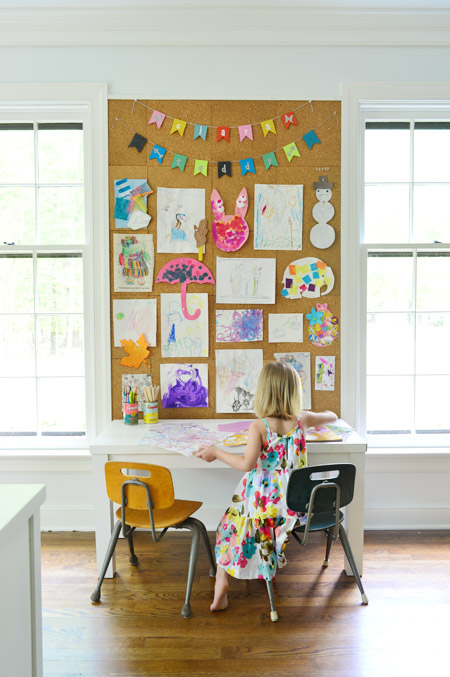 As for the rest of her art, we have a box full of other paintings/drawings/crafts that we save, and Sherry has a new app on her phone called Artkive, which she uses to take/store photos of it, with the intention of making a photo book full of her creations someday. We think it'll be really fun to look back on (both for us, and for Clara).
We're really happy with how our new cork board is adding some personality and color to the office, and Clara couldn't be more proud. We've realized it will get in the way of any curtains we might have hung, but we've been thinking about doing some inside-mount roman shades for the room anyway.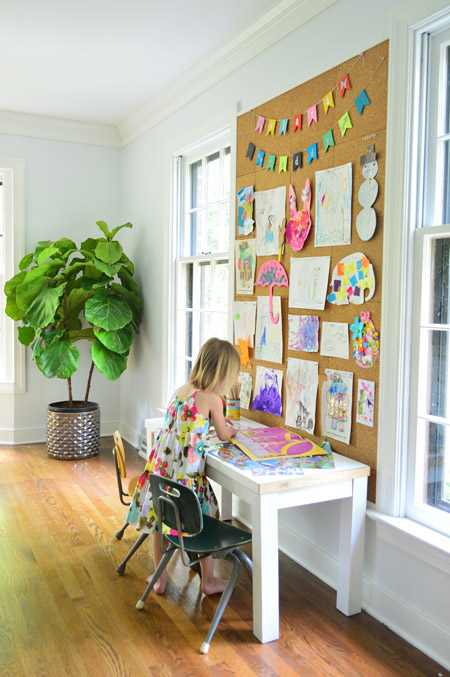 Oh and those felt name banners are a little homemade surprise that a sweet reader sent us (thanks so much Jes!) as a welcome/big sister gift for Teddy and Clara. I like that it sets the stage for Clara that she'll eventually be sharing her gallery space. Although I'm sure we'll have a tough time bumping some of her stuff up there. We're especially enamored with Grumpy Snowman.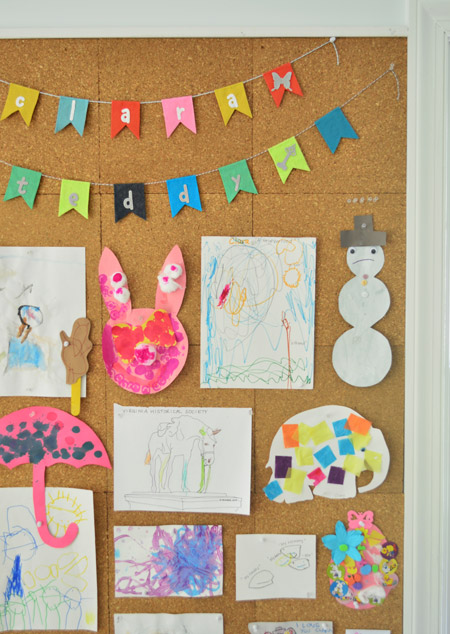 A clear family favorite is this drawing that came home from school one day last winter, where Clara had drawn a portrait of her soon-to-be-bigger family. She did it shortly after we told her that Sherry was having a boy, so it was a huge relief to see her embracing the idea of having a brother so quickly. Especially since she almost immediately started calling him "my baby."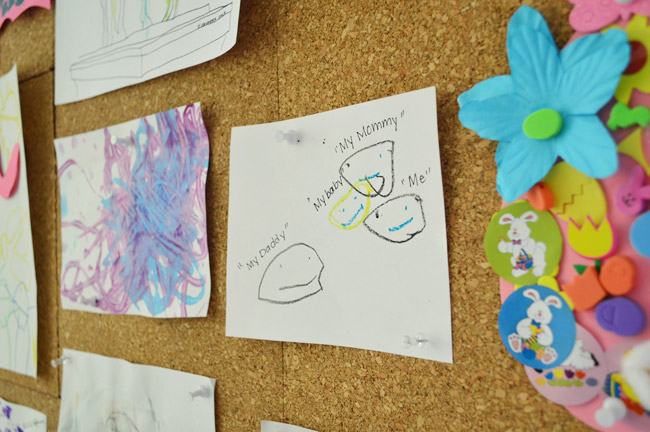 We're also pretty big fans of this bear-on-a-stick that she made at school. It shows the evolution of her people drawing skills, since they went from just having heads to suddenly having bodies. Although some people still don't get a torso, so this bear was pretty lucky.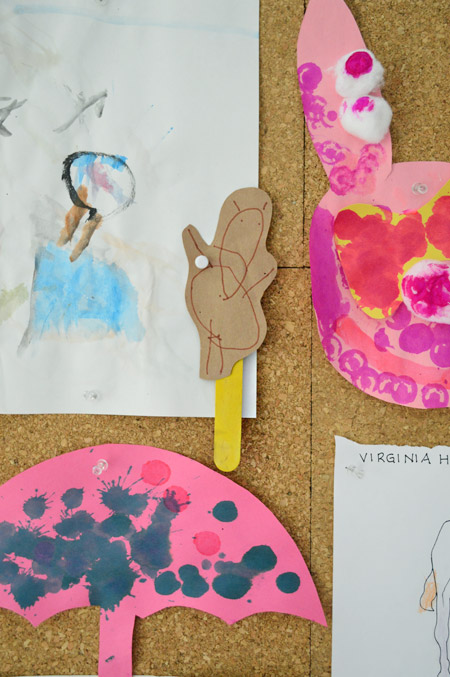 You may have also noticed that our repurposed Campbell's soup cans (the limited edition Warhol ones from this old project from two years ago) are still going strong.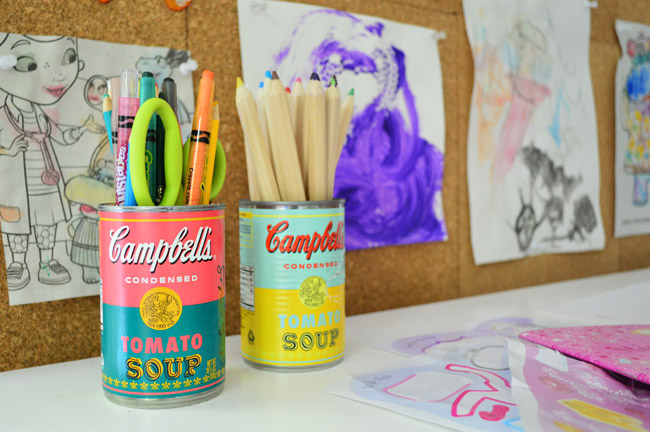 The rest of the office still hasn't made much progress, but with Teddy keeping one of us occupied pretty much at all times, there isn't really a rush on getting the double-desk thing going just yet. For now, Clara will just have to be our most productive office-mate.
&nbsp&nbsp&nbsp
When we last left off in the nursery, we had painted the closet door green, but still had a few lingering functional things that we needed (like a changing pad cover, a hamper, and a bin for dirty diapers) as well as a plan for the wall behind the crib that we had been debating.
Update #1. You probably remember when we were considering this fun arrow wallpaper for that spot (among others) but thought it might be a little busy on that side with all the built-ins, so imagine our surprise to find a changing pad cover in the same pattern on Etsy. Teddy loves it. So much, in fact, that he has already peed on it a whole bunch of times. You know, to mark his territory.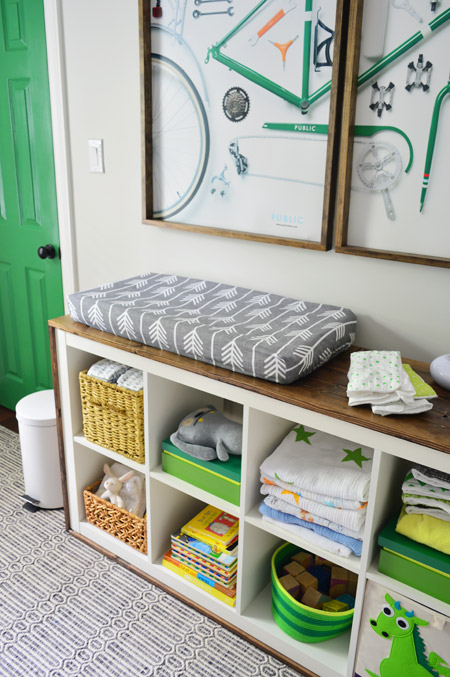 We've heard a ton of tips (washcloth, wipe, clean diaper) to block the spray, but even with those methods we found that it still managed to run down and pool on the changing pad cover, meaning that we had to strip it off and wash it more times than we hoped in the first few days of being home from the hospital. To the point that even if we had 4 spares we'd still be washing them constantly. We had the same problem with baby Clara (good genes I guess) so we used a wipeable changing pad cover over her cloth changing pad during that phase (it was so much easier to wipe that down than constantly be washing the cover itself).
Which brings us to Update #2. Now that we use that vinyl pad in the car for changes on the go, I thought I'd make one for the house from oilcloth. Here was my process in a nutshell: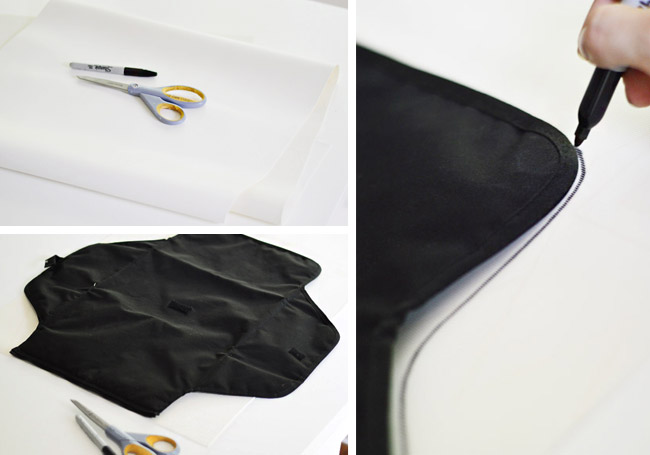 1. I grabbed half of a yard of "marine coat vinyl" in white from JoAnn for $6 (they didn't have white oilcloth), and I actually got two changing pad covers out of that half a yard (so we can use one downstairs when we change Teddy on the ottoman as well)
2. I laid out our existing car pad by Skip Hop (the front is the shiny vinyl part and looks like this, so the black fabric is the back) and traced the shape onto the back of the white marine coat vinyl fabric with a sharpie (twice since there was room for two).
3. Then I just cut them out. Vinyl doesn't have a fraying edge, so I didn't even need to hem them or anything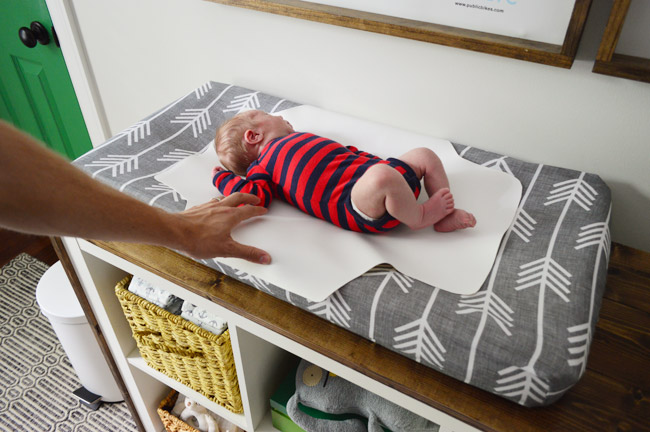 So far it has been awesome. Just look at Teddy modeling his new waterproof cover. He actually peed through his diaper and his onesie while we took this shot. True story. It's like he wanted to test just how waterproof it was. Thankfully, it worked like a charm. And it has been saving us a little bit of laundry (every little bit helps!) ever since.
Update #3. You can also see the simple white trash can that we grabbed at Ikea for diapers (we're using disposables until Teddy grows into our cloth ones, just like we did with Clara). So far it's working well. The lid (with the step-to-open mechanism) keeps smells in, and makes for hands-free opening, which is really convenient.
Update #4. In other "I'll take all the small conveniences I can get while running on a lot less sleep" category, we also got this adorable navy and white Boppy cover from John's sister as a baby gift (it was also from Etsy). I know some folks skip the Boppy and just use a pillow or something but I use it so much in these early days when the baby's so small and nursing all the time. We debated bringing ours to the hospital and I said "nah, that's overkill" and I actually wished I had it instead of using wadded up blankets and pillows, which surprised me.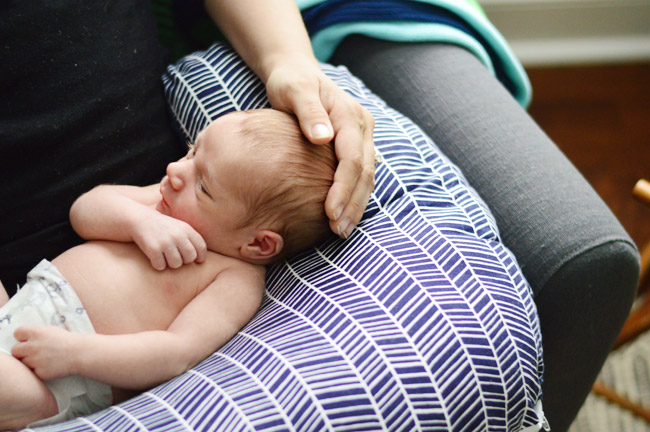 Please avert your gaze from my dirty nails and focus on the cute baby.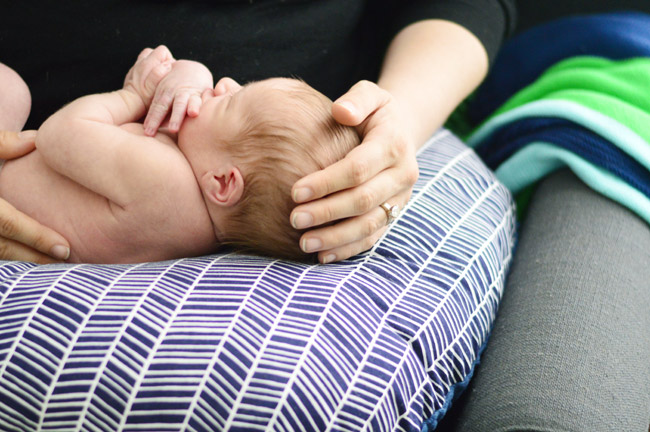 Update #5. This is a little craft fair item that we bought here in Richmond at the annual Spring Bada Bing event (we've blogged about it a few times before). It's always fun to support small businesses and browse homemade wares – and this one is made by The Little Bandit Shop. It's an embroidery hoop with discontinued fabric (from Ikea a while back) that she hand-stitched with some cute green vines on each side. We thought it was so charming, and a great idea for a DIY project too.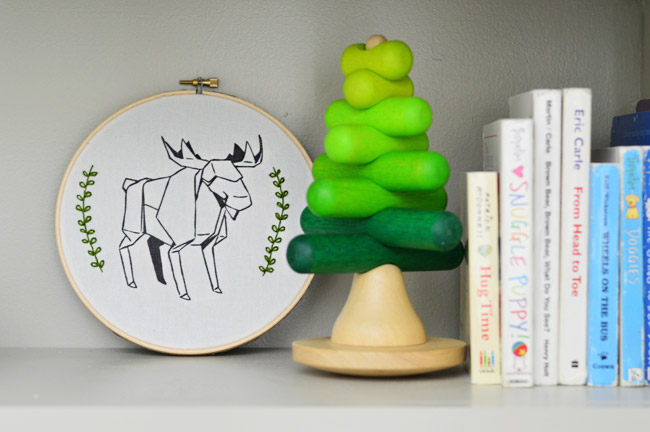 Update #6. We also realized we needed a clothes hamper, so we grabbed a basket from HomeGoods that's around the same size as the hamper that we use in Clara's room and I quickly sewed a little inside-out pillowcase to create a liner. Why inside out? That way when you fold the edges over the side of the basket, they face the right way (and when you look down at the inside of the hamper the patterned side shows). It's easy to pull out and wash, and I got half a yard of this soft gray ticking fabric at JoAnn for $4.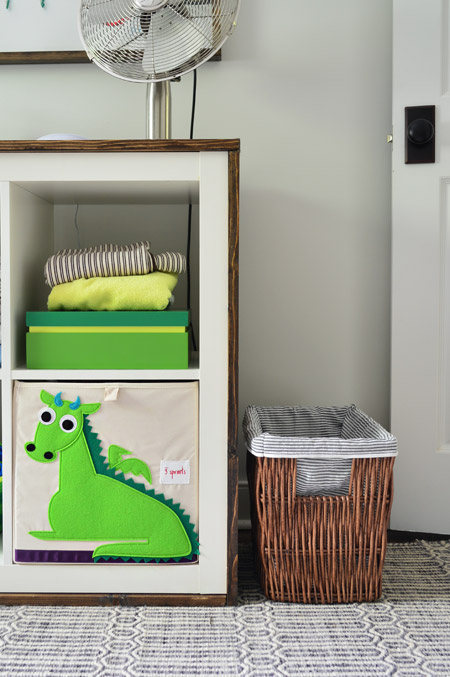 Update #7. Now for our little plan behind the crib wall, which we didn't actually do yet – but we think we're set on this idea. John came up with a repeating pattern of T's (for Teddy of course). Although this photoshopped version leaves a lot to be desired in the "realistic" department, in our minds it'll look awesome.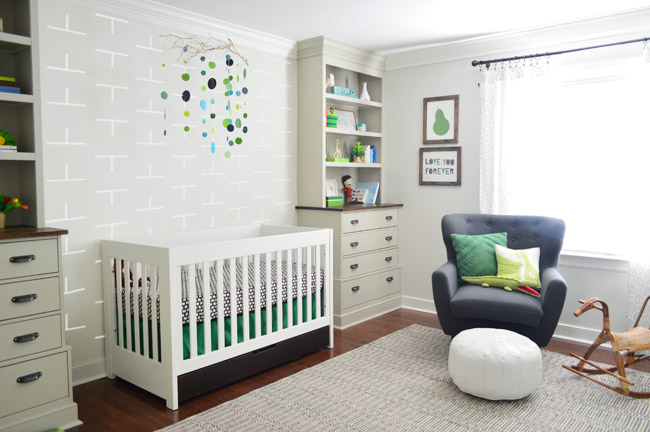 It's subtle and sweet enough for both of us to like it best of all the other options we've considered, so now we're just debating if we'll end up making a stencil to paint the T's on the wall like Clara's raindrops, or if we'll use contact paper or some other method to add them. Will keep you posted!
Oh and I finally remembered to snap a picture of the fourth wall of the room (it briefly flashed by in this video tour, but I don't think I ever took a photo of that angle). Right now there's just a floor lamp for function (it works on the wall switch, so we can flip it on when we enter the room) but eventually we'd love an overhead light on a dimmer and we think we'll use that wall to make a fun little play area once Teddy's a little older, like we did on this wall in Clara's room.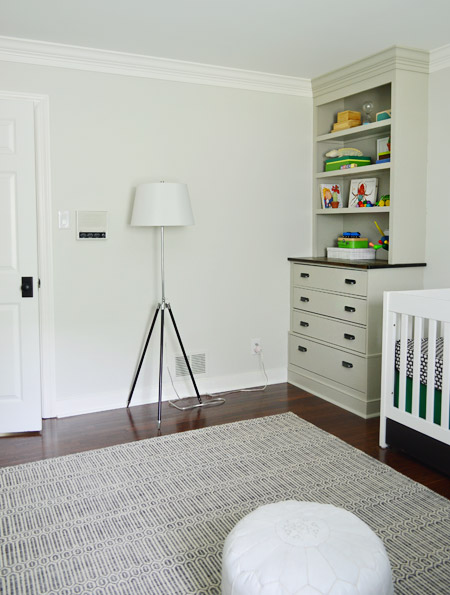 Are you rallying to add a flurry of small things to a space that's mostly complete? Buying anything fun from Etsy or at a local craft show? Peeing on changing pads, just for fun?
Psst- To read about all of the nursery updates from the beginning, here's how we painted all the pink trim, laid new hardwood floors, got a rug, painted the walls & ceiling, added built-ins, tackled some baby bedding, hung extra thick crown molding, filled up the built-ins, added a storage cabinet/changing table, made a mobile, and made art & painted the closet door green.
&nbsp&nbsp&nbsp