A few folks have asked what we're doing to prepare Clara for a younger sibling, beyond getting her a baby boy doll when we found out it was a boy in there (she still has a deep love for Captain Barnacles – more on him here and here).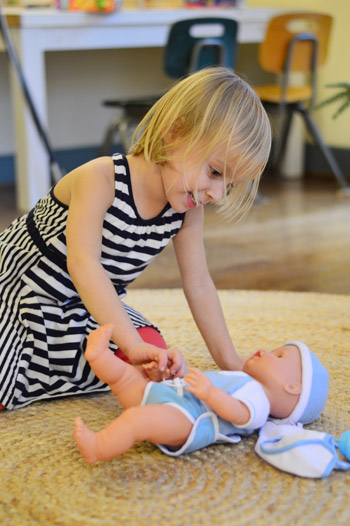 Mostly we have just been chatting with her about how she's going to be a big sister and she seems really excited to "give him bottles and change his diapers and carry him *like this* and share my toys." We've also tried to involve her in fun activities for him, like letting her pick out a stuffed toy for him (she chose one with a mustache)…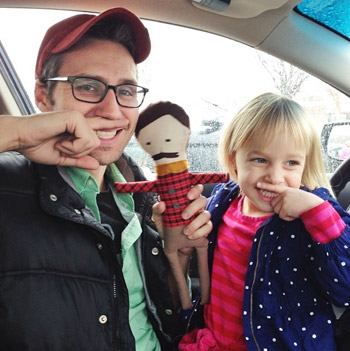 … and assembling furniture for his nursery together.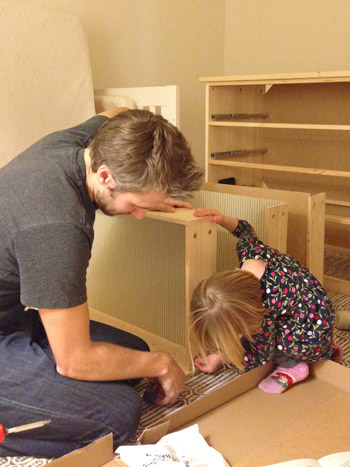 We've also been reading a few books on the "new baby" subject to her, namely these: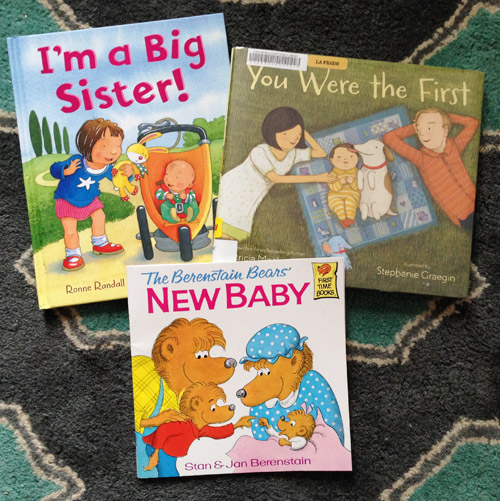 I'm A Big Sister – This is a great one for specifically highlighting the cool things about being the older sibling. So it mentions some things big kids can do (push the stroller, help to change a diaper) and although the babies have it pretty good (being pushed and coddled) there's a great page about the big sister getting ice cream, but babies can't have ice cream. As strange as it sounds, it probably sums up a lot of the envy that older kids might have for the younger ones who get a lot of attention, and points out some fun things that bigger kids can do that babies can't.
You Were The First – This one is so sweet that it makes me cry every time. I really want Clara to know how loved she is, and we know she's bound to feel our focus shift a little when we bring home her brother, so this is a nice way that I can remind her that she'll always be my special girl. It just chronicles all the things that happen when you bring home a new baby and reminds the child you're reading it to that you did all those sweet things with them first.
The Berenstain Bears' New Baby – John and I joke that this should be called "The Berenstain Bears Build A Bed" because the storyline is a lot more about the transition for big brother from his small bed to a big one (and then his little sister is born and gets his small one). In fact, brother's out in the woods with papa when Momma actually has the baby, so his little sister just magically appears at home halfway through the book. But Clara seems to love it, especially the part where the little sister punches her big brother in the nose. Seriously, that happens and it cracks her up.
So there are three adorable "sibling on the way" books that we've enjoyed. Do you guys have others you'd recommend? We'd love to check them out!