House Crashing
Can you believe it has been a month since our last house crashing adventure? And while February's house tour was from across the pond, this one was local, so we got to stop by and soak up all of the details in person.
Meet Becky and Brian (and their dog Fergie). They live just outside of Richmond with their two daughters and this charming red door. It's Heritage Red by Benjamin Moore – and she got that charming "Hello" decal here.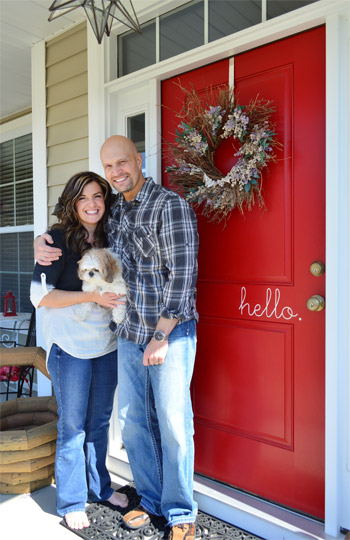 When you walk inside, there's a room to your right that they call the music room. Let's just say that the yellow piano, which Becky painted herself, had my heart immediately. It was Brian's grandma's piano that was passed down to their family (here's a link to Becky's post about painting it). Becky also found the swivel stool at an antique store and made the slipcover herself. It was such a fun house to walk through because so many things had a secondhand story or a handmade touch.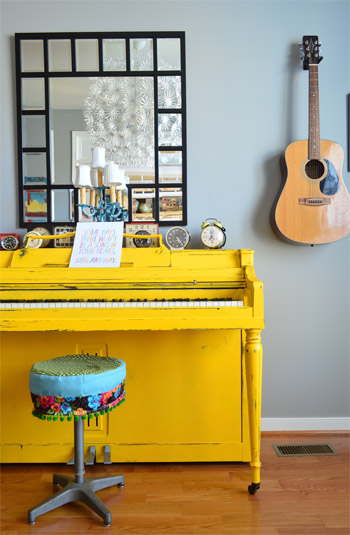 Her dresser-turned-bathroom-vanity was another example of Becky and Brian putting their stamp on their home. She got it at a local secondhand shop, painted it and distressed it, and then her dad and Brian cut out the middle and added a recycled sink basin (picked up from the Habitat For Humanity ReStore). Becky also loves to collect old mirrors to hang in groupings on the wall, so she always has an eye out for them at thrift & antique shops.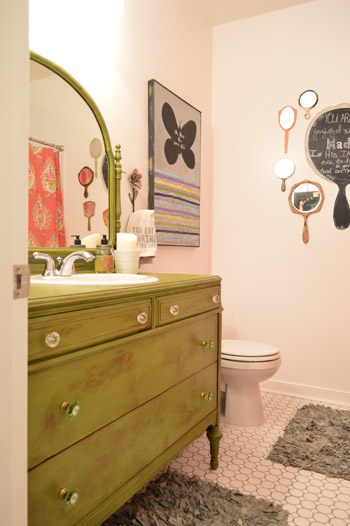 There's a first floor guest room which had such a cheerful vibe, even with those moody walls (they're Gravel Gray by Benjamin Moore). The playful rooster art was a $30 find at the Yankee Candle Store in Williamsburg.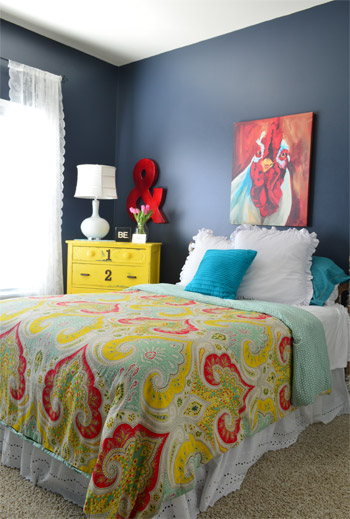 The pretty bedding is a Bed Bath & Beyond find, and the dresser is another secondhand score that Becky painted herself. She also distressed it with a palm sander and filled in the distressed areas with Walnut oil or glaze – and added those cute numbers for each drawer (found at a craft store).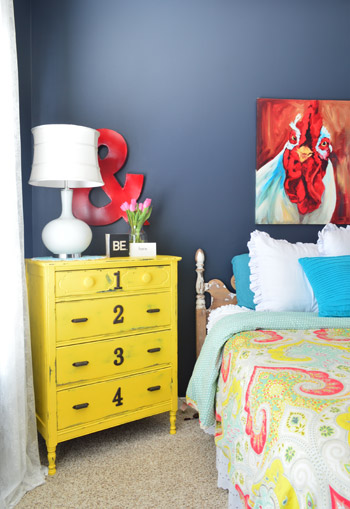 Becky worked in some more personal touches in the kitchen, like a panel of chalkboard paint on the pantry door, and by painting the stools that she got from Ikea red with a homemade chalk paint recipe that she found online.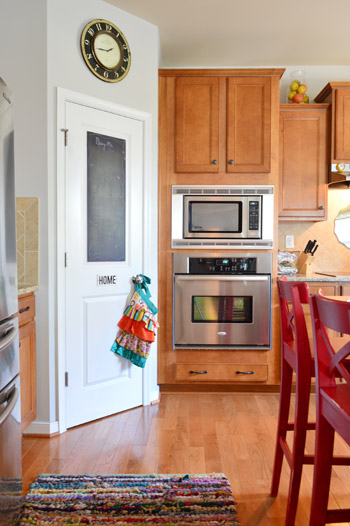 The master bedroom was a really soft and sweet space. The floral coverlet on their bed is a $20 Rosebowl Flea market purchase from Pasadena, CA. I loved that Brian didn't mind pink in the bedroom, and the mixture of the wooden bed (from Pier 1) and the pine bench at the foot of the bed (from HomeGoods) was interesting to me (instead of pairing it with painted or distressed wood). Becky doesn't remember the color on the walls, but Palladian Blue or Quiet Moments by Benjamin Moore might be close.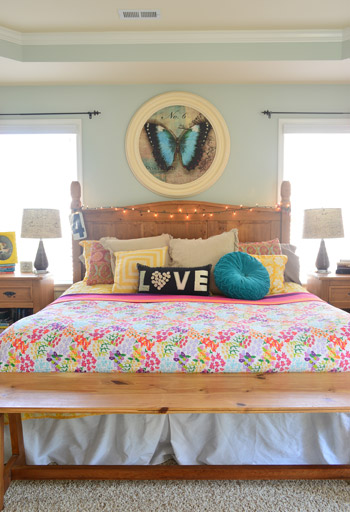 This homemade jewelry rack is another example of Becky's ability to see something and reimagine it. She got it at the Junk Bonanza Flea Market in Shakopee, Minnesota as an old crib railing, initially thinking that she'd hang magazines or blankets from it, but it turned out to be perfect for her jewelry.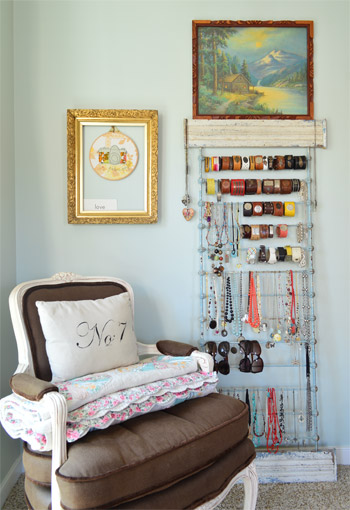 Her daughter's room has more feminine touches and the sweetest secondhand hutch that Becky also found in Minnesota. It even came that color so she didn't do a thing to it.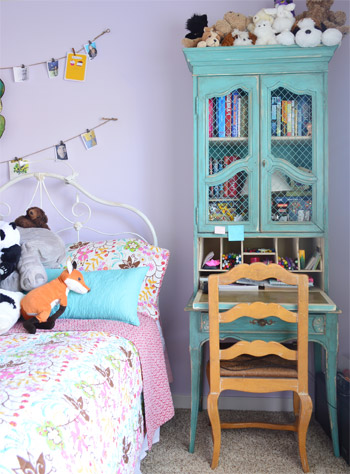 But possibly the coolest spot in the whole house is Becky's basement studio. She runs an Etsy shop called Farmgirl Paints, where she sells stamped leather cuffs made from secondhand belts (no wonder she has so many thrift store finds, right? She's always patrolling for belts) – and everything happens down in her basement studio.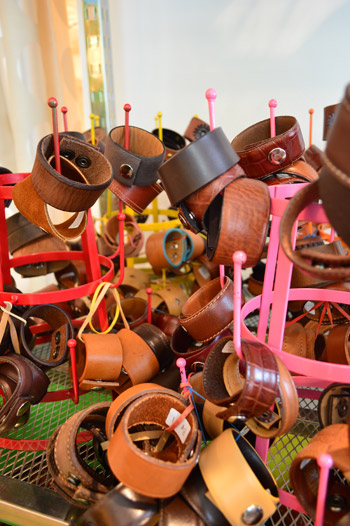 The green wall along the back of the studio is chalkboard paint that Becky had mixed up at Lowe's in "Spring Green" and she got the shop sign made by American Vintage Inc (she sent her an inspiration picture with reclaimed wood, metal sides, and frosted bulbs and this is the end result).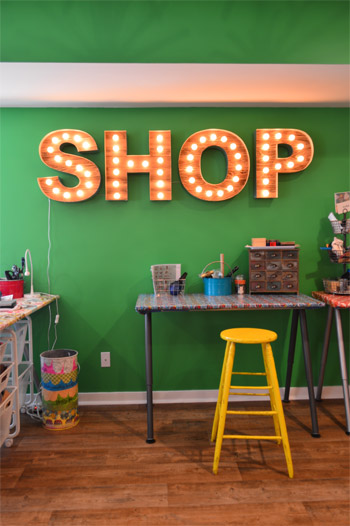 There were so many creative details in this basement to document. Like this cool twine Farmgirl Paints sign that Becky made – and even posted a little flipagram tutorial on Instagram.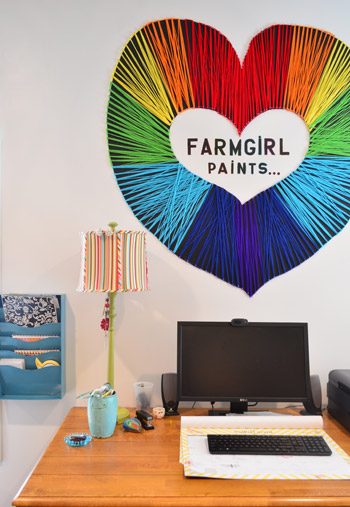 There were a lot of work stations for various shop jobs (making the leather bands, stamping the metal disks that go on them, adding snaps, billing, packing, etc). It was such a fun work environment thanks to all of the color and the playful wall decor. How cool is that old "humble" sign Becky found?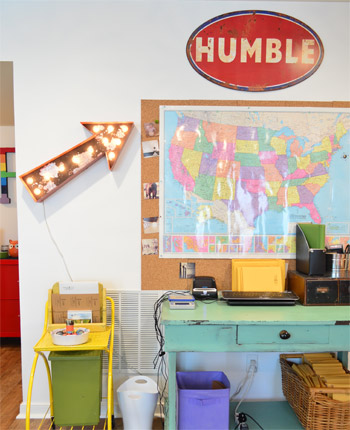 She also mixed in some big box finds, but the funny thing is that I assumed everything was thrifted or homemade due to all of her other pieces. So it shocked the heck out of me when she said this numbered wall cubby was from Target a while back.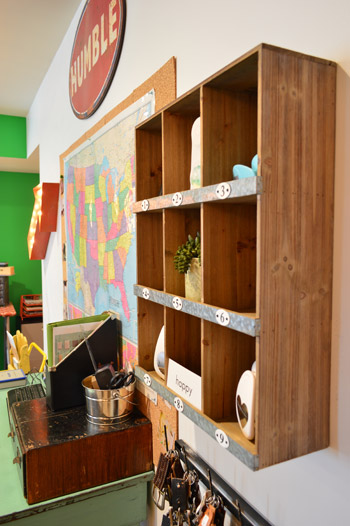 There's also a room that's tucked away in the very back of the basement that Becky calls her art studio. To make the desk, she and her husband dug through an awesome old salvage yard here in Richmond called Govenor's Antiques. The owner helped them pick out the perfect doors (there are two of them, joined in the middle, braced along the back wall, and further supported by two legs that they made out of spindles on each end). It's 13′ long and full of crafting supplies. I was like a kid in a candy store.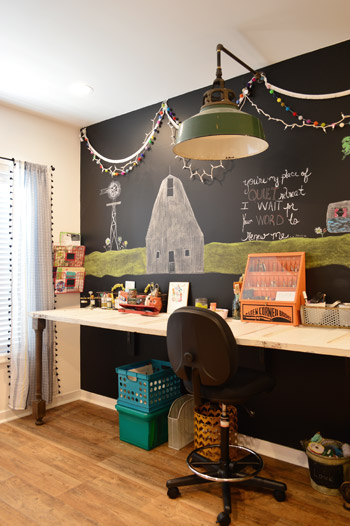 That green lamp has a great story too. Becky was antiquing in Charlottesville, Virginia and I fell in love with that HUGE barn light, which was hanging right over the checkout counter in a small shop. So she sweet talked the owner into selling it to her.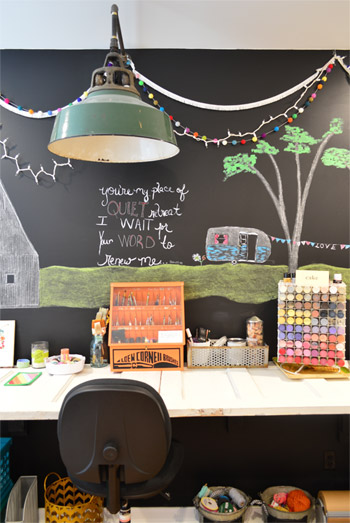 Possibly my favorite organizational coup of all was this old school display case made of wire that Becky picked up at The Screen Door antique shop in Asheville, North Carolina. She bought it without having any clue what she'd do with it, but soon realized that all of her little tubes of craft paint fit perfectly. And how cute is the chalkboard camper that Becky drew on the chalkboard wall behind it?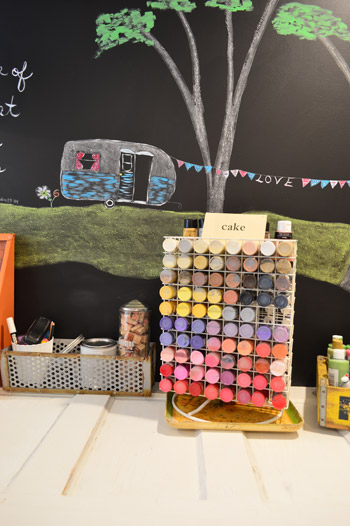 We want to send a HUGE thanks to Becky and Brian for so graciously inviting us into their joy-filled home and allowing us to snap photos to share with the interwebs. You can read more about her life/shop/house over on her blog, but first I'd love to hear what your favorite parts were, or what has you inspired (her whole house made me want to thrift like crazy). Between the decal on that shiny red front door, the yellow piano, and her tricked out basement studio, it's hard to even pick a favorite.
************************************

&nbsp&nbsp&nbsp
We like to House Crash at least once a month but somehow it has been nearly two since our last one, so we're sorry for the delay, but we hope that this awesome one all the way from the UK makes up for it! We knew as soon as we saw this place that it was primed and ready for a crashing, and since it's a little too far for a road trip, we had a lot of fun getting all of the virtual details (and photos) for you guys.
Meet Kimberly. She's married to Wayne, and is an American who has been living in Manchester, UK for over a decade.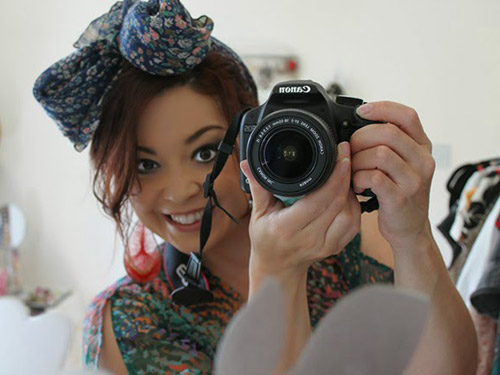 This is her charming Edwardian home that was built in 1906. They've lived here since June of 2010, and have been having fun putting their stamp on it since the day they moved in. It might not be giant, but it's packed with style, personality, and feel-good vibes. Can you see that dragonfly door knocker? She got it here and I'm in love. The geometric doormat from Ikea is also doing things to me, along with that cool transfer film door number over the glossy black door (from here).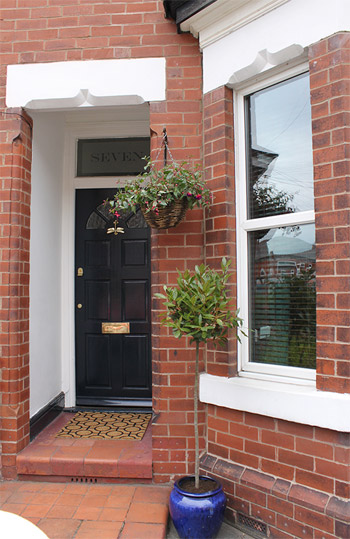 Once inside, let's start with one of my favorite spaces – her dining room, which is a rich royal blue color (it's a UK paint called Dulux in Wild Water 1). I really like how Kimberly mixed in those great textured chairs, a big brass mirror, and a lot of fun patterns. It's a space that feels upscale but also doesn't take itself too seriously, which I think is a pretty amazing mix. And a fireplace – even a non-working one – in a dining room is a major score. Makes me want to get an old reclaimed mantel and plop it onto the back wall of ours…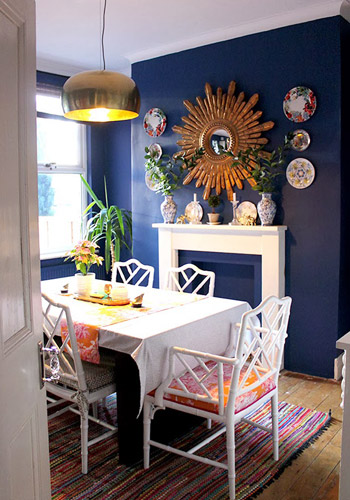 The dining chairs were thrifted from ebay and then painted/reupholstered – and she also found that brass mirror on ebay while the brass light fixture came from Habitat. On the other wall there's a big frame collage full of even more pattern and color. I love how it goes right up to the crown molding and has everything from words and letters to colorful images and maps.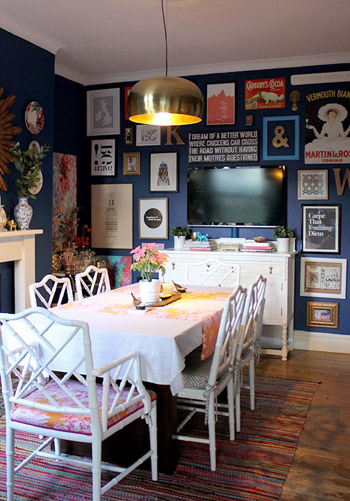 Kimberly also painted the art above her secondhand bar cart herself. Here's a close up.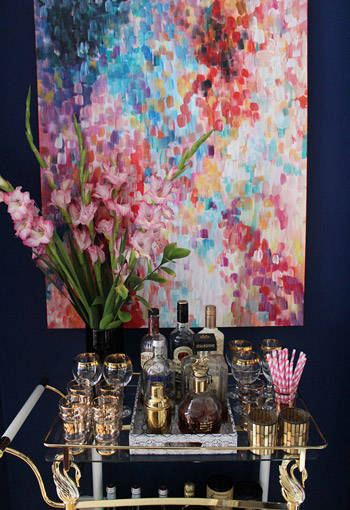 She did another big painting across from the fireplace over the thrifted console table that she found, which she also painted and added new hardware.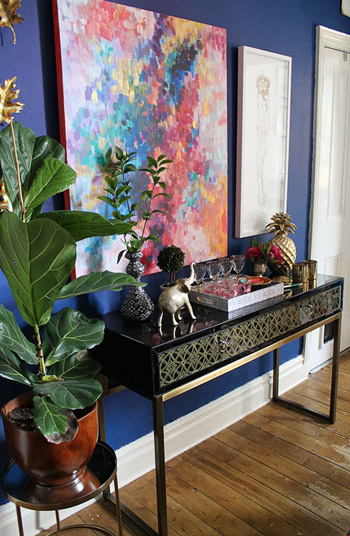 Behind the dining room is the light and airy kitchen. Kimberly and Wayne did a ton of things themselves in this room, like tiling the backsplash and laying the slate flooring (which is heated!). They even ripped down a false (lowered) ceiling, and then plastered to add nearly a foot of head height.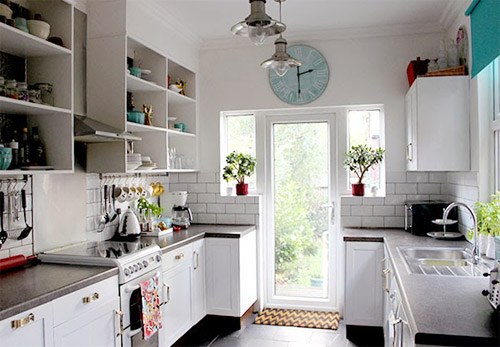 How sweet is that big glass door with those two half-windows on either side? The shiny brass cabinet hardware that she found on ebay is pretty amazing too.
Both Kimberly and Wayne prefer casual and easy-access storage in a kitchen – so a lot of their stuff is housed in doorless cabinets. Once again Kimberly wasn't afraid of a mix of textures and patterns, so it was fun to see how she layered swirly wallpaper behind lots of kitchen storage and lined up all of their cooking utensils so they hung right within reach from the counter.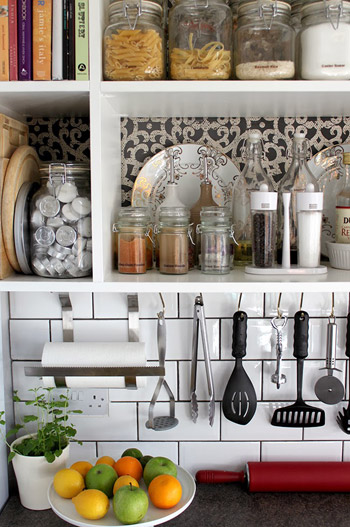 Now let's check out the living room, where there's a really cool dresser that Kimberly made over with wallpaper. And it's not just any wallpaper, it's the same stuff that she used on the wall across from that gorgeous fireplace.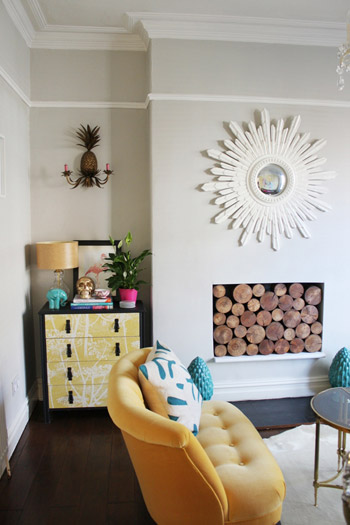 Everything from the marble table to that pretty branchy paper (it's Cole & Son's Cow Parsley in Yellow) is elegant but interesting. Kimberly just has a way of pairing things that I'd never think to put together.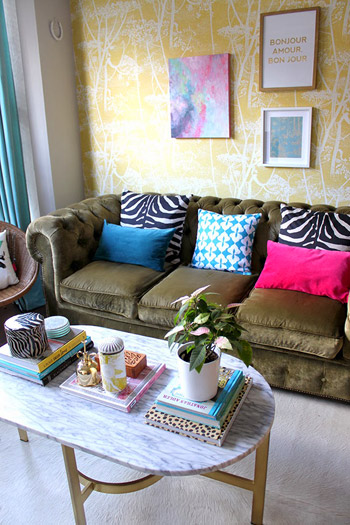 Her master bedroom is another moody space like the dining room, with dark walls (they're Dulux Night Jewels 1). I'm so into the splashes of yellow and gold along with those stunning blue side tables. Can you believe those are Rast dressers from Ikea that Kimberly hacked with new paint and hardware?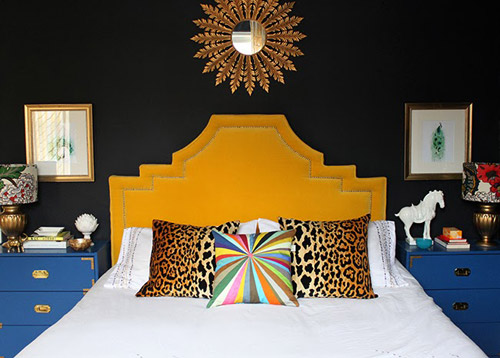 I really like how that she paired that shapely headboard (she splurged to have that custom made) with everything from leopard pillows (which she found on Etsy) to those royal blue dressers and dark walls.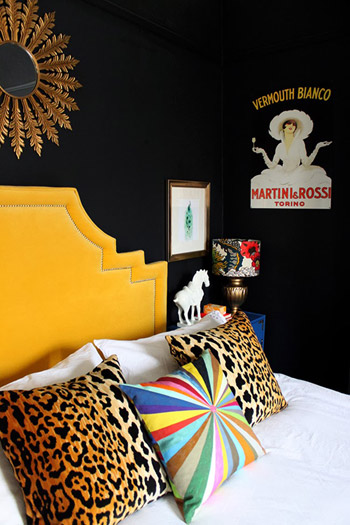 And here's Kimberly's dressing room. One thing that really struck me was how many special pieces there are in here – like that statement making mirror, the gorgeous wallpaper (it's Osborne & Little's Grove Garden in Green), and the secondhand dresser with brass hardware that she painted herself. I never would've had the guts to put them all together, but the result is such a charming and personality-filled space to get ready in the morning. And when it comes to function, she has two Billy bookcases from Ikea in there with painted backs for storing lots of shoes, bags, and other accessories.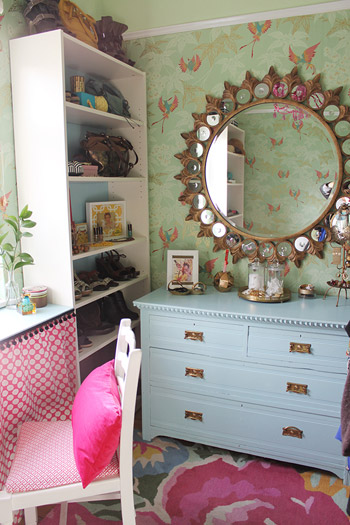 So a big thanks goes out to Kimberly and Wayne for so thoughtfully allowing us to peek in on their lovely little UK home! You can see more and follow Kimberly over here on her blog – but first let's play the favorite part game. I'm loving the wallpaper in the dressing room and the living room along with those dining room chairs – and John really likes the navy and yellow color combo in the bedroom. Your turn.
************************************

&nbsp&nbsp&nbsp