When Julia invited us to crash her house, which she describes as a typical cookie cutter Pennsylvania house on the outside (she's not allowed to change much, even the color of the front door), we fell in love the moment she virtually let us inside.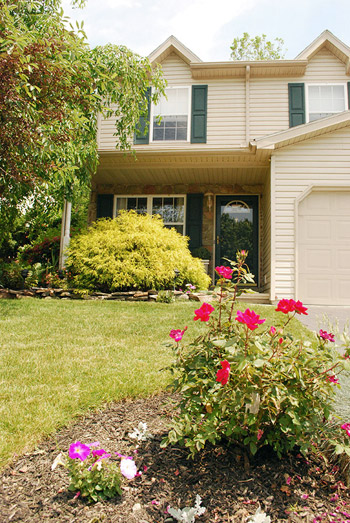 Here's Julia now. She lives here with her husband Jarrid, her 10 year old son, her six year old daughter, and her three kitties.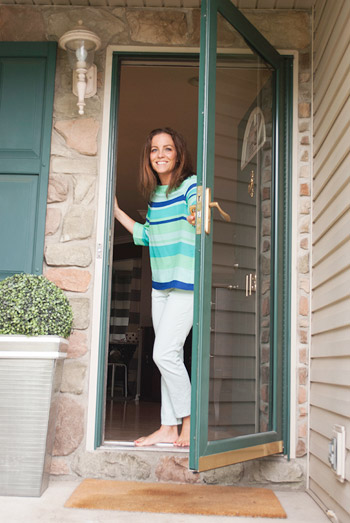 Their house definitely feels like a nice mix of quirky and fun with elegant and classic choices. Soft neutral walls with white molding are mixed with a cardboard deer head and a pretty crystal chandelier. You can see her living room peeking out down the hallway of this shot.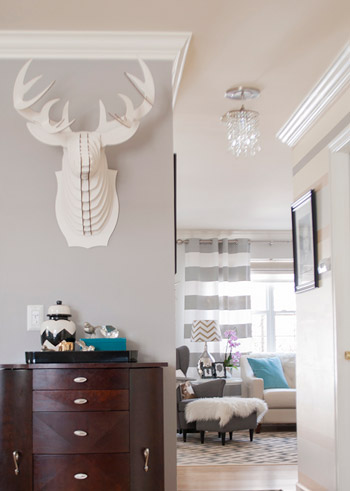 I love the mix of classic items like the round mirror, the tufted sofa, and the white pedestal table with bold geometrics like the rug and the curtains (Julia painted those stripes onto plain white Ikea panels). And the transparent coffee table keeps things light and airy. As for where she buys things, most of them are thrifted or bought at estate auctions. The only splurges in the house were for their kitchen counters, sofas, and their bed. She also says Ikea plays a huge role in her life too. Gotta love a mix.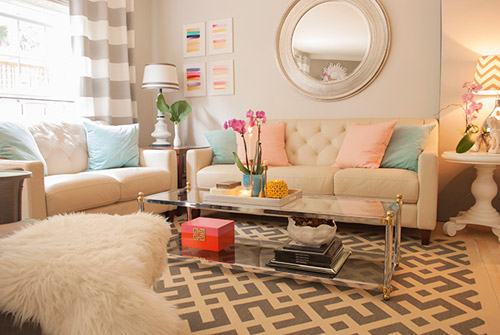 She can keep orchids alive. I know, I'm jealous too. And one tip to living with two kids and three cats while keeping the house looking good is that she uses mostly indoor/outdoor rugs since they're so easy to clean.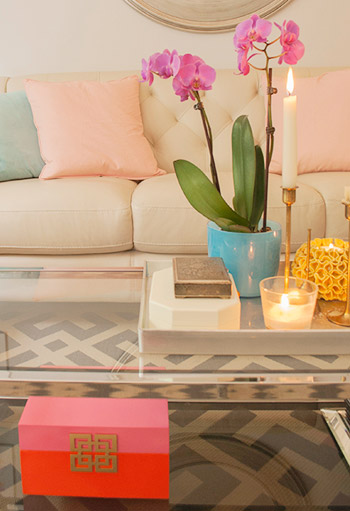 I love this shot because Julia describes herself as "a huge fan of silly things around the house – like my cuckoo clocks, gnomes, and deer. My brother hates it!" My brother doesn't get my ceramic animal obsession either, Julia. Fist bump.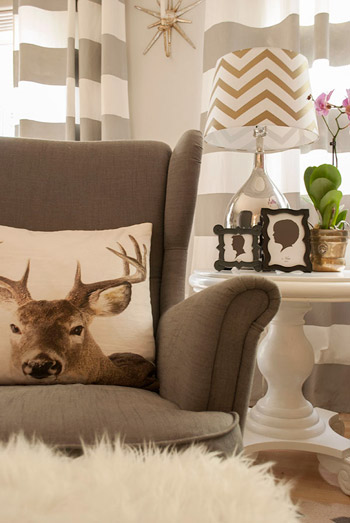 She made the chandelier over the sink from a lamp, and here are those counters that she splurged on. I love the blue stripe that she painted on her stools too. Such a sweet and personal touch.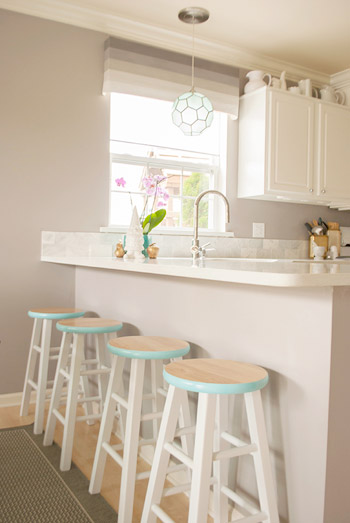 The 1960s painting and dining room table were both bought at auctions (the painting was $60 and the table was $25). The chandelier was 80 Euros from Germany, where Julia's from (it's a replica of the famous cellula chandelier) and the curtains are more painted Ikea panels that Julia whipped up herself.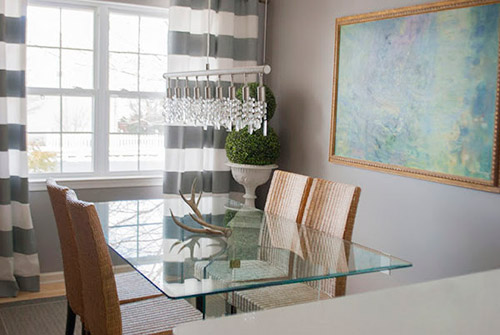 From the living room you walk up the stairs on the left to this hallway. I'm obsessed with that ceiling fixture that Julia made from a bowl. She also painted the dresser and lamps. The painting is from a known German WW2 painter that knew her grandmother's family. She says it's one of the most treasured items in their home.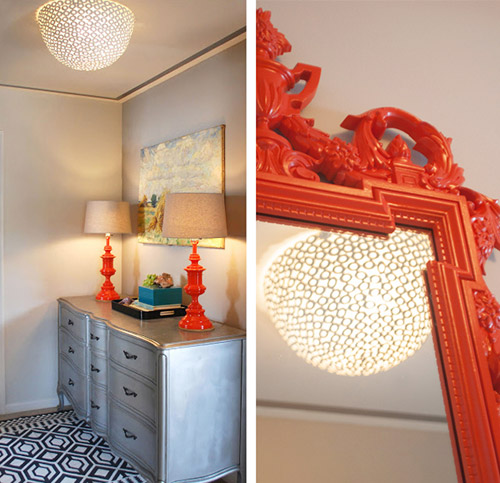 In her daughter's room, Julia picked the headboard out of a neighbor's trash. I love how she went for it with horizontal stripes on the wall and thinner black and white stripes on the headboard and bedding.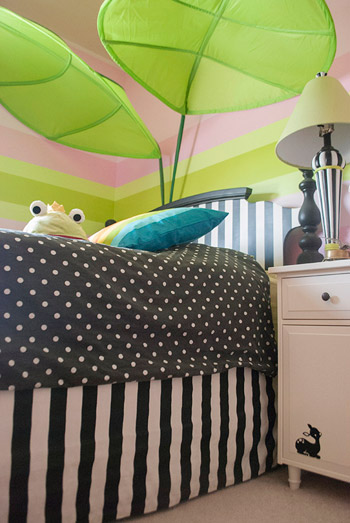 Here's an art wall across from the bed so you can see more of those striped walls. And I love the simple wire and clip system for an interchangeable art gallery.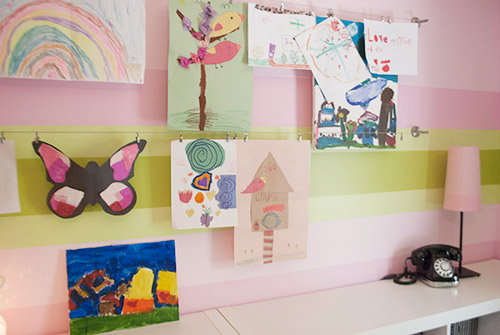 As Julia mentioned, she loves quirky items like cuckoo clocks and deer pillows, and this is actually a cuckoo clock that she hung in her daughter's room after her daughter painted it with her. I'm a huge fan of doing projects with Clara, so I love the idea of painting something like this with her someday.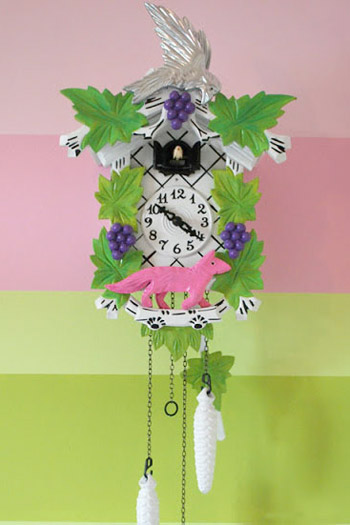 Julia says she's still searching for perfectly sized bedside tables (she thinks the mirrored ones are too small) and she's thinking about attempting to reupholster the chaise herself this fall or winter. That's the kind of project that makes me rashy just thinking about it, so I'm rooting for her. And in the meantime I love those lofted ceilings and the chandelier in there as well as those sweet and personal family portraits that she DIYed over the bed.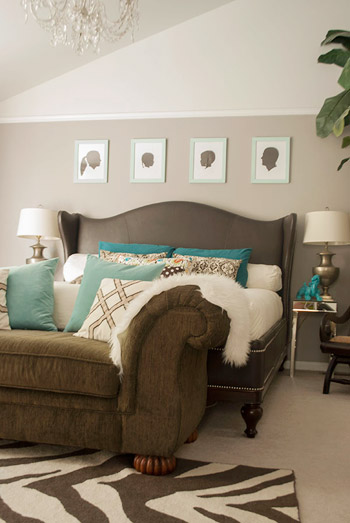 Julia painted this dresser herself (I thought the neon handles were fun and unexpected) and got wood slices from the craft store and mounted white animal heads on them to beef them up. Look guys, that's Ramsey on the left!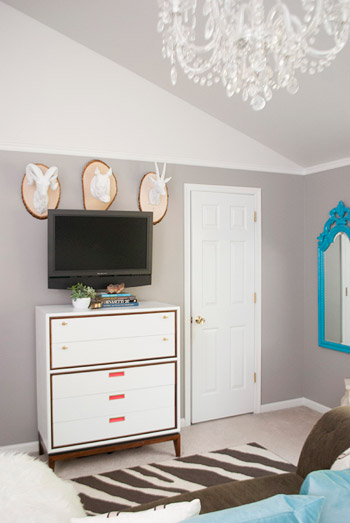 Out in the backyard it's lush and charming. And if you look closely you might see something pretty awesome, especially if you're a cat.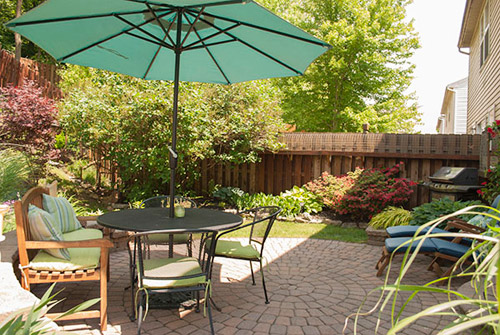 Yup, Julia made a cat enclosure consisting of a wire tunnel for them with her own two hands. They enter it through a cat door which is in the living room window above the couch. No joke, but I think Burger would live out there. I swear he's half cat.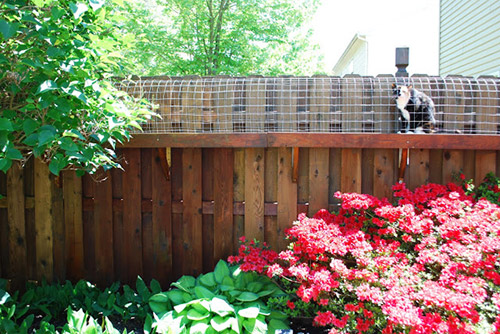 So a big thanks goes out to Julia and Jarrid for sharing their lovely home. As for Jarrid's DIY help, he doesn't like to work on projects at all, but he loves to bake, cook, and work in the yard so Julia says it's a fair trade. You can read more about certain projects and how she did them over on her blog. My favorite parts of their house tour have to be that light fixture that Julia made from a bowl and those striped Ikea curtains that she painted as well as her general happy-go-lucky-meets-elegant style. What's your favorite part? It's the cat tunnel isn't it?