We like to House Crash at least once a month but somehow it has been nearly two since our last one, so we're sorry for the delay, but we hope that this awesome one all the way from the UK makes up for it! We knew as soon as we saw this place that it was primed and ready for a crashing, and since it's a little too far for a road trip, we had a lot of fun getting all of the virtual details (and photos) for you guys.
Meet Kimberly. She's married to Wayne, and is an American who has been living in Manchester, UK for over a decade.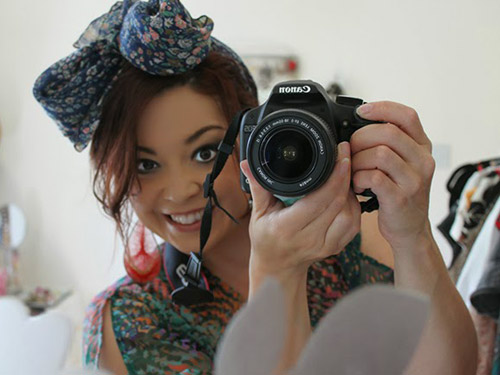 This is her charming Edwardian home that was built in 1906. They've lived here since June of 2010, and have been having fun putting their stamp on it since the day they moved in. It might not be giant, but it's packed with style, personality, and feel-good vibes. Can you see that dragonfly door knocker? She got it here and I'm in love. The geometric doormat from Ikea is also doing things to me, along with that cool transfer film door number over the glossy black door (from here).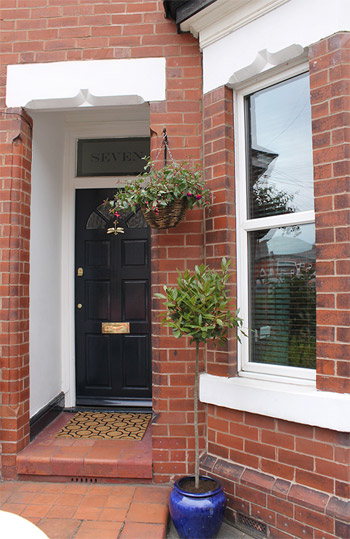 Once inside, let's start with one of my favorite spaces – her dining room, which is a rich royal blue color (it's a UK paint called Dulux in Wild Water 1). I really like how Kimberly mixed in those great textured chairs, a big brass mirror, and a lot of fun patterns. It's a space that feels upscale but also doesn't take itself too seriously, which I think is a pretty amazing mix. And a fireplace – even a non-working one – in a dining room is a major score. Makes me want to get an old reclaimed mantel and plop it onto the back wall of ours…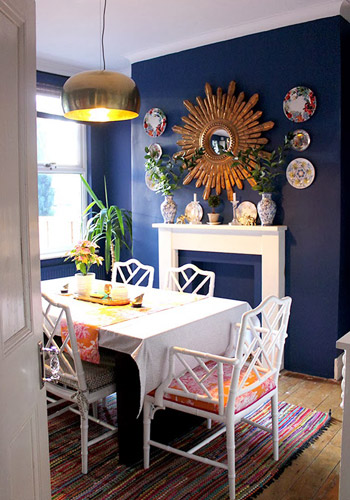 The dining chairs were thrifted from ebay and then painted/reupholstered – and she also found that brass mirror on ebay while the brass light fixture came from Habitat. On the other wall there's a big frame collage full of even more pattern and color. I love how it goes right up to the crown molding and has everything from words and letters to colorful images and maps.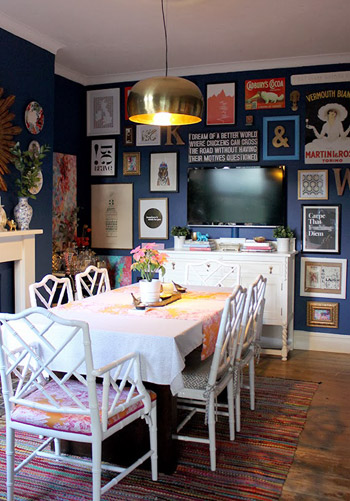 Kimberly also painted the art above her secondhand bar cart herself. Here's a close up.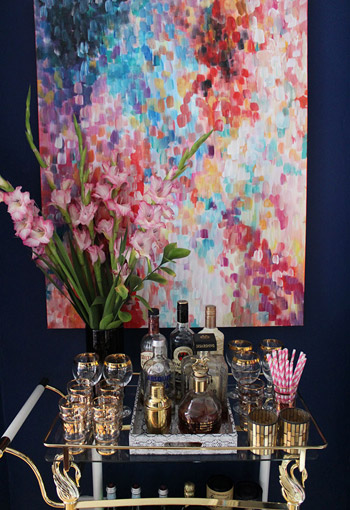 She did another big painting across from the fireplace over the thrifted console table that she found, which she also painted and added new hardware.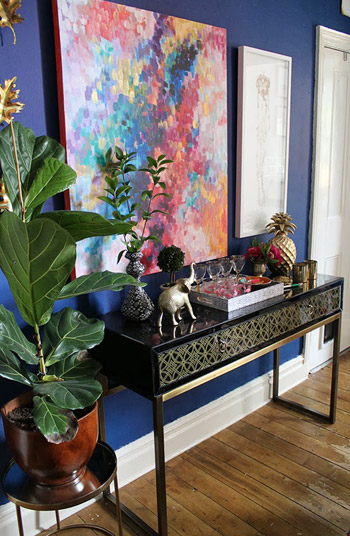 Behind the dining room is the light and airy kitchen. Kimberly and Wayne did a ton of things themselves in this room, like tiling the backsplash and laying the slate flooring (which is heated!). They even ripped down a false (lowered) ceiling, and then plastered to add nearly a foot of head height.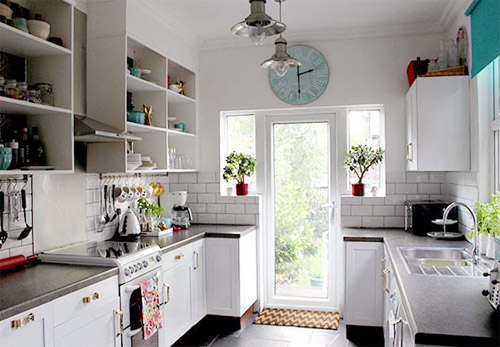 How sweet is that big glass door with those two half-windows on either side? The shiny brass cabinet hardware that she found on ebay is pretty amazing too.
Both Kimberly and Wayne prefer casual and easy-access storage in a kitchen – so a lot of their stuff is housed in doorless cabinets. Once again Kimberly wasn't afraid of a mix of textures and patterns, so it was fun to see how she layered swirly wallpaper behind lots of kitchen storage and lined up all of their cooking utensils so they hung right within reach from the counter.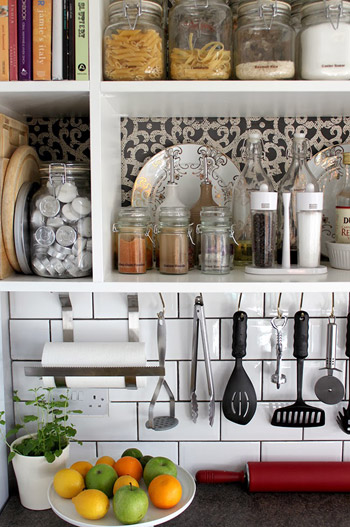 Now let's check out the living room, where there's a really cool dresser that Kimberly made over with wallpaper. And it's not just any wallpaper, it's the same stuff that she used on the wall across from that gorgeous fireplace.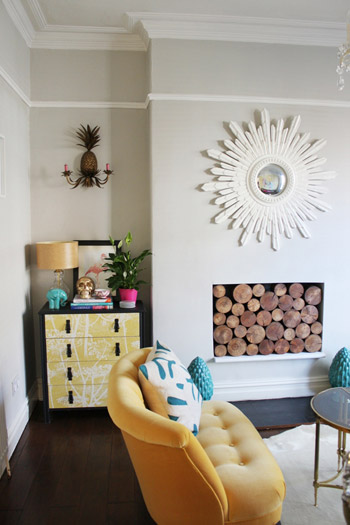 Everything from the marble table to that pretty branchy paper (it's Cole & Son's Cow Parsley in Yellow) is elegant but interesting. Kimberly just has a way of pairing things that I'd never think to put together.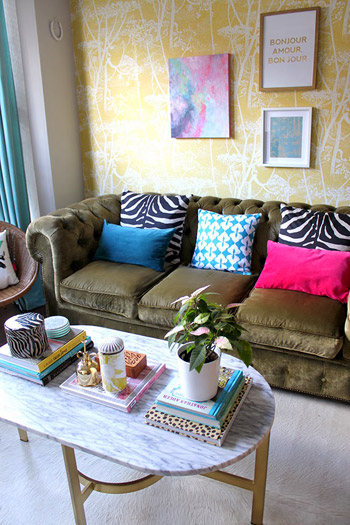 Her master bedroom is another moody space like the dining room, with dark walls (they're Dulux Night Jewels 1). I'm so into the splashes of yellow and gold along with those stunning blue side tables. Can you believe those are Rast dressers from Ikea that Kimberly hacked with new paint and hardware?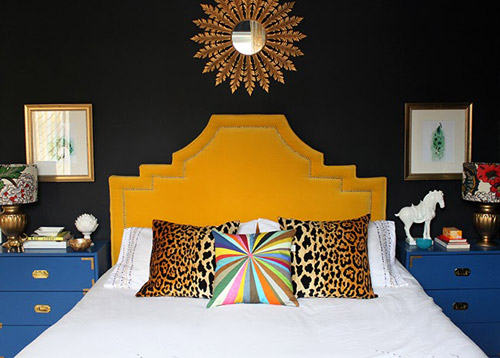 I really like how that she paired that shapely headboard (she splurged to have that custom made) with everything from leopard pillows (which she found on Etsy) to those royal blue dressers and dark walls.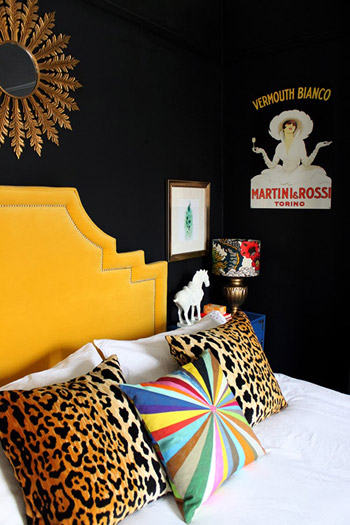 And here's Kimberly's dressing room. One thing that really struck me was how many special pieces there are in here – like that statement making mirror, the gorgeous wallpaper (it's Osborne & Little's Grove Garden in Green), and the secondhand dresser with brass hardware that she painted herself. I never would've had the guts to put them all together, but the result is such a charming and personality-filled space to get ready in the morning. And when it comes to function, she has two Billy bookcases from Ikea in there with painted backs for storing lots of shoes, bags, and other accessories.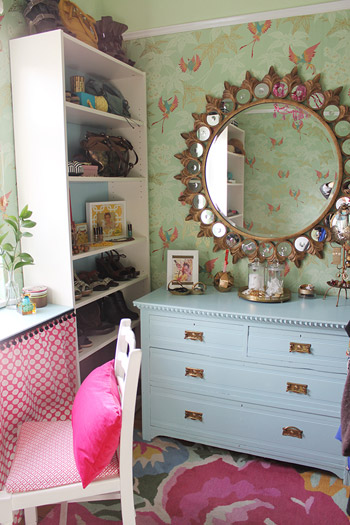 So a big thanks goes out to Kimberly and Wayne for so thoughtfully allowing us to peek in on their lovely little UK home! You can see more and follow Kimberly over here on her blog – but first let's play the favorite part game. I'm loving the wallpaper in the dressing room and the living room along with those dining room chairs – and John really likes the navy and yellow color combo in the bedroom. Your turn.
************************************