Home Improvement
Favorite project ever! Ok, I probably say that to myself every month or two, but this one might reign supreme for a while. Especially in the small/easy division (our sunroom reno and Teddy's built-ins might have given it competition if it fell into the heavy-duty upgrade category, but there's no way it belongs there because it was so simple). Ladies & gentlemen (gentleman?), I give you… Clara's closet: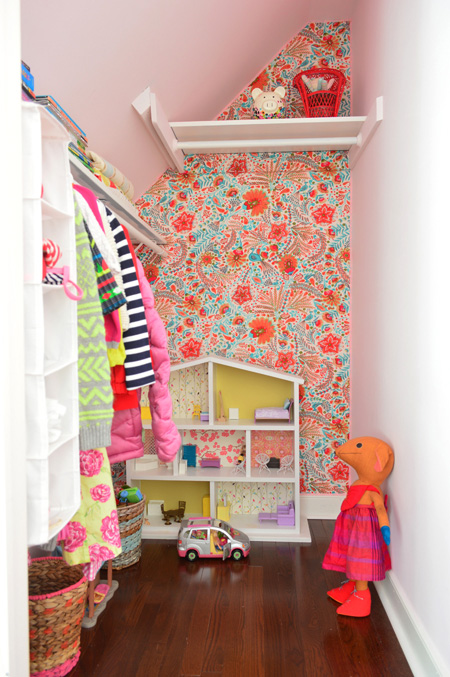 I've been obsessed with the idea of covering the back wall of Clara's closet with something fun for a while, especially since images like this inspired me to add some playful to make it feel more like a little hideaway within her room. Right after we moved in she proclaimed her closet her favorite spot in the whole house. She plays in there a ton since there's a lot of space in the back for her dollhouse and a few other favorite toys since we store most of her clothes in her six-drawer dresser with the exception of a few hanging items – and it's a super deep closet, clocking in at 6.5′ feet deep and 4 feet wide.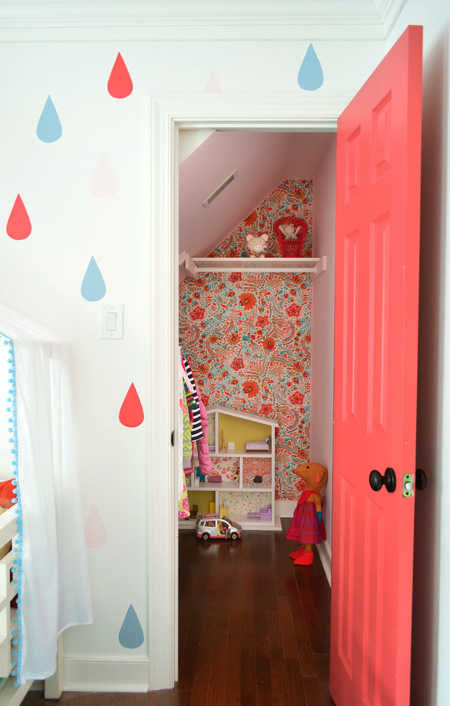 I thought we would end up using wallpaper or a stencil for some back-wall pattern, but then we came across this fabric (called Peaceful Perch by Dena Home for $20 at U-Fab) and just KNEW it was the one. Clara was with us and before I could even say "what do you think?" she was rubbing her face all over it (she's her mother's daughter) and saying she loved the birds. Jackpot. I was going to cover that back wall with that fabric if it was the last thing I did.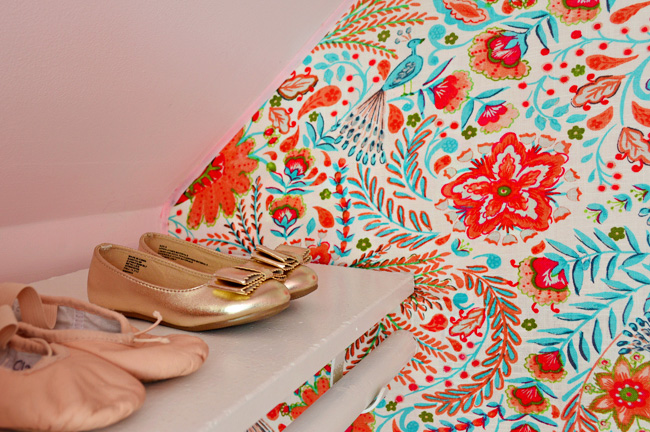 So I bought three yards of it (enough to go from floor to ceiling with a little wiggle room to spare) and rejoiced that the bolt's width was easily wide enough to cover that back wall. When we got home Clara went to color something in the office and I fed Teddy in the living room and then she walked into the living room ten minutes later and screamed "YAY! DID YOU MAKE MY CLOSET PRETTY?! I can't wait to see it!!" Needless to say the girl never covered a wall with fabric. But neither had I.
The surprising news is that it only ended up taking about an hour and a half to adhere the fabric along that back wall and another half hour to trim it all out for a finished look, so it can't be done in the time it takes to feed a three month old, but it can be done between feedings (even if your son is on an every-two-hours schedule). In other words, it was way less intimidating and time consuming than I initially expected. And all it set us back was the cost of the fabric, some fabric glue, and some ribbon.
The first thing I did was empty her closet.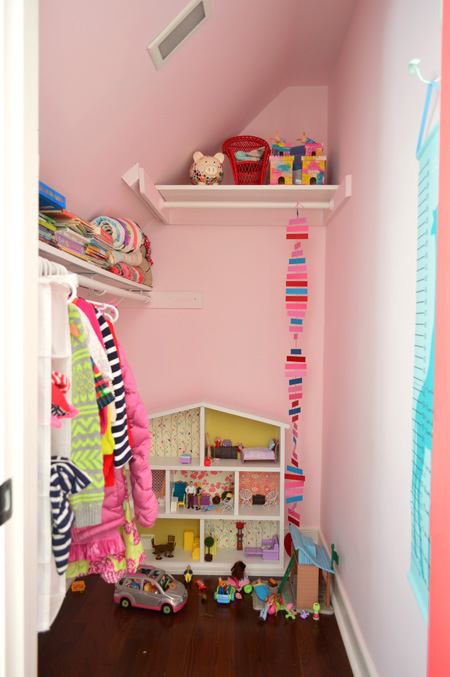 Everything came out, including the shelves and hanging bars that you see here which I removed as I went (I needed free access to all of the nooks and corners along that back wall).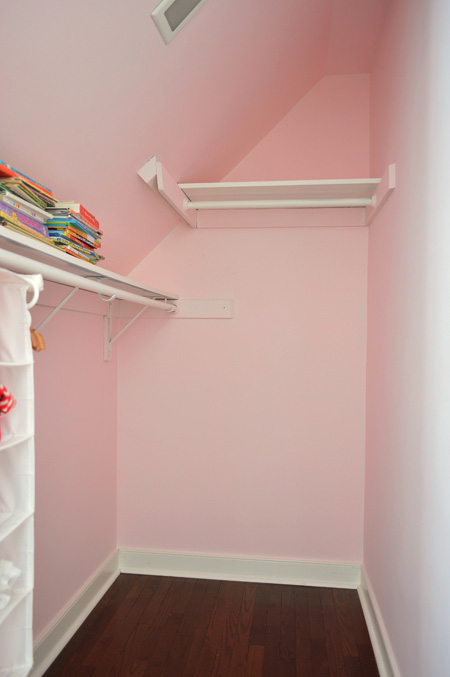 I stood on a step ladder with my staple gun and started in the top right-hand corner, stapling it nice and tight around the perimeter of the back wall. Every few inches I shot a staple in, making sure they were nice and tight against the wall, and that the fabric wasn't wrinkled or folded. By starting in that top corner with my completely untrimmed three yards of material, I knew I could work my way down and across, keeping things tight and straight as I went, without running out of fabric. It really was that simple.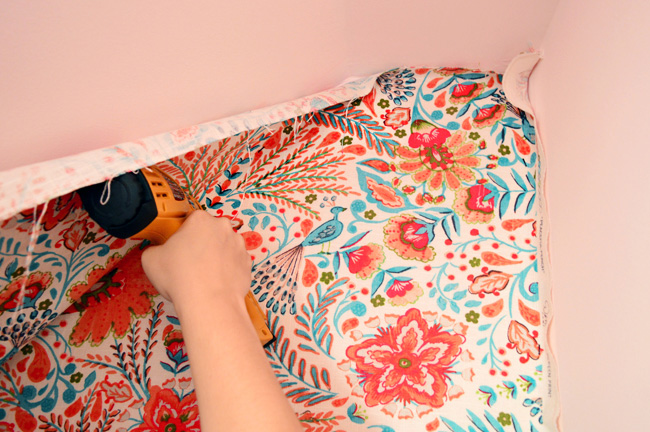 I think if I had been working with something striped or geometric in a the-naked-eye-can-tell-if-that's-not-level way, it might have been more of a challenge, but since this print is so wild and free, I really just focused on keeping things pulled taut, and stapling them every few inches around the edge.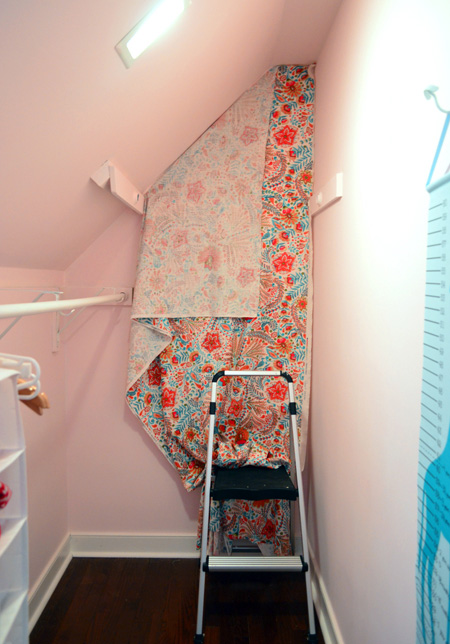 I even realized that I could wrap the fabric around the shelf board on the back of the closet with a few staples on either side of it so it was nice and clean looking.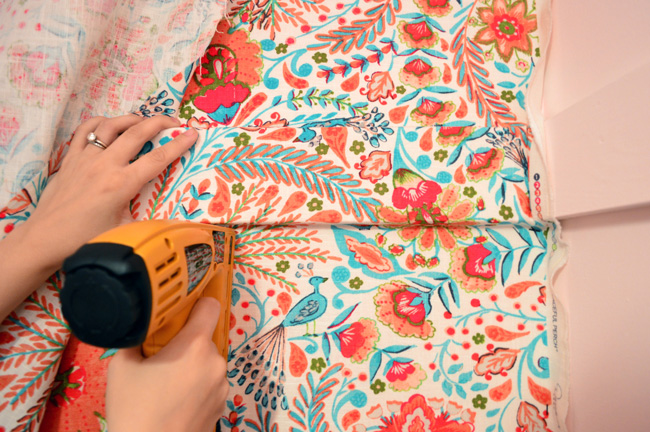 My only real warning would be that if you have a big flap of extra fabric going on like I did on that angled part (I didn't trim the fabric at all before hanging it for fear of cutting it off at the wrong angle or taking too much off that would make the entire remnant unusable), just be sure you don't staple it behind itself or something. I never did that, but almost did a few times. If you did it wouldn't be the worst thing because you can just pop staples out with a flat-head screw driver if you mess up anyway.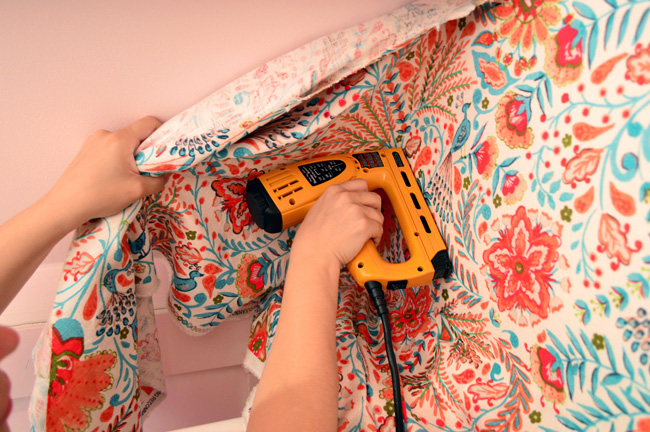 I did that a few times if I thought I hadn't pulled something tight enough, or when I got to the bottom of the wall and felt like the corner had a crease or a bubble it shouldn't have. You just sort of undo a few staples and re-pull things and re-staple until you like the look.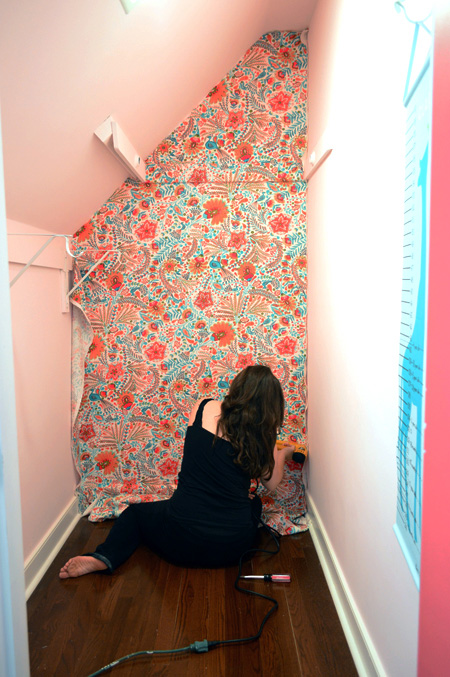 When I finished with all of my perimeter stapling, after the obligatory victory dance with the unplugged staple gun (unplugged is the key word), I ran an exacto knife along the entire perimeter of the back wall to cut off the excess. You'll want to put a nice new blade in there to get as clean of a cut as possible. I tried to push just hard enough to cut through the fabric but not hard enough for it to go into the drywall. Since it's the corner and I knew I'd be adding a trim piece of ribbon for a finished look, even if I jammed it into the drywall a little, it wasn't a big deal, but for the most part I could slide it through the fabric without digging into the wall itself.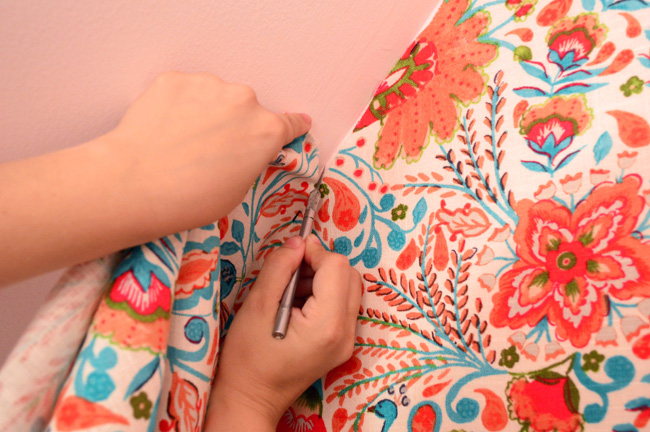 Next came the ribbon for that nice polished edge. I held up various ribbon remnants in red, pink, blue, and white that we had on hand and John and I both liked how the pink looked because it blended into the wall color (bold colors like red made it a little busy when combined with such a bold fabric, so we liked the more seamless look of the soft blurs-into-the-wall pink option).
We didn't have enough pink ribbon just laying around, so I ran out to JoAnn and grabbed two 6 yard spools (we calculated that we'd need around 8 yards to go around the wall's perimeter) and also grabbed some Aileen's Fabric Fusion glue to attach that all the way around. It was almost like clear silicone caulk, so I just ran a thin line of it down the edge of each wall…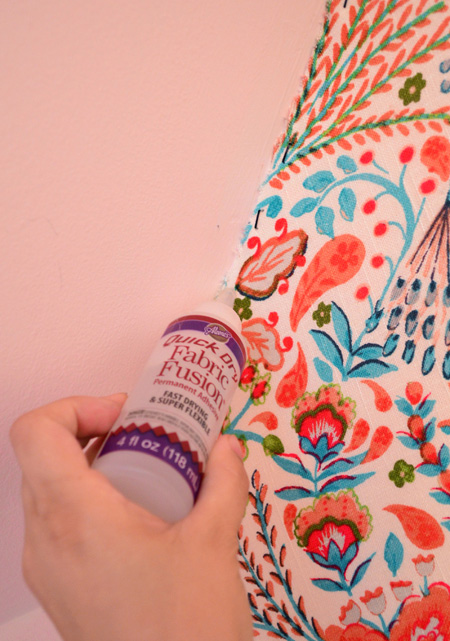 … and stuck a pre-cut-to-size ribbon against it for each portion.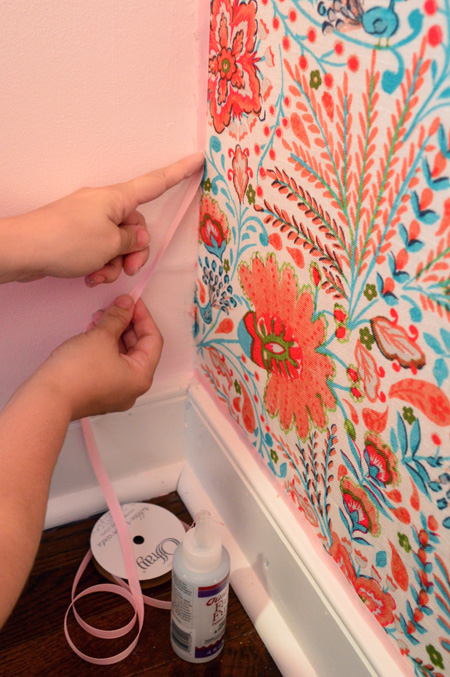 Here's the finished result: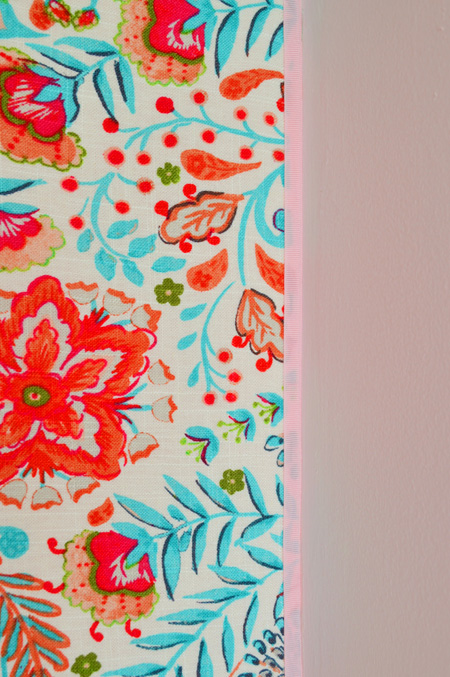 Once that dried (within about an hour) I brought back all the shelves and hanging rods I had removed, and put the closet back together.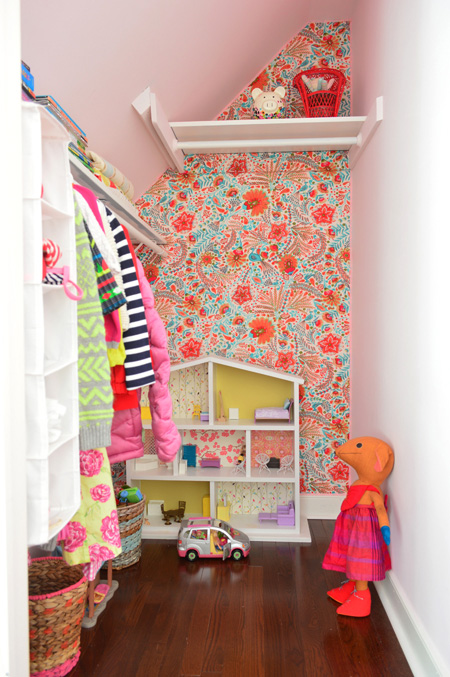 Clara's PSYCHED about it.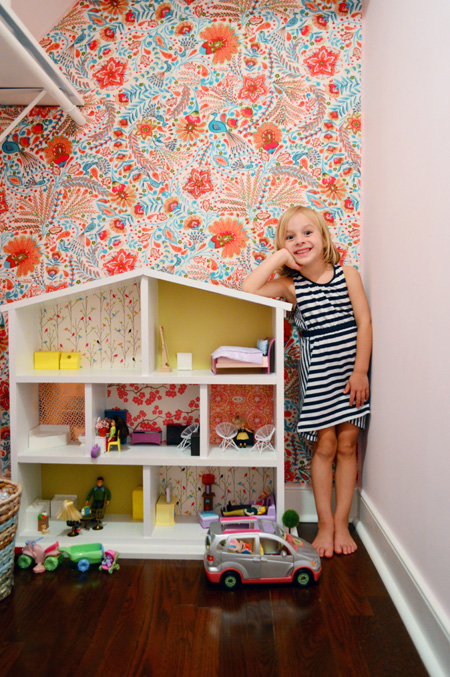 So is momma. Dad's pretty keen on it too. Burger and Teddy are ambivalent, but I'll take it.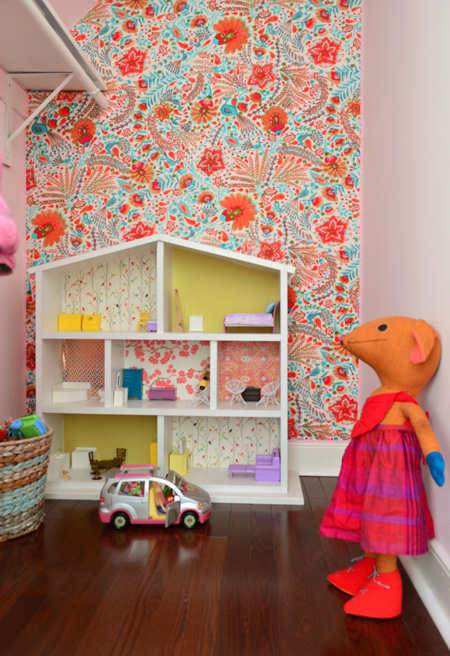 The coolest thing about this project is that I completely expected it to be one of those kinda-complex-and-tedious jobs that are worth it in the end, but it ended up being one of those surprisingly-simple-and-straightforward projects that make you beam because it looks way more expensive and complicated than it was. We already have had a few people over and all of them thought it was wallpaper until they touched it and said "no way, it's fabric?!"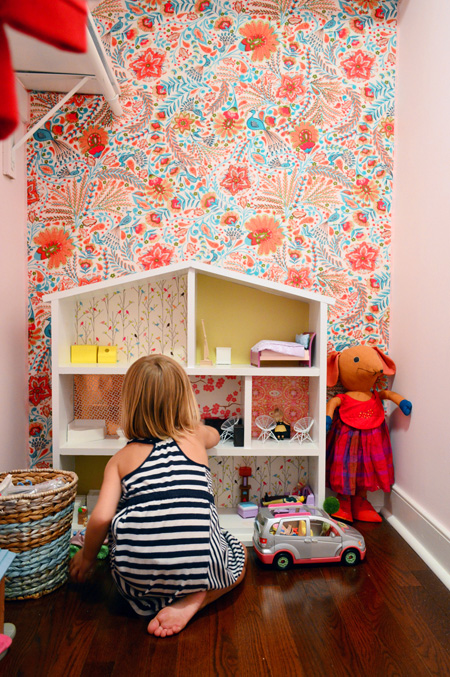 What did you guys do this weekend? Any kids-room stuff? Fabric projects? Victory dances with your 16 pound baby? Sometimes I feel like all I manage to get accomplished is to feed these kids and keep them semi-clean, so fun little projects like this are pretty exciting. Especially when I can squeeze them in between feedings. We also managed to get a little hiking in this weekend, and although it involved a particularly "memorable" port-o-potty visit with Clara, it was pretty awesome while it lasted.
&nbsp&nbsp&nbsp
Thanks for all of the laundry room ideas last week, guys. We spent a lot of time mulling over every last suggestion, and even got some quotes for a few things (like moving the hookups, the doorway, and possibly bumping out a wall). One common alternate suggestion (we'll call it "Option 3″) was to take our original Option 1 and rotate the laundry appliances 90° so that it's out of sight. Then we could put access to the storage room on the back wall so there wouldn't be any more of that walk-through-one-room-to-get-to-another-one issue.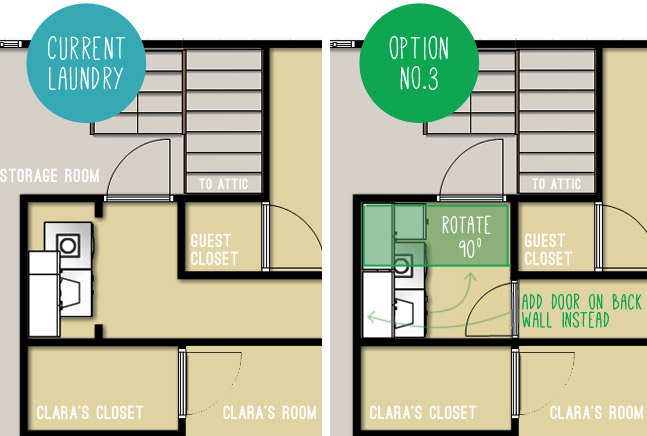 It was an interesting idea for sure. We hadn't considered it before because, well, it would require moving all of the laundry hook-ups (electrical, water, and venting) and we weren't originally thinking of that intense of a reconfiguration (especially when it didn't really gain us any extra space) – but solving the door issue and tucking them out of view was a nice idea.
Another popular suggestion was Option 3 on steroids, aka Option 4. It took the idea of rotating the laundry a step further by stealing space from the unfinished storage room to create an actual enclosed laundry room. But yeah, that required an even more involved reconfiguration than Option 3. Hello framing and new drywall!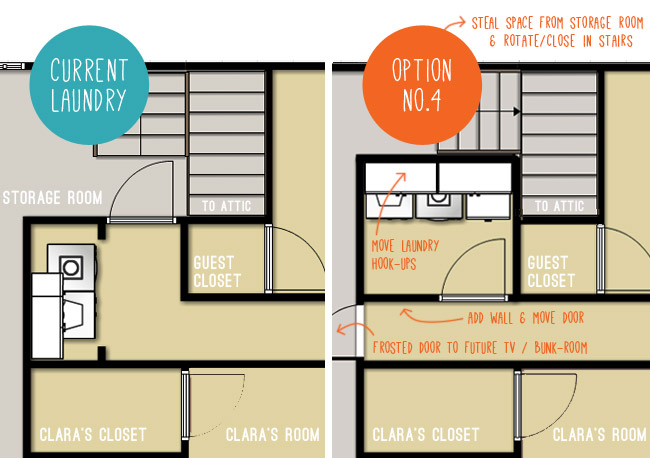 As cool as a legit laundry room sounded, it almost felt like more than we needed. Maybe it's the former New Yorkers in us that still feel like the Trumps for having laundry in the house at all. Even when Clara was a baby (when laundry seemed to multiply and there were cloth diapers in the mix) we were well practiced in doing laundry in small spaces. Spaces where dirty laundry couldn't ever accumulate on the floor because it was also our entryway (which we thought was a good thing – it kept us on top of it). We've actually never had a dedicated laundry room that was big enough for us to fold or iron in it (even growing up), so it felt just fine to carry the basket into our bedroom and sort/fold in there since it's what we have always known. Which might explain why going through the trouble and expense of carving out a dedicated laundry room still felt like it was solving a problem that wasn't really a big deal to us.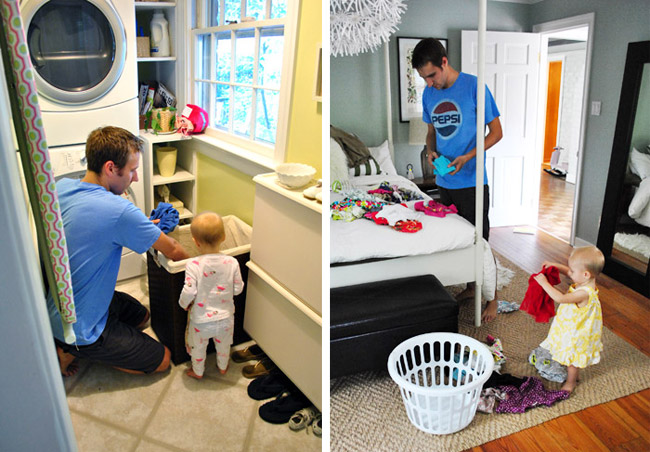 And then Lesley went and rocked our world. On Facebook she left a comment pointing out that if we moved the storage door where the appliances currently are we'd see a window that's in the future bunk-room from the hall…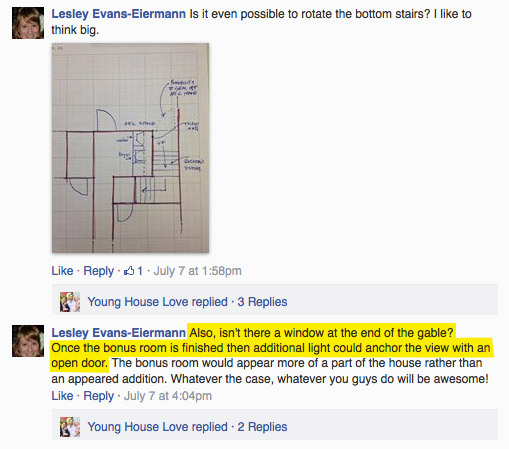 …which suddenly made that hugely appealing to us since that side of the hall is extra dark. See how the natural light goes away halfway down the hall since the last places that allow it to filter into the hallway are Clara's room and the guest room below?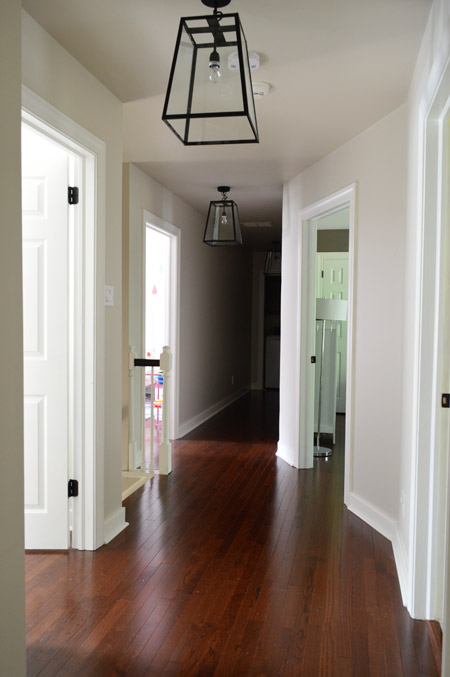 On the other end of the hall is our master bedroom and there's a window that lines up with the doorway and it's so much lighter. Plus if we went with a frosted door like we had previously mentioned, even with it closed, light from the windows in the storage room would spill into the hall right through it. Picture us staring at each other and saying "light. bulb." in our best Gru voice.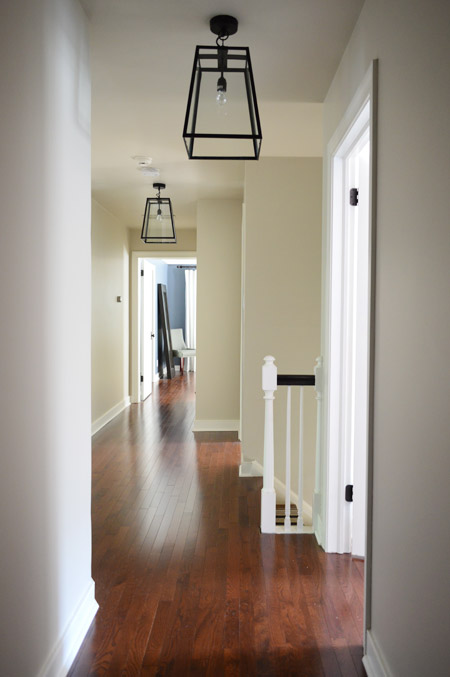 I realize that may seem like a silly tipping point for a plan that also earns us a larger, dedicated laundry space (which would probably be the selling point for most people), but the idea of seeing the glow of sunlight down that formerly dark hallway (or an actual window view with the door open) is exactly what got us on the Option 4 train. And hey, if we gain a bigger laundry room, and don't have to pass through one room to get to another room, well there are certainly other selling points going on.
So as you may have noticed in Lesley's Facebook floor plan, this change would involve removing the existing cased opening and putting a frosted glass door on the wall that's currently behind the washer. We debated keeping the laundry area open or putting it behind a wall/door and thought we might like a door better for the long run (if nothing else just to dampen sound and keep a certain toddling boy out of there). So instead of turning that corner on the right wall and taking a few steps to get to the current storage room door, that door would move forward (along with a wall to close it in) and become the door to our new laundry room.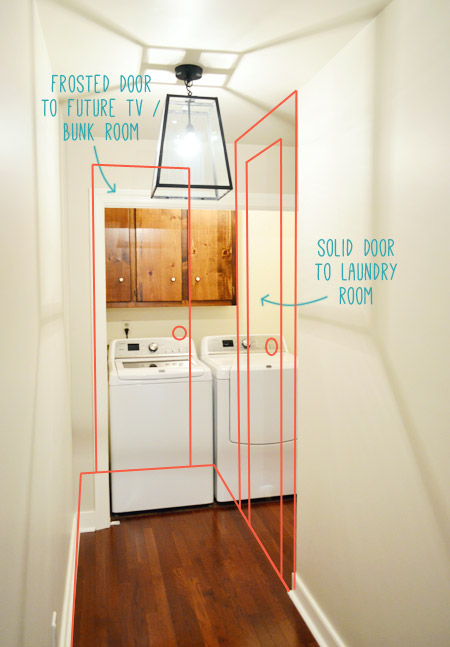 Looking from inside the storage room itself, here's a rough rendering to show where the new walls would be added and where the washer and dryer would now sit. Please forgive all of the various messes – including the original laundry bi-folds that still live in there. Remember the door that you see below would shift back to line up with the vertical wall line on the right (back by that silver dryer vent), so it wouldn't be as close to the washer & dryer: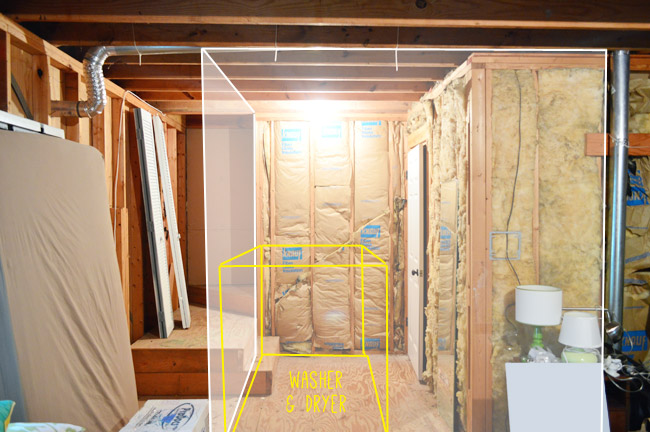 If you partook in the discussion on the post from last week, one thing you might notice that we grappled with in the comments was what would happen with the stairs that lead to the attic in Option 4. The floor plans we shared didn't perfectly reflect the actual staircase (Floorplanner's stock stair icon had four steps instead of one step, a large landing, and another half-step around the turn like our actual staircase). The good news is that reconfiguring the steps only really requires us to move that bottom one. But it wasn't really the stair-moving that gave us pause as much as the idea of closing in our attic access with a wall that hugs those bottom steps (we worried it could make dragging the tree up and down more difficult/cramped).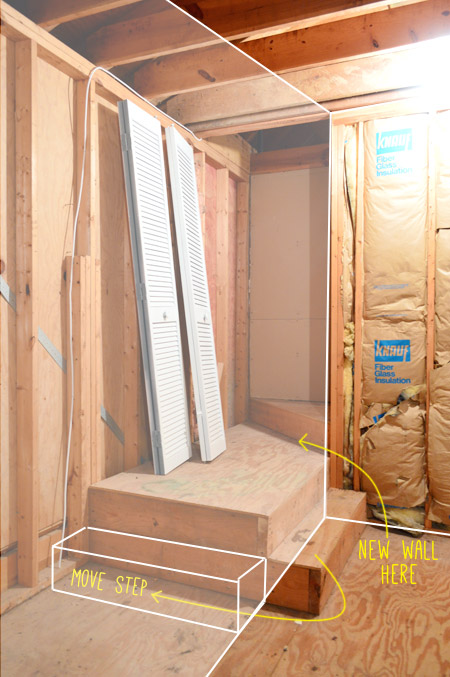 It definitely would still be possible to bring things up and down from the attic, and having a walk-up attic instead of a drop down ladder (which we had in our other two homes) is already a huge upgrade for us. So after thinking it over for a while, it feels like a fair trade to be a little more closed in when we access the attic vs. soaking up a lot more light in our hallway everyday.
Although Option 4 was sounding more and more promising, we still had to grapple with the logistics and the cost. Moving all of those laundry hook-ups is out of the scope of our skills, so we had two contractors out to estimate moving those, adding a drain under the washer, framing out two walls and two doors, and doing drywall. The first estimate came back at $4,700, even with us doing all of the demo, laying/re-laying all of the new/displaced flooring, hanging the new lights, hanging trim/baseboards, and doing all of the priming/painting after they drywall. In person he said it should be under 2K and then apologized when he emailed us the bid because it grew to $4,700 after he itemized everything – so when that number came in yesterday it definitely threw us.
As nice as a larger laundry room and more light in the hallway would be, 5K could cover a master bathroom gut-job or nice new kitchen appliances, so it's definitely more than we were hoping to spend. So instead of getting to end this post with "we're doing it!" jazz hands, we're crossing all of our appendages that the second estimate is easier to swallow (he came highly recommended from a friend). After all of this planning, nobody is itching to get this thing going more than we are – so here's hoping there's some nice therapeutic demo in our near future.
&nbsp&nbsp&nbsp