Home Improvement
Favorite project ever! Ok, I probably say that to myself every month or two, but this one might reign supreme for a while. Especially in the small/easy division (our sunroom reno and Teddy's built-ins might have given it competition if it fell into the heavy-duty upgrade category, but there's no way it belongs there because it was so simple). Ladies & gentlemen (gentleman?), I give you… Clara's closet: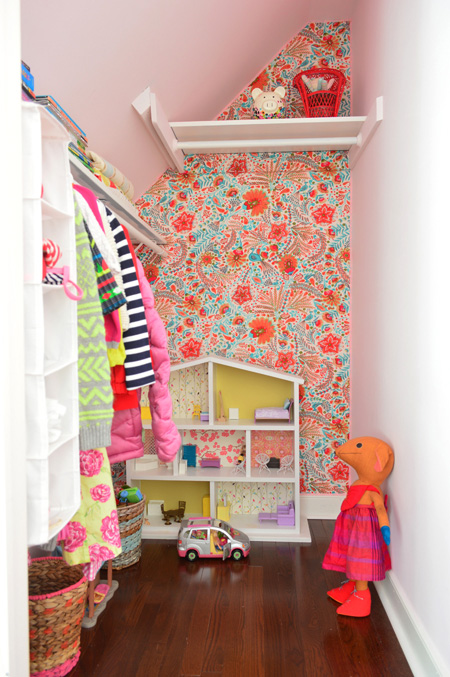 I've been obsessed with the idea of covering the back wall of Clara's closet with something fun for a while, especially since images like this inspired me to add some playful to make it feel more like a little hideaway within her room. Right after we moved in she proclaimed her closet her favorite spot in the whole house. She plays in there a ton since there's a lot of space in the back for her dollhouse and a few other favorite toys since we store most of her clothes in her six-drawer dresser with the exception of a few hanging items – and it's a super deep closet, clocking in at 6.5′ feet deep and 4 feet wide.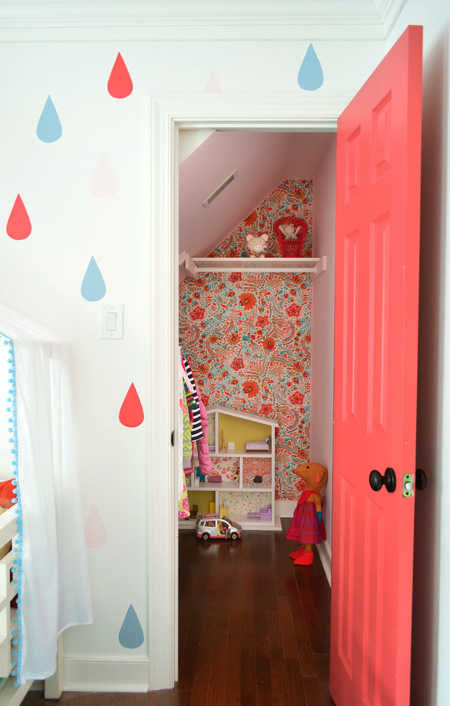 I thought we would end up using wallpaper or a stencil for some back-wall pattern, but then we came across this fabric (called Peaceful Perch by Dena Home for $20 at U-Fab) and just KNEW it was the one. Clara was with us and before I could even say "what do you think?" she was rubbing her face all over it (she's her mother's daughter) and saying she loved the birds. Jackpot. I was going to cover that back wall with that fabric if it was the last thing I did.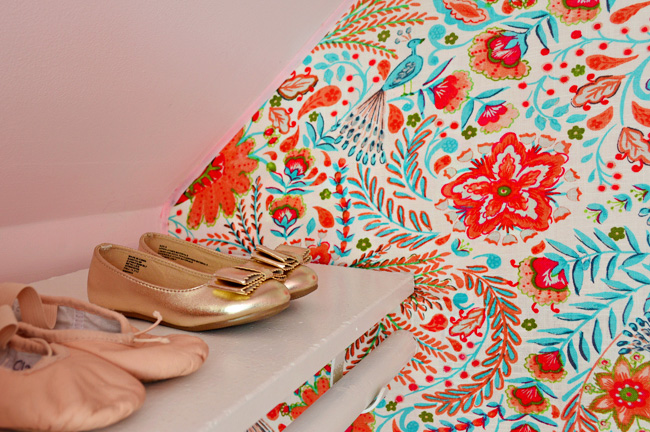 So I bought three yards of it (enough to go from floor to ceiling with a little wiggle room to spare) and rejoiced that the bolt's width was easily wide enough to cover that back wall. When we got home Clara went to color something in the office and I fed Teddy in the living room and then she walked into the living room ten minutes later and screamed "YAY! DID YOU MAKE MY CLOSET PRETTY?! I can't wait to see it!!" Needless to say the girl never covered a wall with fabric. But neither had I.
The surprising news is that it only ended up taking about an hour and a half to adhere the fabric along that back wall and another half hour to trim it all out for a finished look, so it can't be done in the time it takes to feed a three month old, but it can be done between feedings (even if your son is on an every-two-hours schedule). In other words, it was way less intimidating and time consuming than I initially expected. And all it set us back was the cost of the fabric, some fabric glue, and some ribbon.
The first thing I did was empty her closet.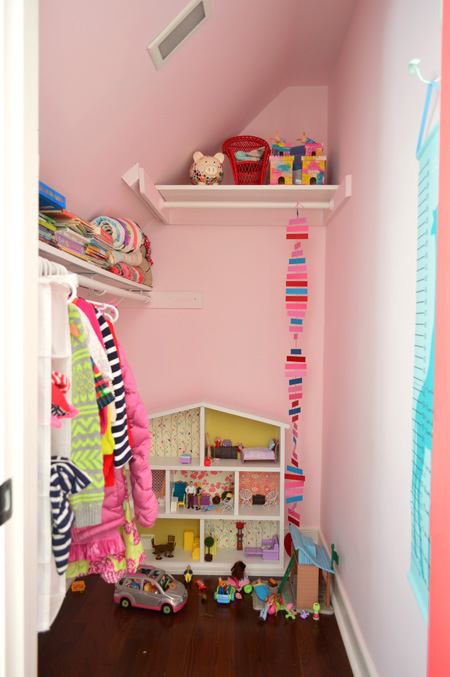 Everything came out, including the shelves and hanging bars that you see here which I removed as I went (I needed free access to all of the nooks and corners along that back wall).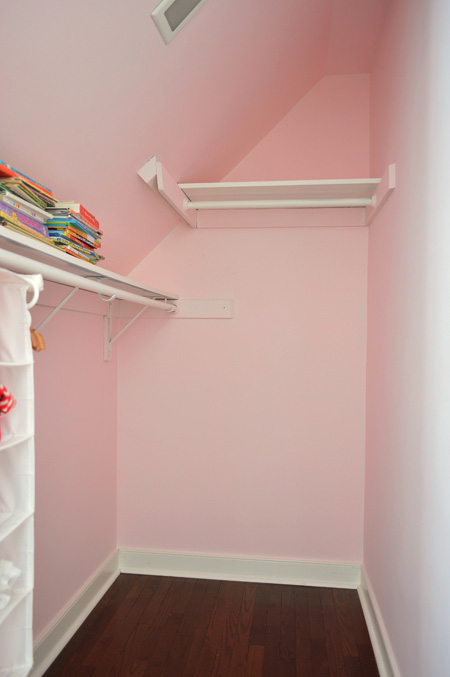 I stood on a step ladder with my staple gun and started in the top right-hand corner, stapling it nice and tight around the perimeter of the back wall. Every few inches I shot a staple in, making sure they were nice and tight against the wall, and that the fabric wasn't wrinkled or folded. By starting in that top corner with my completely untrimmed three yards of material, I knew I could work my way down and across, keeping things tight and straight as I went, without running out of fabric. It really was that simple.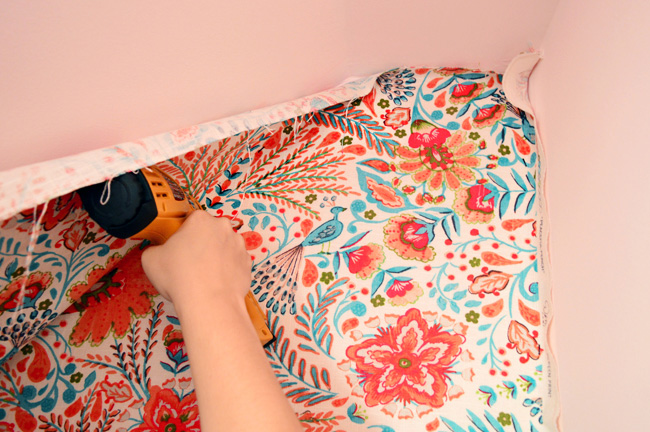 I think if I had been working with something striped or geometric in a the-naked-eye-can-tell-if-that's-not-level way, it might have been more of a challenge, but since this print is so wild and free, I really just focused on keeping things pulled taut, and stapling them every few inches around the edge.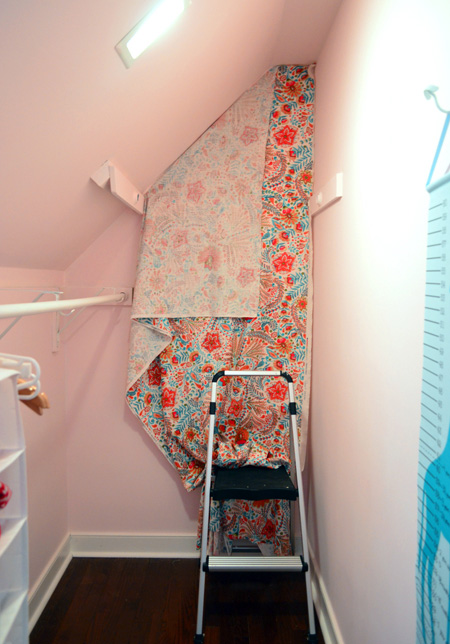 I even realized that I could wrap the fabric around the shelf board on the back of the closet with a few staples on either side of it so it was nice and clean looking.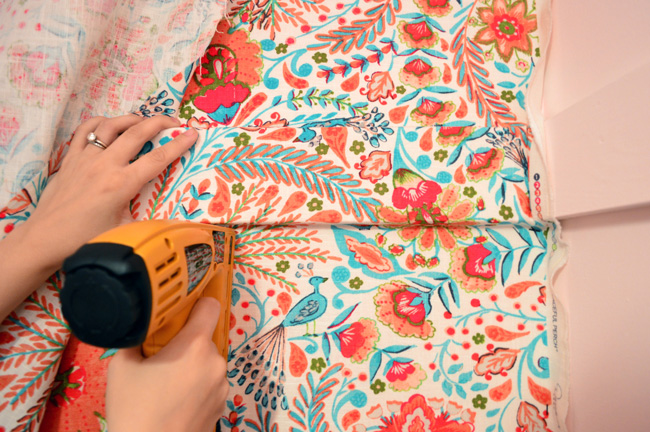 My only real warning would be that if you have a big flap of extra fabric going on like I did on that angled part (I didn't trim the fabric at all before hanging it for fear of cutting it off at the wrong angle or taking too much off that would make the entire remnant unusable), just be sure you don't staple it behind itself or something. I never did that, but almost did a few times. If you did it wouldn't be the worst thing because you can just pop staples out with a flat-head screw driver if you mess up anyway.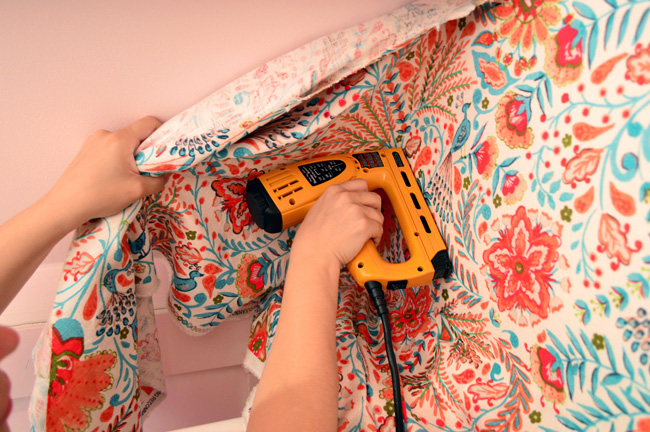 I did that a few times if I thought I hadn't pulled something tight enough, or when I got to the bottom of the wall and felt like the corner had a crease or a bubble it shouldn't have. You just sort of undo a few staples and re-pull things and re-staple until you like the look.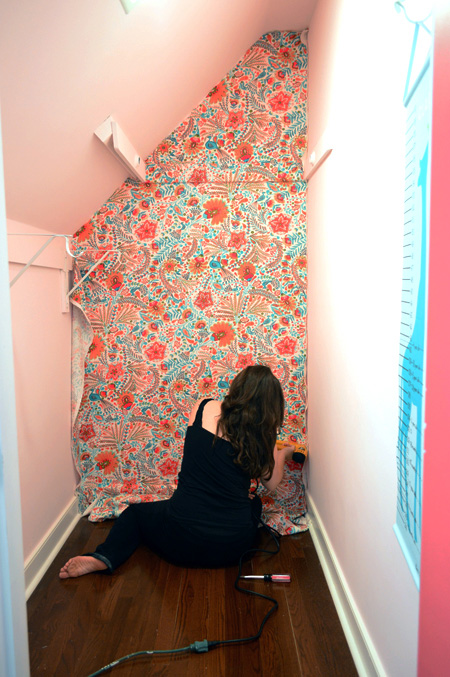 When I finished with all of my perimeter stapling, after the obligatory victory dance with the unplugged staple gun (unplugged is the key word), I ran an exacto knife along the entire perimeter of the back wall to cut off the excess. You'll want to put a nice new blade in there to get as clean of a cut as possible. I tried to push just hard enough to cut through the fabric but not hard enough for it to go into the drywall. Since it's the corner and I knew I'd be adding a trim piece of ribbon for a finished look, even if I jammed it into the drywall a little, it wasn't a big deal, but for the most part I could slide it through the fabric without digging into the wall itself.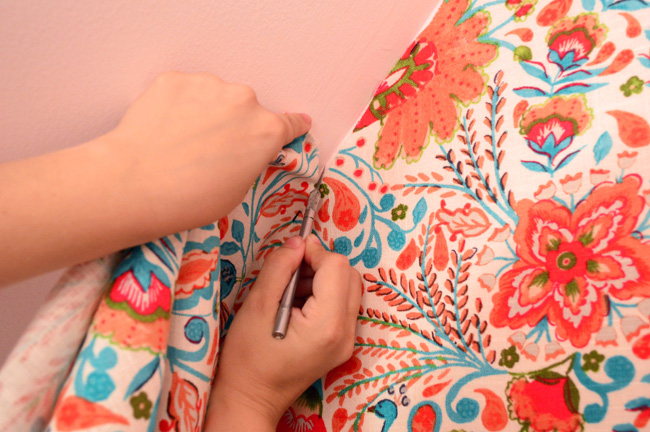 Next came the ribbon for that nice polished edge. I held up various ribbon remnants in red, pink, blue, and white that we had on hand and John and I both liked how the pink looked because it blended into the wall color (bold colors like red made it a little busy when combined with such a bold fabric, so we liked the more seamless look of the soft blurs-into-the-wall pink option).
We didn't have enough pink ribbon just laying around, so I ran out to JoAnn and grabbed two 6 yard spools (we calculated that we'd need around 8 yards to go around the wall's perimeter) and also grabbed some Aileen's Fabric Fusion glue to attach that all the way around. It was almost like clear silicone caulk, so I just ran a thin line of it down the edge of each wall…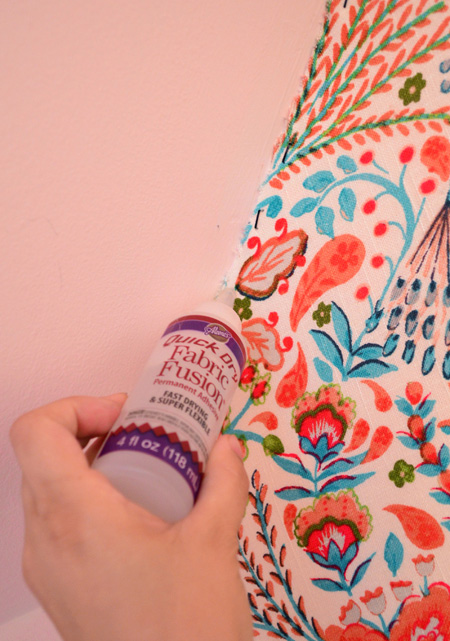 … and stuck a pre-cut-to-size ribbon against it for each portion.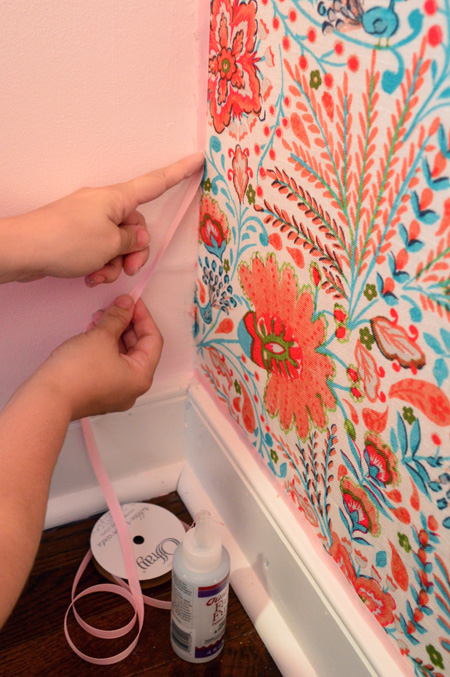 Here's the finished result: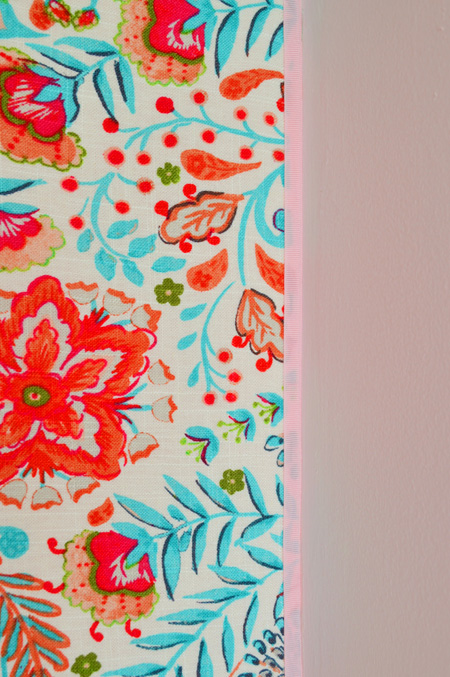 Once that dried (within about an hour) I brought back all the shelves and hanging rods I had removed, and put the closet back together.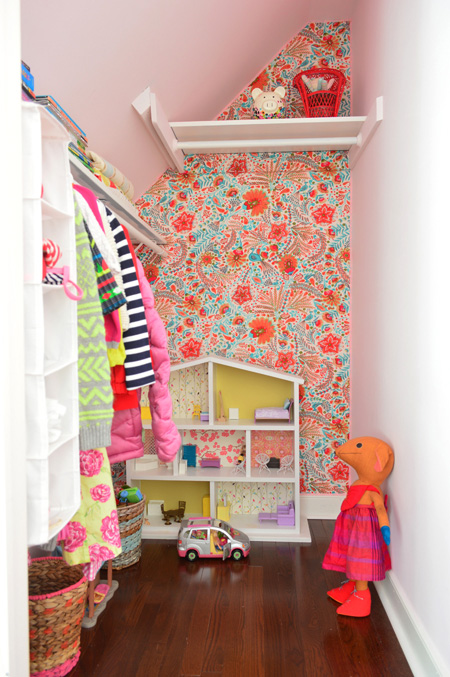 Clara's PSYCHED about it.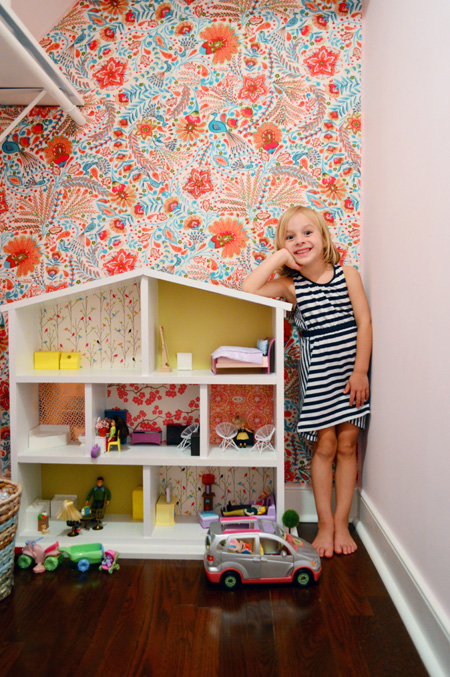 So is momma. Dad's pretty keen on it too. Burger and Teddy are ambivalent, but I'll take it.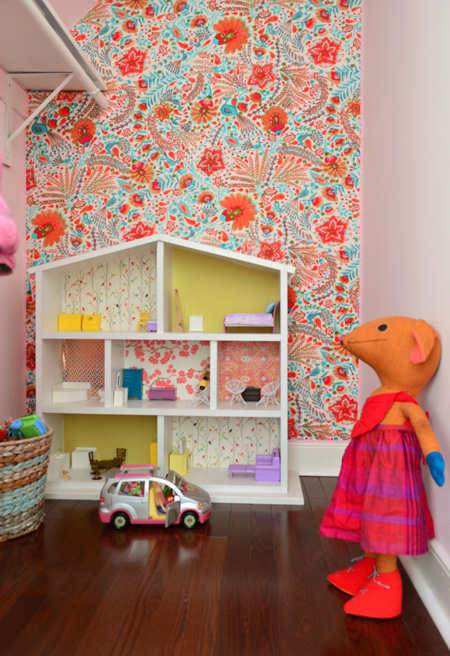 The coolest thing about this project is that I completely expected it to be one of those kinda-complex-and-tedious jobs that are worth it in the end, but it ended up being one of those surprisingly-simple-and-straightforward projects that make you beam because it looks way more expensive and complicated than it was. We already have had a few people over and all of them thought it was wallpaper until they touched it and said "no way, it's fabric?!"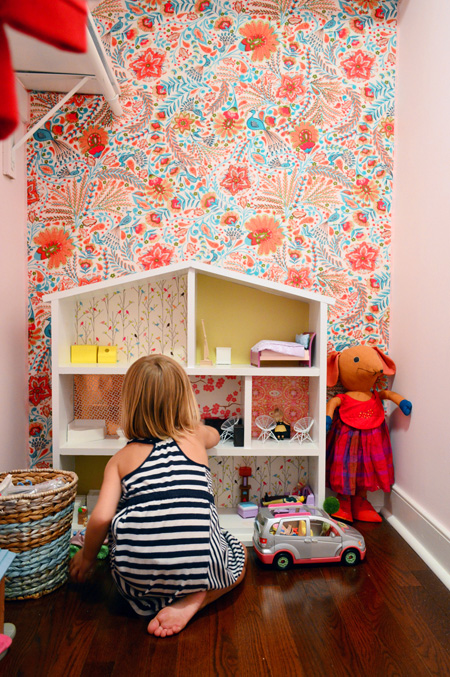 What did you guys do this weekend? Any kids-room stuff? Fabric projects? Victory dances with your 16 pound baby? Sometimes I feel like all I manage to get accomplished is to feed these kids and keep them semi-clean, so fun little projects like this are pretty exciting. Especially when I can squeeze them in between feedings. We also managed to get a little hiking in this weekend, and although it involved a particularly "memorable" port-o-potty visit with Clara, it was pretty awesome while it lasted.
&nbsp&nbsp&nbsp
Continuing the recent trend in our house – Clara is the latest family member to get a ceiling fixture in her room. And methinks Sia might break out in song about it ("from the chan-de-li-eeeer!").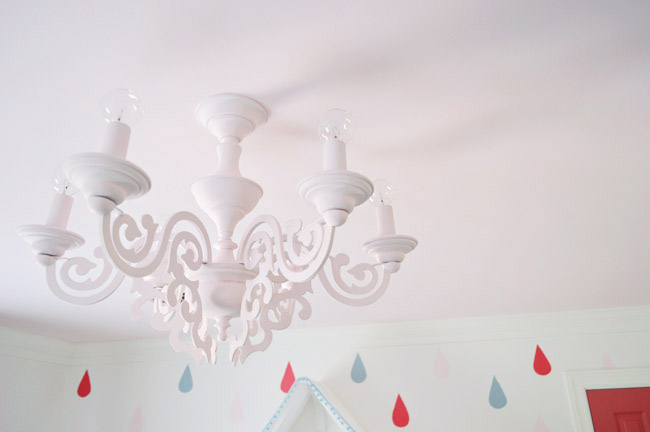 If it looks familiar, it's because you've seen it before in our dining room. Well, a previous incarnation of it at least. We've always been intrigued by this chandelier, which was here when we moved in.  The finish wasn't totally our style, but the swirls and flat arms (it almost looks like an intricate paper chandelier) always made us think it could be a good candidate for Clara's room.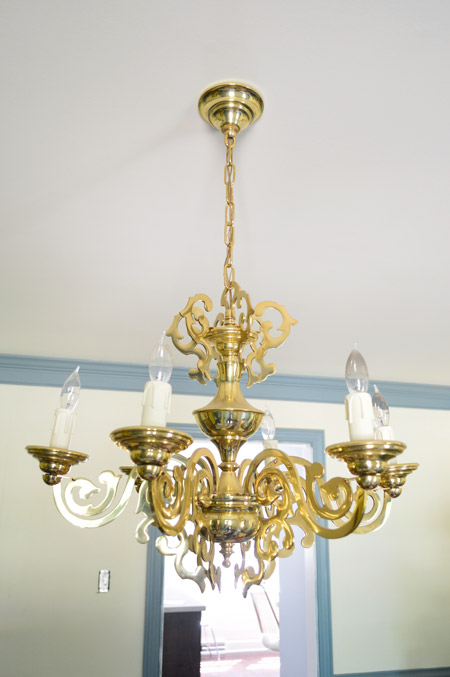 The main problem was that it was too big. Even without any chain, it would've hung about 26″ down from her eight foot ceiling, putting it perilously close to her six foot father's eyeballs. But since Home Depot has yet to carry shrink rays, I decided to take it down and see if I could shorten it myself.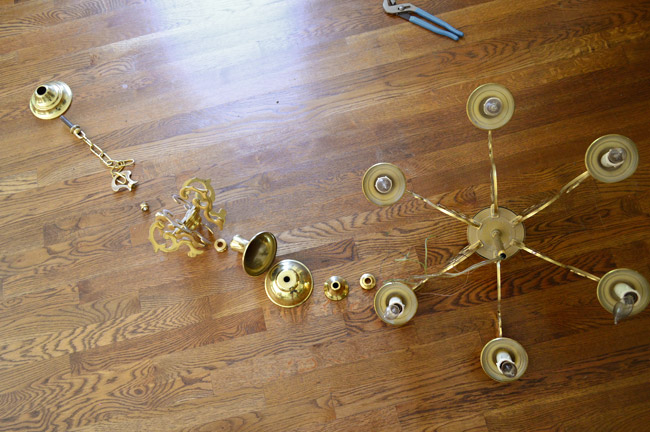 Just by loosening one screw at the top I was able to disassemble all of the nesting parts that create the ornate shape of the chandelier (I laid them out in the line above so I could remember their order). What it left was this long center post so I could begin spooling things back onto it.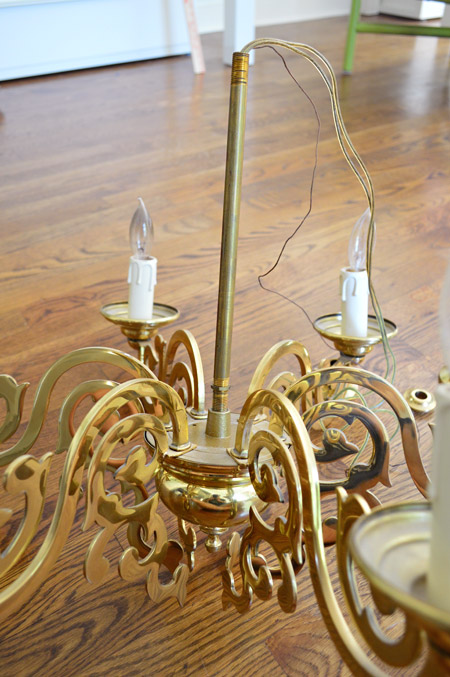 My goal was to reassemble most, but not all, of the pieces into something that still looked like a chandelier, but was several inches shorter than the original shape. That center post, however, was problematic since without buying a shorter one, I wasn't going to be able shave much of the height off. I contemplated hacksawing it shorter, but then I realized I needed the threaded area right at the top of the rod to screw it back together in the end (hack-sawing it shorter would have removed that threaded area).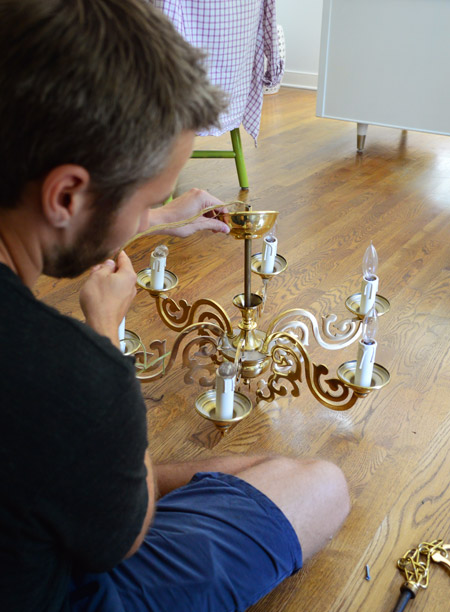 That's when it struck me. Rather than use that threading (#1 in the pic below) to reattach it to the loop on top (#2) so that it could attach to the canopy piece that screwed into the crossbar (#3) to that loop, I could just screw that threading (again #1) directly into the crossbar itself (thereby shaving off the height of the large loop). That saved me quite a few inches because I could cut out most of the original hanging mechanism, but I knew that it would still be nice and secure. You never want to hang something this heavy by the wires, so threading the metal bar into the crossbar in the ceiling would safely and securely bear the weight.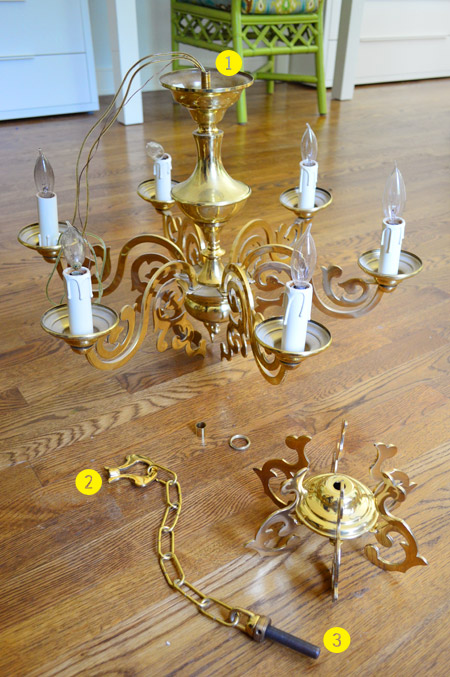 You can see which pieces I left out in the picture above, but for easier reference, here's the original photo of it in the dining room below with the removed pieces grayed out: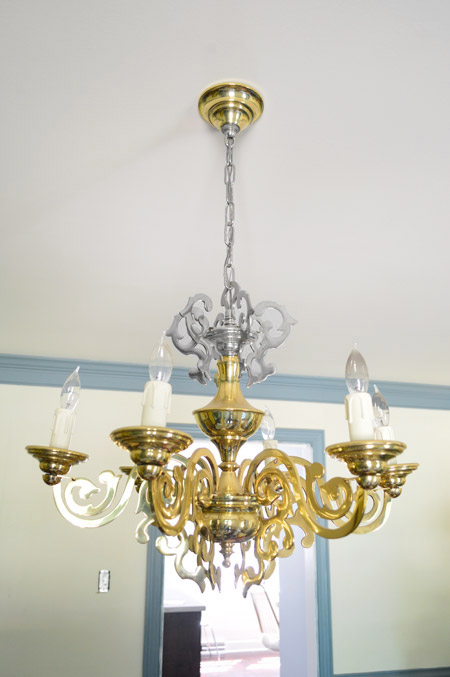 Oh, and we were going to buy new candle sleeves (the faux dripping wax wasn't really doing it for us) but Sherry realized we could just flip them over and the drips wouldn't be visible from below anymore (see the one in the background that has already been flipped).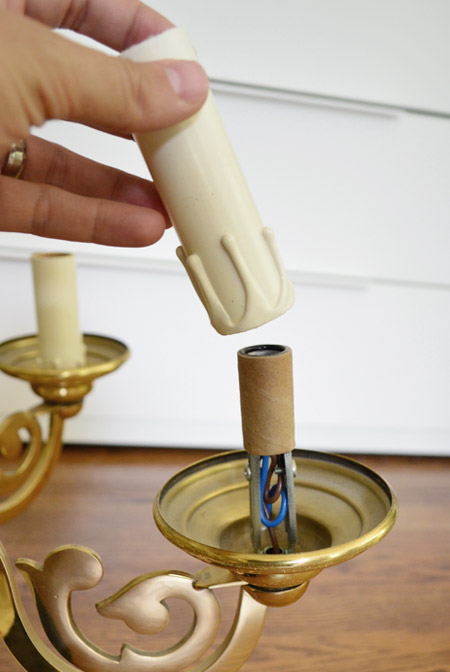 Next up came painting. I set up this little station in our garage using a plastic dropcloth, plus a bungee cord (and the original chain) for it to hang by.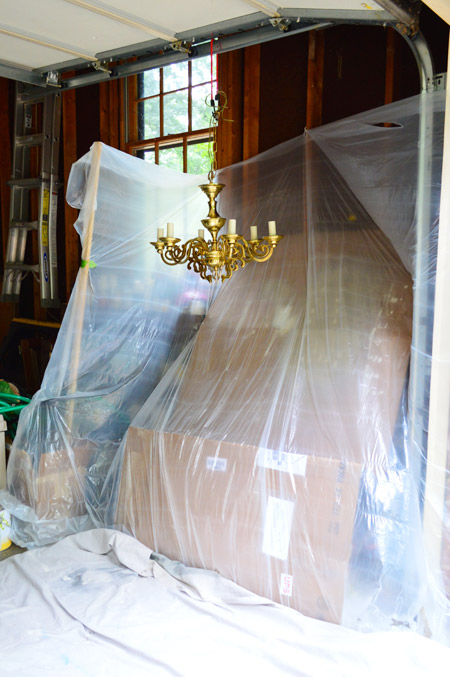 First Sherry taped off the top of each bulb connected in each candle sleeve (don't want to gum those up with paint) and then she applied a coat of Clean Metal Primer, which is our usual go-to base coat when painting metal.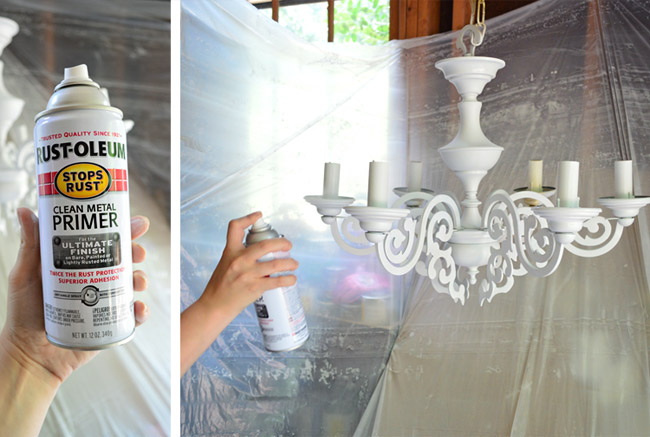 Although we both thought it looked pretty great in white after that round of primer, we were most into the idea of making it the exact same light pink color that's on the ceiling (Pink Cadillac). Something about a pink ceiling that sort of melts into a chandelier in the same color felt very Alice-In-Wonderland to us, and of course when we asked Clara what color she wanted her light to be, she screamed "PINK!" without hesitation.
But to get it exactly the same color, we couldn't buy spray paint off the shelf – and we knew our paint sprayer would leave something this intricate pretty drippy and gummed up (we've had luck using it on flat things like trim and doors, but even the curves in molding and the recessed areas in doors aren't always covered that well) so we decided to give something we had seen at Home Depot a try. It's a "Preval Sprayer" that we bought for less than $5, which promised to turn any paint (plus water to thin it) into spray paint.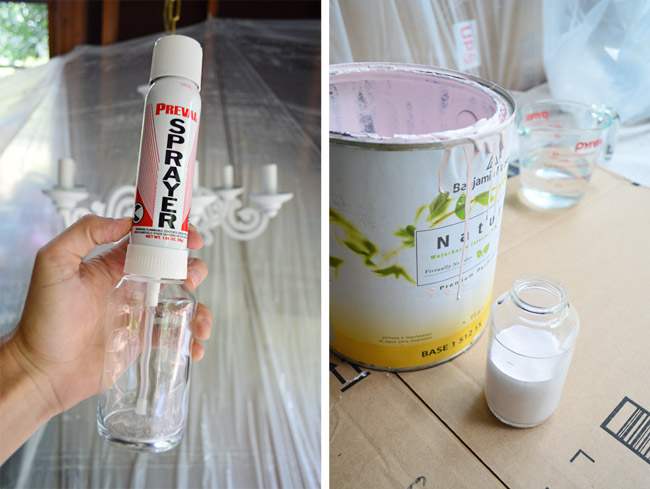 Well, we had a difficult time with it. There isn't much direction given about how thin the paint needs to be. It took LOTS of trial and error (and mess) to get it thin enough to finally spray at all and once it did, well, it was super runny and we ended up needing to add more paint to thicken it back up again. I wish I could tell you the final formula that worked, but we lost track along the way. I think it was somewhere in the neighborhood of 1 part water to 2 parts paint.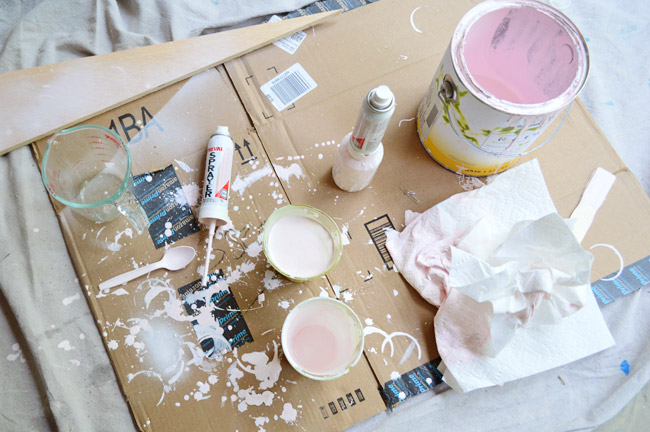 Spraying was still spotty and it would cut out or spurt sometimes, which required unclogging it somewhat frequently (putting your finger over the hole and pressing the spray button). So I'm pretty sure we never landed on the perfect paint consistency, but eventually Sherry got the job done. Once we got it spraying it was a lot lighter and more mist-like (like true spray paint) than our large Graco paint sprayer that we use for cabinets and doors, which seems to apply a lot more paint than a spray can, so it can get really drippy if you go over the same area twice or from a different angle.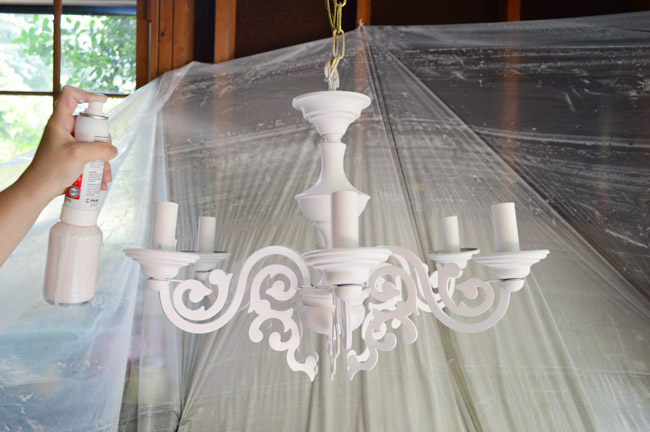 The next morning we hung it up, but I didn't get any photos of that process because it took both of us to get it in place (Sherry supported it while I did the wiring) and it wasn't until we were both on the ladder that I realized the battery in my camera remote was dead.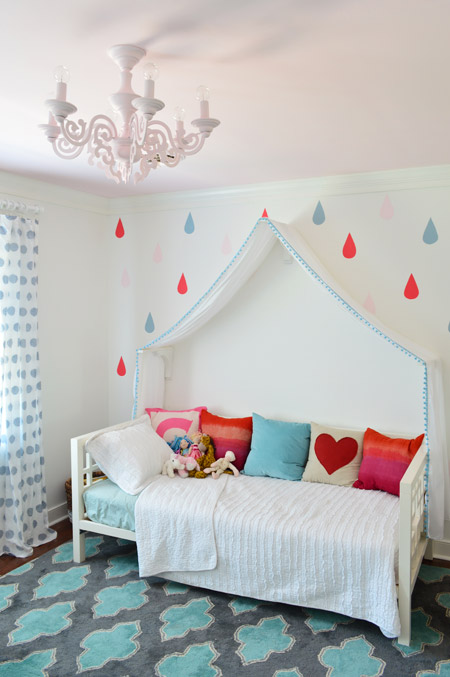 But the gist is that I attached the crossbar to the ceiling fixture (which had a center hole with threading in it, like this one) and we were able to spin the whole fixture so that the long center post (#1 from that picture way above, if you recall) screwed directly into it. We had intentionally left just about a half-inch of it sticking out above the canopy so that it could catch that ceiling crossbar, screw until it was nice and secure, and hold the canopy snug to the ceiling.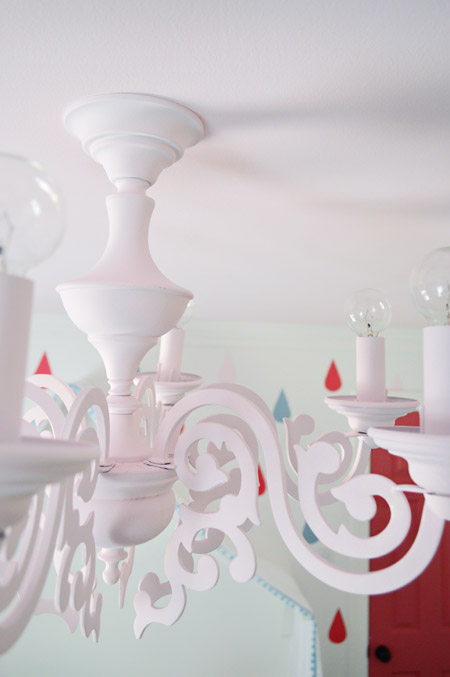 It's hard to tell how much drop we have from the ceiling, but those bulbs are a good five inches from it, so they're not right on it. It's important to give bulbs breathing room on all sides (these have more than most chandeliers with shades on them).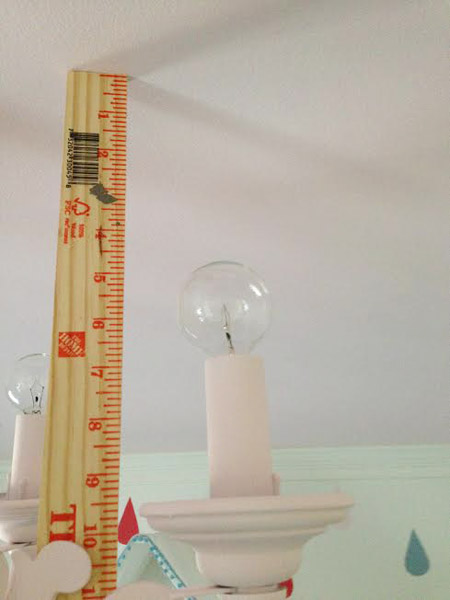 We worried that the watered down paint would look lighter than the ceiling color, but if it is we haven't noticed. In fact, it came out so nicely that we're almost ready to forget the struggles we had with the sprayer which (beside the new round 25 watt light bulbs) was our only cost for the project (we spent $5 for the original sprayer and $4 for one extra air can).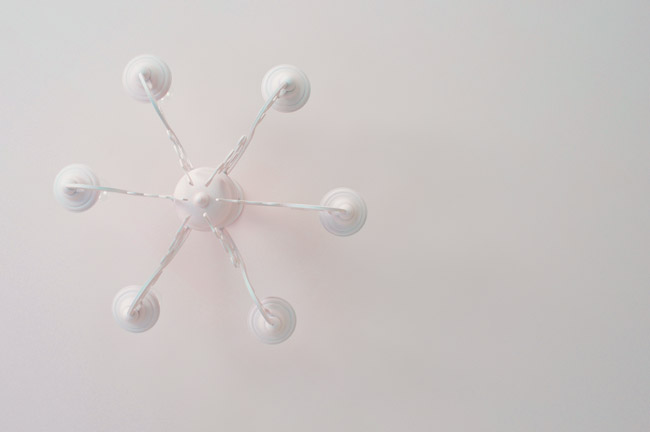 It's nice to have a nice bright light to illuminate her room with the flip of a switch. And of course it's always fun to take an old light that didn't work for us in the dining room and reimagine it for Clara's space. Here are those six 25 watt bulbs in action along with her fairy lights.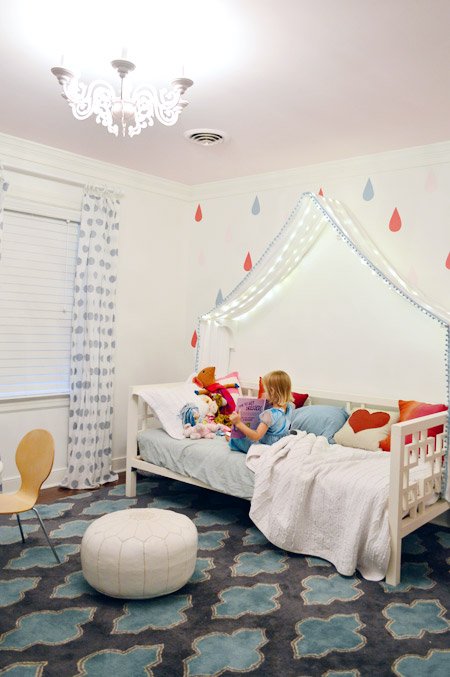 And a more ambient night shot thanks to the ol' iPhone: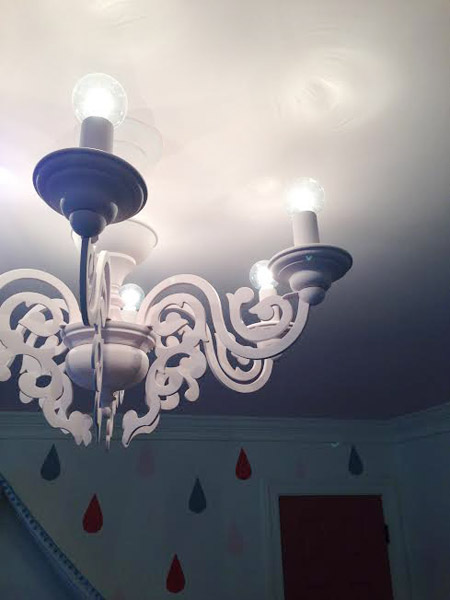 Since Teddy is too small to comment on his new light, it's nice to know that Clara loves hers. Our favorite quote so far has been: "It's all swirly like it's from Belle's castle!"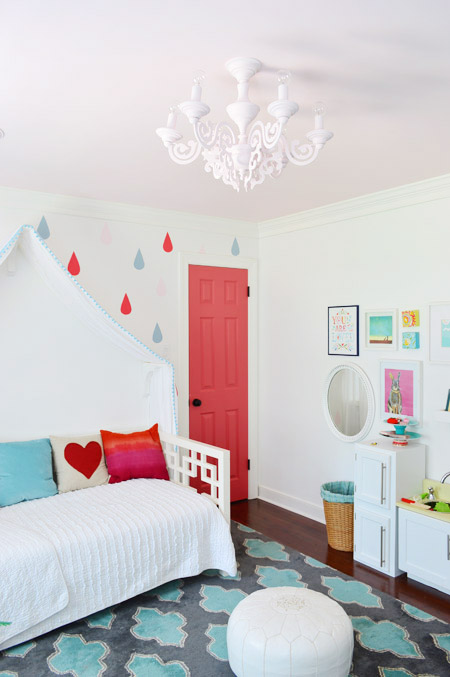 Of course this does leave us light-less in the dining room at the moment, but that's kind of the least of our concerns in that room (I'm talking to you, blue trim). If anything we're probably most focused on finding a light for the guest room, which is the only one upstairs that's still ceiling fixture-less. And we're expecting a guest next week…
&nbsp&nbsp&nbsp