Earlier this month we showed you the front porch makeover of the duplex, and today we're taking you around back to show you how the backside has been transformed (hindquarters? rear? rump? let's just stick with backside). And yes, you can finally see my beloved diamond doors in all of their glory! Along with the little metal awnings we added, our new back steps, and even those outdoor showers (covered by an extra long metal awning for privacy). Ok and also cute-factor because apparently I'm just really into awnings.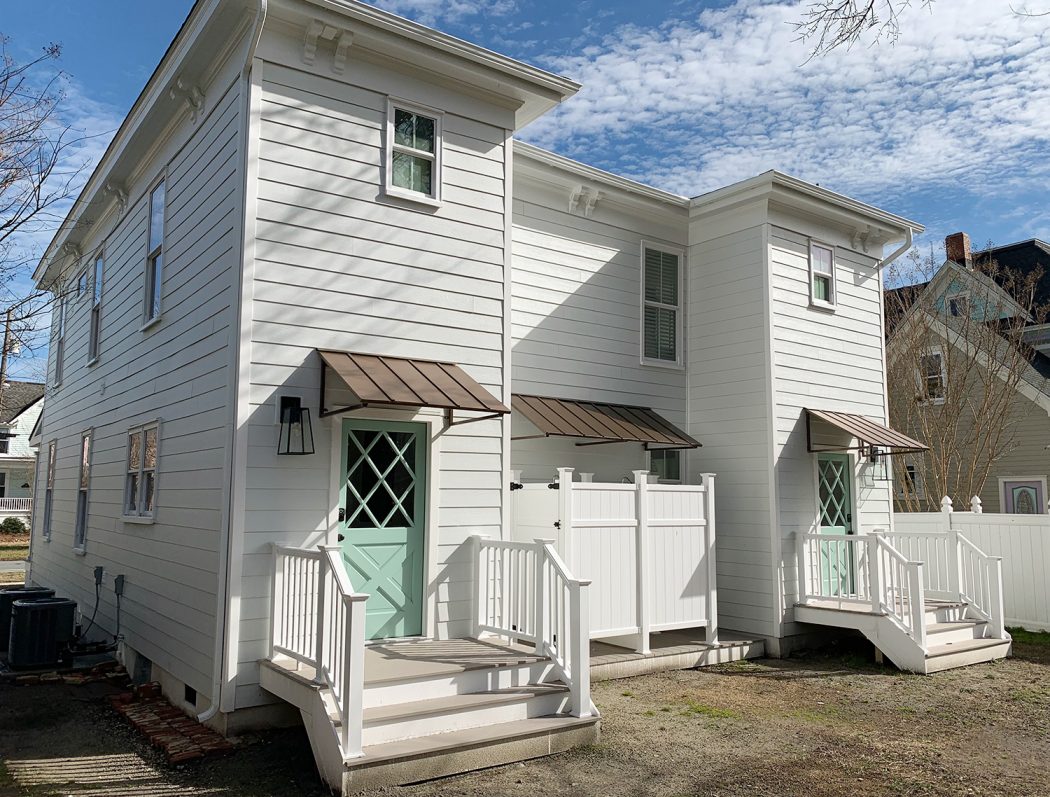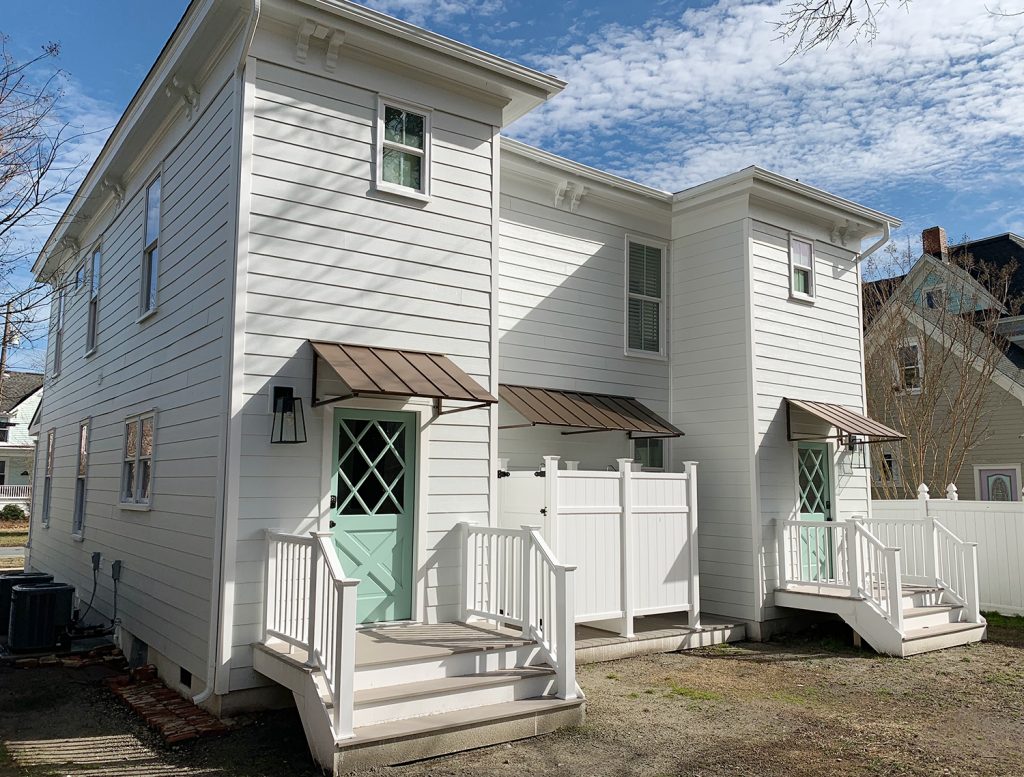 There's actually a lot of work being done to the back yard at the moment (sheds, patios, and fences are in progress as you read this!!!!) but I'm so glad we snagged these photos before it turned into a chaotic work zone again. Otherwise you'd be seeing sawhorses and wheelbarrows everywhere in these photos. Once the backyard landscaping/hardscaping makeover is done we'll obviously share a big post full of photos – but for today let's focus on the back of house itself and how far we've come. Because baby, it's almost unrecognizable.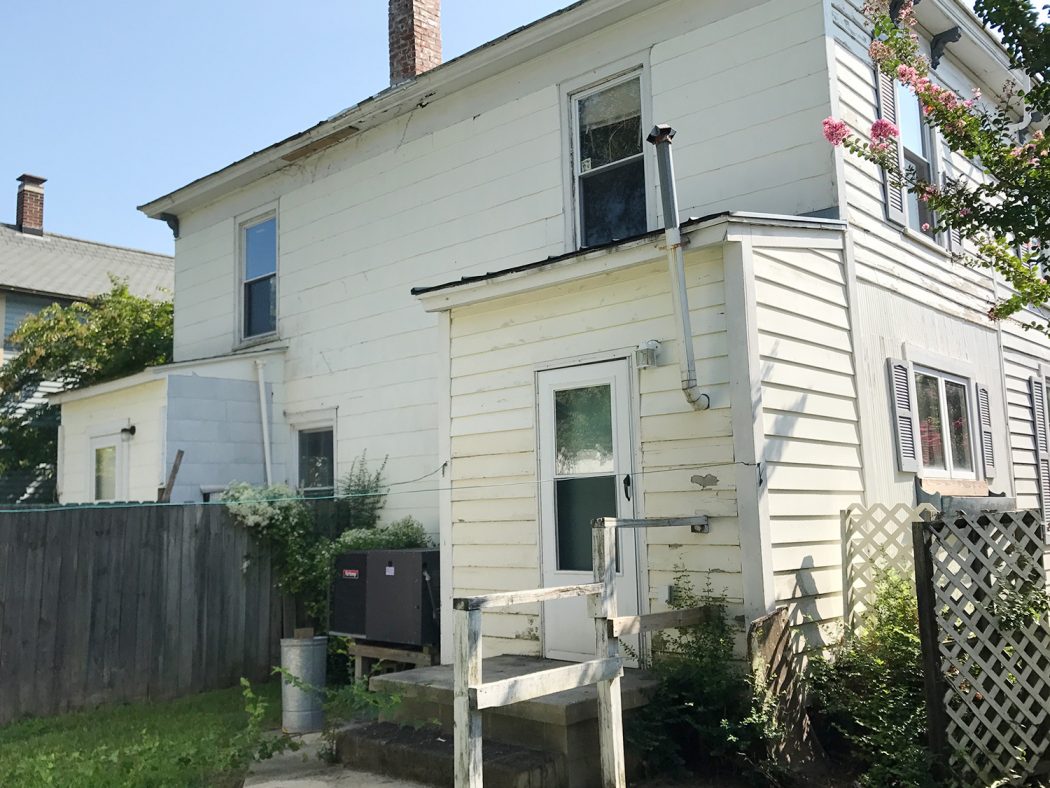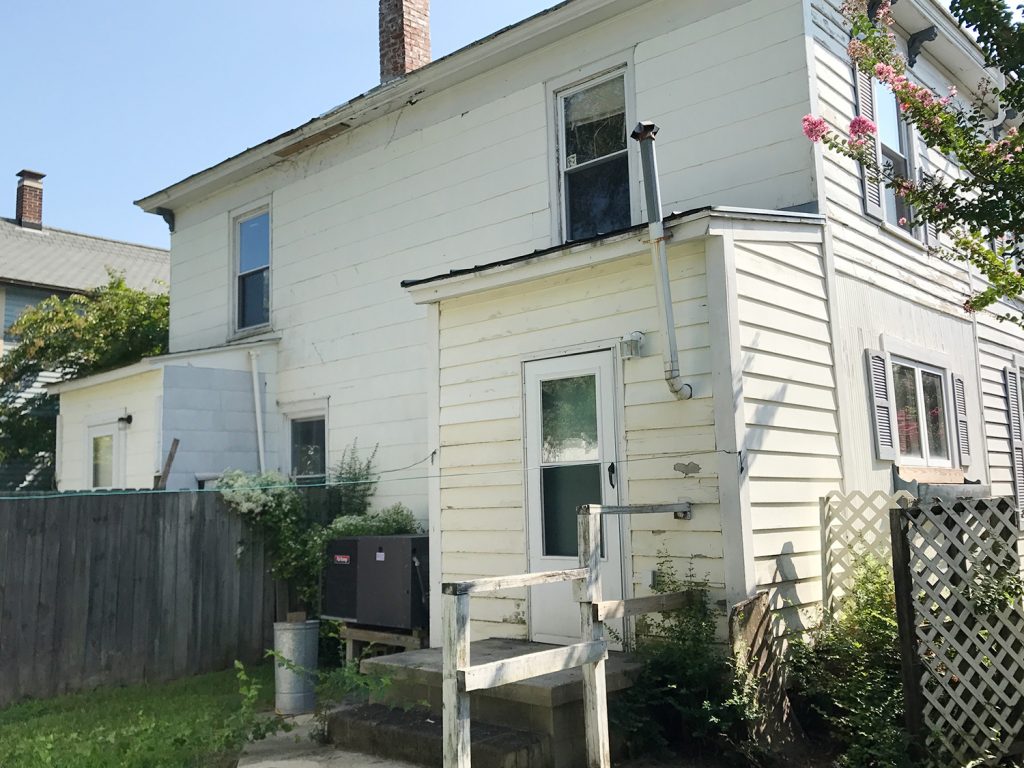 Yes, that picture above was what the back of the duplex looked like when we bought it: rotten siding, rickety railings, cinderblock steps, strange old vents and wires, inoperable HVAC systems where our outdoor showers now reside. And lower-level bump-outs on each side where the old kitchens used to be (one actually had a toilet just sitting right next to the back door without any walls closing it in… about two steps from the kitchen sink).
Besides fixing all of that stuff – one of the biggest changes has been extending those bumped-out areas up to the second story. As you may remember from our floor planning posts, we got approval from the historic review board to add those small second-level additions so each side's rear bedroom could have an en suite bathroom attached to it (that's why the window up there isn't full size).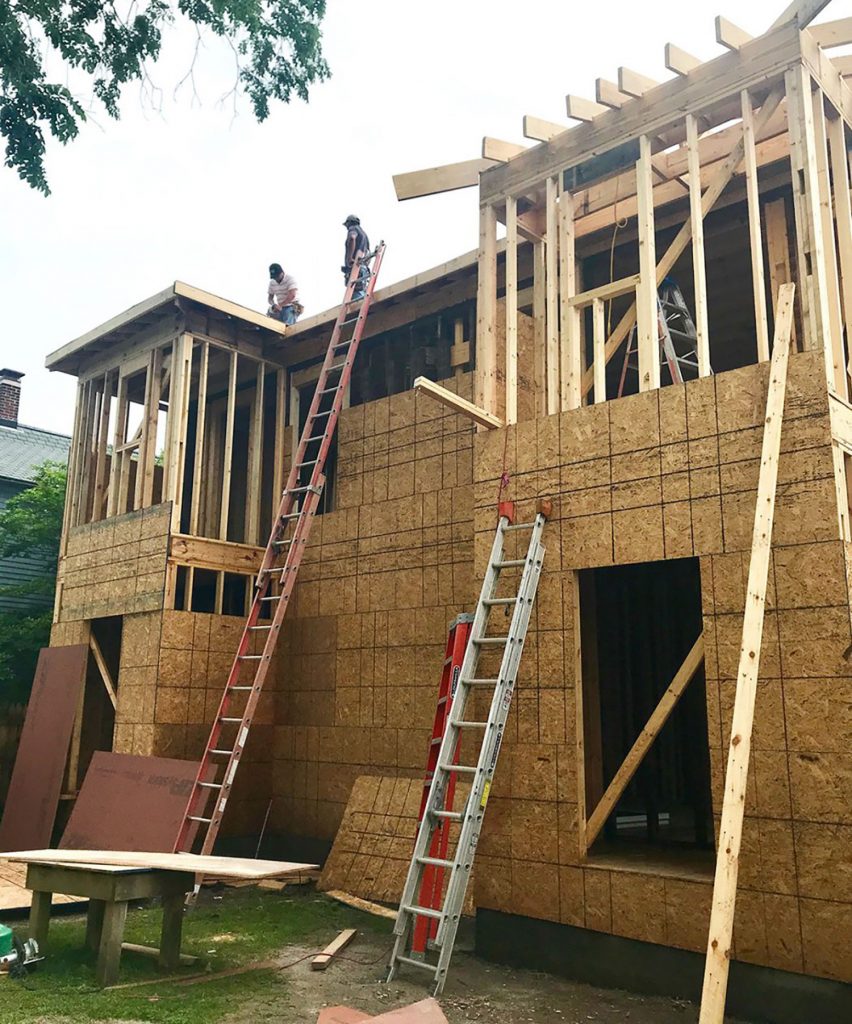 Between those two new en-suite baths and the two powder rooms we added under each staircase, we took each side from having just 1 full bath to 2 1/2 baths each. Well, I guess the left side previous had 1 full bath and 1 random kitchen toilet. Does that count as a bath and a quarter…?
Predictably, all of my favorite features are the ones that add extra architecture and character – like the corbels along the roofline (which also wrap around the front of the house), and my precious diamond doors (remember how I hunted them down secondhand because the diamond windows in the front of the house just made them feel like the perfect touch for the backyard?).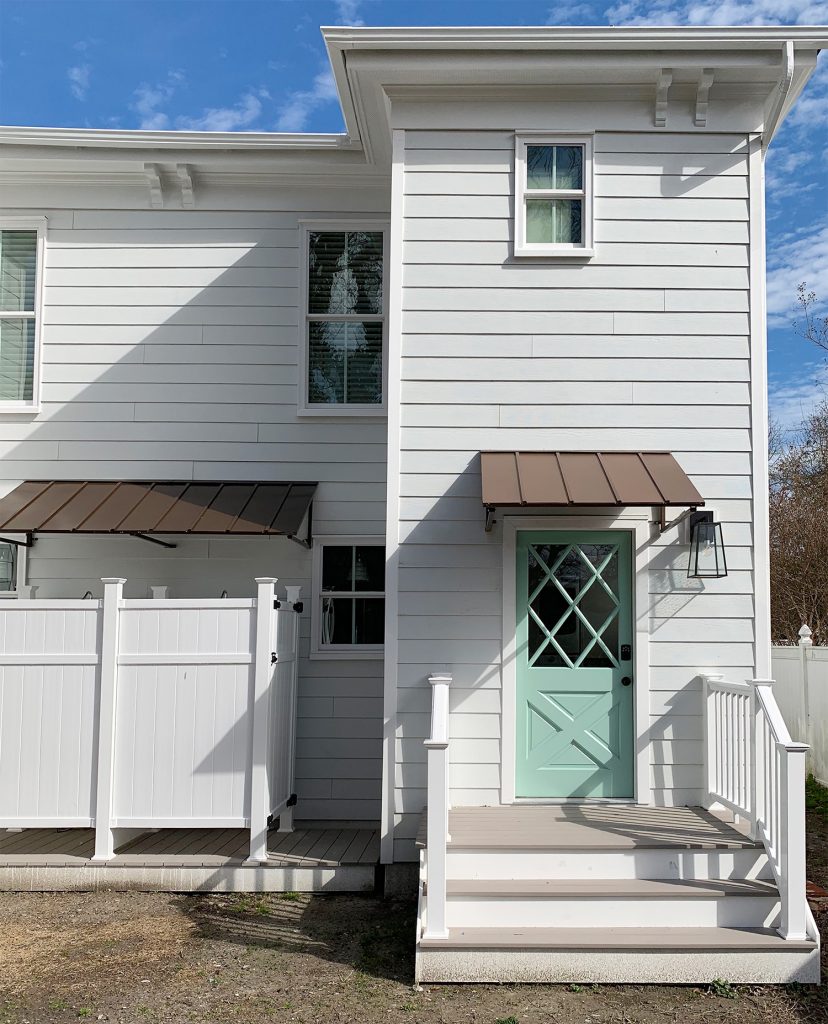 You may recall that we had to keep the original doors on the front, but the back was up to us – and the diamond doors are 100X more fun than the 90's metal doors someone added at some point. So not only have we carried the diamond pattern from the front windows around back, we also painted the back doors the same mint color as the front shutters (Sherwin William's Pale Patina).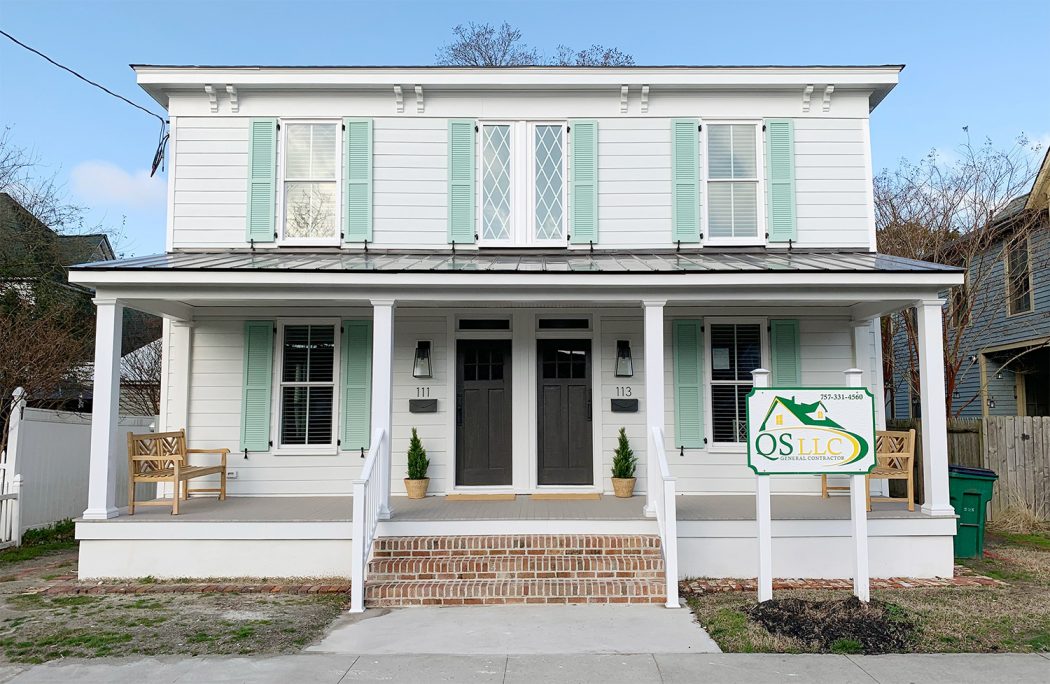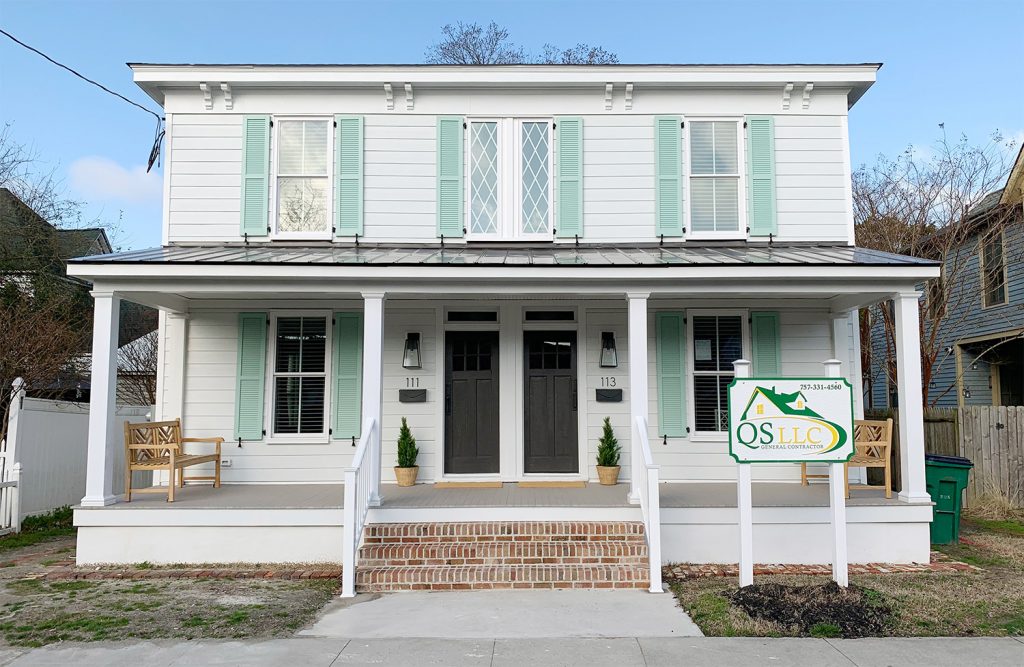 We also used the same lanterns out back to keep things feeling consistent. And we spent a little more money upfront to have the back porches, stairs, railings, and showers constructed in no-rot materials like vinyl and Azek. After it took several days last summer to stain our wood side stairs and back stairs at the pink house, we regretted adding that sort of maintenance to our to-do lists (over time the stain + time spent on upkeep will surpass the one-time upcharge to have them made from no-rot materials).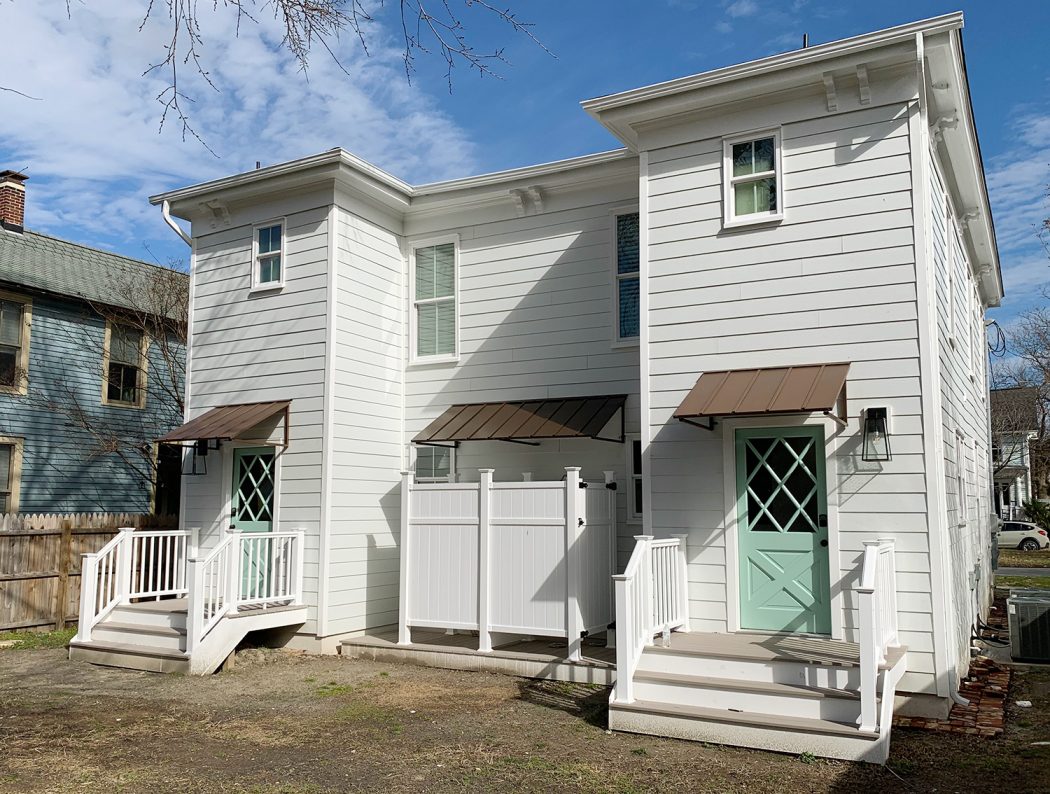 So keeping things lower maintenance and more failsafe at the duplex was an easy choice. (*Cut to me loudly wailing "If I Could Turn Back Tahhhhhhm For The Beach House Steps"*). Oh well, at least the front steps on each house are brick.
The awnings are actually just stock metal awnings that we bought online (we went with the bronze color and the 36″ depth). We originally just bought the two smaller awnings over the doors (they're the 44″ width), but later added the larger one that runs over the showers when we realized you could partially see into the showers from the windows above them. Uh yeah, CREEPY. Fortunately, it turned into a nice accent to carry across the whole back of the house, and the showers + the awning in the middle make that space feel less dented in and more dimensional, so I'm calling it a win.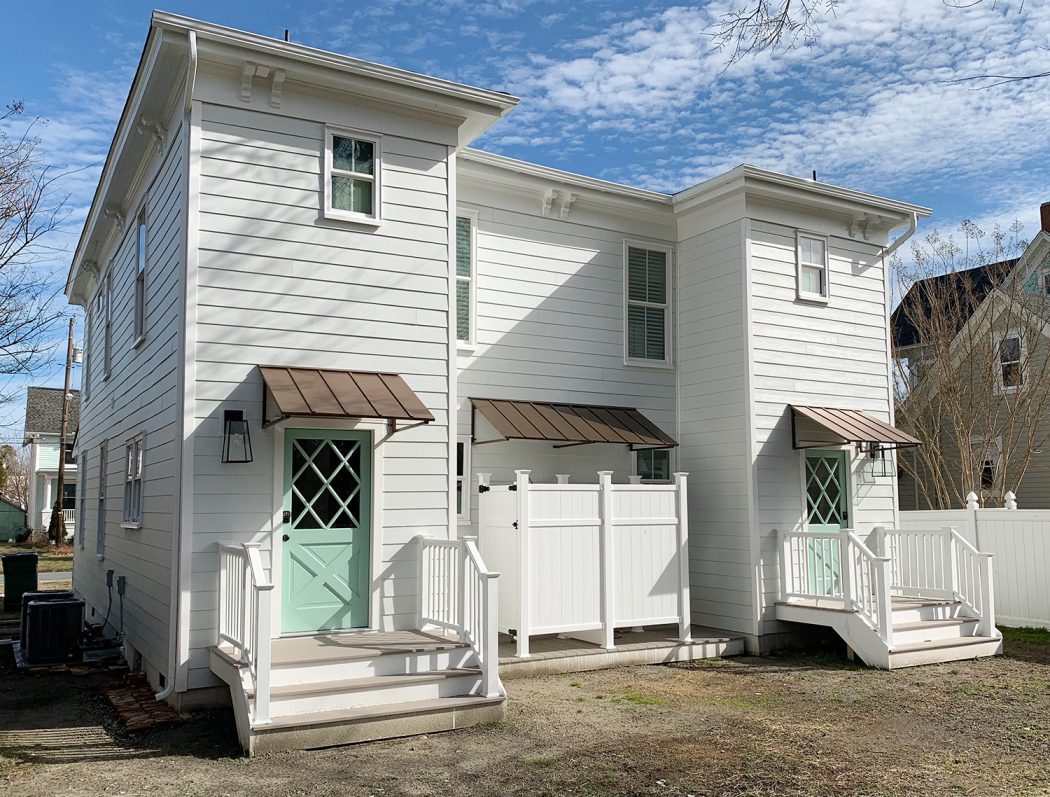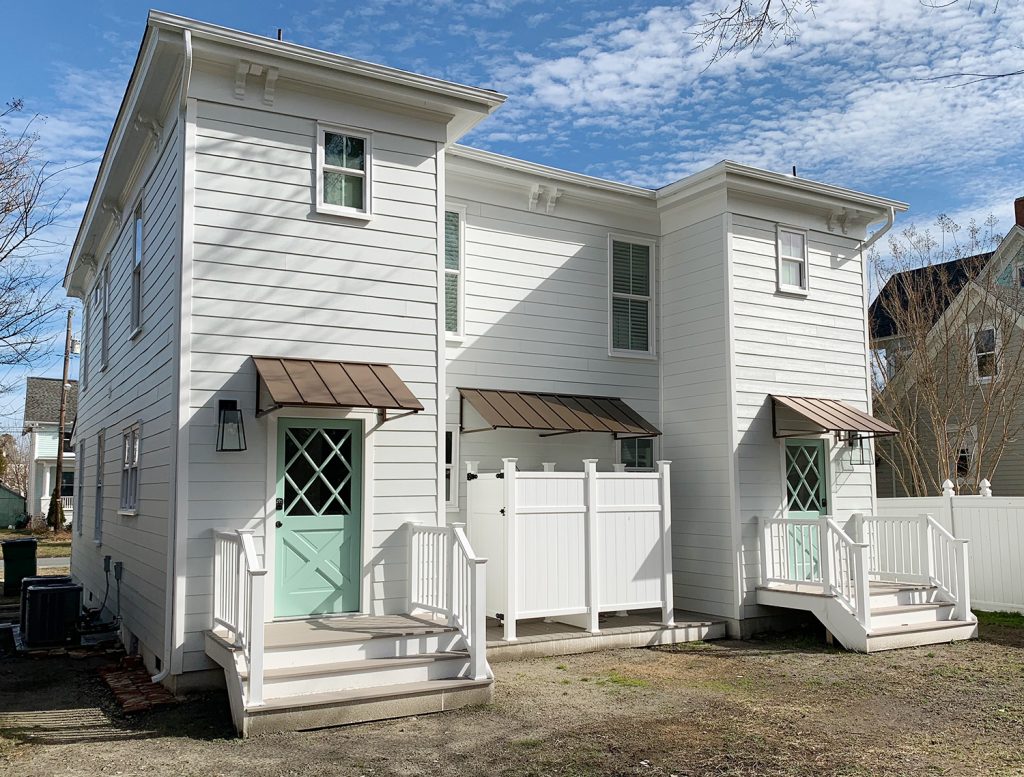 Since the duplex is two separate vacation rental units, we're adding a dividing fence that'll divide the two yards (it will basically follow that central line where the outdoor showers meet). BUT, since we know there will be instances where the same family or a group of friends rent both sides of the house – we're putting a big six foot gated area so people can throw open the gate if they want to merge the two backyards (or keep them closed for full privacy if they don't know each other).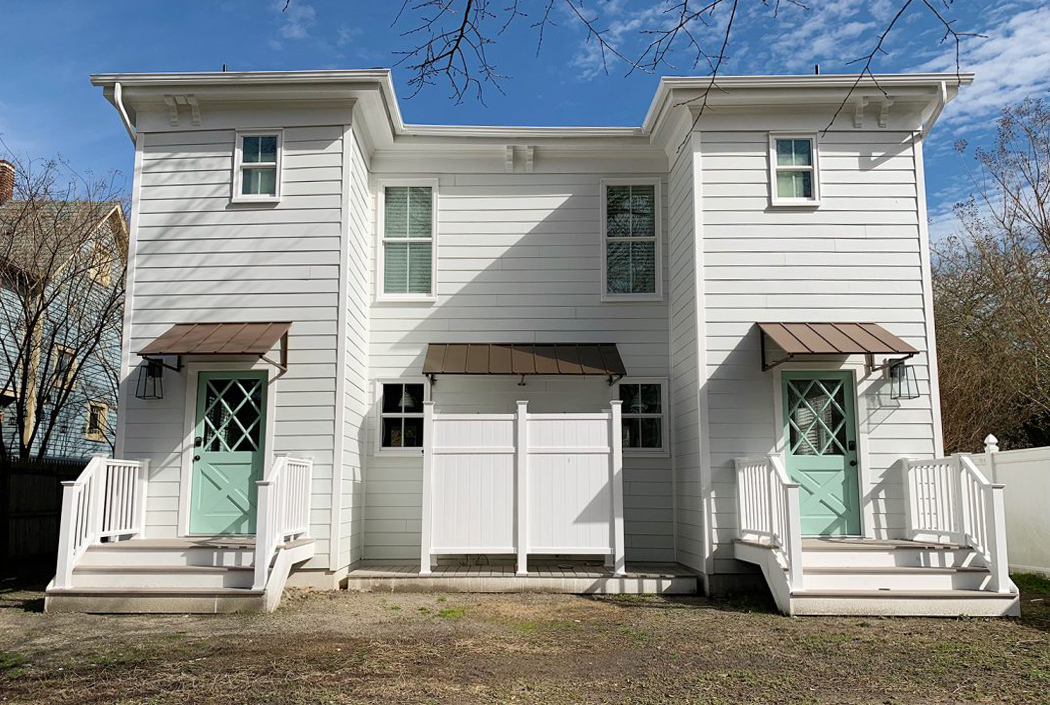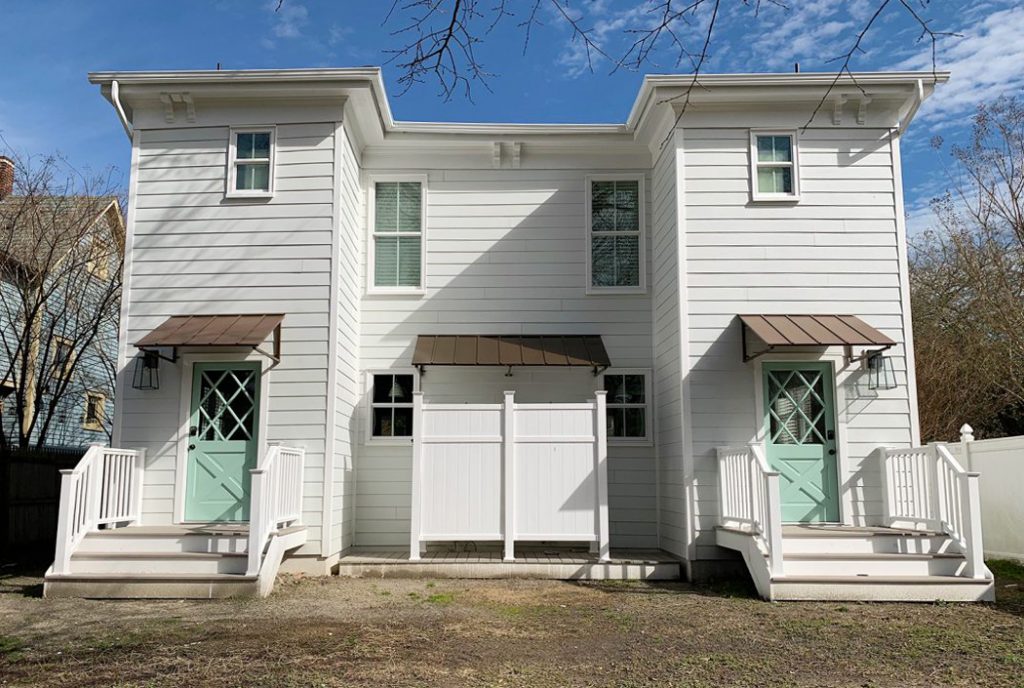 The funny thing is that the original duplex backyard was divided by a fence like that, but it didn't have the flexibility of a large 6′ gate to open if you wanted to share the space, so that should be a nice addition, along with the two paver patios and sheds that we're adding.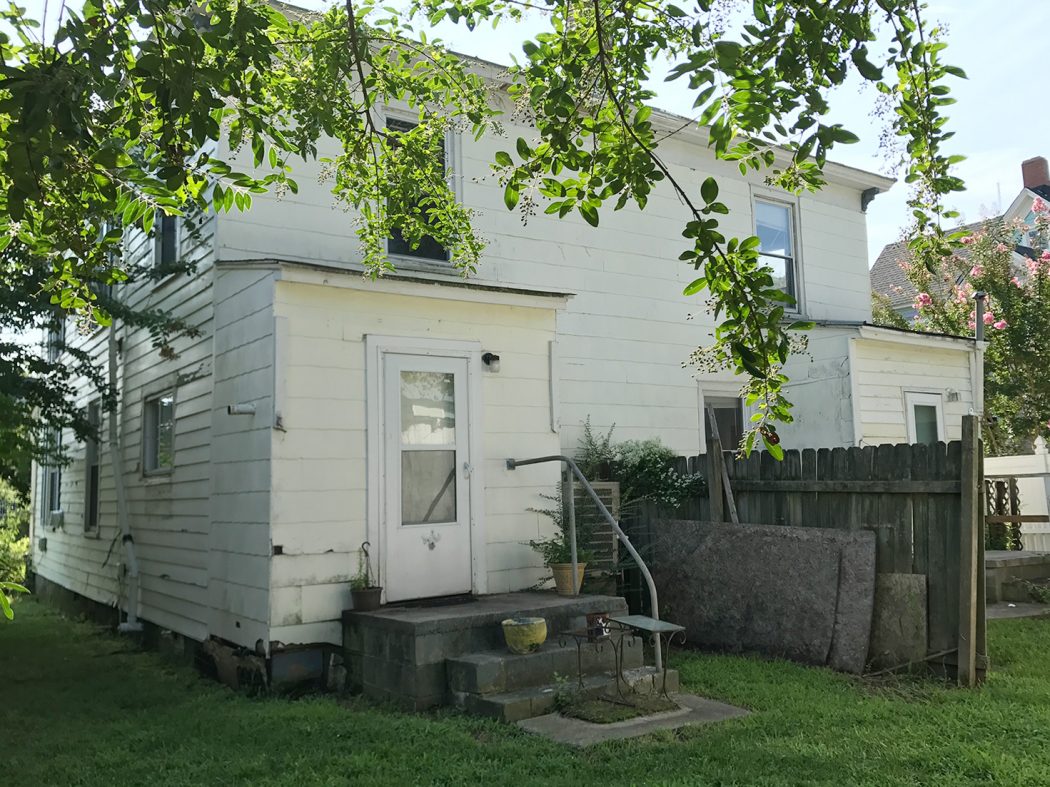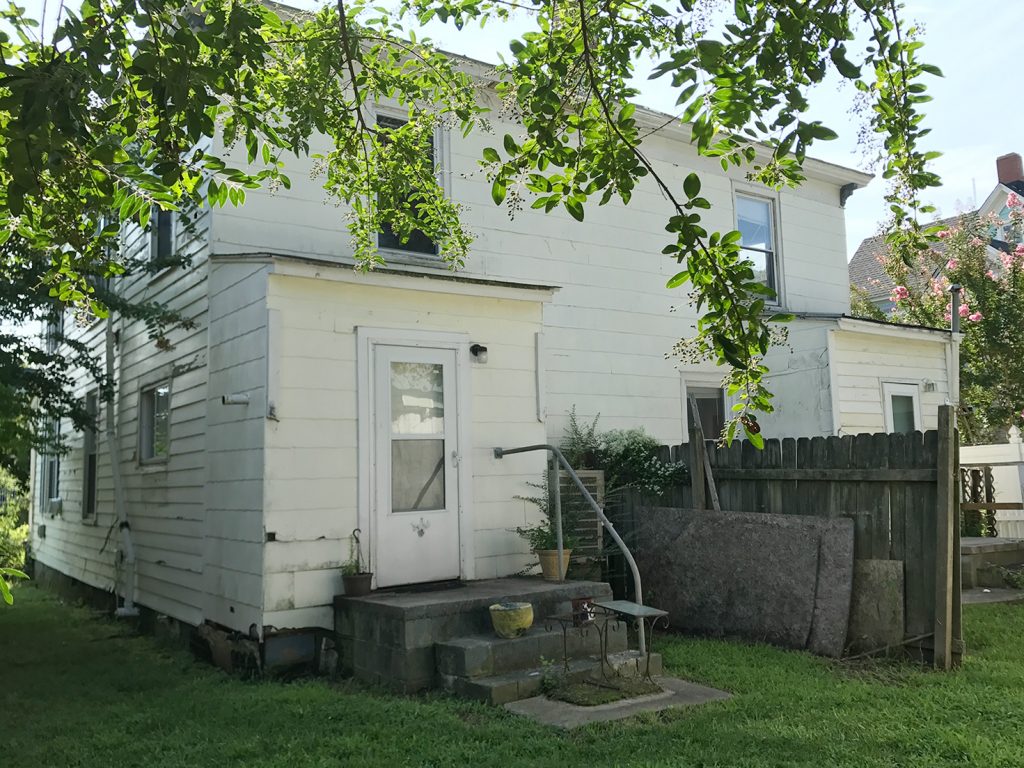 Looking at that old before picture above makes me RIDICULOUSLY excited for the rest of the work back here to be completed and for things to start greening up again. Look how lush the trees and the grass are! Even though it's a before picture, it's amazing how much charm flowering trees and green grass can add.
Our entire impending yard makeover (including landscaping, fencing, patios, furniture, sheds, EVERYTHING!!!!!) should be done in the next month or so, and then renters will be able to enjoy it all this summer. And since every time we mention the duplex we get asked when we'll start booking, our goal is to have it on Airbnb by next month for weekly vacation availability this summer. You'll definitely know when it's listed ;)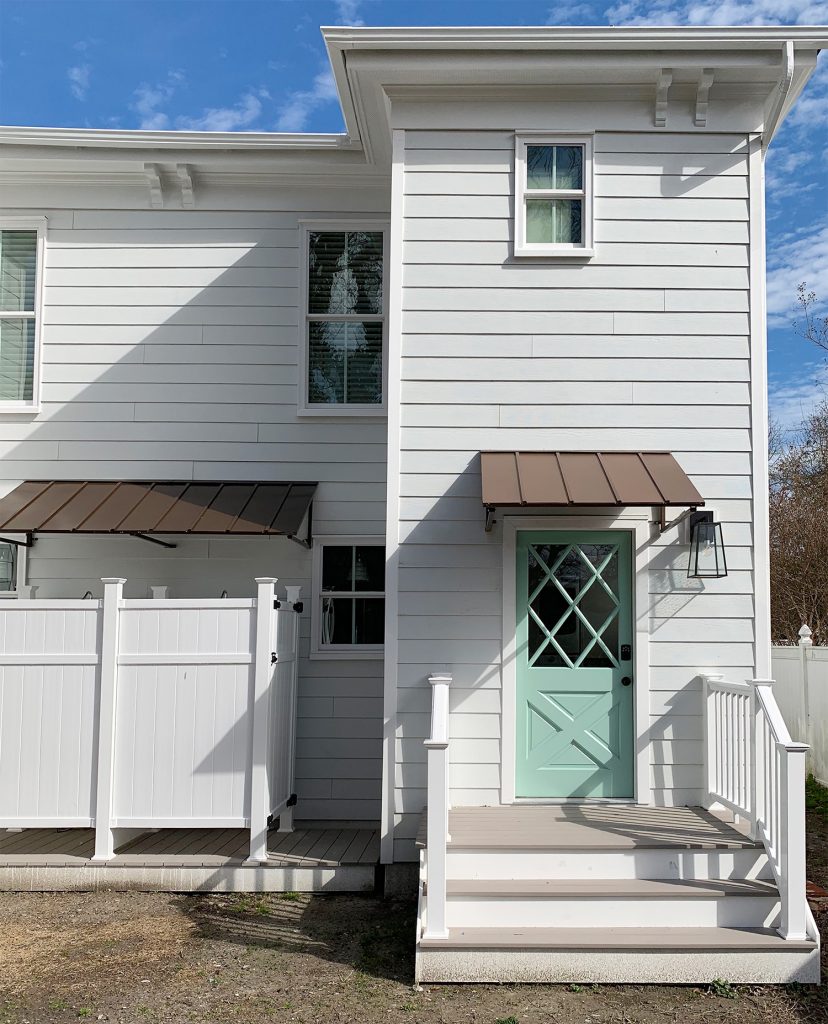 I should also note that I'm pretty jealous that the duplex outdoor shower stalls have been completed long before ours over at the pink house (we've had an open-air outdoor shower since last year, but no stall around it for coverage – so it's currently a zero privacy experience). But hopefully not for long!
P.S. To see all of our duplex adventures, from buying it and planning the layout to completely updating the inside, adding floor tile and a kitchen, etc – this entire category has you covered. And here's one for our beach house adventures.
*This post contains affiliate links*