AT LAST! The backyards of the duplex are DONE DONE DONE! And with basically zero time to spare (our first weeklong summer renters arrive this Saturday and we actually have some early-birds staying on one side right now until Saturday since we finished in the nick of time and they inquired with just enough time to squeeze them in!). There are lots of pics in this post, so I'll try to keep the words under control – but this is one of our favorite makeovers in the entire renovation.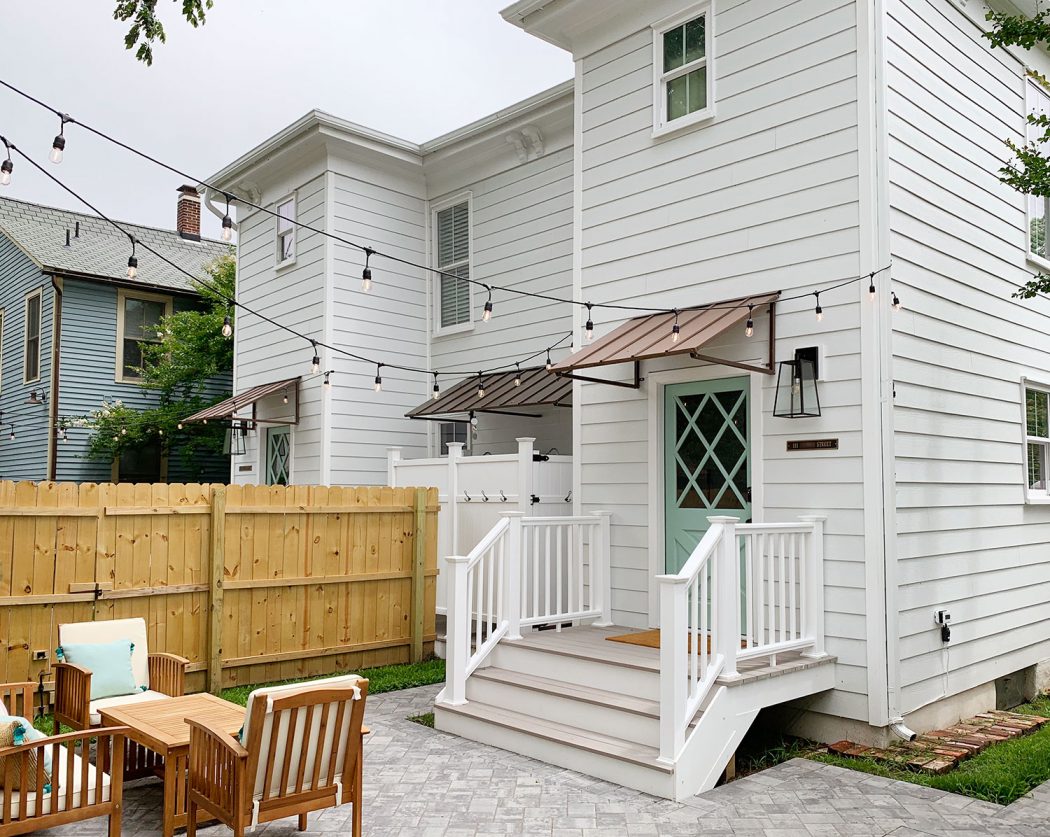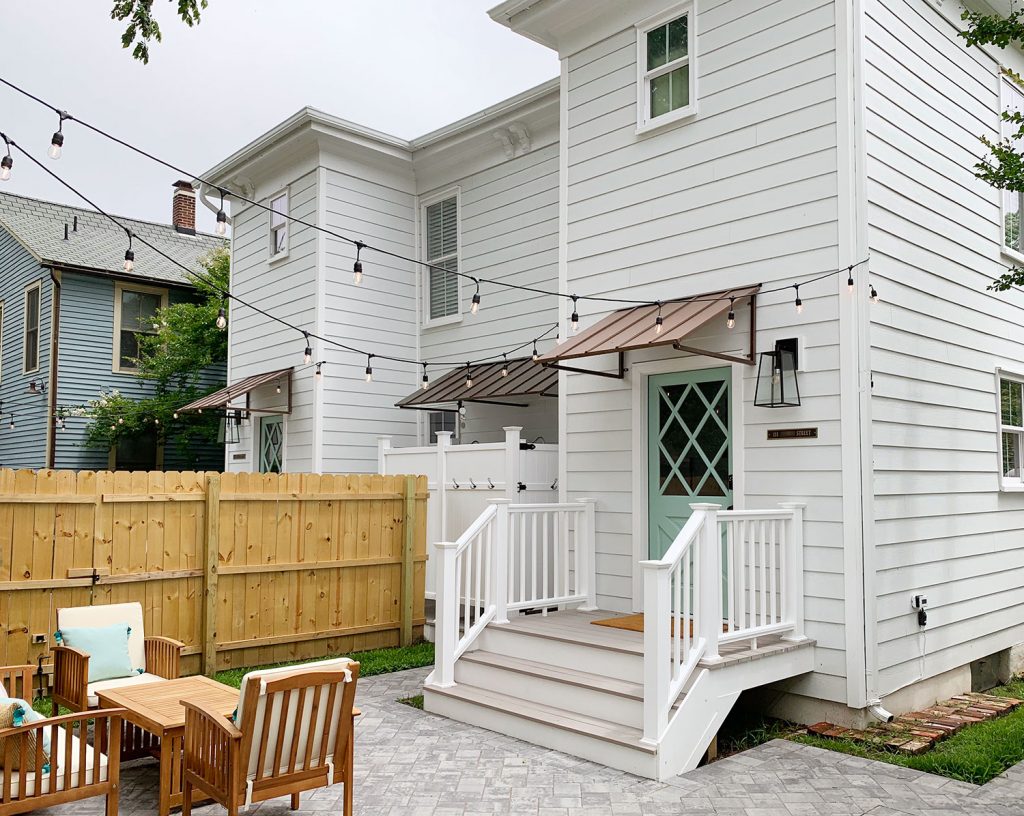 Let's go back in time for a second to appreciate how far the back of this house has come. This is what it looked like when we bought it: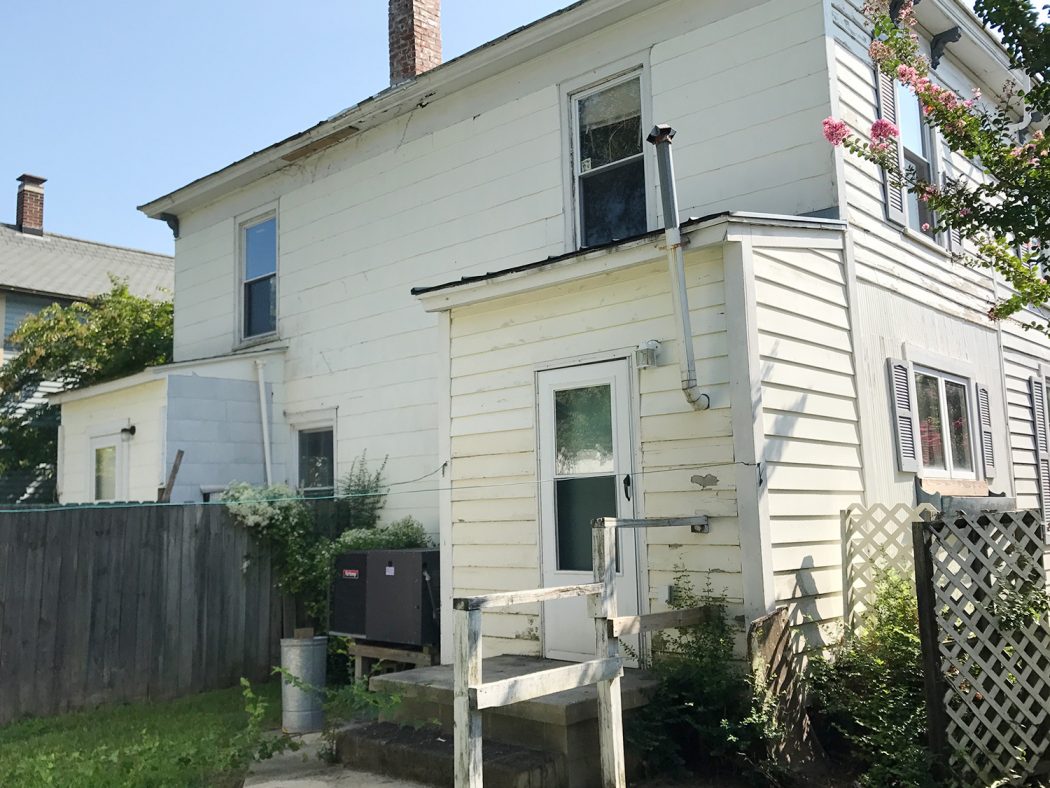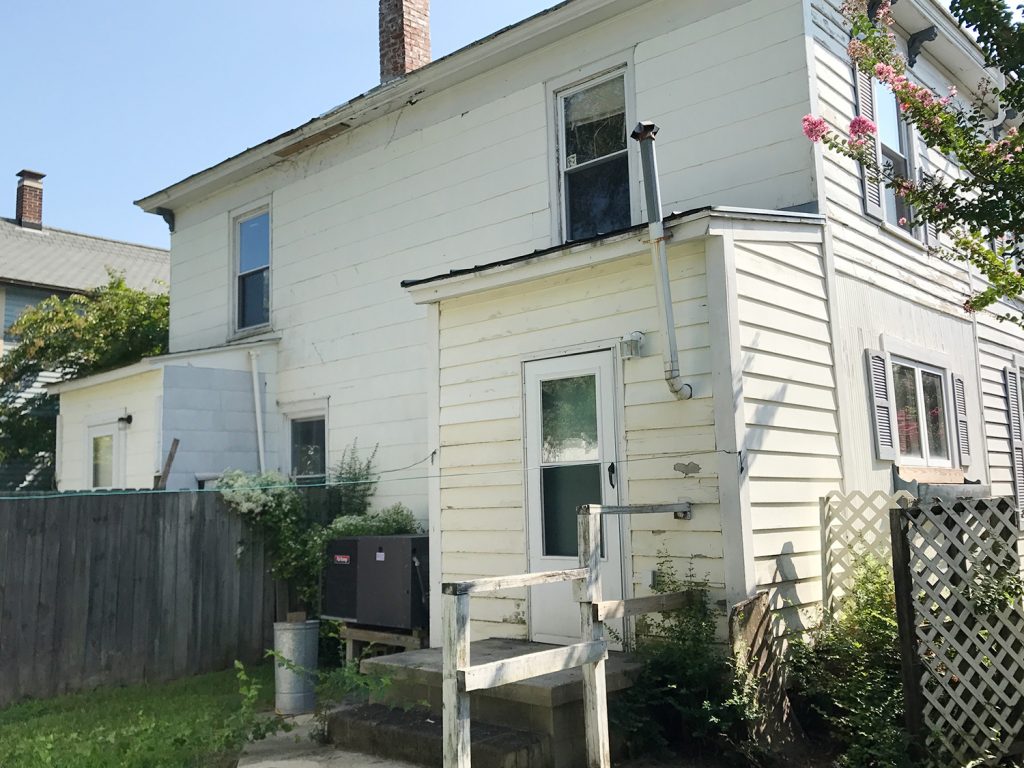 Let alone the structural changes we made to the back of the house (which you can read more about here), it's just amazing what some grass and hardscaping and string lights (and some cute little sheds with decorative oars on them – ha!) can do for ambiance. I took this picture while it was lightly drizzling the other night and it's STILL CUTE. What kind of magic is that? It's literally the power of string lights, which make anything 1000% more charming. Beauty tip: Wrap them around your face a few times and tell me you aren't positively radiant (this is a joke, but really they are miraculous beautifiers).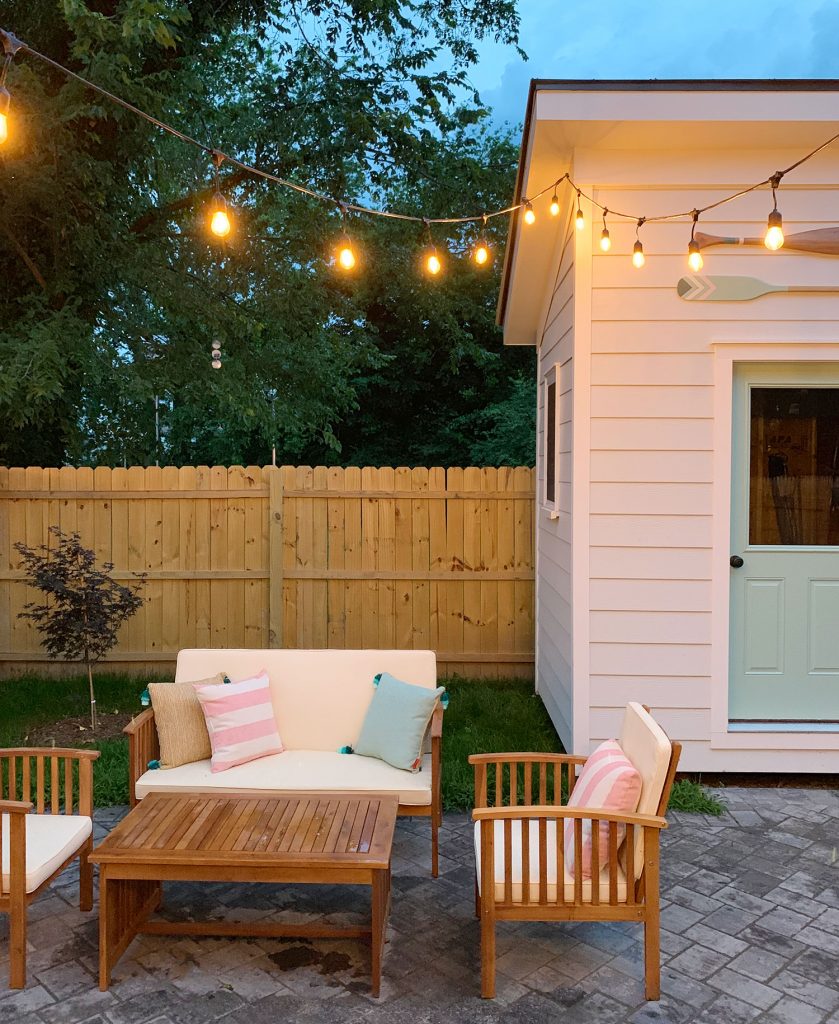 Also, I can't underplay what a heroic role the metal awnings and the secondhand diamond doors play in the whole backyard makeover scheme, so let's dive right into the specifics of what we did back here.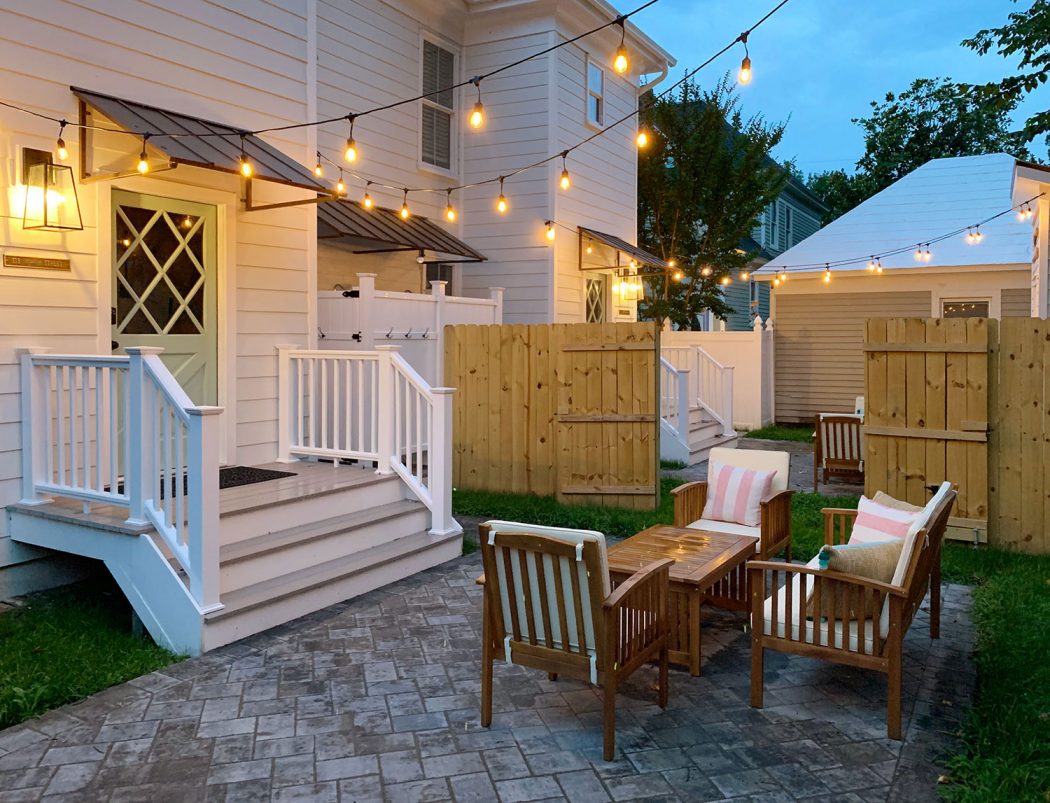 Since the keypads to get into each unit are on the back of the house (along with the outdoor showers, where people will rinse off after beaching it up, and the shed, where they'll get/return the beach chairs and umbrella we provide) we added a nice paver path to lead people back there on each side of the house. Update: getting questions if renters can use the front door – yes there's a front door key and a shed key inside for them to use as they like).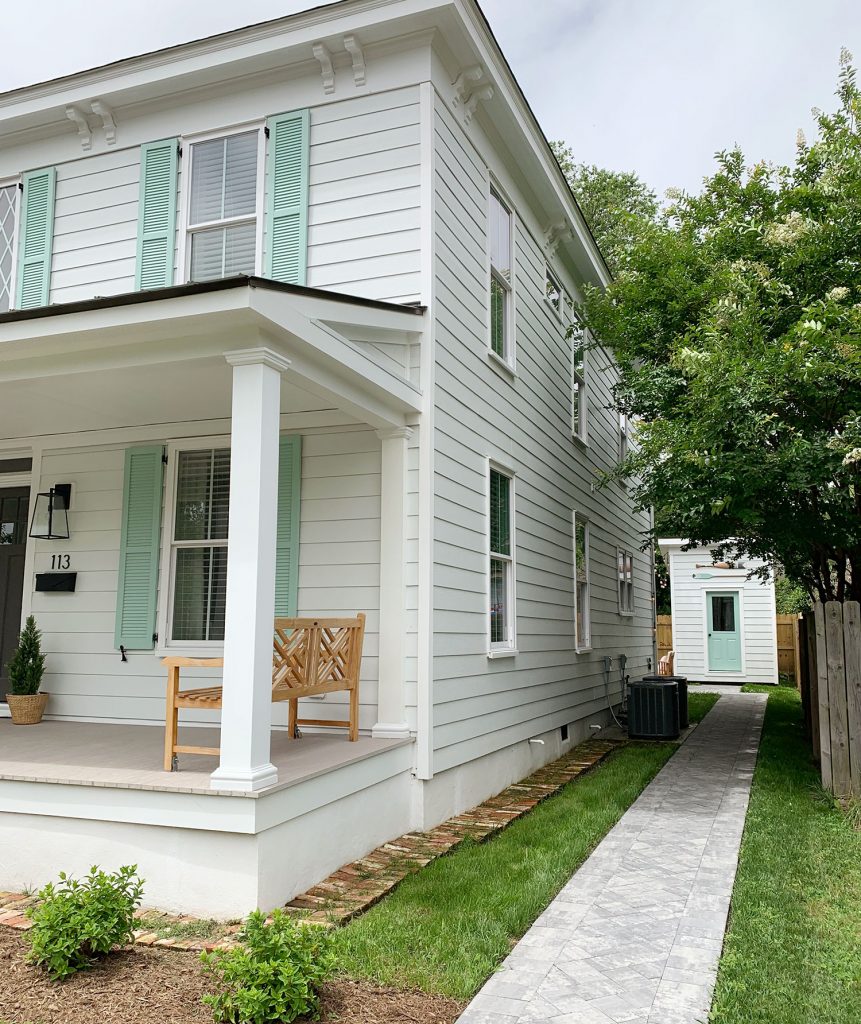 These were extremely inexpensive $2 pavers, but the herringbone layout really upped the style-factor, and that little shed awaiting each guest in the backyard is not only extremely cute, it's extremely practical (it's where we're storing the beach chairs, toys, umbrella, and other stuff for our guests to use throughout their stay). Also the picture below underscores just how amazing green stuff is. Same exact shot before the trees greened up and we planted grass. Pretty crazy, right?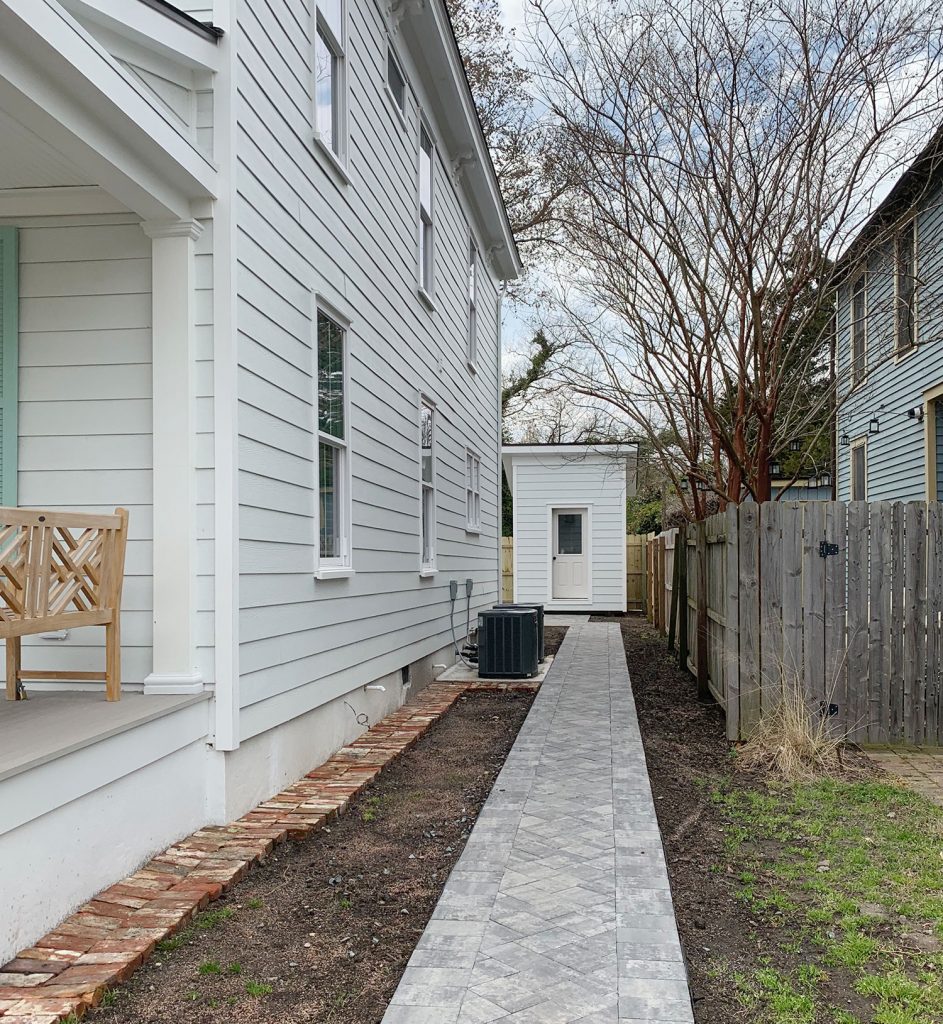 Oh and I teak oiled the bench that you see on the front porch after the grass came in (I use this stuff – you just rub it on with a rag). Can you see how it's richer in the photo with the grass? That's a great way to protect wooden outdoor furniture. I plan to do that to the backyard furniture set too – along with covering that in the off season.
Ok, but onto the backyard! Our contractor built the sheds for us (we priced out ready-made options and his were cheaper! Plus we got to use the same matching HardiePlank siding as the house and even do metal on the roof like the front porch! We painted the shed doors the same color as the diamond back doors and the front shutters on the duplex: Pale Patina by Sherwin Williams. And the decorative oars – we actually bought them at HomeGoods and painted them to match the colors of the house. Overkill? MAYBE BUT I LOVVVVVVE THEM!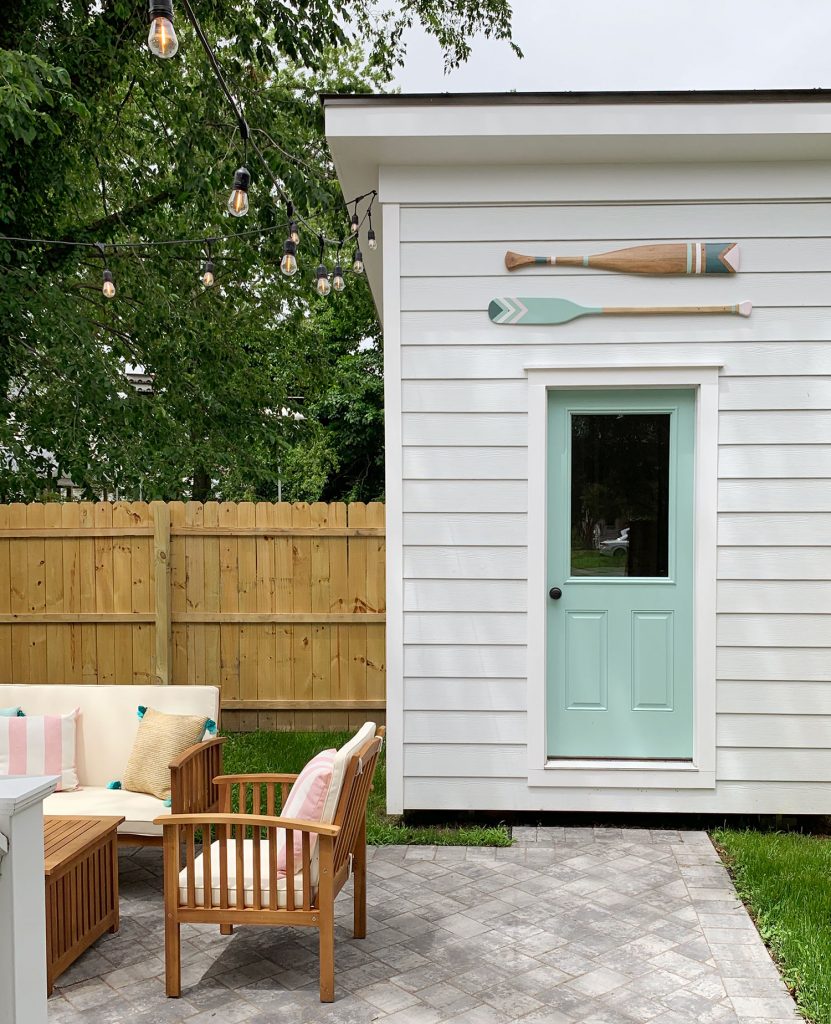 As for the always-gorgeous string lights, we set them up so they run on an outdoor timer (they click on for two hours in the evening, although our guests have info about how to change that if they want them on longer or shorter). We also planted small Japanese maples in each of the tiny backyards for some color, and we think they'll be so pretty when they grow in a little more. The pressure treated wooden 6′ privacy fence makes each yard feel nice and nestled – and it'll get a bit darker/grayer so it's less new looking over time, which we think will be nice.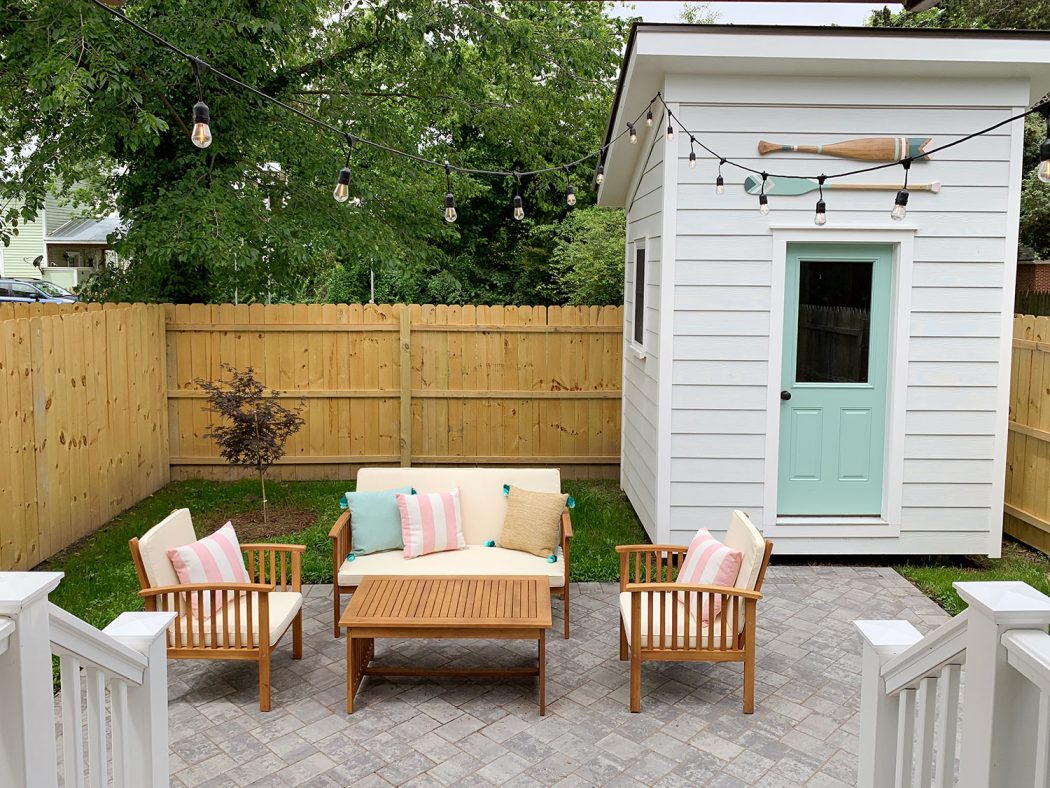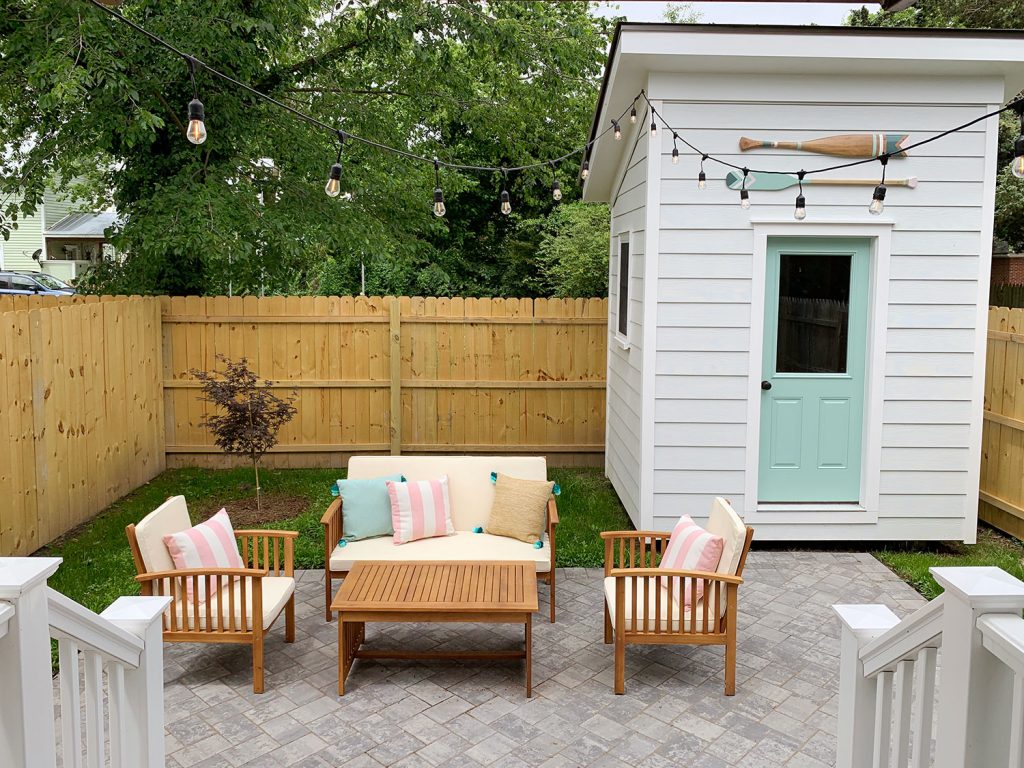 The patio furniture was a steal of a deal! I got this giant set of two sofas, four chairs, and two coffee tables for just $534 during a big Wayfair sale, and it broke down to being under $90 per furniture item (under $90 for a wood sofa or even a wood chair with cushions!). THAT IS CRAZY AND THEY'RE SO WELL RATED! They're still an amazing price right now ($619 for all 8 pieces!) if you're in the market, and I love the idea that you can break them up (some on the front porch or side yard, and others out back for example).
So far we're extremely pleased with them and we heard from tons of people who already owned them when we ordered them and apparently they're great, just throw down a few accent pillows for added comfort & back support – which we did (I grabbed a few of these striped pillows and these double-sided pillows from Target). Again, I plan to cover these in the off season (and will teak oil them probably every spring/fall to keep them looking good). And don't forget our tip for keeping light outdoor cushions clean… we pressure wash ours on a low setting every season (this is our pressure washer).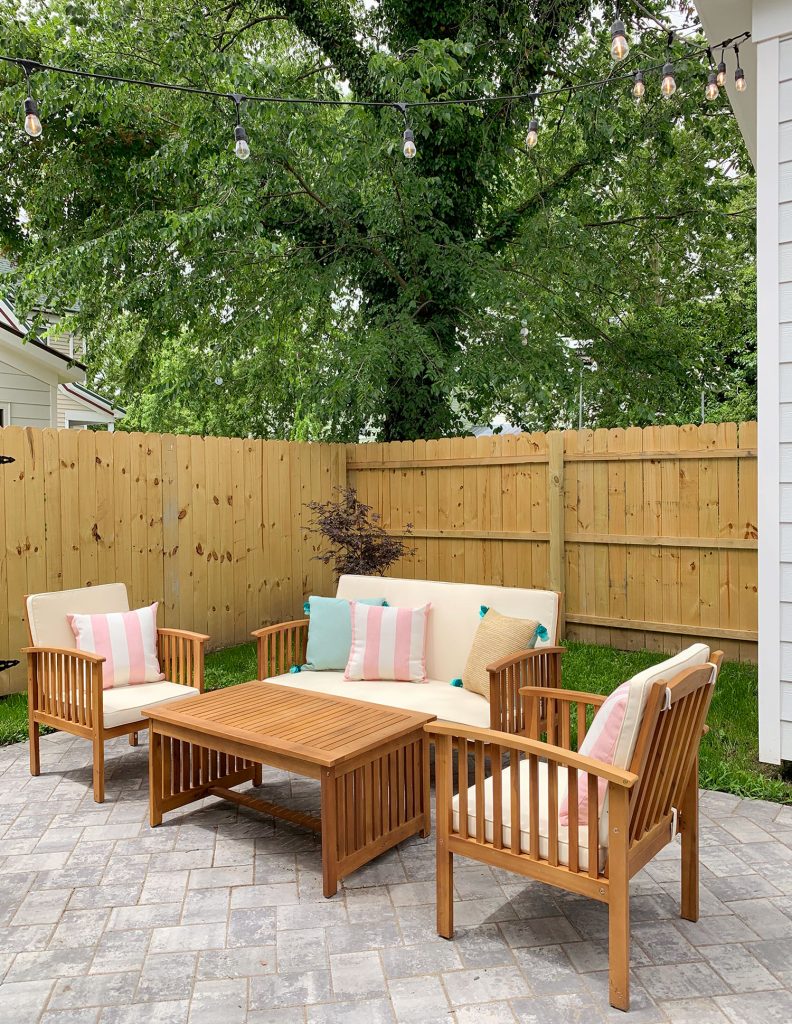 We actually have two more tan colored adirondack chairs in each shed for people who want more seating, but to keep it simple and uncrowded we aren't leaving those out – folks can just pull 'em out if they'd like to use them.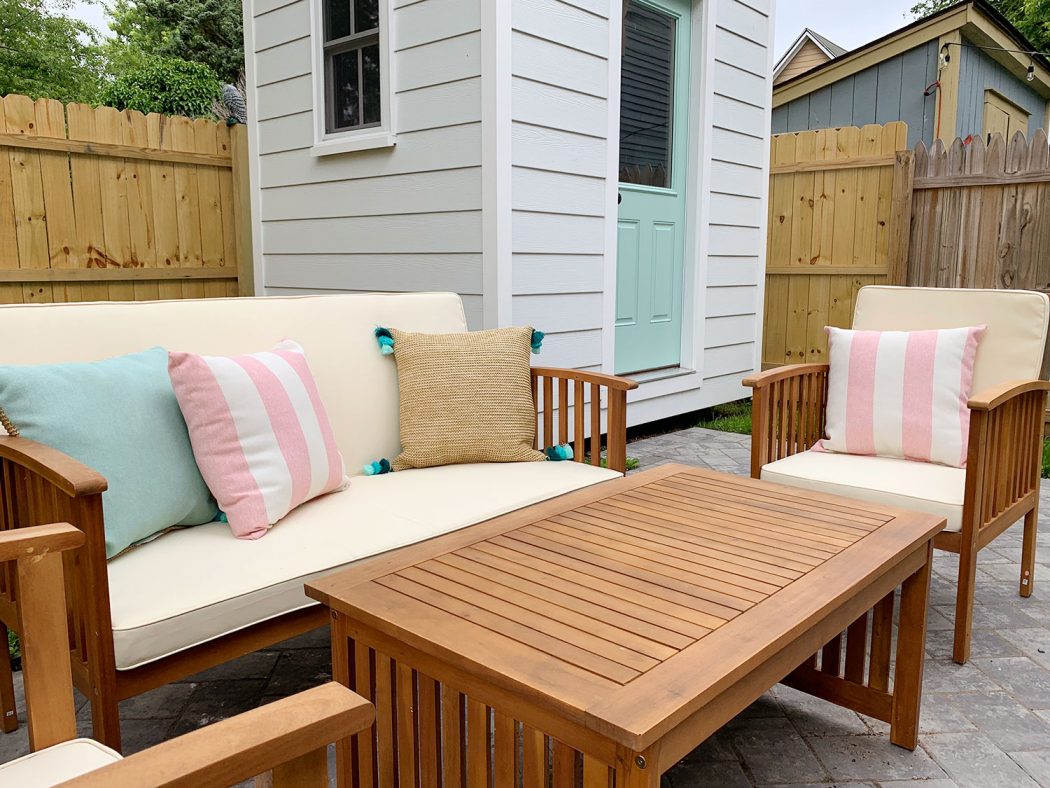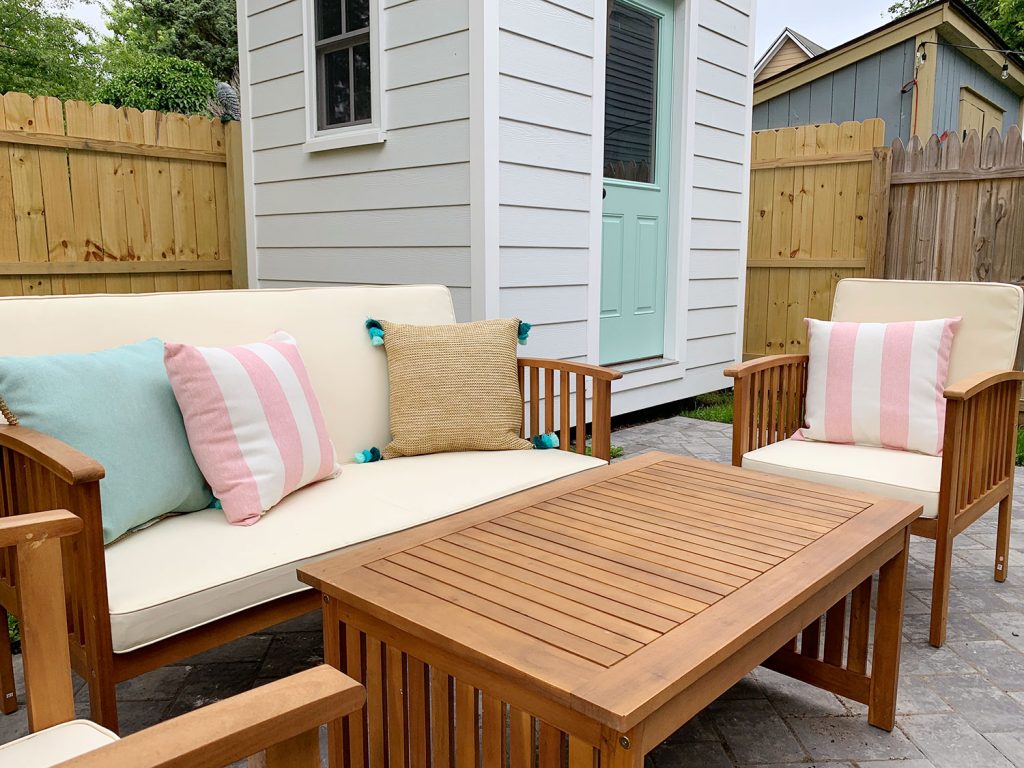 Wait but the oars. Have I told you how much I love them? I have? FINE I WILL MOVE ON.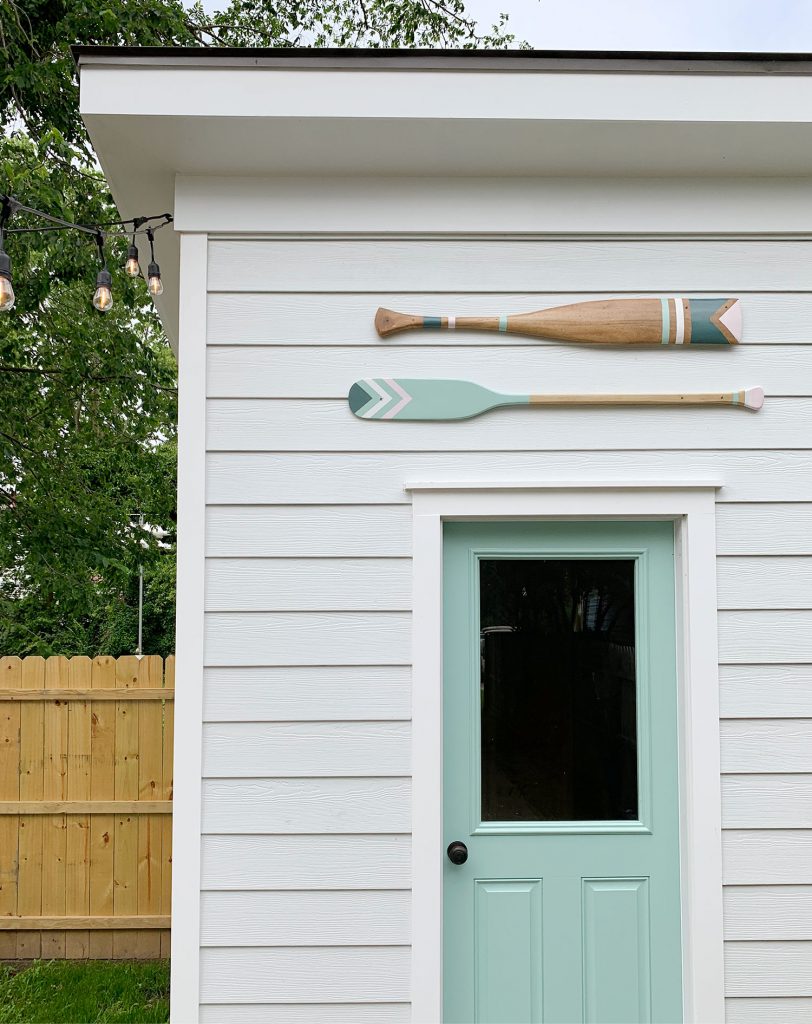 If you spin around with your back to the shed you'll see the sweet diamond back door, which you've seen back in this post about the makeover of the back of the duplex itself (it also covers how we added the awnings and our overall changes in the facade of the house itself). We did add a little address plaque that we got (ours is the chocolate/gold color) just to make sure folks are on the correct side of the house when they're entering their code. We don't want people standing in front of the wrong door and wondering why the code doesn't work, which is totally something I'd do… so… address plaques!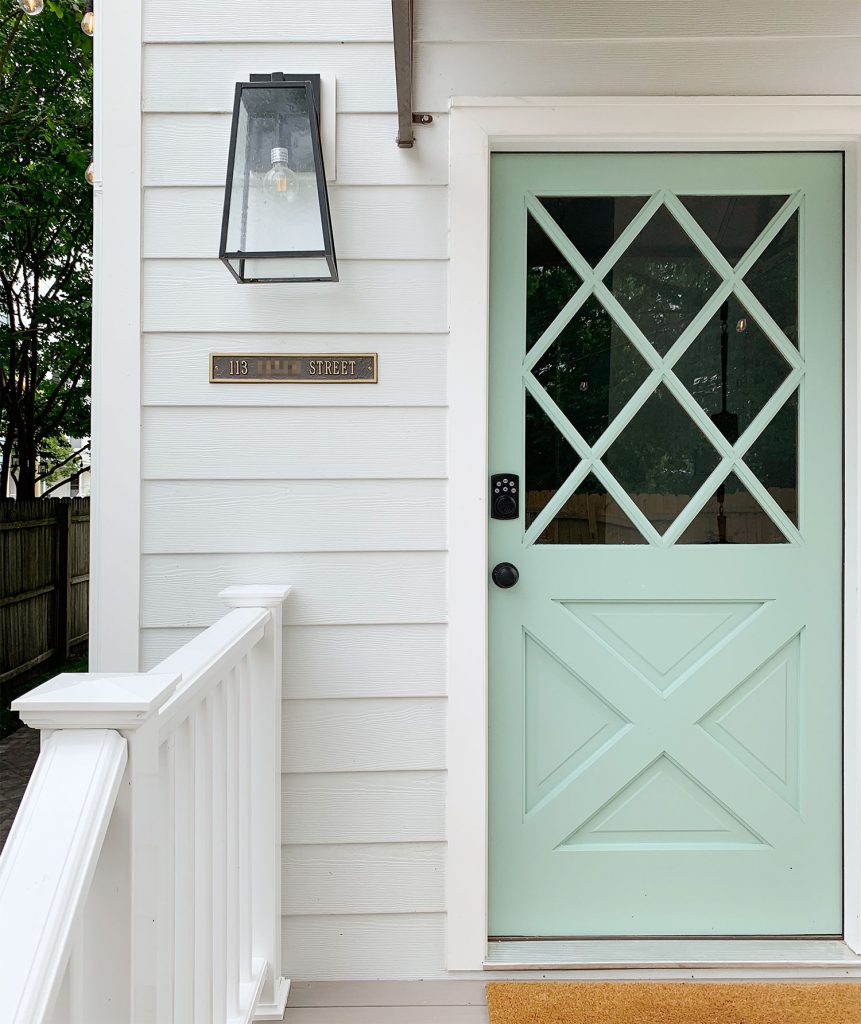 Here's a more pulled back shot so you can see the dividing fence between each side – as well as the outdoor showers back there under that larger awning.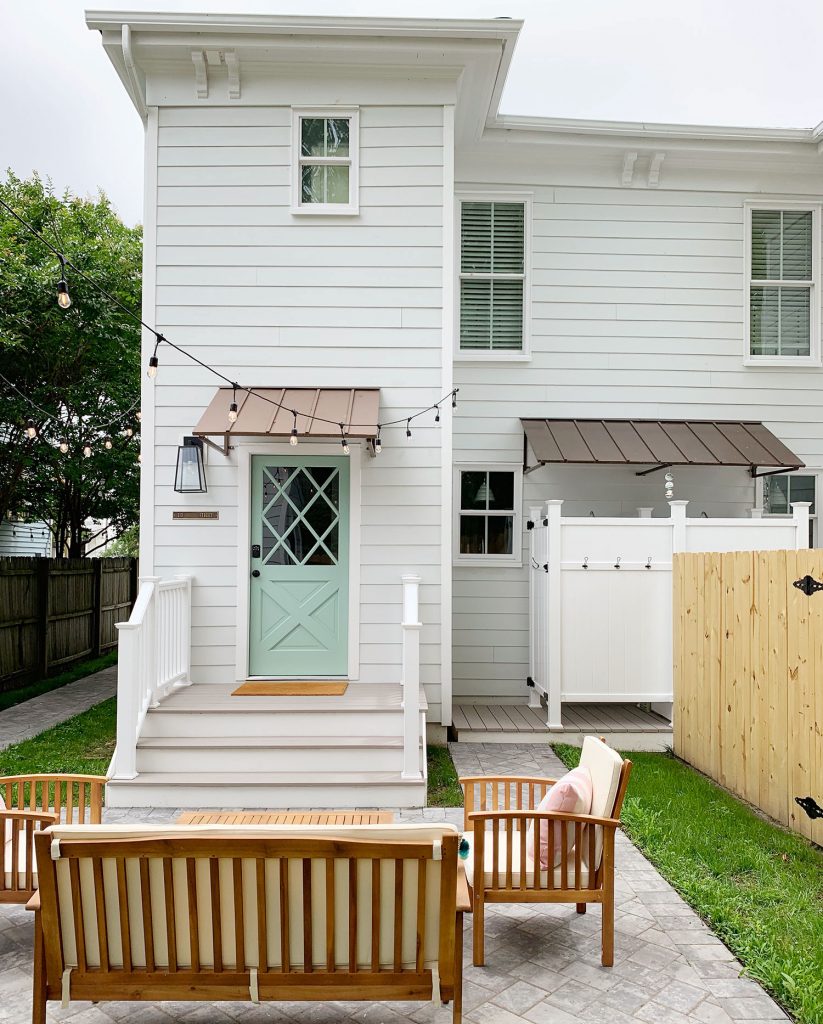 I know folks will ask about the showers, so here's the deal. The actual outdoor shower kit is this exact one (our contractor Sean has tried all sorts and likes this one best). And the no rot composite shower surround is actually just fencing from Lowe's that he buys and uses to build the surround. Oh and it's important to have a draining base under an outdoor shower, so that's Azek (a composite no rot product like Trex) with little gaps between it so the water drains into the gravel filled base below, so it doesn't flood the patio or pool anywhere. Works so well!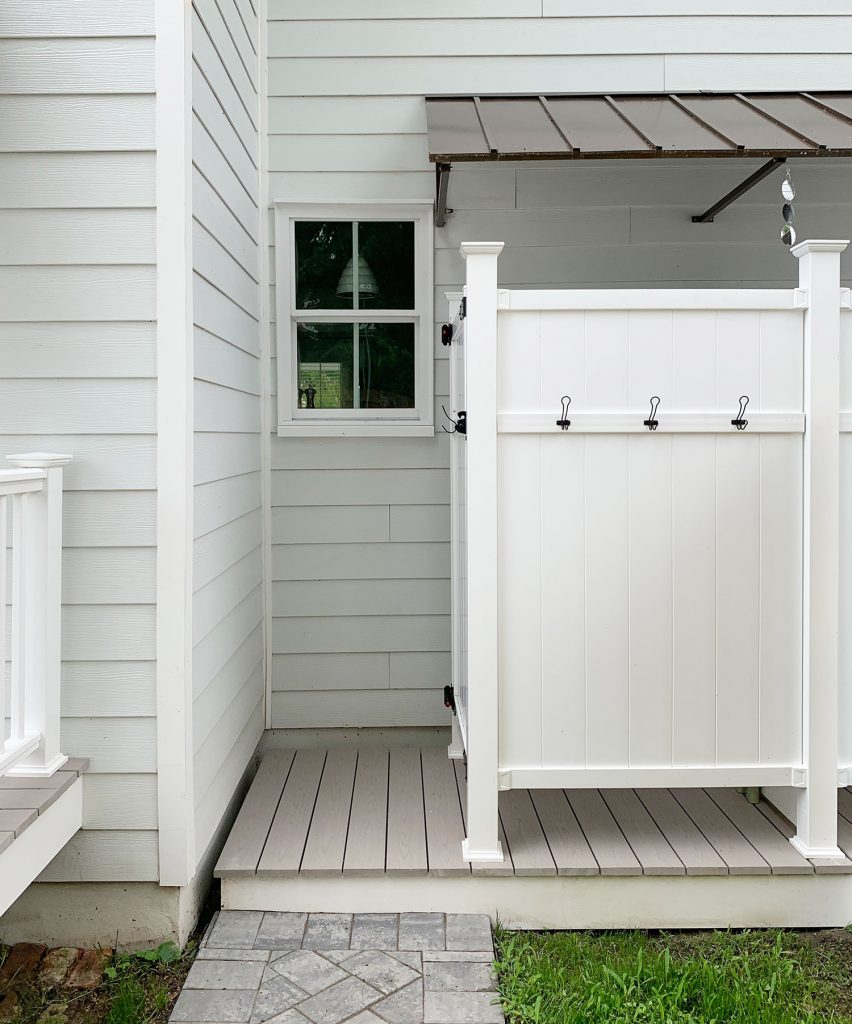 Each shower stall is completely walled off from the one on the other side, so you can't even stand in one and bend down to see the other person's feet on the other side (see that extra board along the bottom of this picture below?). Nice & private.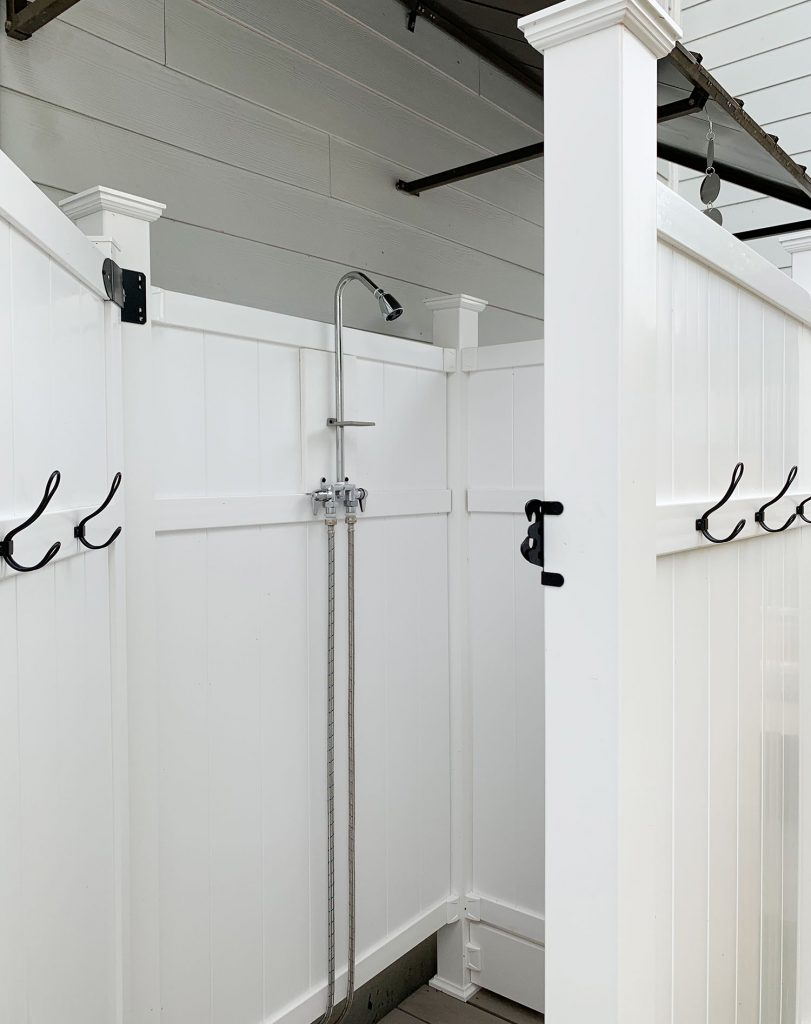 We doubt anyone who would feel self conscious using one next to a stranger would ever end up doing that anyway, because each family would have to return home from the beach at the exact same time to shower off, which seems unlikely – but even if they do, that fully divided bottom ledge hopefully feels nice to have. Speaking of nice to have…. hooks galore! ALWAYS AND EVERYWHERE GUYS! Each side has 8 out here and 12 more in the mudroom.
Here's a wider shot to orient you and show you how the back is arranged. They're basically mirror images of each other, but that nice tall 6′ privacy fence keeps them feeling separated if the two groups that rent each side don't know each other and want some privacy.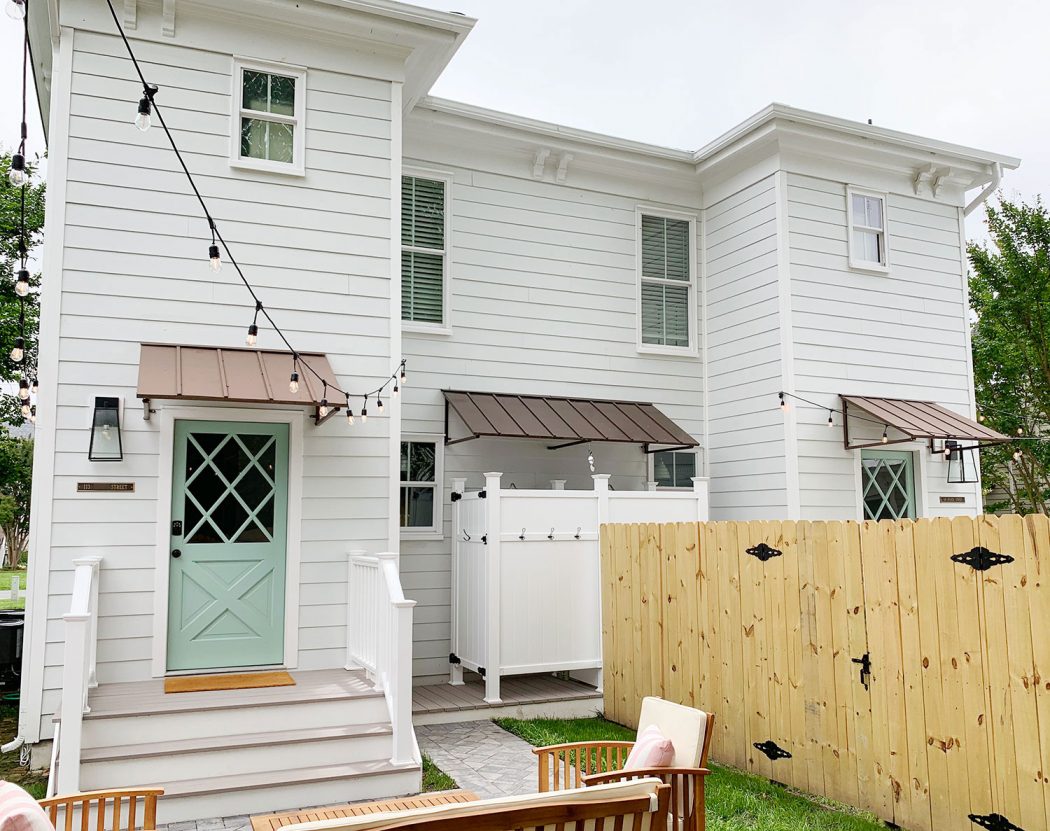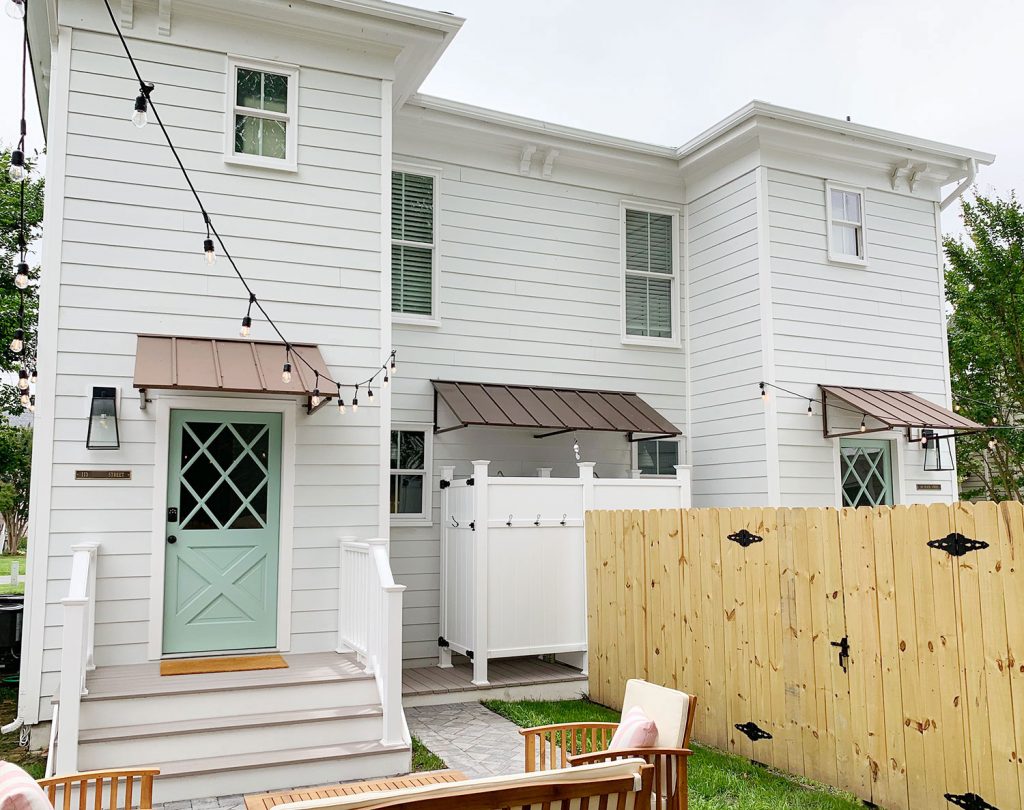 But if relatives or friends booked both sides of the duplex together and want to hang out, we designed that fence to have a giant 6′ opening that can be revealed so it essentially goes from being two private yards into one big shared one. WE LOVE HOW THIS TURNED OUT SO MUCH! We have at least a few renters who are friends/relatives so we know the gate will get some use in the open position this summer, which makes me so happy.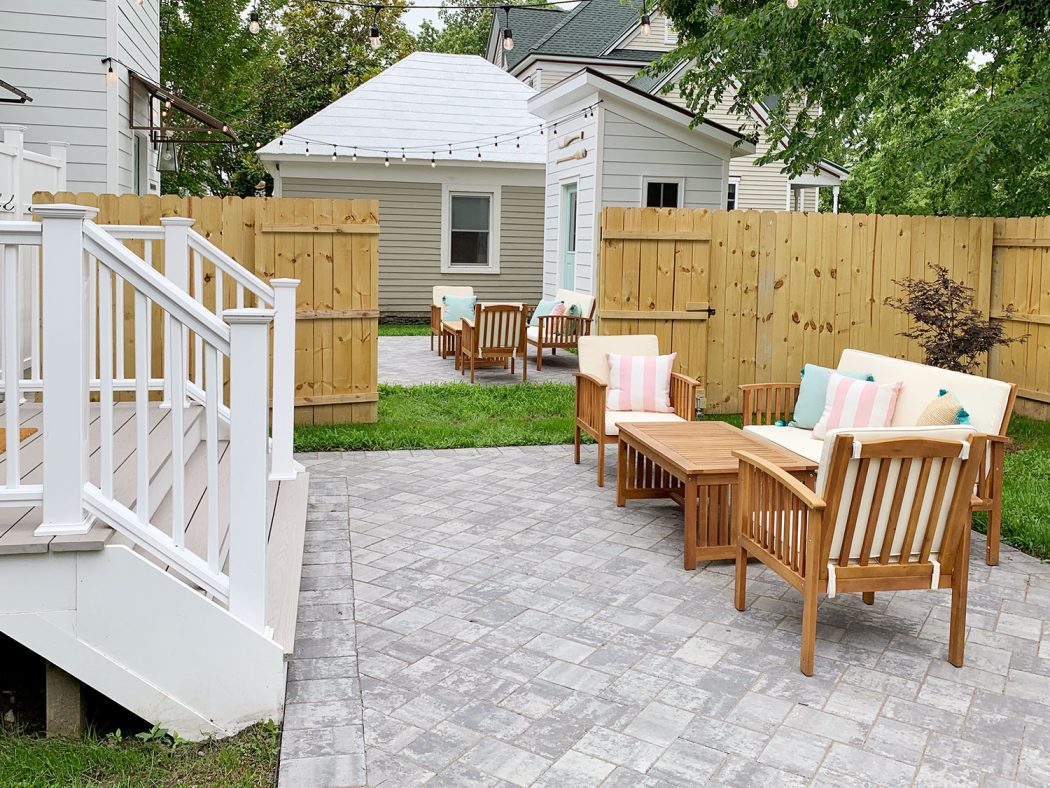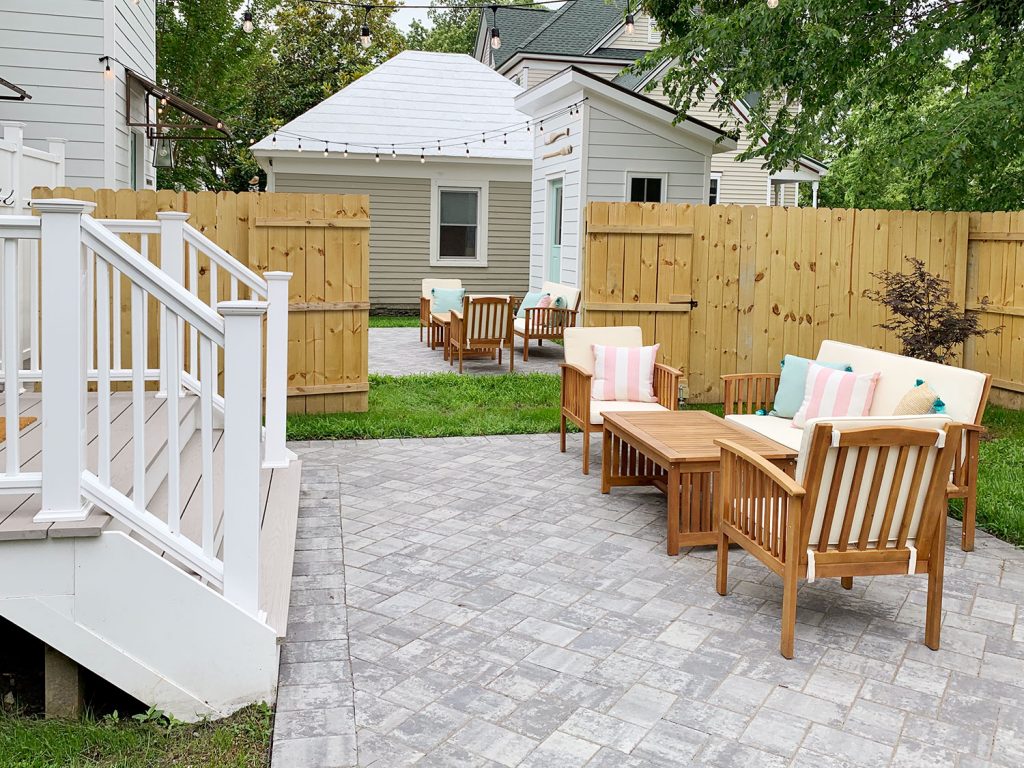 Also, this is Exhibit C that I present to you in the case of String Lights Make Anything Look Significantly Better. They're just so charming when they're glowing overhead.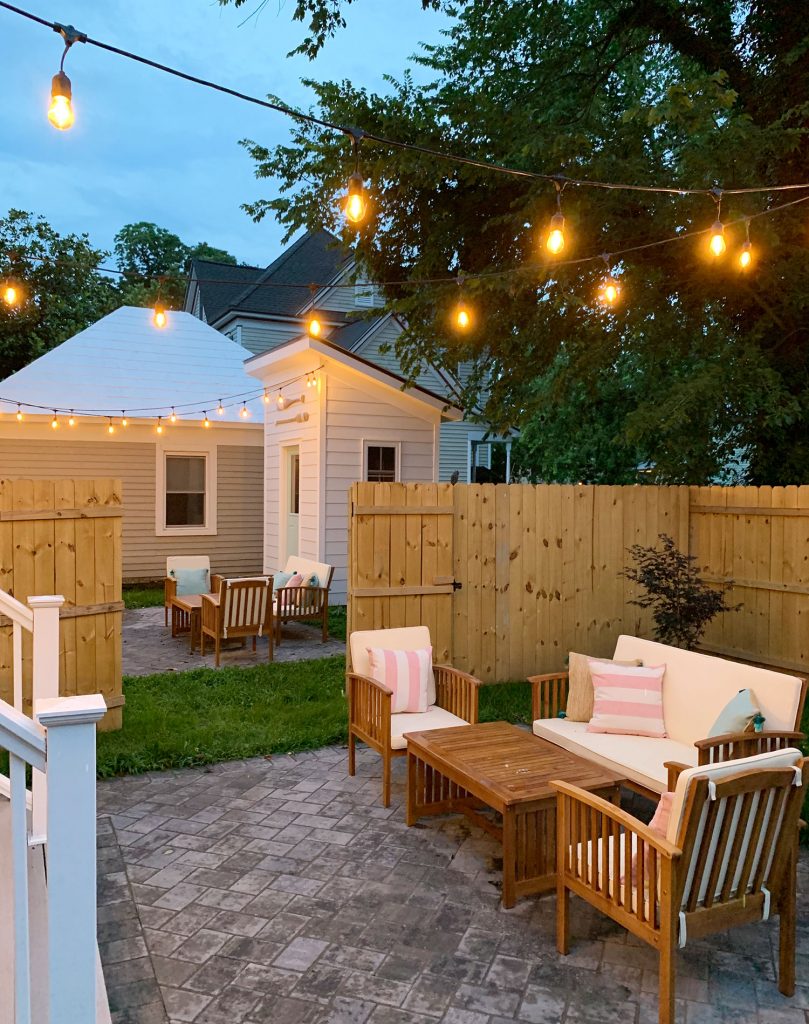 If you approach the left half of the backyard via the path on the other side of the house, there's also some nice greenery lining that path (both of the side yards are full of crepe myrtles, which are trees that flower for almost the entire summer – so I'll definitely share photos when that's going on because it is bananas beautiful. We feel so lucky to have already had fences and lovely established greenery on each side of this home, so we really only had to focus on adding a few plantings in front and that maple out back and some grass.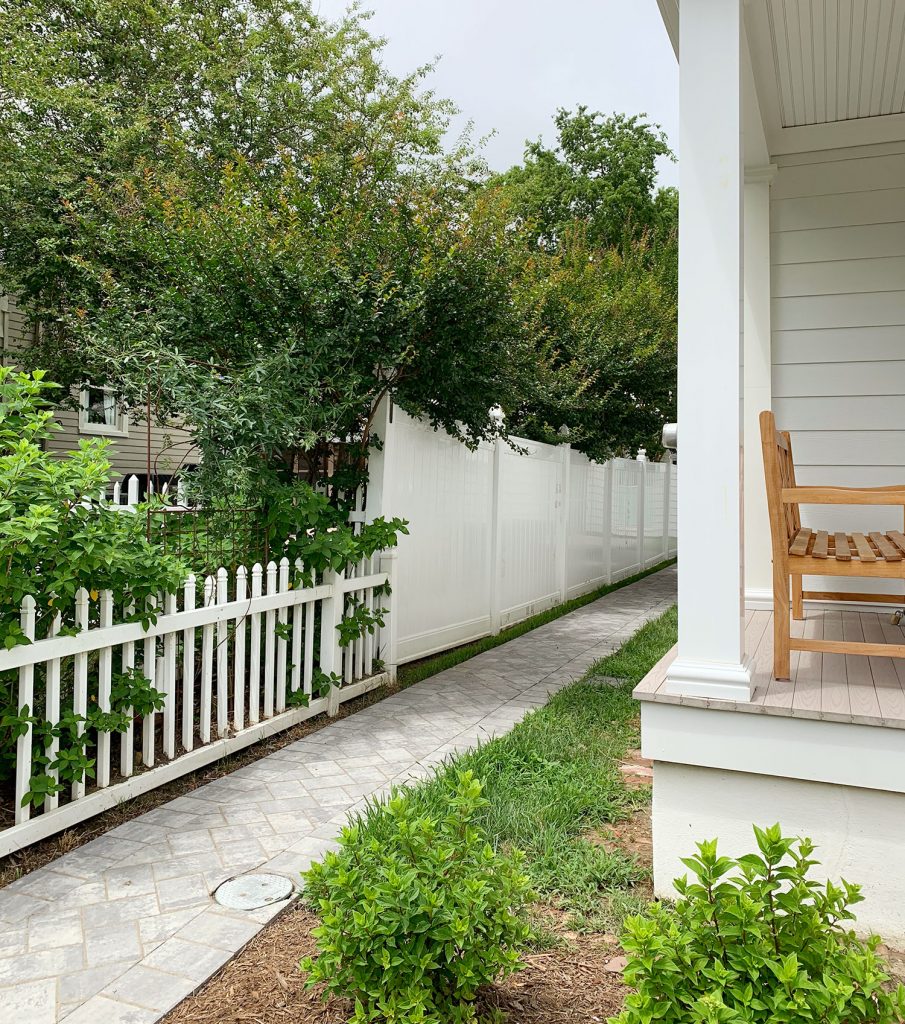 This is the view of the left side's backyard as you look out on it from the back door. More string lights, the same furniture set (remember we split this larger set in half) and MORE OARS, GLORIOUS OARS.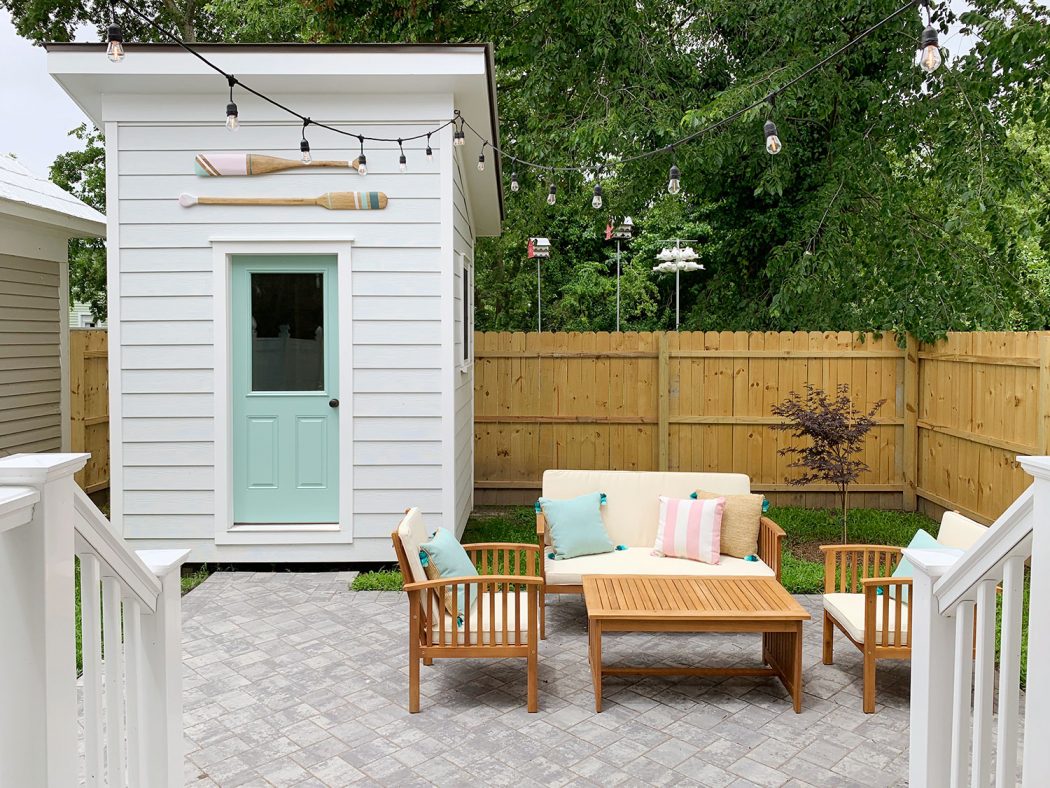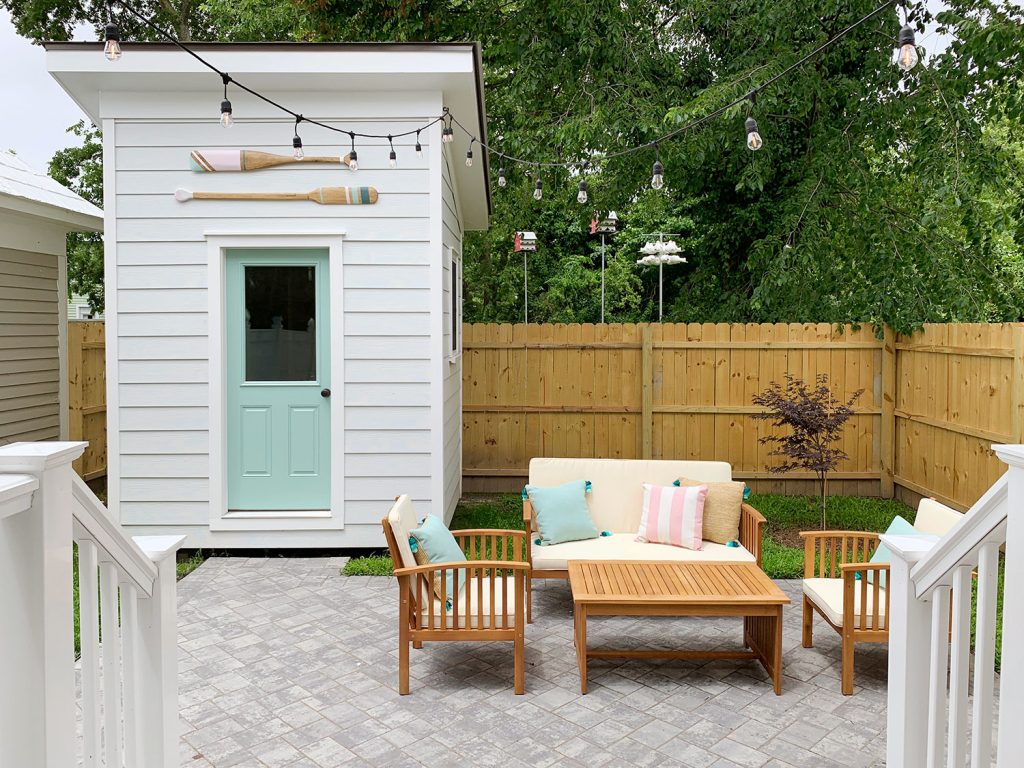 That taupe building you see in the background of the shot below is the duplex neighbor's shed, so it's not like someone's kitchen window looks out onto the backyard over here (which also makes us feel very fortunate). These yards are actually more private than ours at the pink house!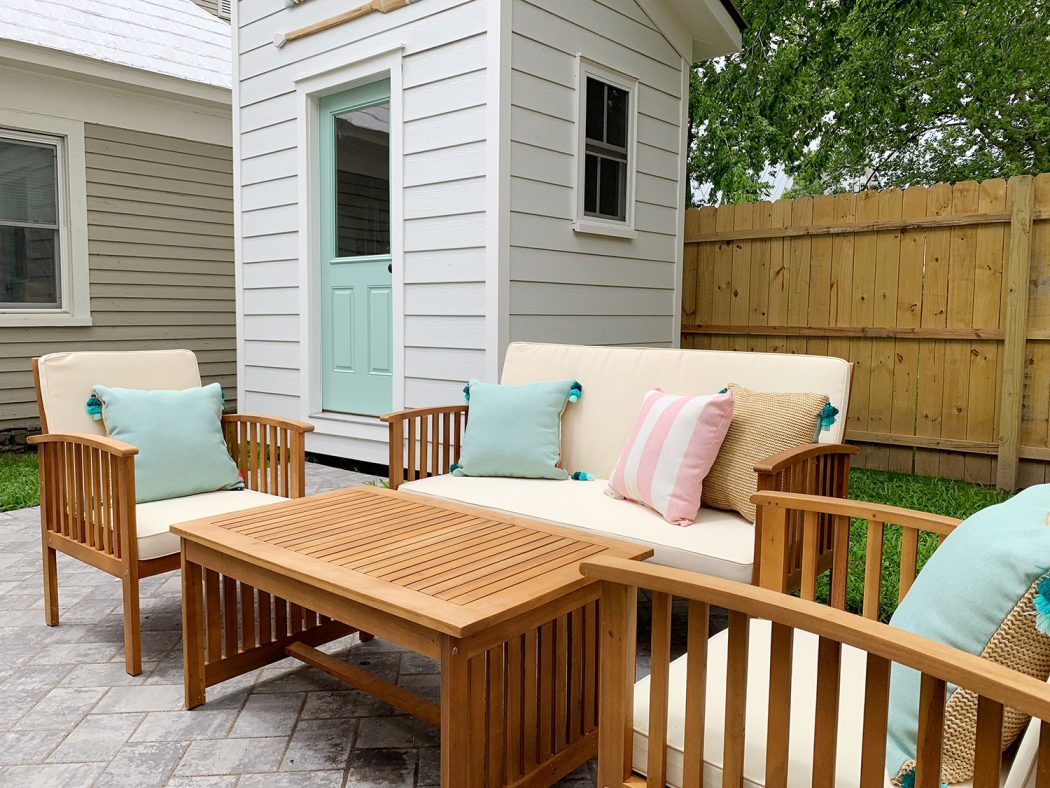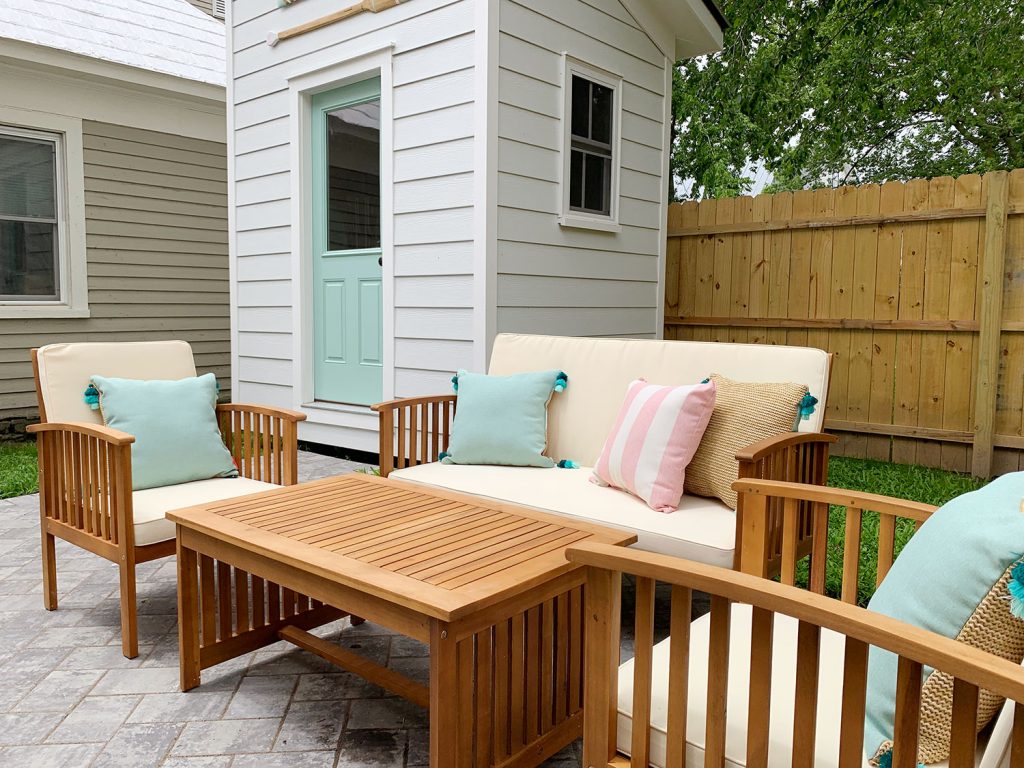 Here's the view if you spin around. Once again we added a little address plaque by the back door, and you can see how lovely those crepe myrtles along the white fence on the side will be when they're in full bloom. It's gonna be SO MAGICAL. Stay tuned for approximately 78,902 photos on Instagram.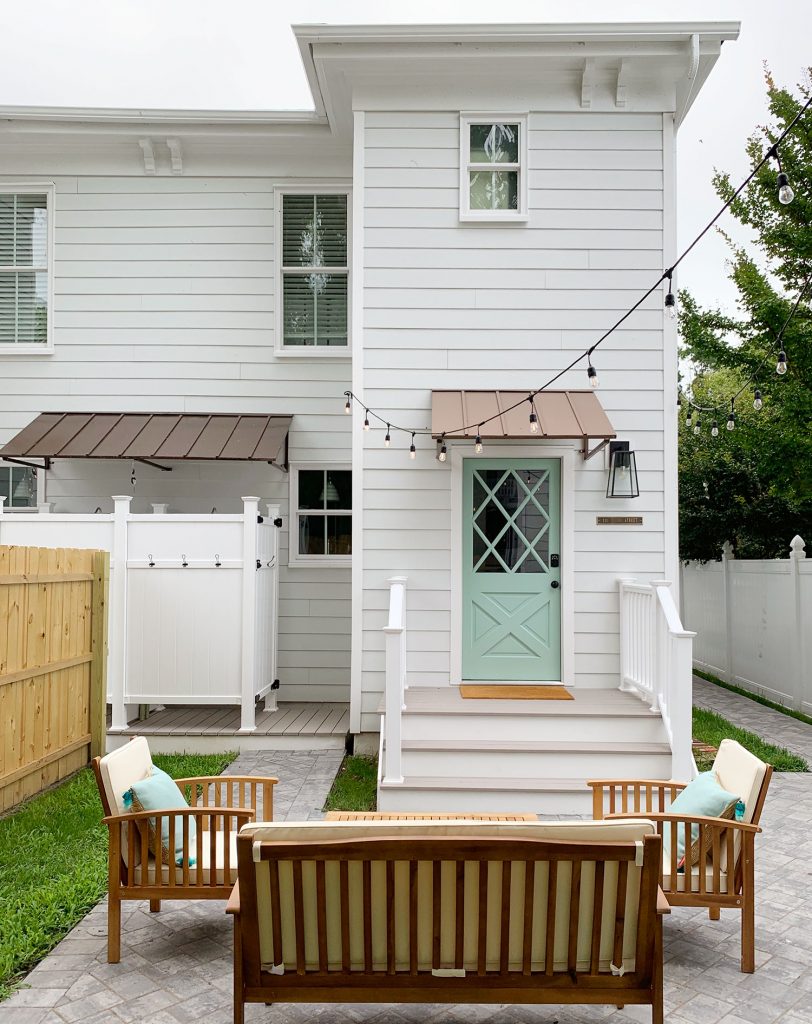 Relocating our new AC units to each side yard instead of sitting them right where the outdoor showers now live was a big upgrade. Here's a before shot again to refresh your memory about where those used to live.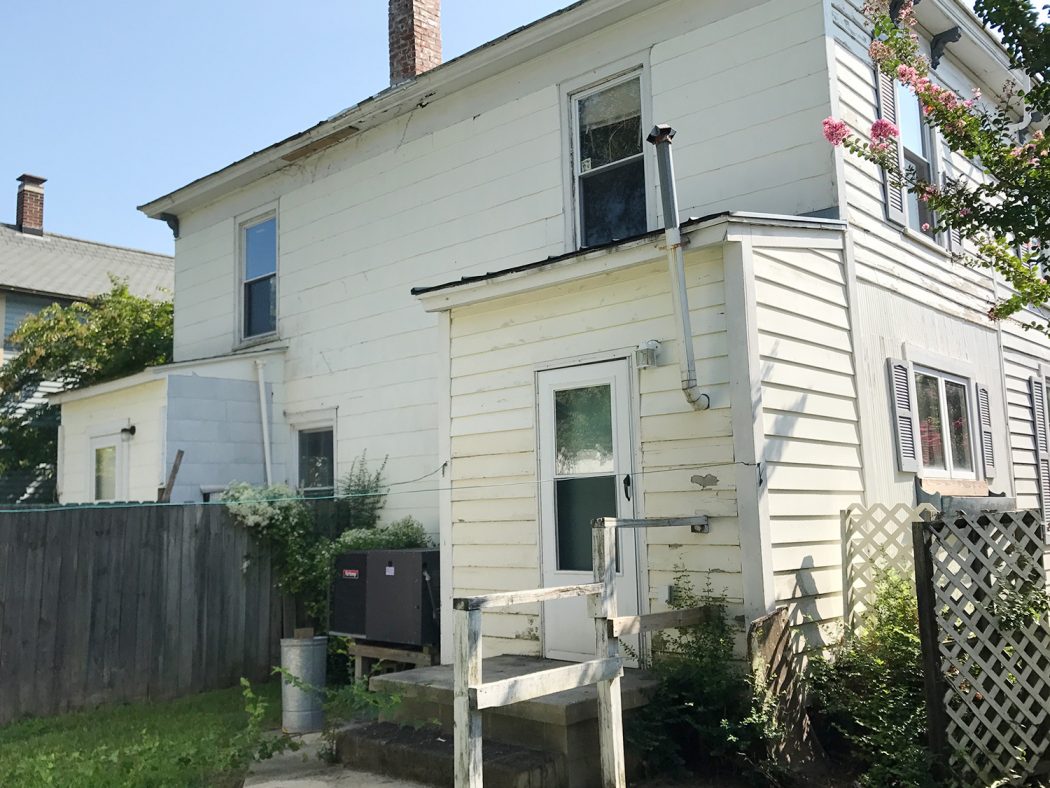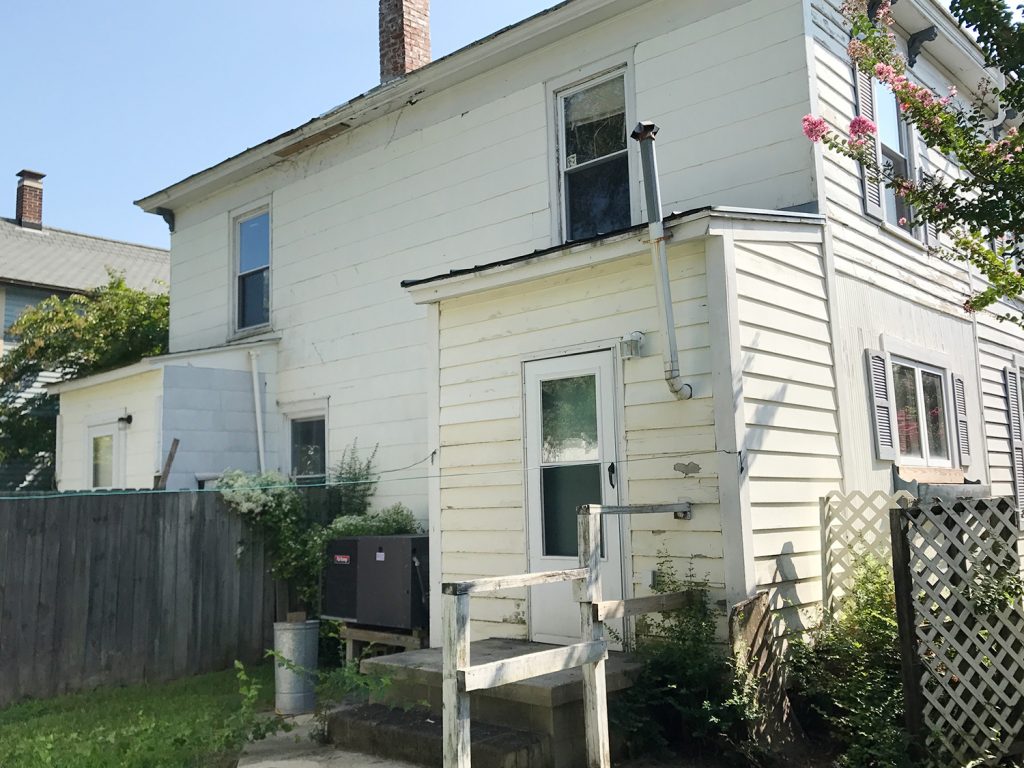 You can also see that the back steps & railing situation is a little nicer now. Thanks to having wood back steps & side steps over at the pink house (that took us way too long to stain/seal) we made the call to use no-rot composite over here for the back porches – and we are so glad to report that they're basically zero maintenance except for blowing them off when little leaves and stuff land on them.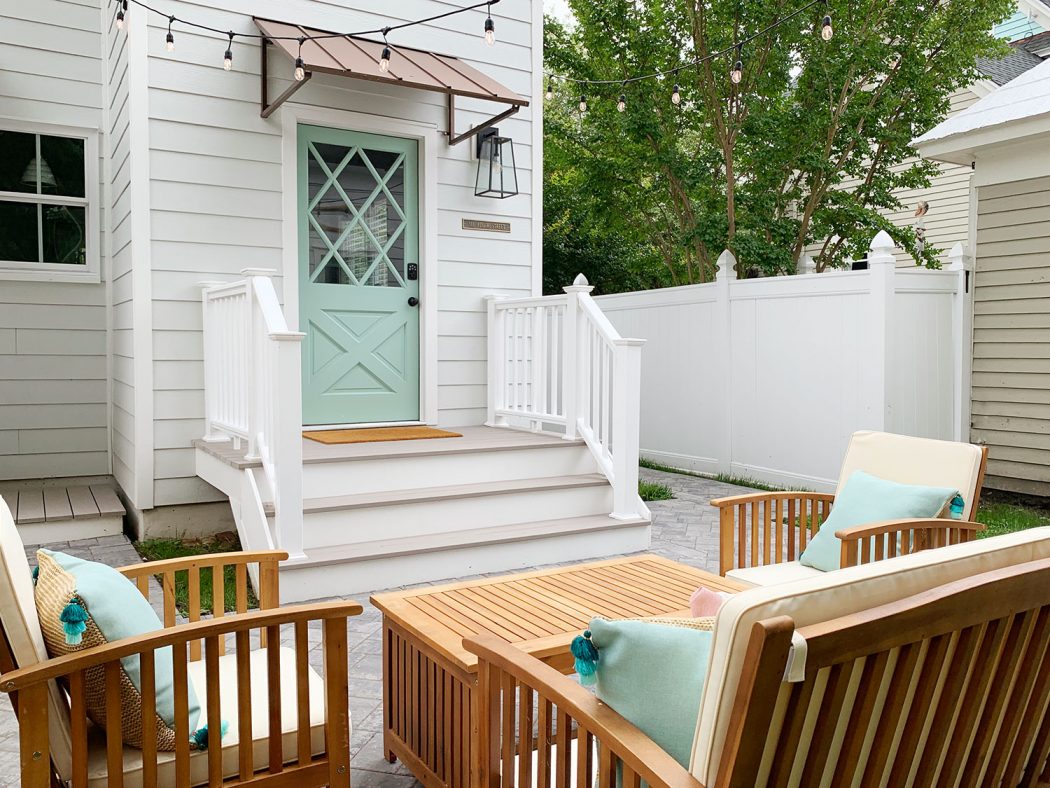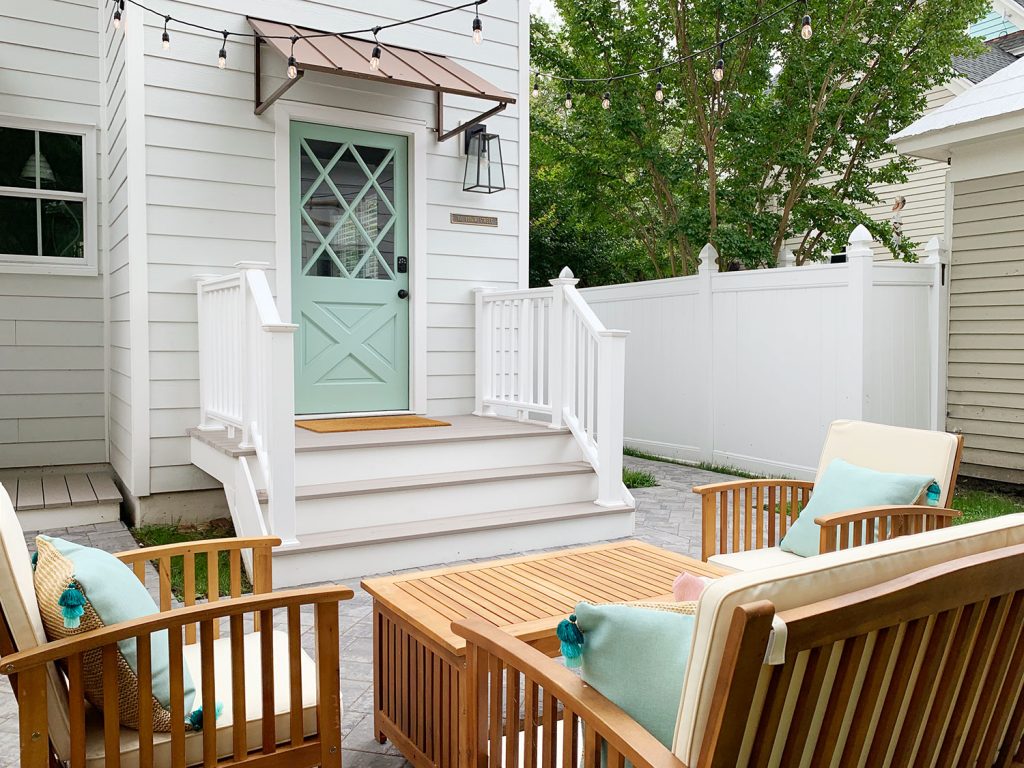 Plus the white railings tie into the outdoor shower nearby.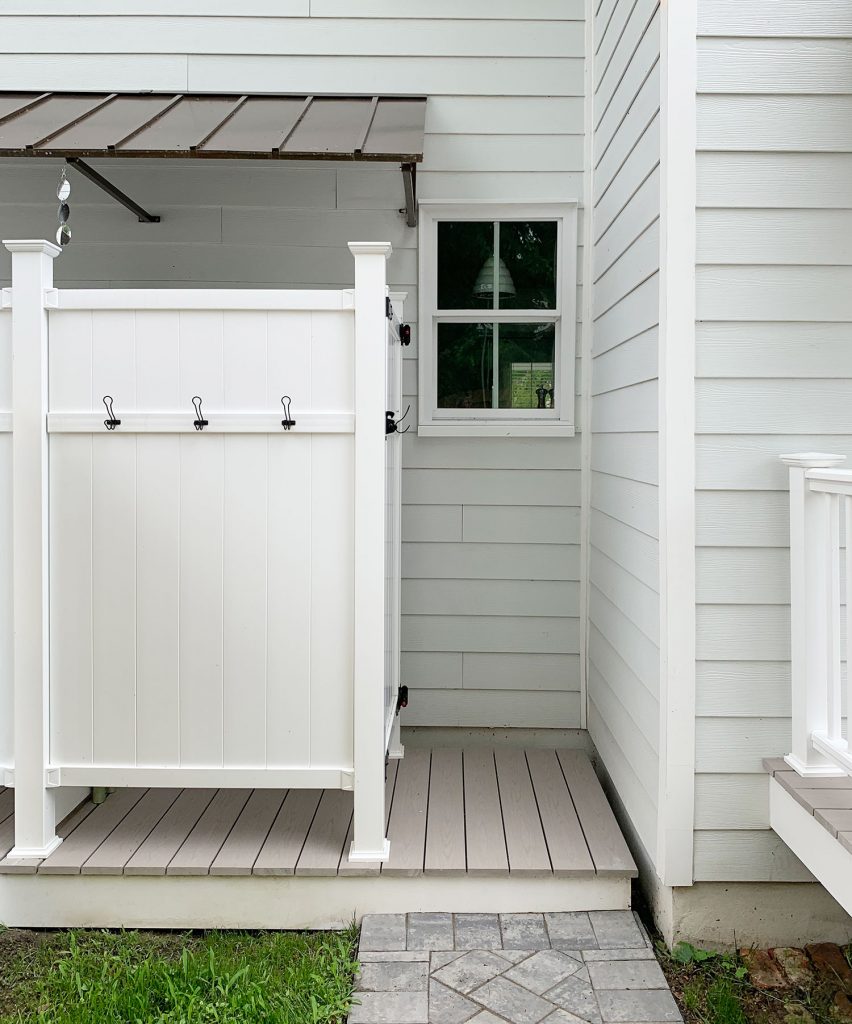 Speaking of the back steps, you'd be surprised how many builders have the instinct to narrow the steps when there's a wide landing like the one in front of the back door (picture centered steps that are about a foot narrower on each side). But we are HUGE believers in the steps being as wide as the entire platform that you step out of the house onto. So my tip to you would be if you're adding steps or a patio or something, have a long chat about the step width and go as wide as possible, because it makes the whole thing feel gracious and less crowded & closed in.
Around front you might have noticed that we finally got the duplex landscaped! We kept it simple with three hydrangeas on each side and one larger boxwood nearest to the stair rails on each side. I can't wait for the hydrangeas all to be in bloom. Stand by for 87,990 photos of that too!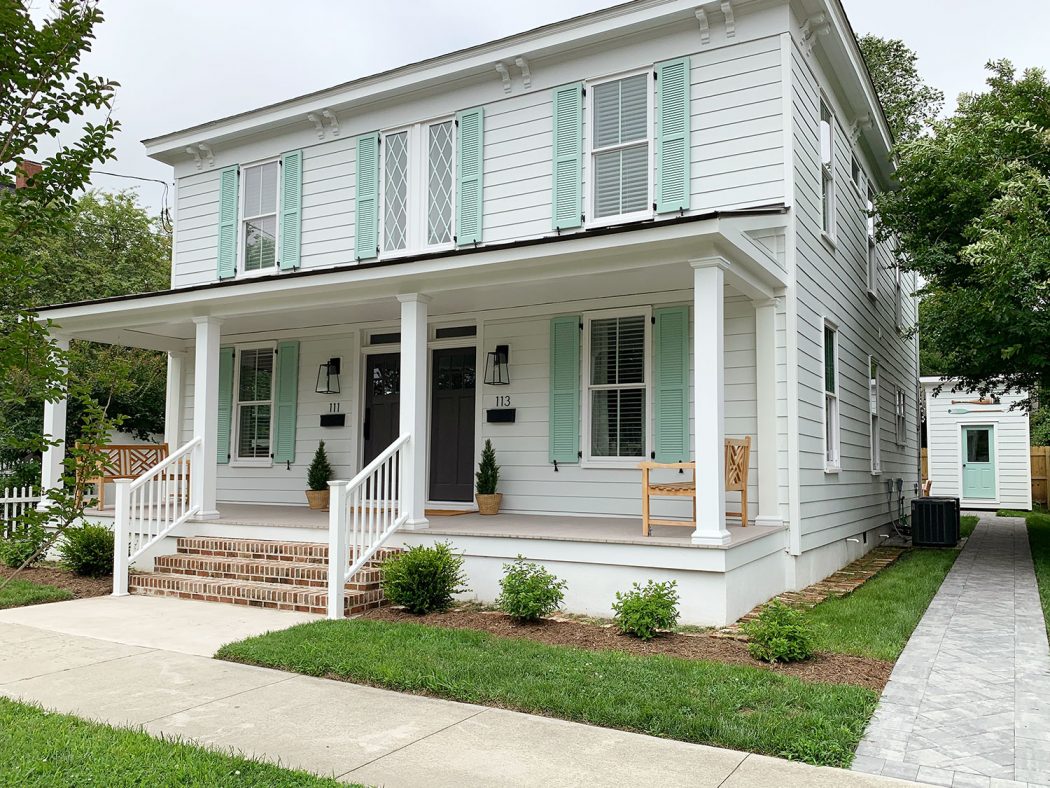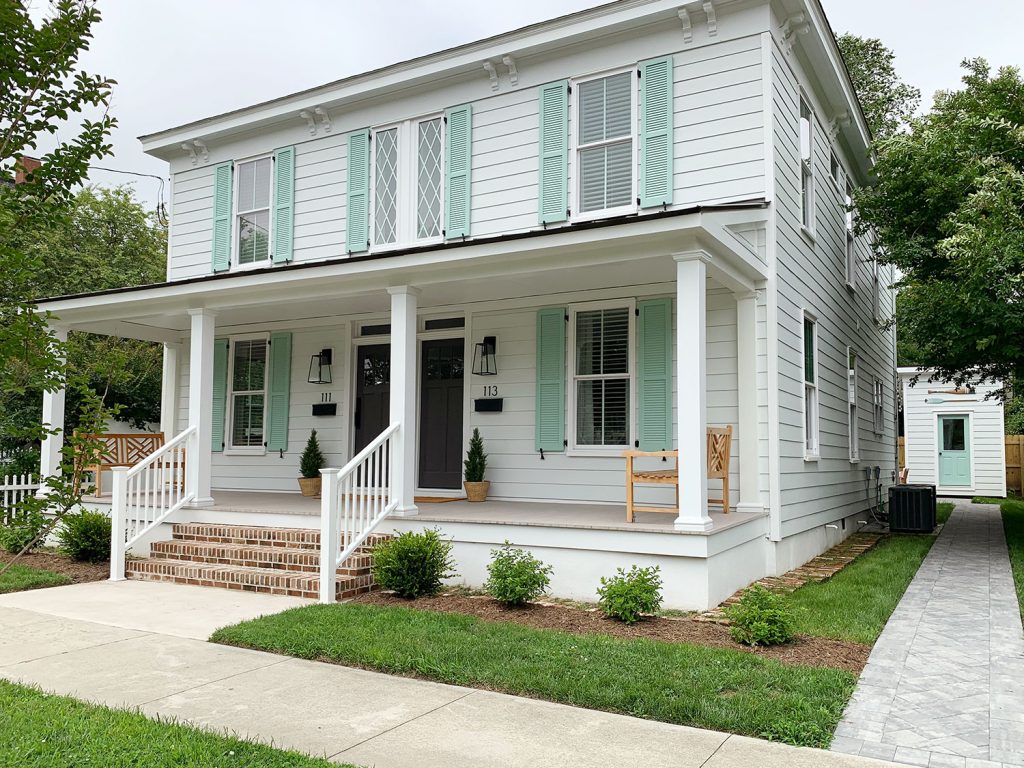 This historic downtown area of Cape Charles really is so cutely landscaped with lots of flowering things (no deer here to eat them!) and since there are sidewalks and the whole place is so walkable, it's nice to finally have more than dirt out front of the duplex!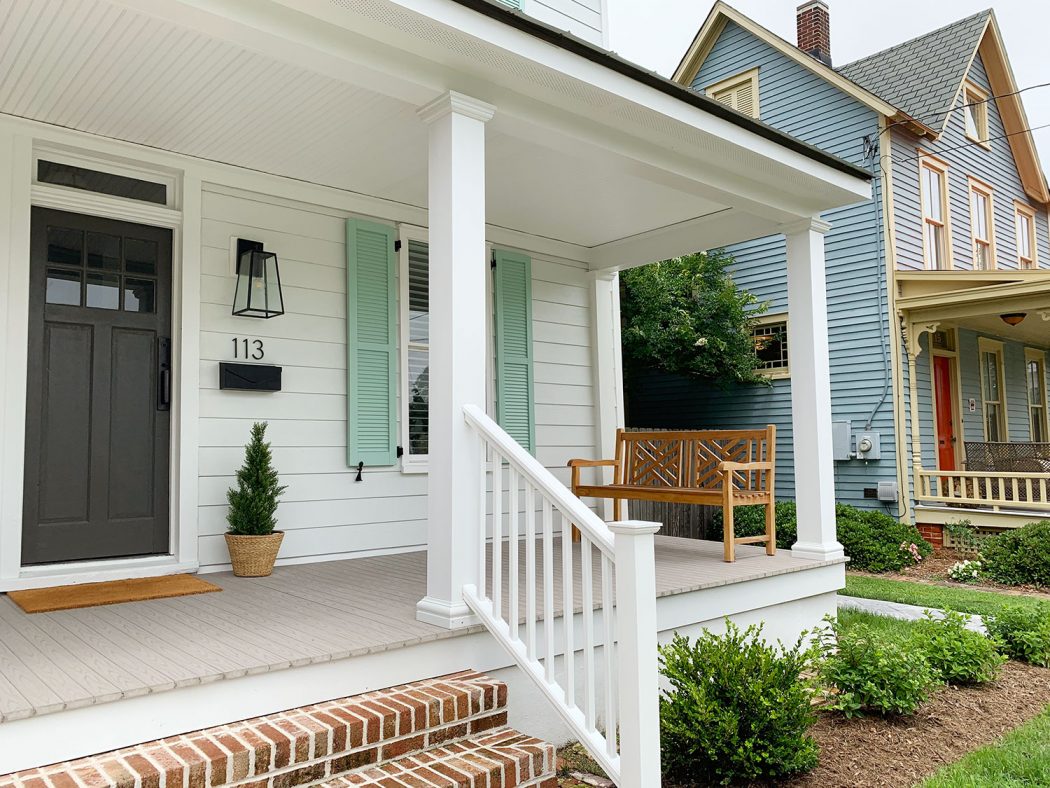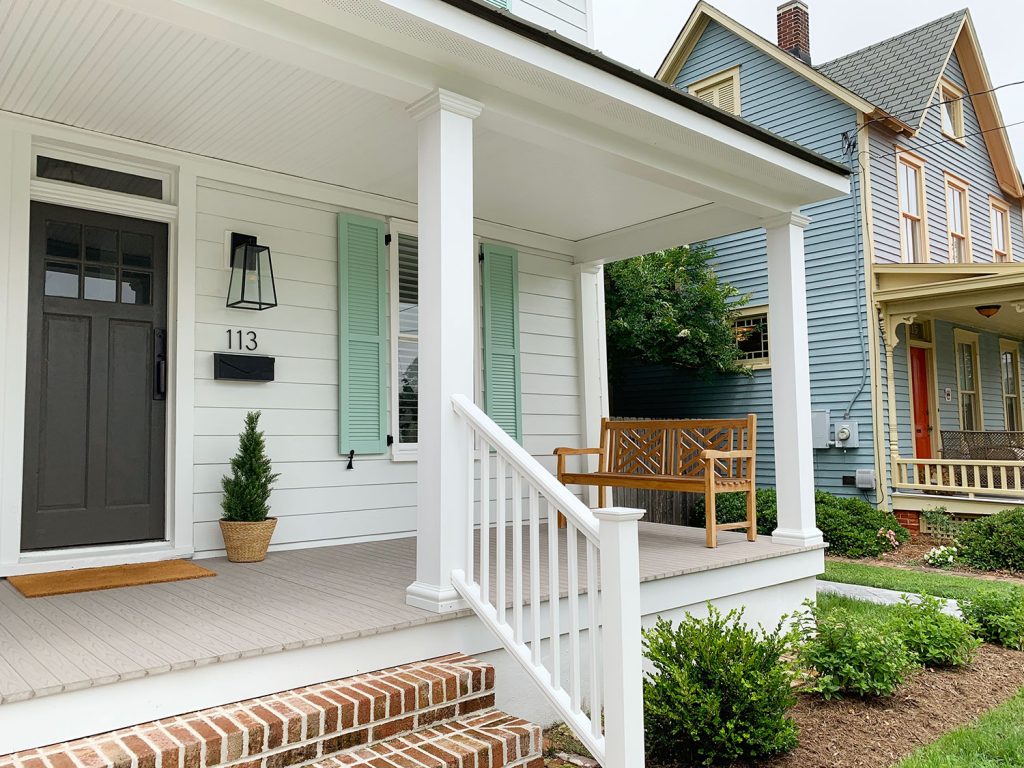 Also is there anything that fresh mulch can't make better? Cover your face with fresh mulch and just see how polished you look! This is also a joke, but really, fresh mulch makes everything look so much crisper.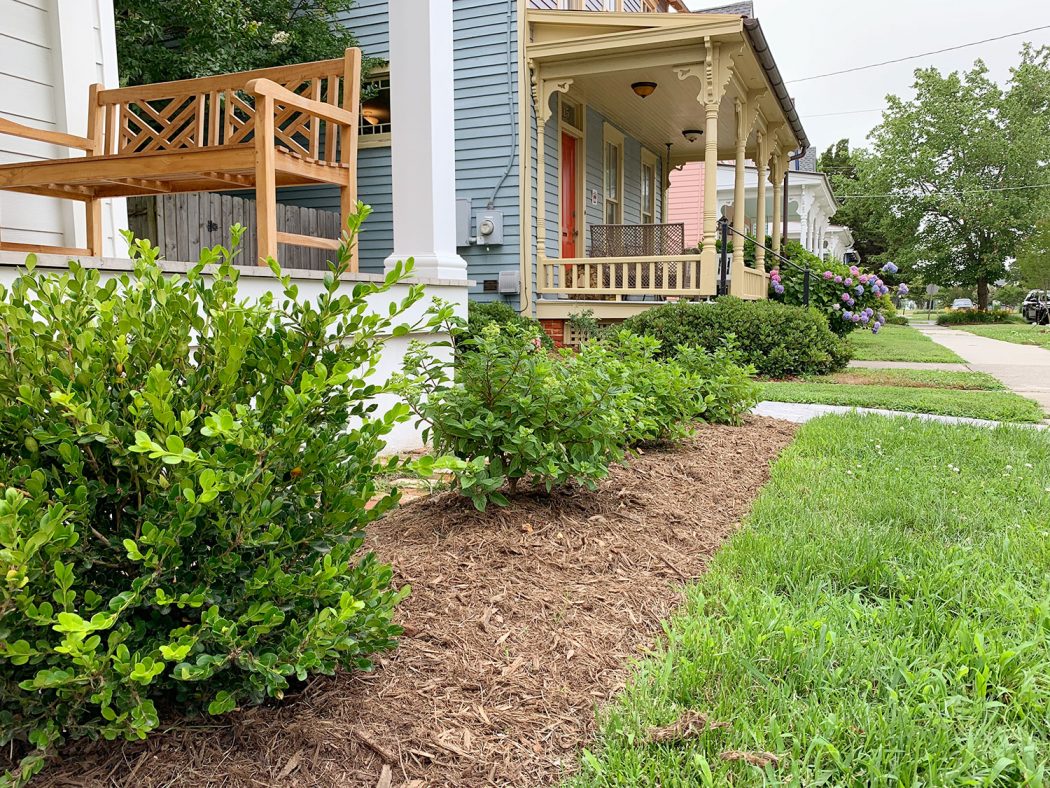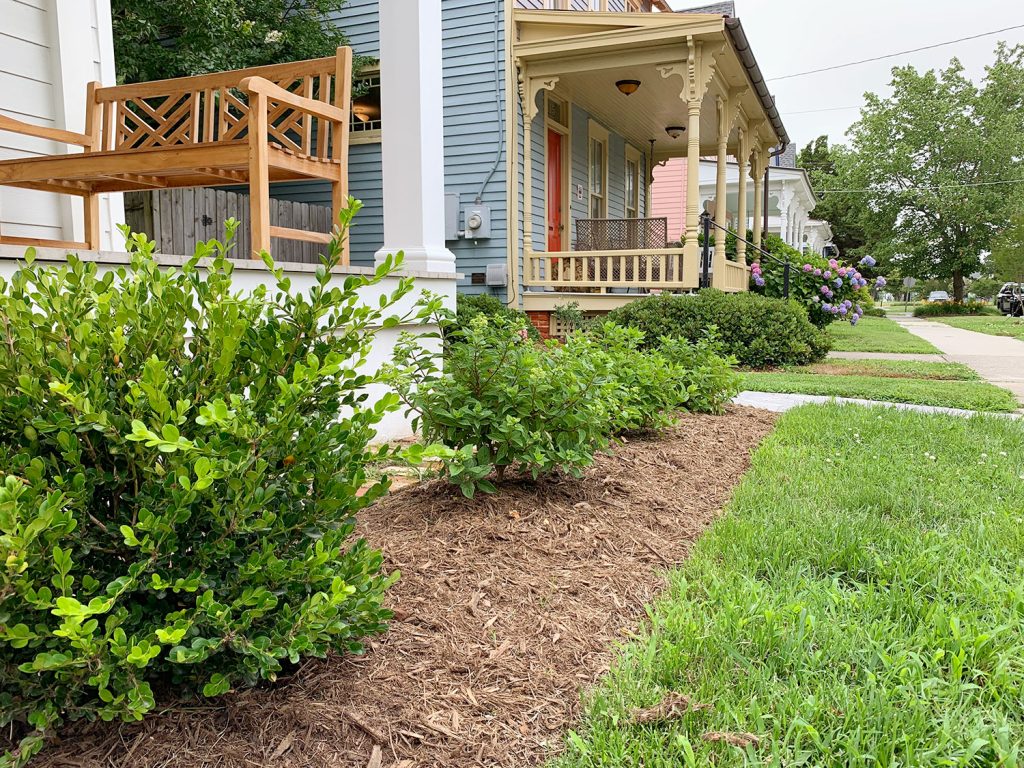 Here's a shot from the front for ya. We can't wait until those crepe myrtles in the front grassy area grow and bloom! Someday they'll frame the house and be as tall as the ones that you see on the right side next to the blue house – so they'll even add shade when people stroll under their canopy on the sidewalk below. SIGH.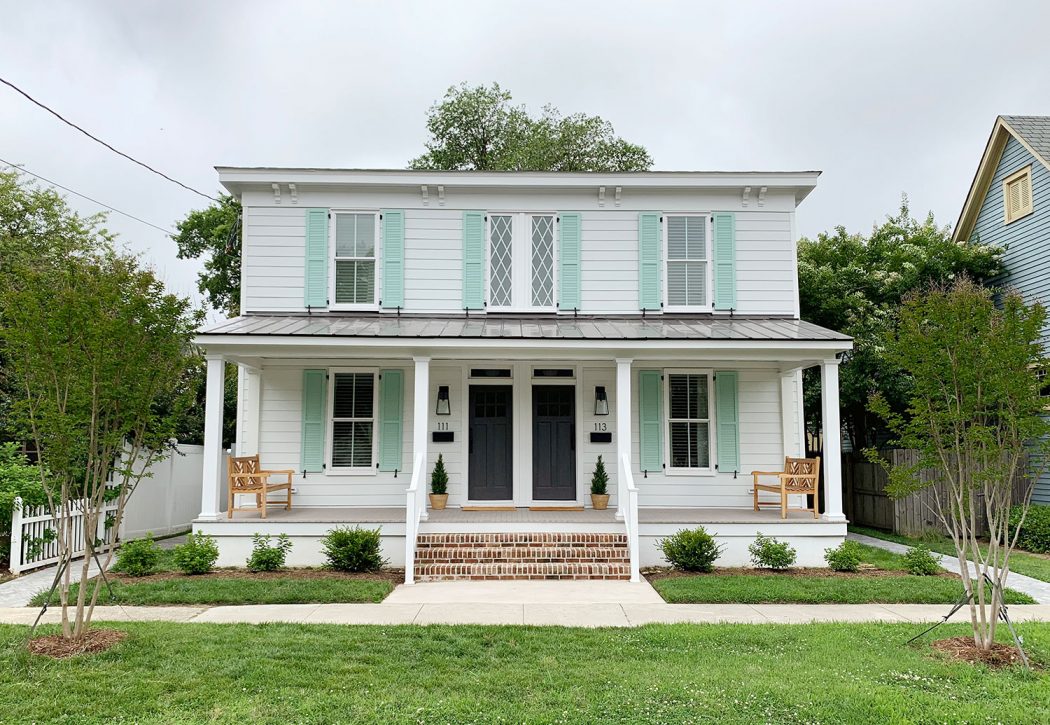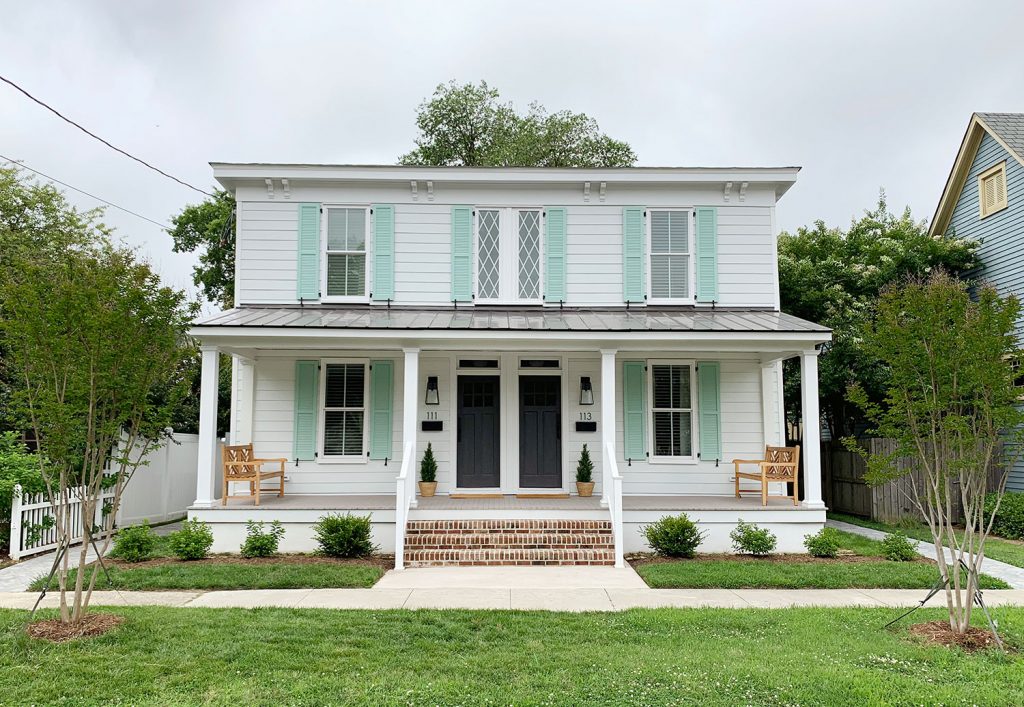 So yeah, this duplex project has been one of the hardest but most rewarding renovations we have ever taken on – and we ARE SO THRILLED TO BE DONE! I know we still owe you a full video walk-through (it's coming!) but in the meantime, let's soak up the moment of virtually screaming FINITO from the rooftops.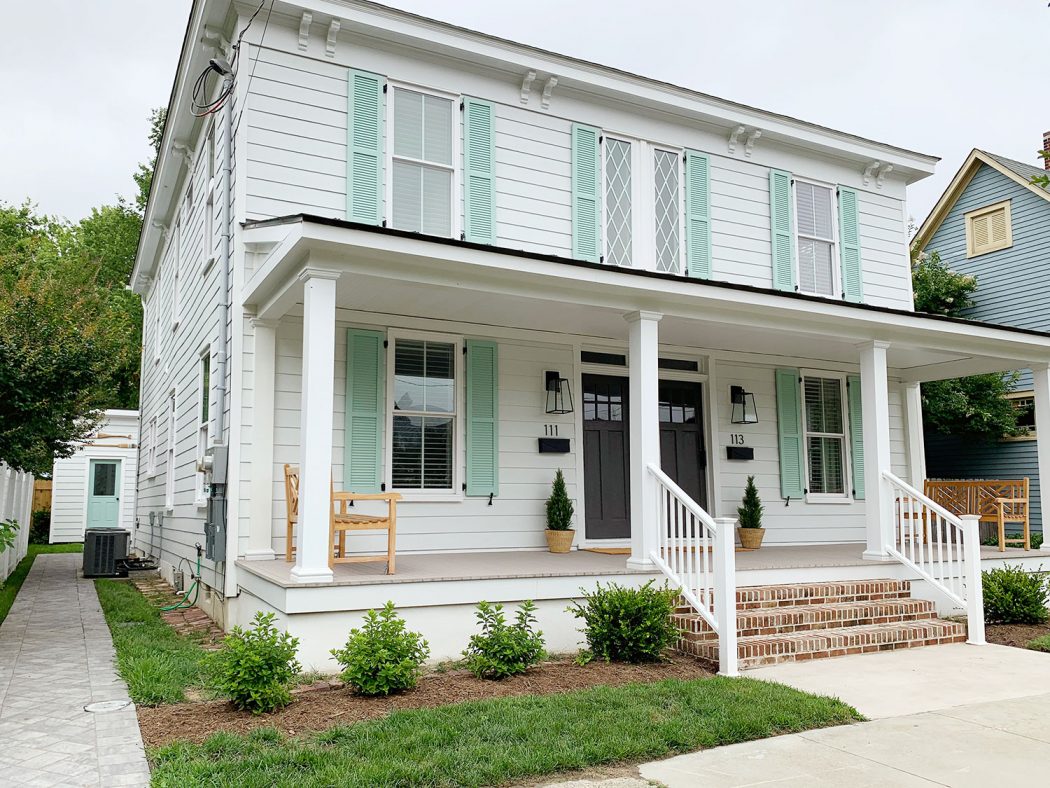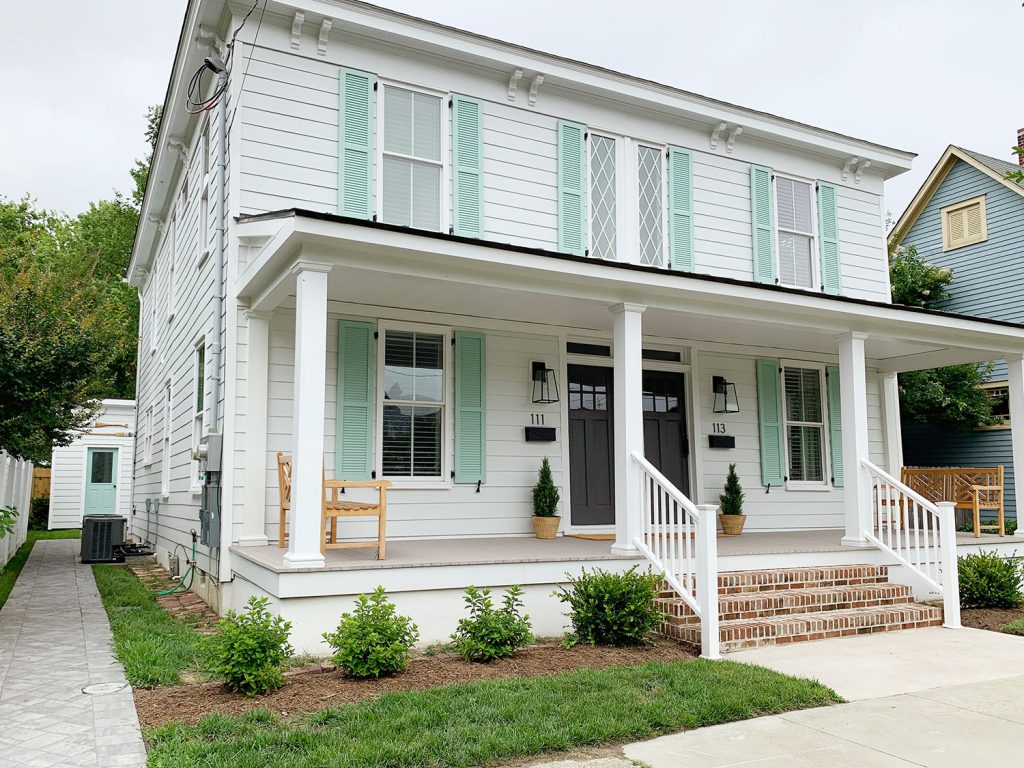 Let's not forget where we started…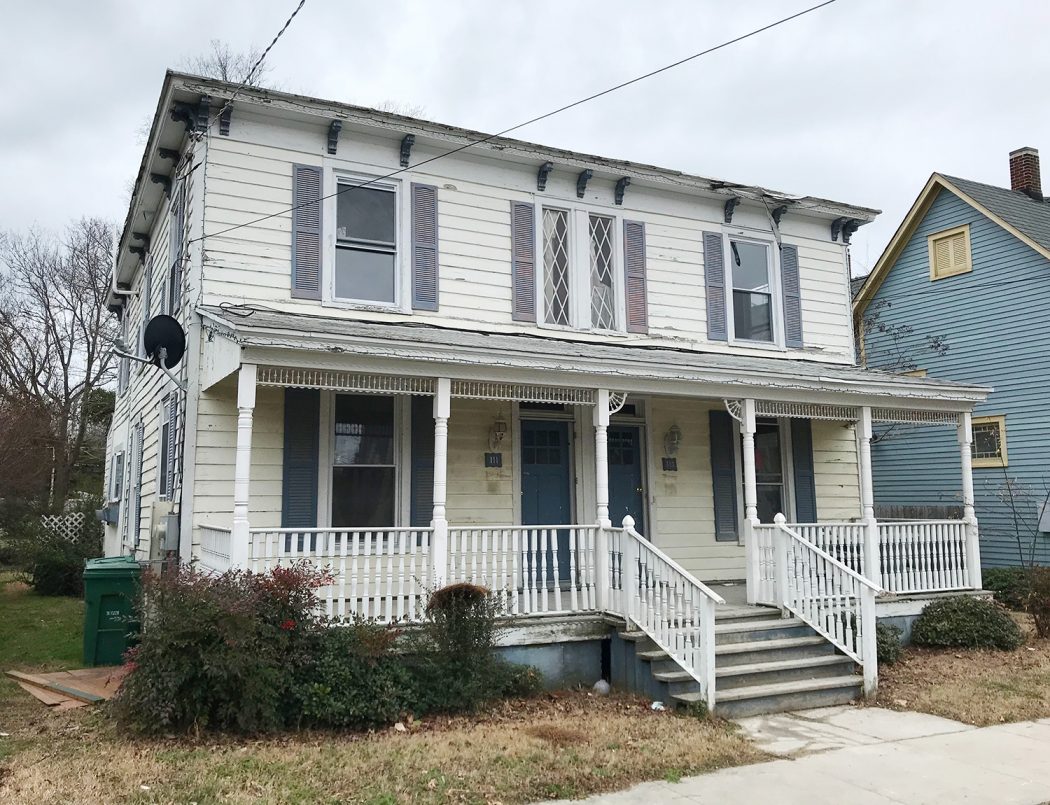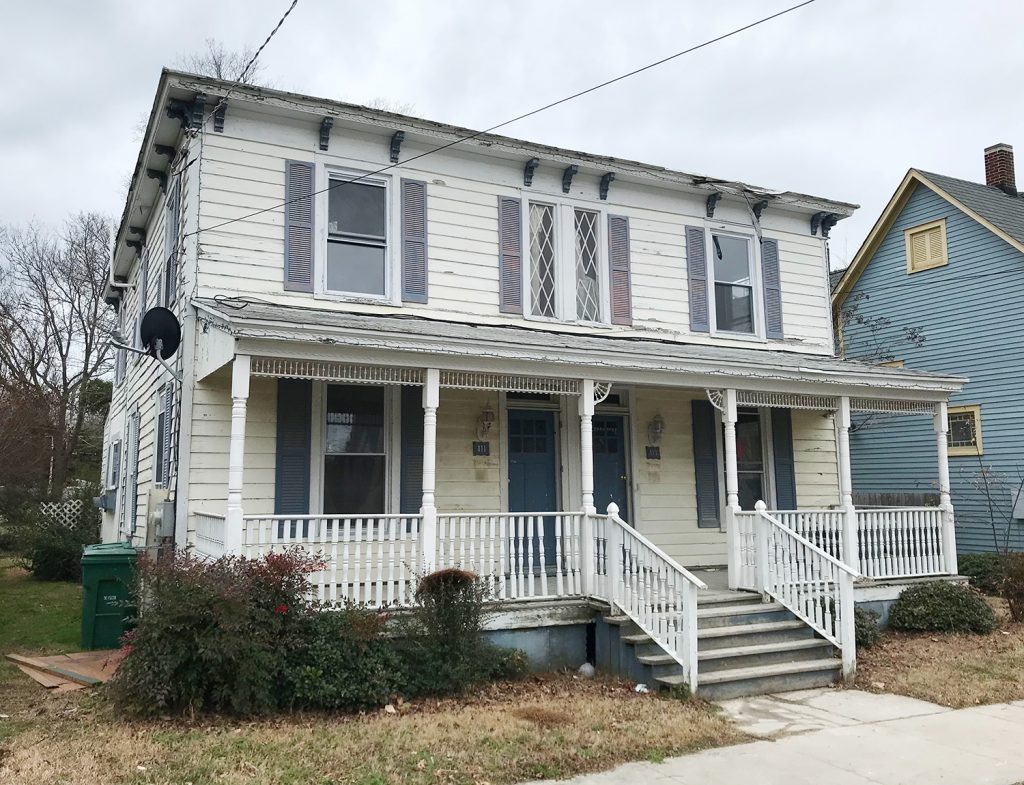 This house is such a gem and we are so glad we got to bring it back. In the fall of 2017 when we bought this place, at least a dozen locals confessed to us that they thought this was the ugliest house on the street – and some even said things like "without a tall peaked roof like the others, I don't know how it can be good looking" – but I am happy to report that everyone can see it now! They see the beauty! Even without a peaked roof.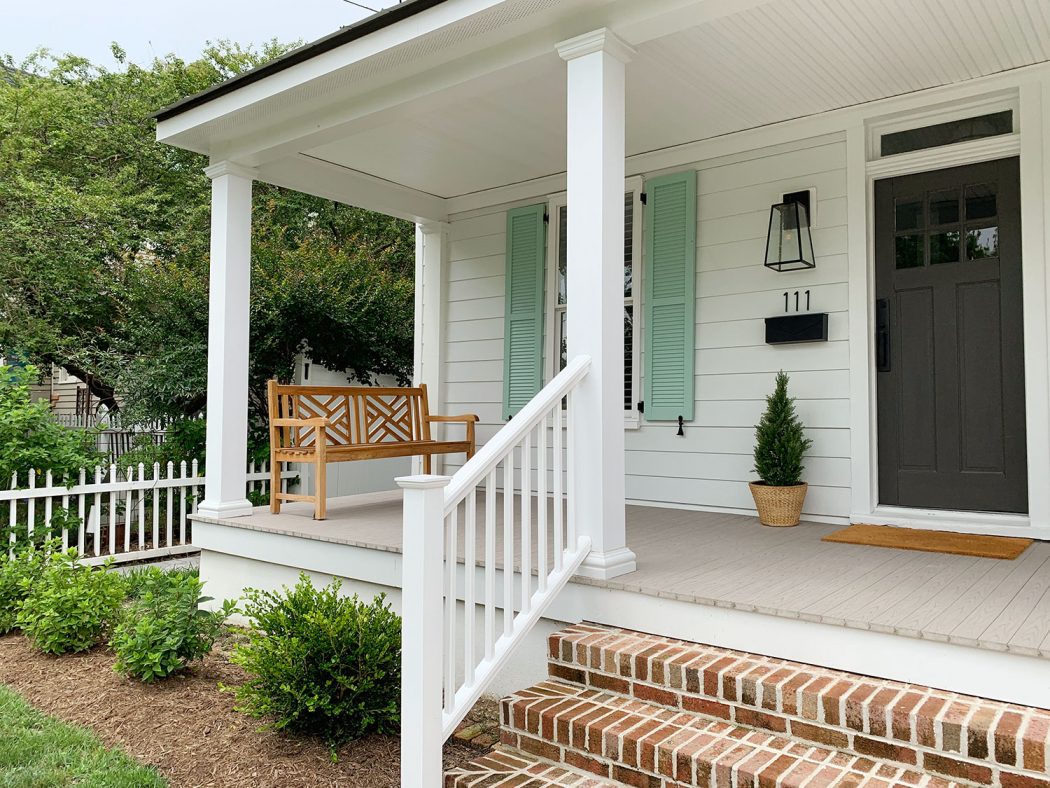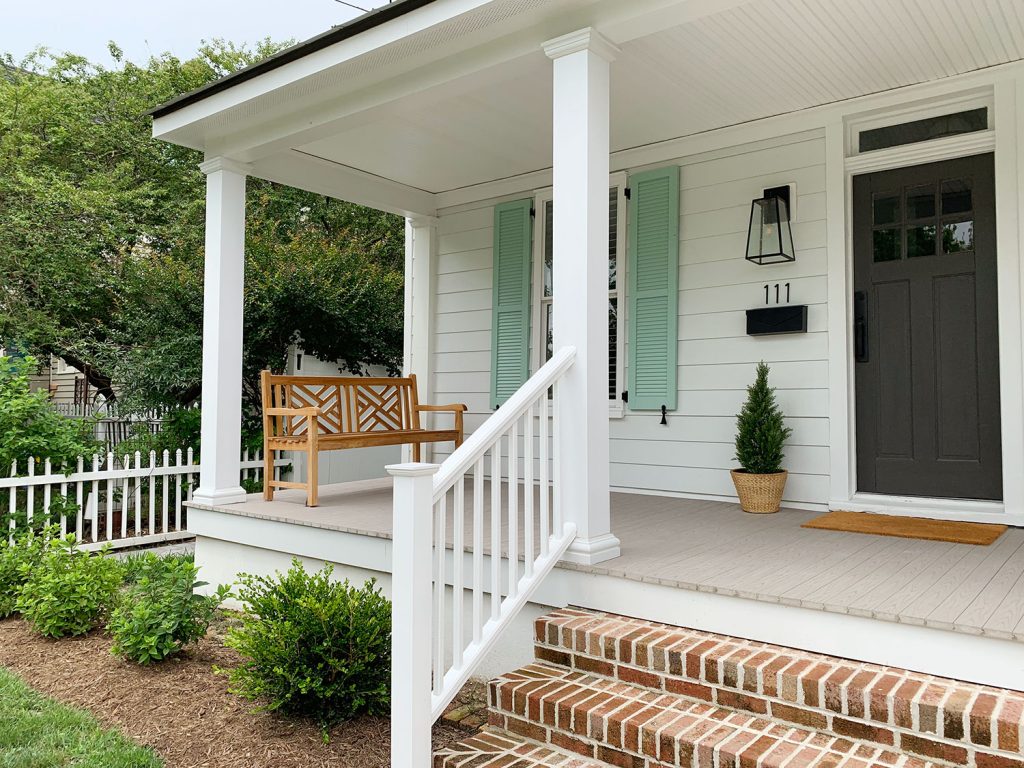 In fact yesterday someone who didn't know us from Adam asked if they could take a photo of the house for their wife (I was outside weeding) because he said he knew it would be her favorite of all the homes he had seen on his vacation. I ALMOST CRIED YOU GUYS.
P.S. You can see all of the other finished rooms in the duplex that we've already revealed (two kitchens! the front and back of the house! four other bedrooms! two bonus sleeping nooks with wall murals! six bathrooms! two living & dining rooms! two mudroom/laundry rooms!) along with how we planned the layout, tiled the floors & backsplashes, etc, here in our duplex category. It's almost two years of updates covered in just 20-something posts!
*This post contains affiliate links