Home Improvement
Drywall mudding and taping in the laundry room is going (I think) well.  We're two coats in and past our first bout of sanding (we tried wet sanding so I'm excited to share how that went) but I'm still holding my breath a bit to get through the third (and hopefully last) coat and onto primer to be sure it looks as good as we think it does, since it's that last step that tends to be the real test. So rather than split up our mudding and taping tutorial into two posts, I'm holding off until Monday to cover the process from start to finish (with video). So today we're talking about money and insulation.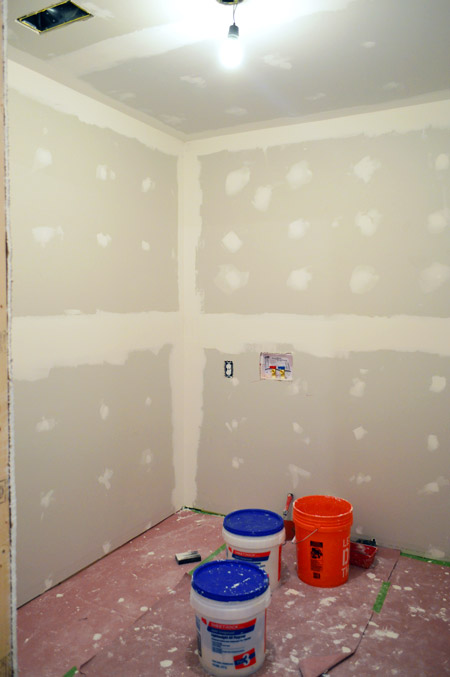 Drywall completion will actually mark the end of the tasks that we had gotten quoted by two contractors, so we thought this was a good budget check-in point to see what sort of savings we got by choosing to do more ourselves and hiring out sub-contractors directly. Here's where we're at:
Framing (labor & materials): $360
Electric (labor & materials): $400
Plumbing (labor & materials): $375
New dryer vent (materials & tools, since we did the labor): $87
New HVAC vent (materials only, since we did the labor): $59
Drywall & insulation (materials & truck/tool rental, since we did the labor): $298
Drywall mudding (materials only, since we did the labor): $84
Sub-floor (materials only, since we did the labor): $30
TOTAL: $1,693
Our wallets are definitely feeling good about not having spent twice that on the contractor bids that we got (the first one was nearly $5K, the second was $3250). Looking at the line items on those estimates, it looks like we scored the biggest savings in two areas – framing and drywall. Together they accounted for over $2,000 in both contractors' estimates, but we spent less than $750.
Of course our drywall is lower because we chose to do it ourselves (we did get a separate bid from a subcontractor and it was right in line with the contractors' line items). Framing came in lower for a couple reasons, I'd guess. One just being that David is super nice, quick, and affordable. But also because we suspect that it's the line item where the contractors put most of their fees and miscellaneous costs into. Because when you look at our plumbing and electrical costs, they're not wildly cheaper than the contractor's estimate (both were about $150 less). So still lower, but not as dramatically. Our other savings came from doing smaller tasks they worked into their bids, like laying the subfloor, redirecting those vents, adding the insulation ourselves, etc.
Long story short, we're very grateful that the first half of the project clocked in at significantly less than we originally thought it would… because we still have lots of costs ahead of us: floor tile, cabinets, shelving, etc. Oh and one other benefit to the do-more-and-subcontract-a-few-things method is that we got to jump start the project much sooner, rather than waiting for an opening on the contractors' schedules.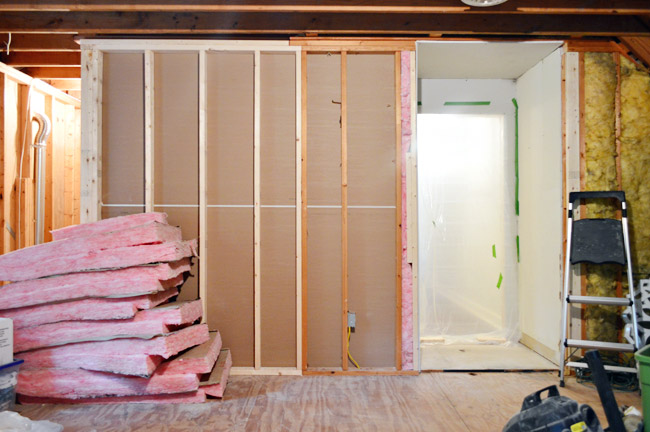 While we waited for my most recent coat of joint compound to dry, I took care of hanging the insulation around the outside of the laundry room. My understanding is that insulation on interior walls isn't really required, but since this room is backed by an unfinished, unheated/cooled and otherwise uninsulated storage room (for now at least) we figured it was a good extra step to take. Plus it could help cut down on a little bit of the noise of running the washer & dryer once there's a finished bunk-room behind it. So I watched this how-to video and got ready to get my install on.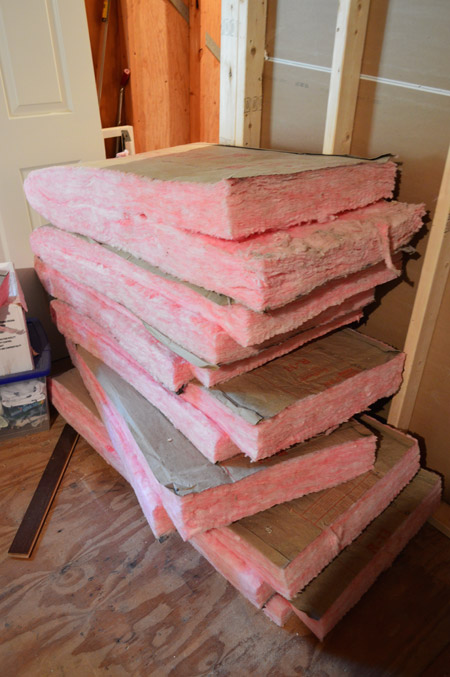 I picked up the above batts of insulation at Home Depot on my material run a couple of weeks ago. I chose batts because they come pre-cut for 2×4″ depth walls and 8ft tall ceilings like we have. They also come 15″ wide for 16″ studs, but I accidentally ended up bringing home the 23″ wide kind. ::smacks head:: And I didn't realize this until I'd already unwrapped a package. ::smacks head again::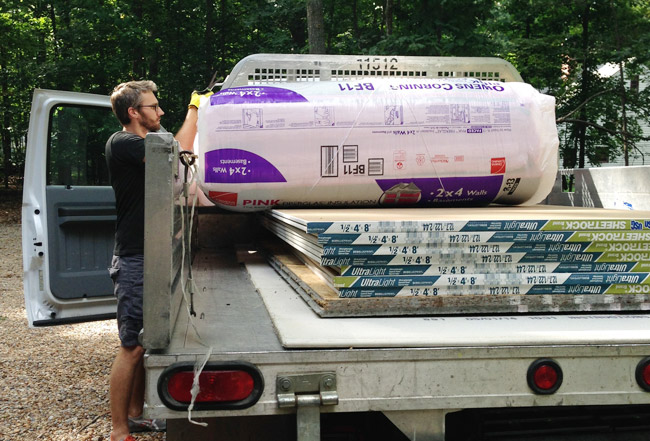 No biggie though – it just meant some more cutting, which is pretty straightforward. Although it does require a uniform of protective gear, including pants and a long-sleeve shirt to keep the itchy fiberglass off your skin. It's a really fun outfit when working in an un-air-conditioned space in the summer. Dead eyes optional, btw.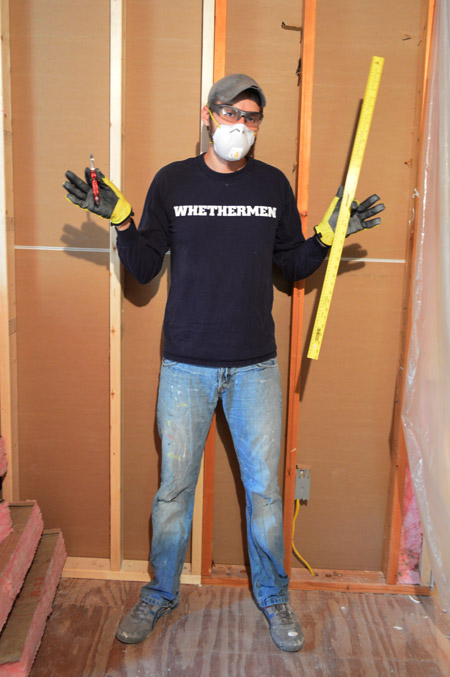 To cut them, I laid a batt facedown (i.e. paper side down) and pressed a straight edge into the pink insulation along the line I wanted to cut. Once compressed, it's pretty easy to cut it with a utility knife.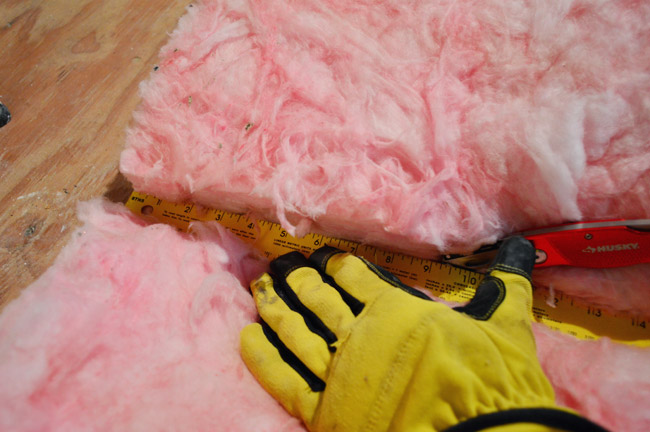 You can tell that the cut is working because the side you're not pressing down with the ruler puffs back up. Sometimes I did have to flip it over and cut the paper a little in a few spots where my knife didn't make it through on the first try.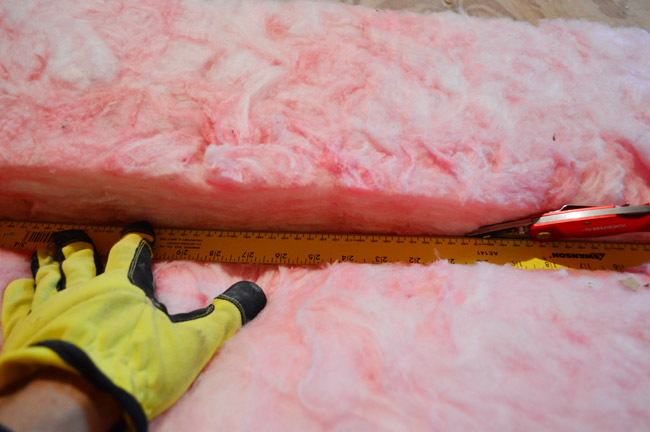 The facing on the batts does have a bit of an overhang to help you staple the insulation in place. But facing is apparently highly flammable, so it says all over the place that it should not be left exposed. So I placed the batts face-side in (since we're not sure when we'll get around to finishing the storage room). Since I was careful not to cut mine too narrow, they held in place by themselves just fine, all it took was a gentle push into place.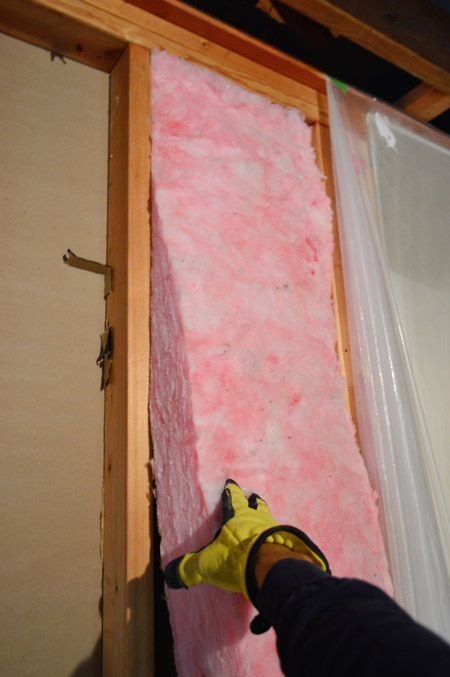 Occasionally I did have to cut around obstacles, like electrical boxes or laundry pipes. But I just tackled those as I went.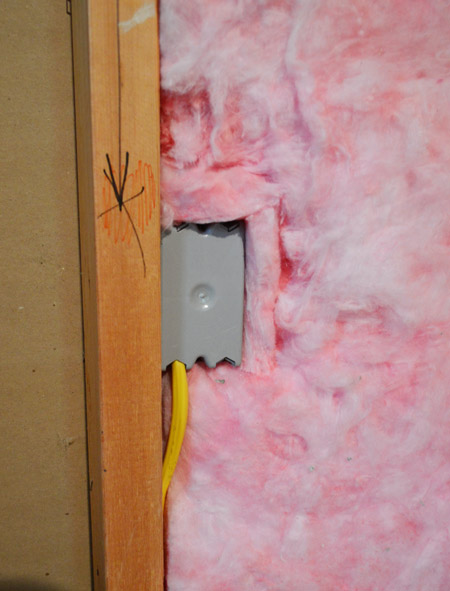 It was a pretty easy task – just a wee bit warm thanks to the conditions in the room and my sexy outfit.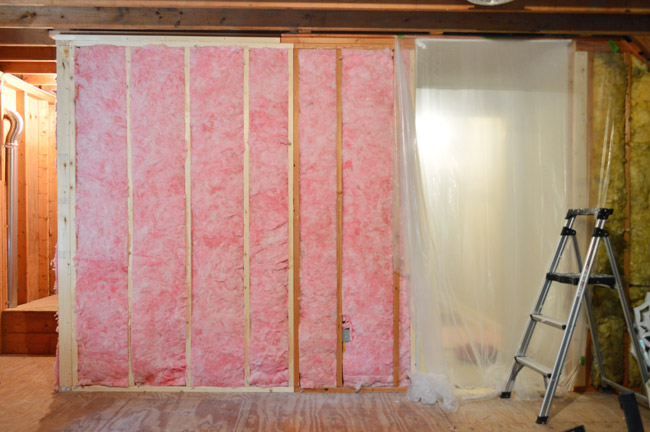 Although my adventures in insulating aren't complete, since I still have to do something with the ceiling. I can access it somewhat easily from the stairs that lead up to the third-story attic space, so my first instinct was to do more rolled insulation or batts, rather than mess with blown insulation (which was up there originally over the old laundry area). The Jury's still out though.
Now we're going to return our attention to mudding and taping (and hopefully priming) so we can get this room ready for some flooring… which then makes it ready to get appliances plugged back in. I can practically smell the detergent!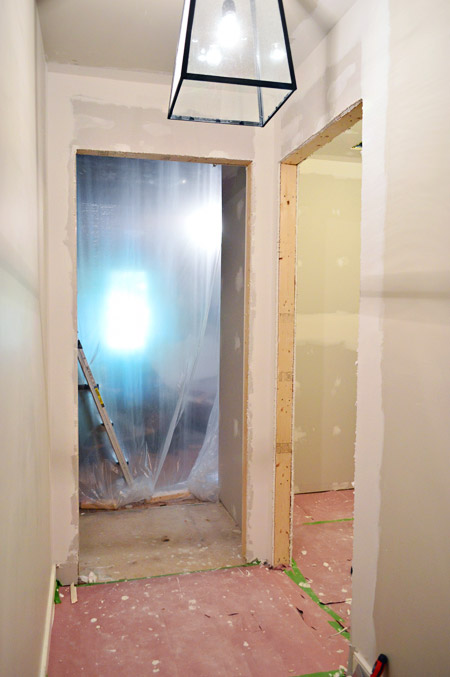 Does anyone else have any fun weekend plans? Wait, don't tell me if it's super fun, because I might fling some drywall compound in your direction.
&nbsp&nbsp&nbsp
What's a laundry room without walls, right? Well… I guess what is any room without walls really? Point being – our new 8′ by 7′ laundry room now has them. Or the beginnings of them at least. Yup, the drywall is hung! And we did it ourselves (well, with the help of a robot-like contraption) so we'll share all of those "how do you hang drywall?" details in a second.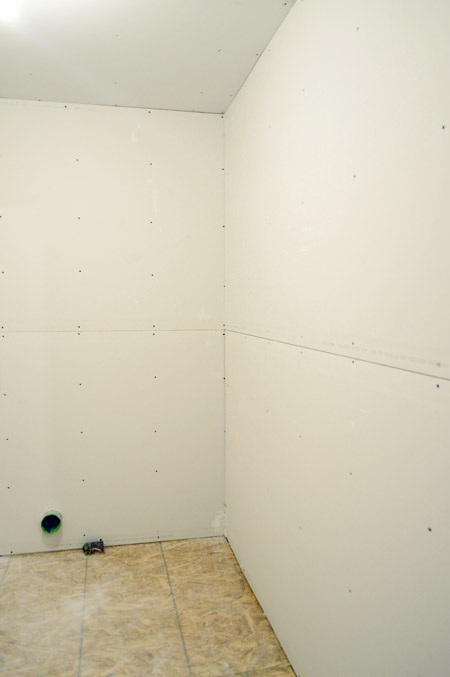 As you saw in our last post, I picked up the drywall along with my other big supplies when I rented the $19 Home Depot truck. I got fourteen 4 x 8′ sheets of UltraLight Sheetrock since the whole "ultra light" thing sounded helpful and it was well-reviewed.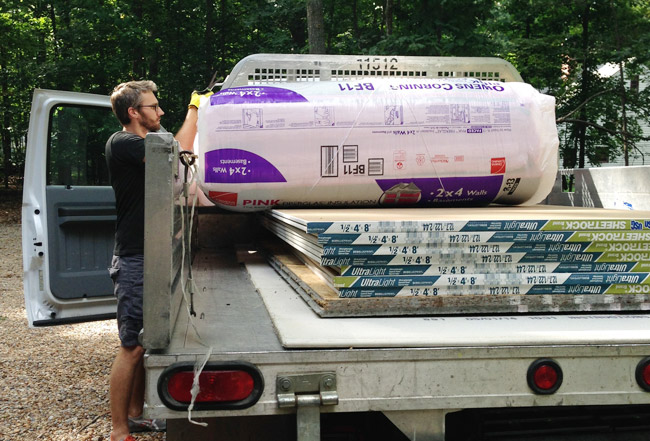 I'd say the lightweight thing was a bit of an over-promise. It's lighter than traditional stuff, but still not something you want to lug around all day. And certainly not something you can hold in place with one hand while the other screws it into the wall. So I rented this drywall lift from Home Depot to help with the job. It was $40 for 24 hours and the pieces easily fit in our car.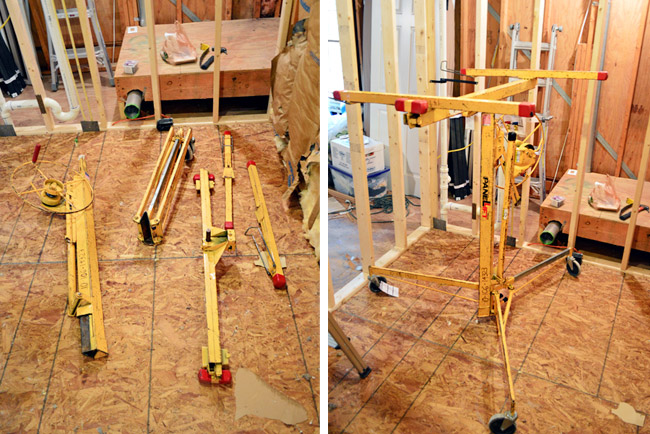 It was a lifesaver (and backsaver). We could basically place our drywall piece on it (once it was cut to size) and then crank it up into place with the spin of a wheel.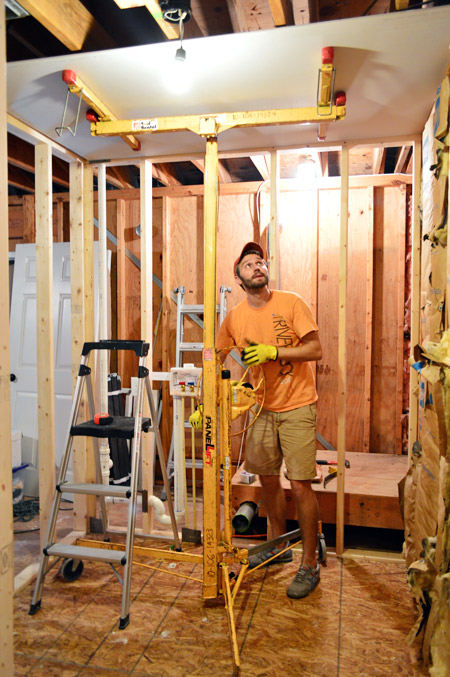 Then with the lift holding it in place, I was free to screw it into the joists without having to worry about my arms getting tired (or worrying that I was taking too long for my human helper – remember I dabbled in drywalling when we gutted our first house's bathroom and opened up the kitchen to the dining room in our last house).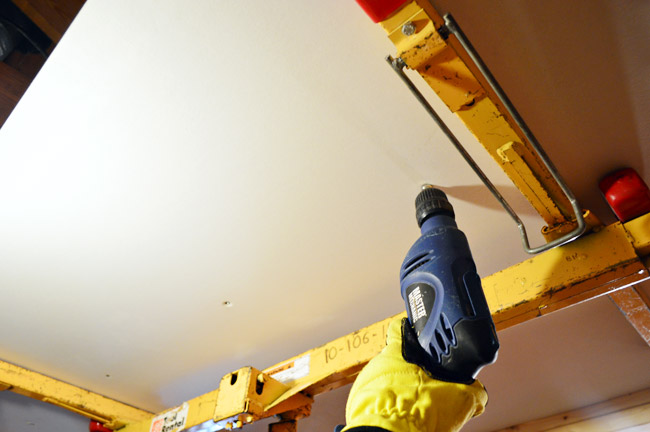 But back to screwing in the drywall – I used coarse-thread drywall screws (2″ on the ceiling, 1 5/8″ on the walls) and a special drywall setting drill bit, which makes sure the head of the screw gets counter-sunk into the drywall. In hindsight I kinda wish I had splurged on a drywall screw gun because this step would have gone a lot faster.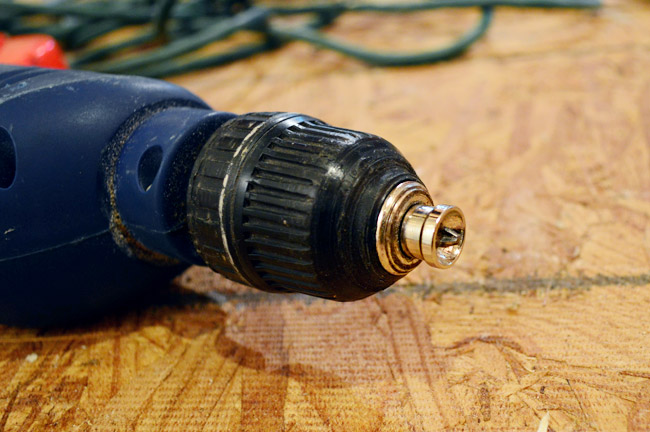 The hanging process wasn't really all that complicated – cut it to fit the pre-measured area, carry it upstairs, use the lift to get it into place, and screw it in. Even the cutting was pretty straightforward. Once I measured the size of sheet needed, I marked my cut with a chalk line and then used a straight edge (not pictured, I just realized) to score the line with my utility knife. Once you're through the top layer of paper, you can run your knife along that ridge again without the straight edge, and it's pretty easy to snap the piece along your line. Then you just have to cut the back layer of paper.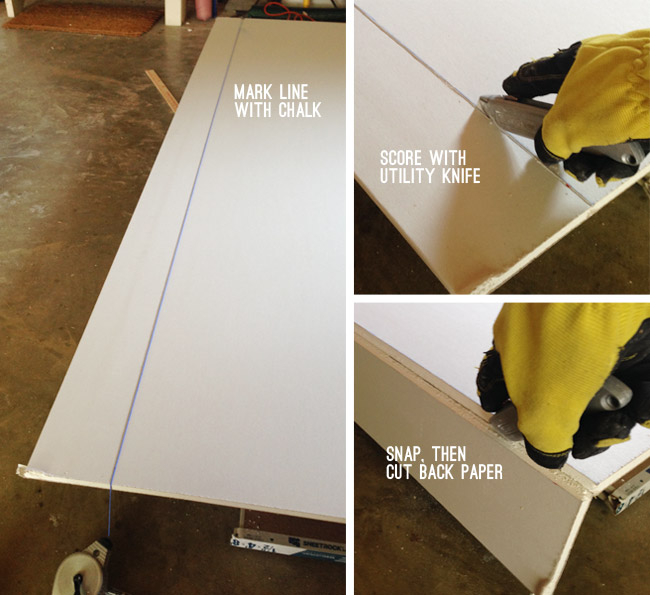 The part that we didn't photograph – which was actually the most exhausting part of the project – was carrying each piece from the garage to the laundry room. Again, they weren't exactly "ultra light" and navigating nearly 4 x 8′ pieces up our stairs wasn't always easy. Sherry was a huge help when it came to getting the larger pieces up (they were awkward to carry alone, and after denting the wall at the top of the stairs we officially dubbed it a two-person job).
As for cutting around various obstacles like light switches, vents, etc, I relied on a variety of tricks to ensure perfect hole placement. For the ceiling light fixture I dabbed some spare paint on the edge…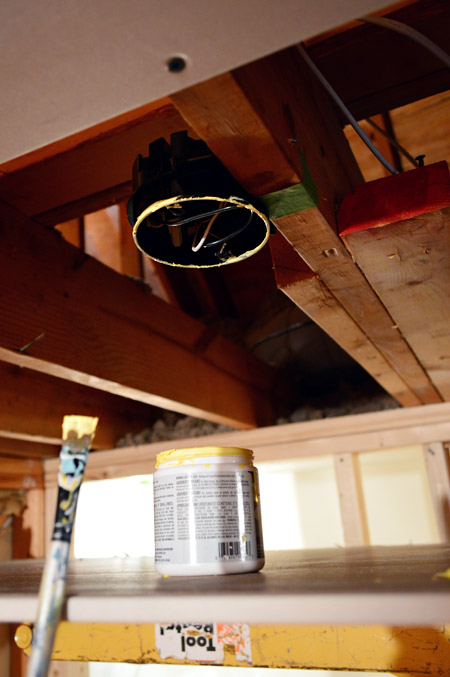 …then I pressed the sheet to the ceiling with the lift to transfer some of the paint to the drywall.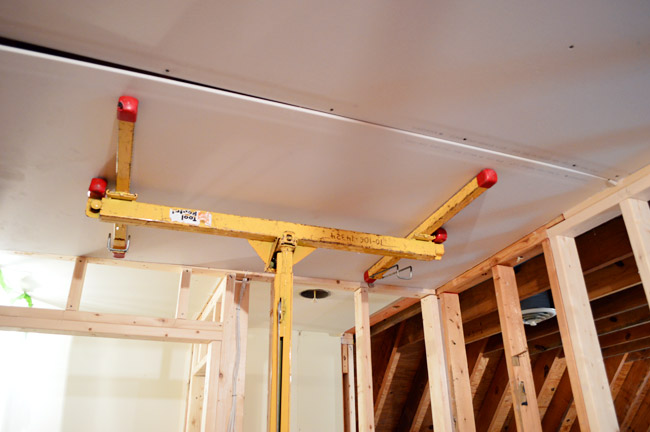 Then I could cut a perfectly placed hole.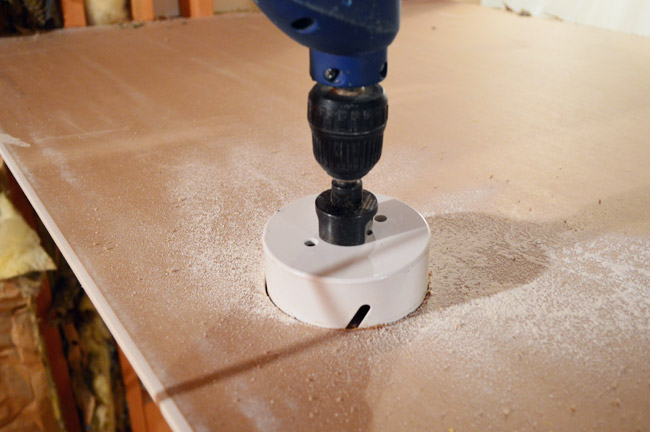 I used the same trick to mark the HVAC vent hole too, as you can see below.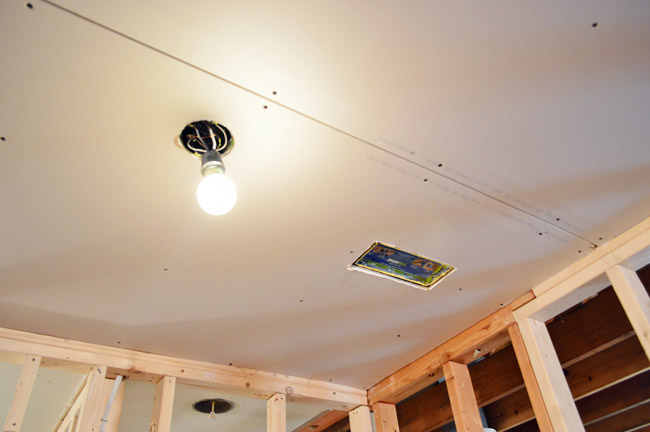 The lift also pivots to help you hang pieces on the wall. The room ended up being nearly 8′ deep and 7′ wide,  so each wall required just two sheets of 8′ drywall that were cut a little shorter length-wise.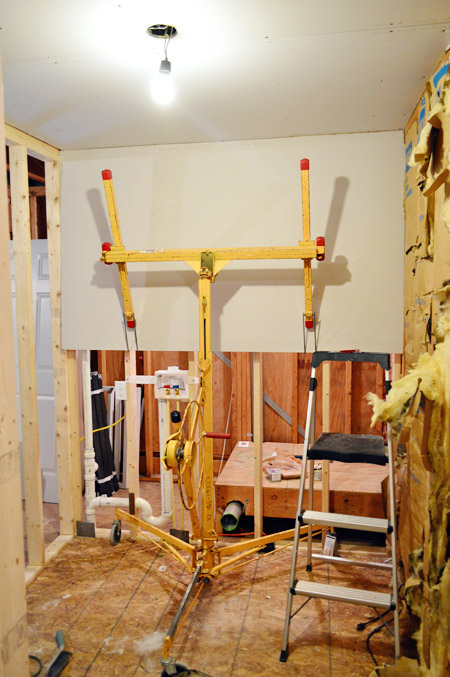 Navigating the obstacles on the back wall were pretty easy because Sherry or I could just step behind it and mark where things would intersect the drywall.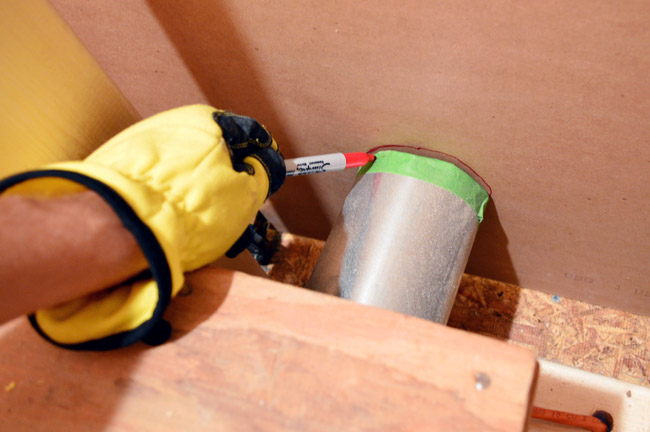 For all the non-round holes, we used the drywall / keyhole / jab saw to cut out the appropriate sized holes. Whenever possible, we liked to cut from the front of the drywall because it kept the hole a bit cleaner on the inside.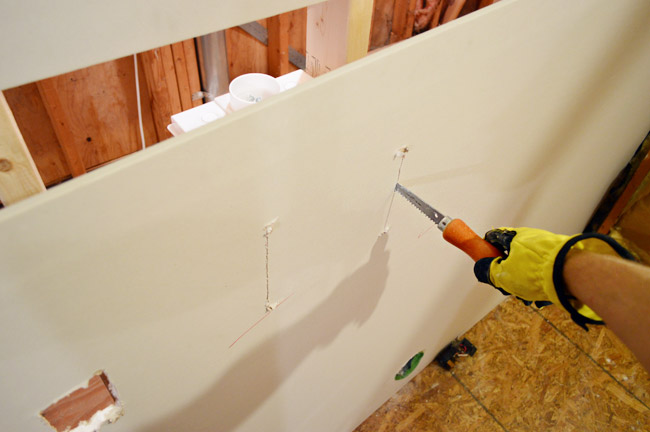 As straightforward as the process was, it still took quite a bit of time. Between measuring & marking things, making our cuts, hauling things upstairs, using the lift to get them into place, cutting around additional obstructions, and screwing the drywall into place – I think we averaged about one board every 45 minutes. Not a record-breaking pace by any means, but we were pausing to take photos and Teddy was awake. Our only real time-related goal was to get all the upper boards done before our day-long rental of the lift was over (otherwise we'd be out another $40). The drywall gods must have smiled down on us, because we met that goal.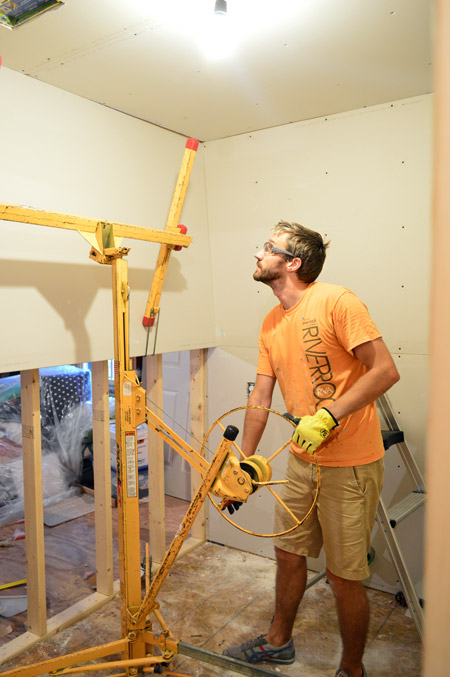 Once we got around to the pieces in front of the doorways, we chose to hang them over the door opening and then I could cut out whatever I needed once everything was screwed into place. This was a pretty foolproof way of doing it, but I think had I bought a spiral saw it would've been significantly faster.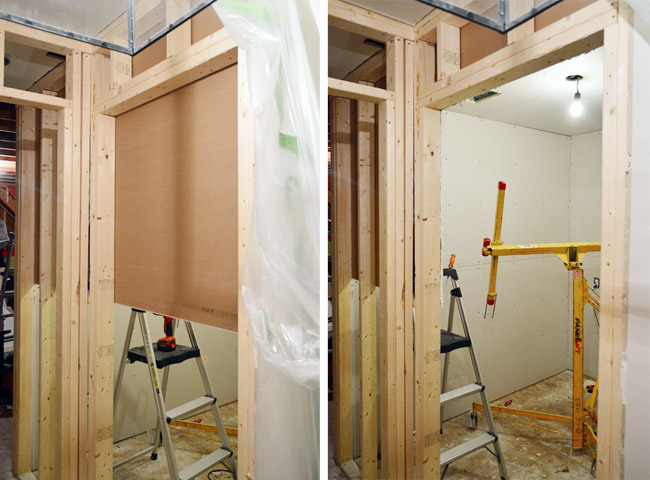 Especially since we had four doorway holes to cut (two doors with two sides each). And after leaning up this outside piece to the laundry door, I realized I'd need to cut a small access hole so I could get behind it and follow the door frame with my saw. I felt like I was in a Roadrunner cartoon or something.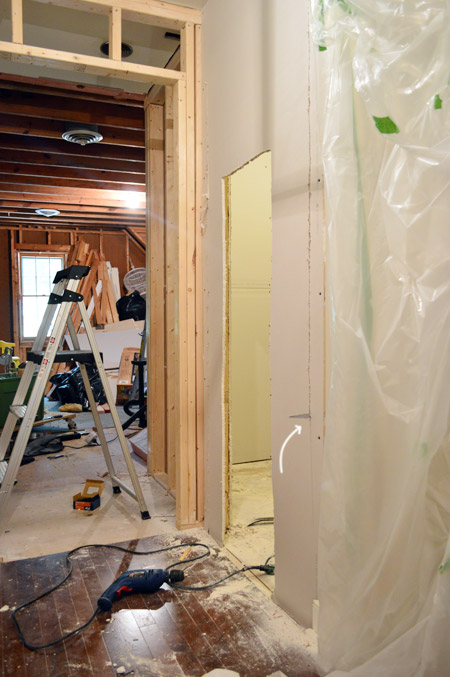 Eventually I got all 14 pieces in place (10 in the room, 2 in the hall, 2 in the storage room vestibule) and the space was really starting to take shape.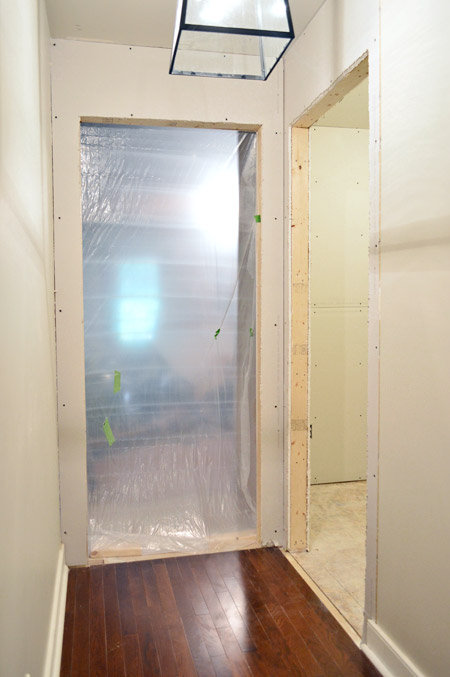 In the vestibule area I actually replaced the ceiling piece too, since we terminated the old HVAC vent that was there. I figured it was easier to put up a new solid piece than patch a large round vent hole (don't mind our big plastic drop cloth door that's so elegantly hung at the moment).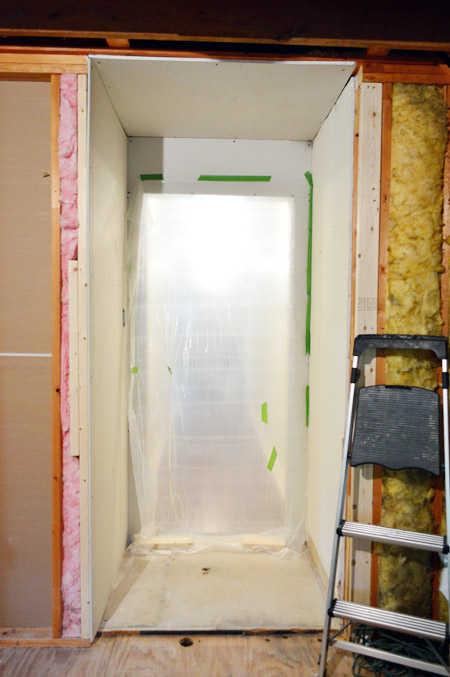 I did have to install a little bit of insulation as I went (just on a couple of interior walls that were missing some) but I still need to add the rest around the outside of the room, so I'll detail that step for you guys in the next post along with our mudding and taping progress and a budget breakdown so far (assuming we can get all our receipts together and add things up by then).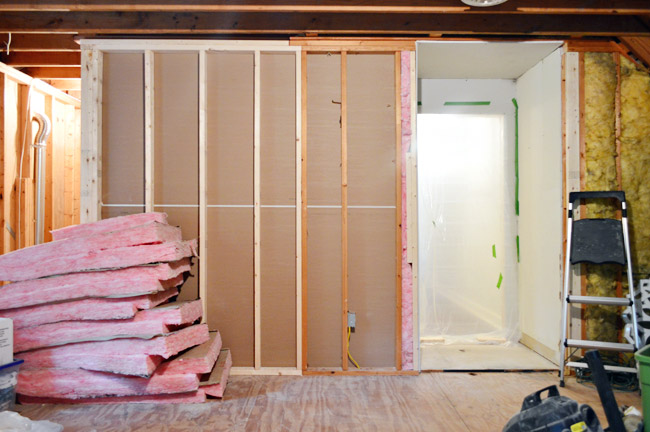 As a reminder, here's where things were last week. Three cheers for progress.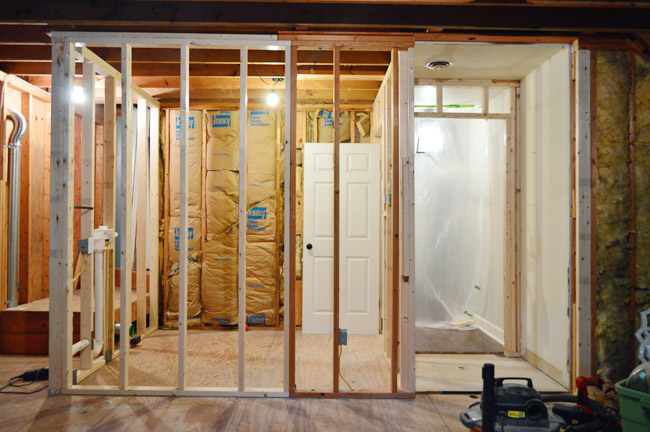 The inside of the laundry room isn't looking very exciting. And I'm learning that it's a bit hard to photograph. You can see that our drywall hanging isn't perfect (I had a slightly angled cut up in that top corner) but we're still proud to have completed the task on our own. As many of you mentioned, the hanging part is a lot easier than the art of mudding and taping, so we tried to buoy our spirits with that info as we inched along.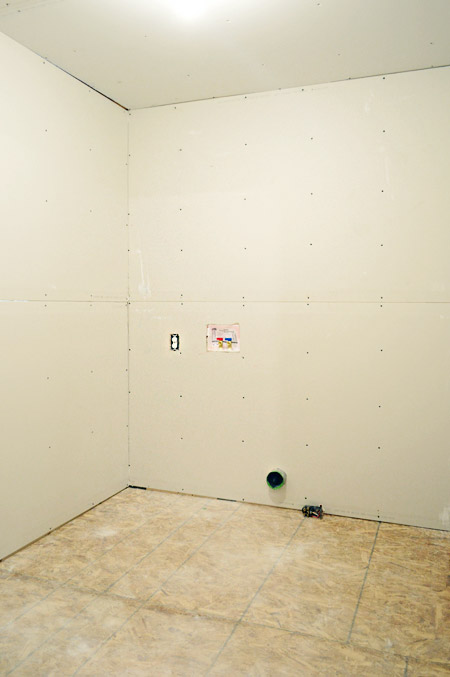 Speaking of mudding and taping, we've officially started in on that, and it's definitely the more challenging part of this process. My fingers are crossed that we'll have an update for you later this week, because after that we're onto the fun stuff – like tiling the floor, adding trim, and bringing the washer & dryer back in.
&nbsp&nbsp&nbsp