Archive for August, 2012
Happy Labor Day weekend everyone! That means that both summer and the month of August are coming to a close. Let's all shed a communal tear. But before we mentally check out for the long weekend, it always helps us keep the ol' momentum up by taking an appreciative look back on all of our happenings from last month (along with some bonus never-before-seen stuff). It definitely inspires us to keep plugging away, plus it makes browsing our archives a lot easier (you can read back through January of 2011 right here in just 19 posts instead of 665). Woot! And below you'll also find a hint about Monday's giveaway, so feel free to guess away at what that might be…
Most Redeemed: Me, after Sherry's little accident with the lamp made me feel a little less bad about my tendency to break things around here (a certain ceramic dog comes to mind).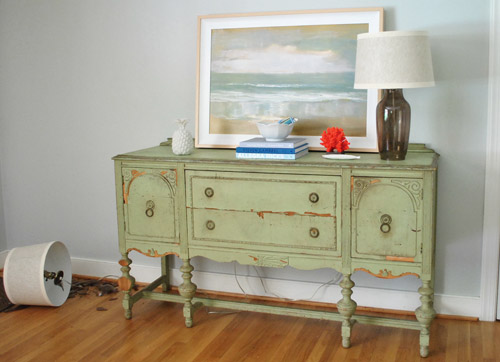 Mood-iest: This mood board Sherry created to start planning what items would eventually go on our deck. There's still some work to do, but I think we got off to a good start.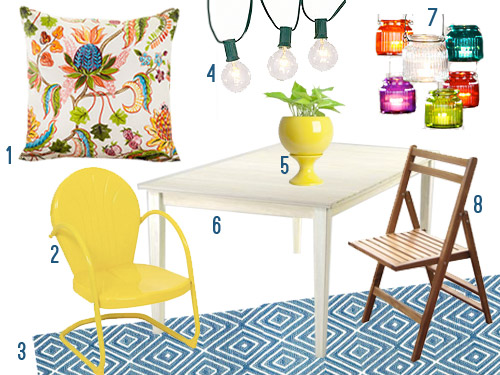 Freshest: Taking a trip to Ikea to check out all of their new stuff now that the 2013 catalog is out. And based on the comments, we're not the only ones to have drooled over their crop of new chairs. Might wanna wipe those seats before you sit down…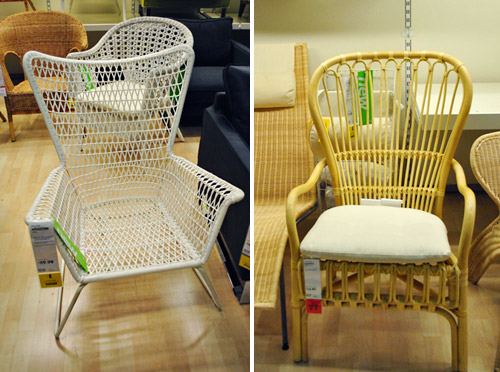 Most Painful: The fall I took while starting to put down deck boards. Fortunately the big marks I got across my back and inner thigh from smacking them on some joists are now gone.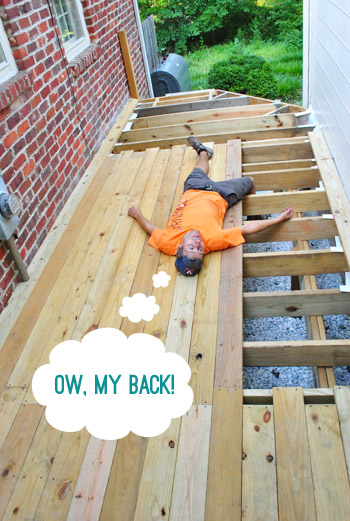 Least Musical: Sherry, after she managed to butcher The Brady Bunch theme song into a post about framing art around our house. Let's hope none of the Bradys read our blog.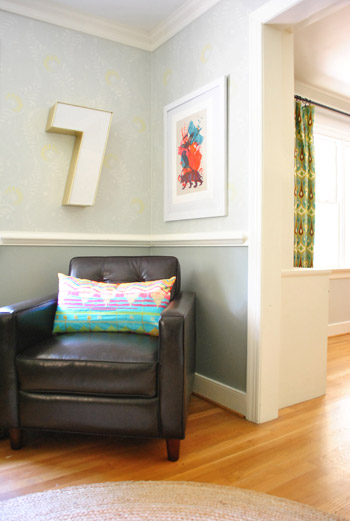 Most Blushy: Us, after the incredible response we got from you guys when we officially announced that our book is available for pre-order (and shared a little behind-the-scenes story about the cover). Seriously amazing. We're so grateful and so excited to tell you more about it soon!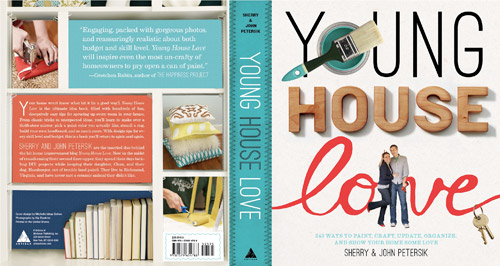 Most Organized: My side of the closet, now that Sherry upgraded me from a few woven baskets to these sleek white bins from Ikea.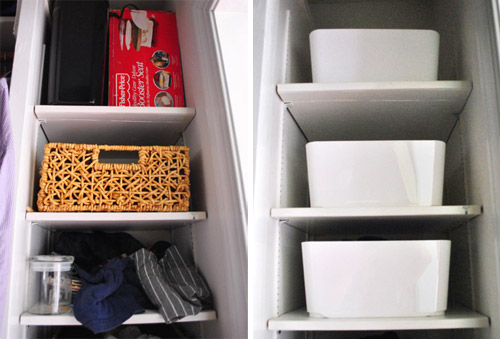 Most Athletic: A bunch of you guys. I was so excited to see how many of you revealed yourselves as runners (whether casually or of the more expert variety) in this post about why I'm a runner.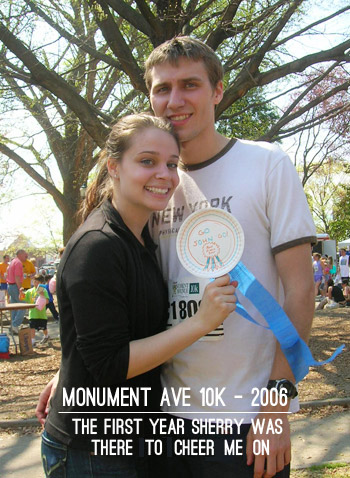 Most Fun You Can Have With A Circular Saw: Finally finishing the deck boards. There was something so satisfying about ripping through a bunch of boards knowing that it put me that much closer to calling the deck done-zo.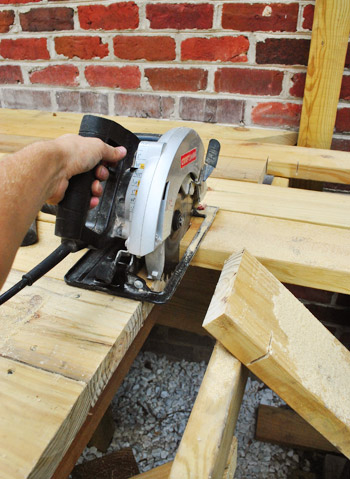 Comfiest: This new chair that we snagged for the corner of our kitchen. It sure beats the old too-small one that had been sitting there since we moved in and plopped it down.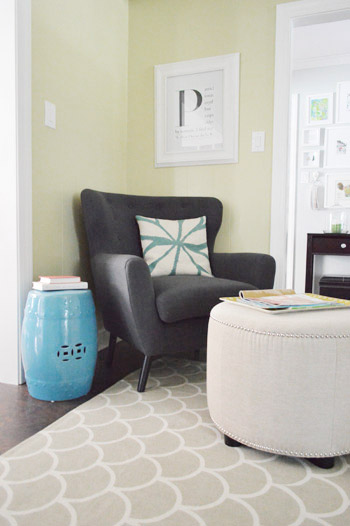 Longest: Our house to-do list, which we updated for you this month. There's definitely more crossed off, but there's still lots to do… like tackle the third bedroom (which looks a heckova lot more chaotic than this pic, because it's now full of secret book projects that we're saving for a charity auction this fall).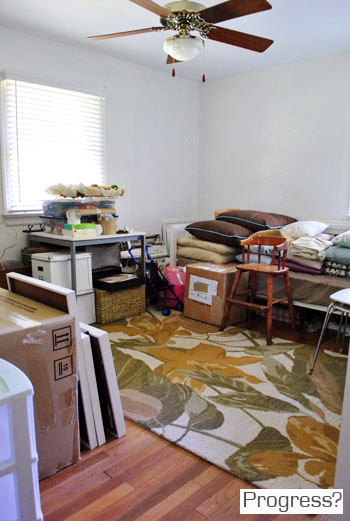 Most Improved: The mirror situation in our kitchen. We didn't realize how small the existing one looked until we replaced it with this larger spare from our guest bedroom.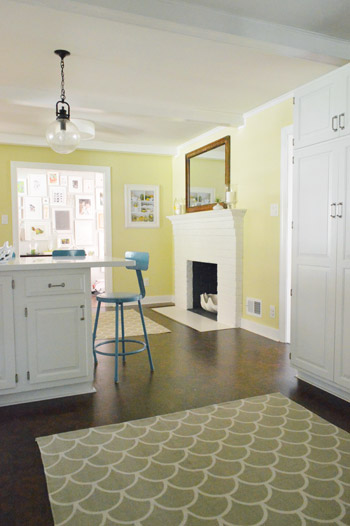 Best Deal: This $295 outdoor lantern that we scored for $19 and hung in our carport so that our too-tiny light could finally get the boot.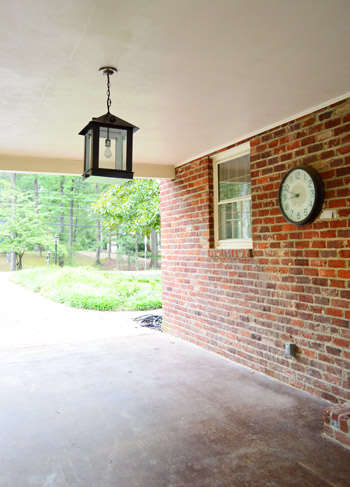 Most Likely To Get Vertigo: Anyone afraid of heights (like my sweet wife) who crossed the bridge on the High Bridge Trail near Farmville, VA (she felt much better by the time we shopped the huge furniture outlet nearby).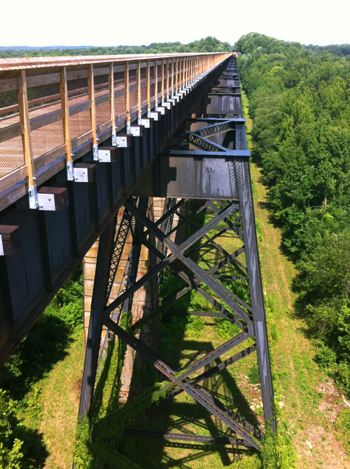 Most Fascinating: Learning the origin of the basket that we used to make this new DIY light fixture in our kitchen. Apparently they're used to catch fish – just check out this Flickr photo to see it in action.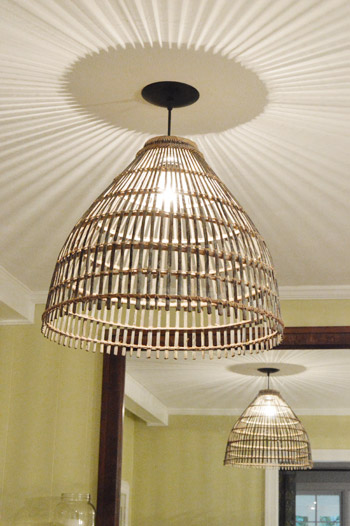 Most Egg-sessive: Sherry, at least when it comes to egg chairs – hence this post with an egg-tastic update, including egg chairs for Clara's dollhouse (gotta start 'em early!).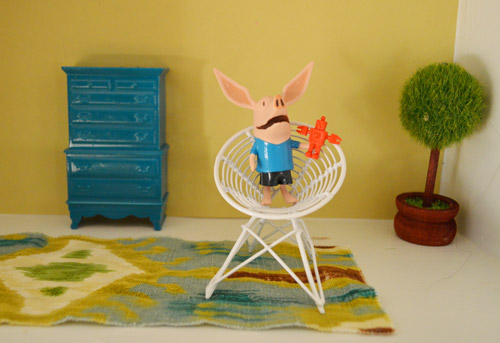 Most Versatile: These $5 tulips that Sherry had fun reimagining a trio of times.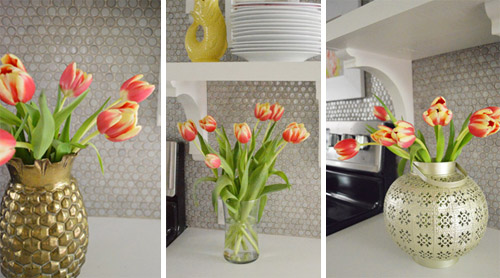 The "Goliath" Award: The finally completed deck, which this "David" finally knocked out after ten sun-drenched, sawdust filled weeks of figuring out what the heck I was doing. But unlike the classic story, I'm getting pretty friendly with this giant.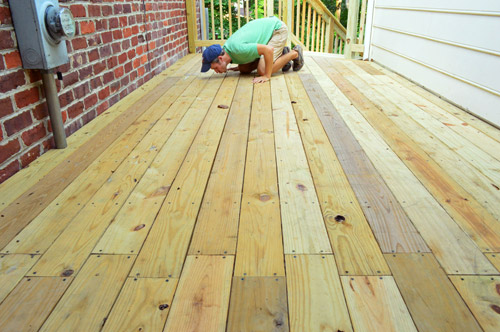 Most Well Traveled: Us, although only in the sense that we sure do get around when it comes to hitting up thrift stores in Richmond. Here's a recap of our six-store tour of the River City's thriftiest spots.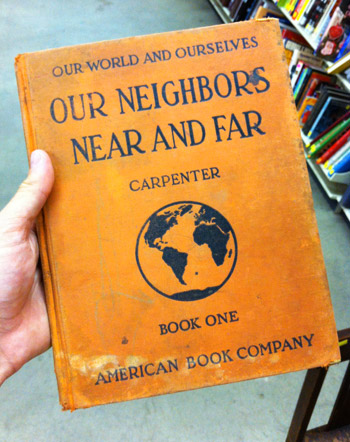 Most Moroccan: This cool little side table that we found a thrift store (we especially loved hearing everyone's ideas for what they'd do to him).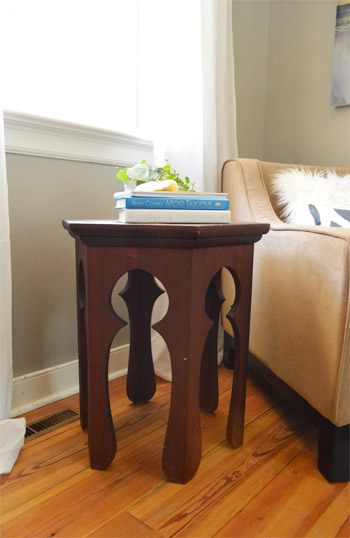 Wordiest: This award could probably go to us for every post we write, but this month we're giving it to the text-y art hack that Sherry performed on the painting in our dining room.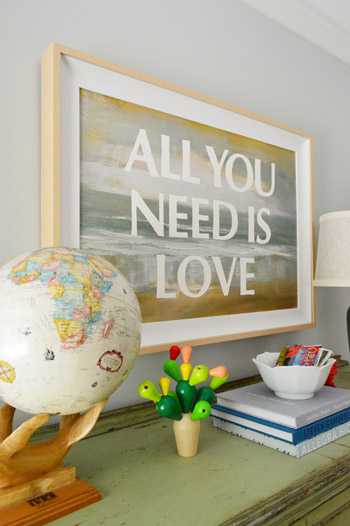 Most Delayed Gratification: Using this teak oil on our new deck chairs (along with polying our table) to help prevent them from getting damanged over time. Sure felt like lots of rubbing for little results… for now – but we hope it'll add up to less work on the back end.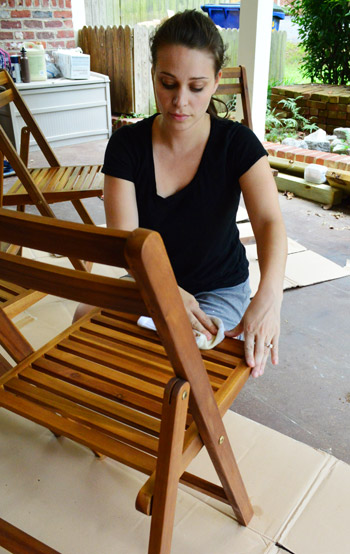 Most Likely To Include A Gratuitous Burger Shot: This little mantra that we shared in this post about how we decide what to post about.

Future Fashionista: Clara (who actually insisted that she bring her purse to Home Depot yesterday). And here's where we spilled the beans on where and how we buy clothes for our little lady.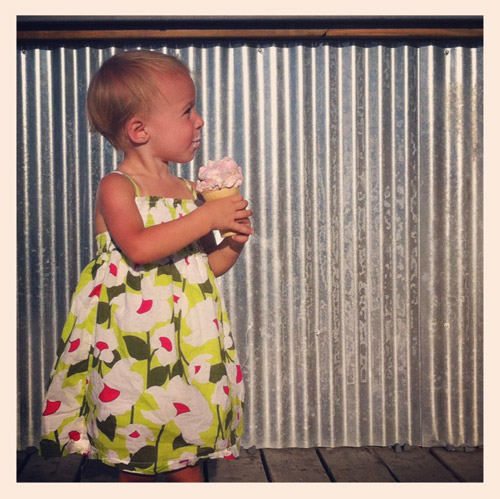 Most Chillaxed: Burger, who's already testing out several relaxation spots on the freshly furnished deck.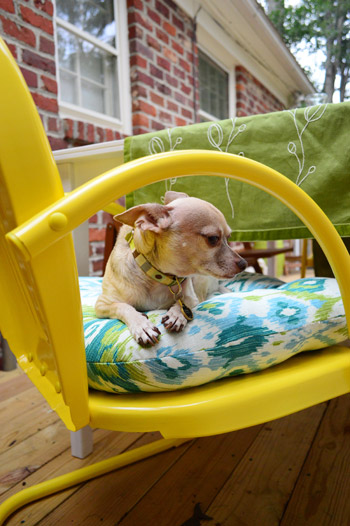 Most Likely To Result In Underwear Chatter: This post about how the wife whipped up a "so so shiny hoop" for the bean. Leave it to Sherry to bring underwear into it…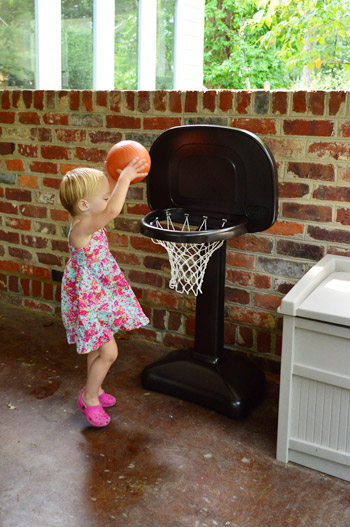 Most Cryptic: This visual hint for Monday's giveaway. Let's just say there are three distinct clues in this image…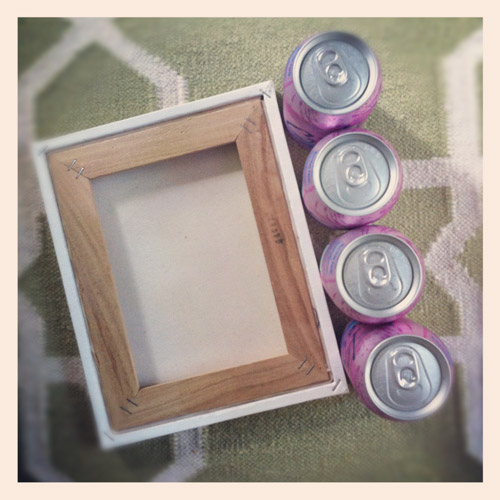 How did August look for you? Did you get any major projects completed? Make any particularly fruitful shopping trips? Or did you just enjoy the last few weeks before the kids went back to school to their fullest? Can't believe our little one goes off to preschool for two mornings a week in a few short weeks. Sniffle.
&nbsp&nbsp&nbsp
Maybe this is just me trying to hang on to every last vestige of summer. Maybe it's me wanting a big sunroom makeover (we haven't even touched ours since we moved in). Or maybe it's just that Jenna Sue has a knack for awesome makeovers (you may remember her entryway transformation). Whatever the reason, feast your sunshine-loving eyes on this cheerful update. Here's her letter:
Hello once again! Our sunroom began with white walls, green trim, carpet and a sagging ceiling.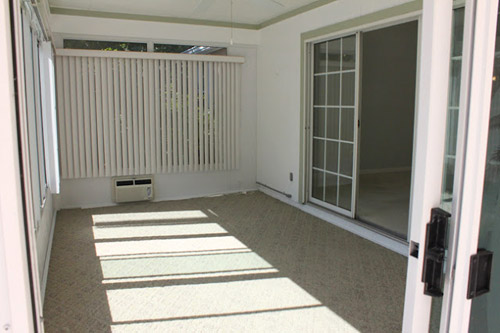 We removed the ceiling, added insulation and fresh new humidity resistant drywall (which I painted a light blue and added recessed speakers and lights). And we replaced the carpet with gray 'wood' tile planks.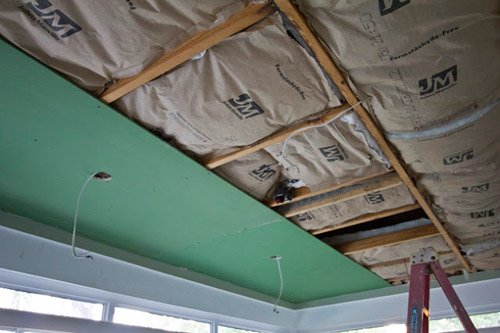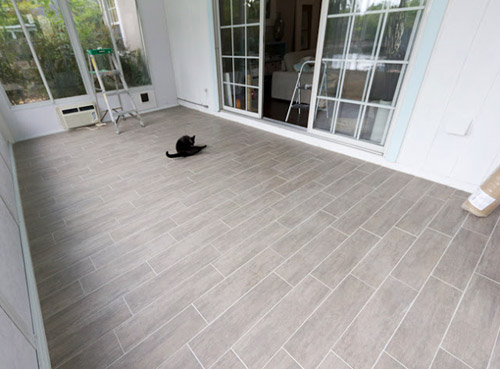 We bought a couple of Brimnes daybeds from Ikea so we can finally have guests over.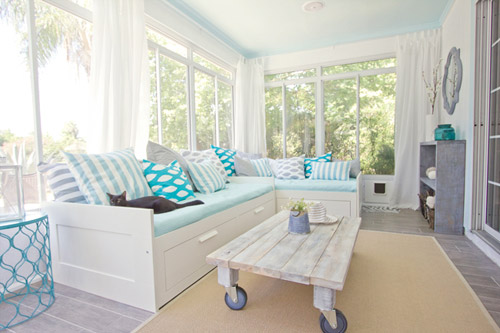 I built a simple rustic coffee…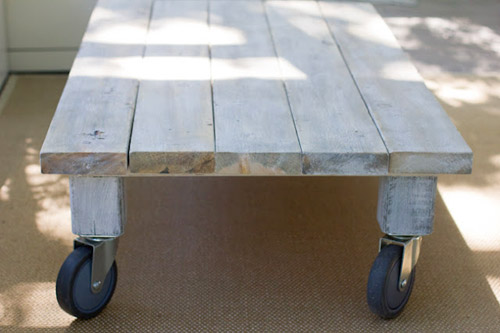 … and console table…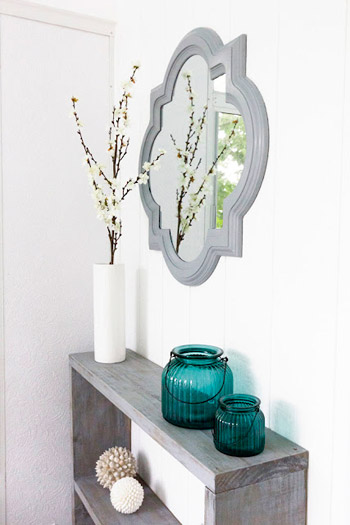 … added some accessories and a bunch of pillows, made a no-sew slipcover for our old armchair, hung some art, and now we have the perfect summer party space.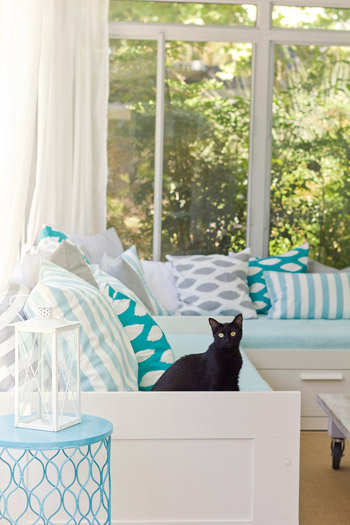 Thanks for looking! -Jenna Sue

Thanks for sharing, Jenna Sue. It makes us very jealous that we don't live in Florida right now. And we love all the construction details (like the drywall and tile work) along with the homemade stuff (like the slipcover, coffee table, and console table). And for everyone else, be sure to click over to Jenna Sue's blog for more info on the projects in the space (cat owners will love the hidden litter box she made). But first let's play the favorite part game. Sherry is swooning over those two daybeds from Ikea that are smartly placed to form sort of a daybed sectional (her exact quote was "daybed sectional for the win!") and I'm loving the gray "wood" tile and that black cat who looks just like my parents' cat. Now when can we come over?
Psst- We picked a winner for this week's giveaway. Click here to see if it's you.
&nbsp&nbsp&nbsp