Occasion: The thrifting bug struck on a lazy Saturday morning
Location: All over Richmond to six of my favorite thrift stores with the hubby and toddler in tow (Burger very smartly stayed home to nap)
You know we love a good thrift-fest (like these thrifty adventures of yore), so let's go secondhand window shopping, shall we? First we went to Love of Jesus (on Midlothian for any locals who are wondering), which is an awesome place for larger furnishings. Of course like most thrift stores it's hit or miss, but when you hit, it's a good time. We actually got a lot of pieces that we transformed for our book here (like a $15 desk and a $10 headboard). Fun, fun, fun.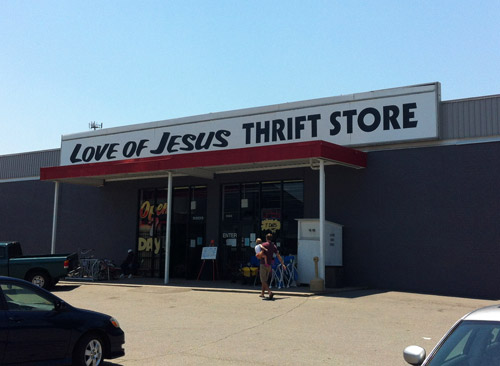 We've mentioned that we're in the market for some sort of buffet/sideboard/dresser to convert into a media cabinet for the living room, and these long low cabinets were cool, but a bit too low for our liking. At $30 a pop (for six awesome drawers of storage) I thought they were a pretty great deal though. Hope someone snagged them!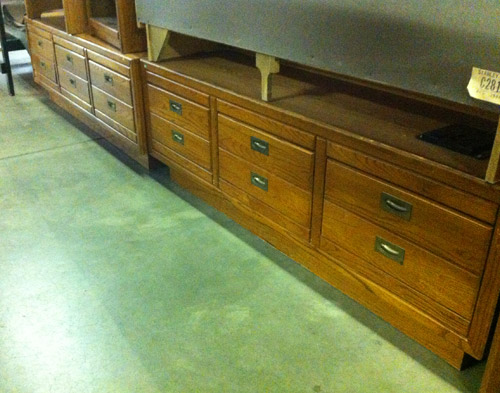 John found this and it took him a little while to figure out what it was. At first he was all "ooh look at this cool bright yellow table or island- wait a minute, is this one of those… OBGYN things?" But the color was fun! Maybe just for inspiration…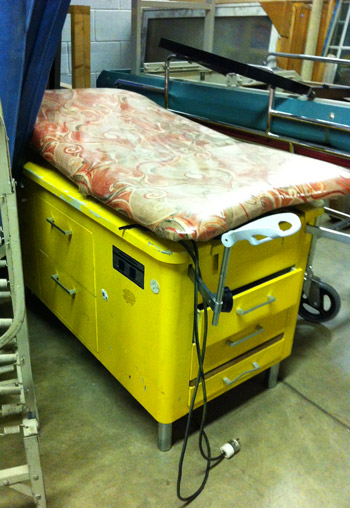 This old $5 chair looked like it could use some love. But picture it refinished in a rich stain color or painted navy or emerald green at a crisp white parson's desk. Could be cute…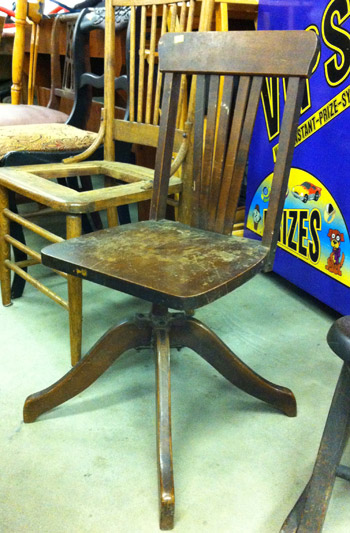 John loved this old orange hardcover book. You know the guy loves his maps. And as "well loved" as it looks in this picture, it actually didn't smell musty or feel sticky or anything, so it totally could have been a cool find for a bookcase or coffee table – or even for wall art if you framed a bunch of old covers. I think it was under a buck. Now I wish we had taken it home.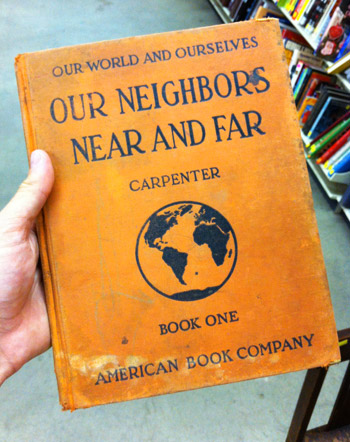 These lockers would be awesome in a mudroom or playroom. I forget the exact price, but they were cheap. And if gray's not your color you could always spray them glossy white, happy yellow, bright red – anything really.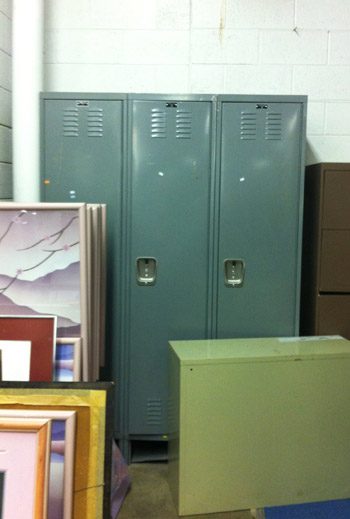 Then we headed over to Family Thrift on Midlothian near Love of Jesus. This was the first time I checked it out and the prices were awesome. This entire set of six chairs was $75. That's $12.50 a chair! And they'd be so easy to paint and reupholster. I liked their lines too. Sort of art-nouveau-ish.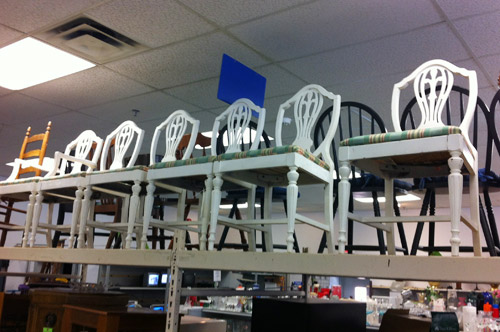 They also had these cheeky tennis glasses for 45 cents each that I thought were adorable. If only I played tennis. And had a cool headband like that.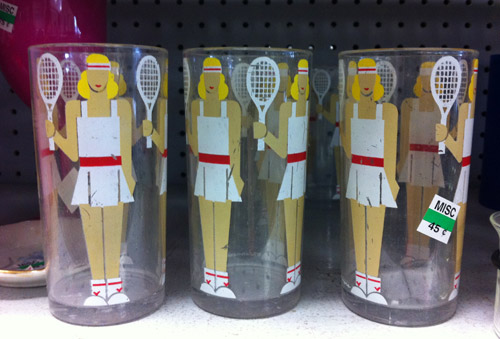 Then it was over to the Salvation Army Family Store on Midlothian.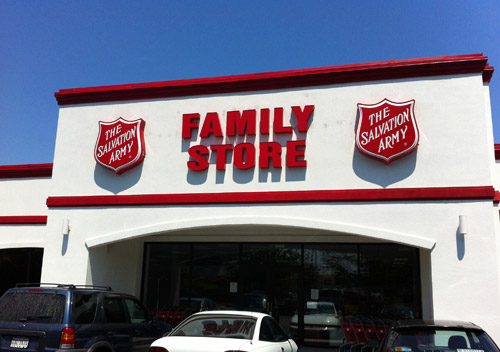 I thought this $49 cabinet was awesome (don't the handles looked like the Apartment Therapy logo?) but we aren't currently on the hunt for anything like that, so I passed him up.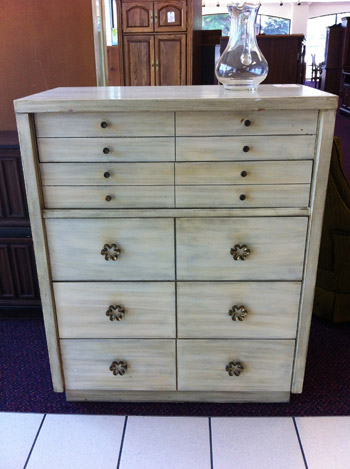 This wooden rocker was sweet, and marked down to $25 I think. It reminds me of a Jenny Lind crib, so I'm picturing it in a nursery painted in a soft color like white, celery, aqua, or yellow.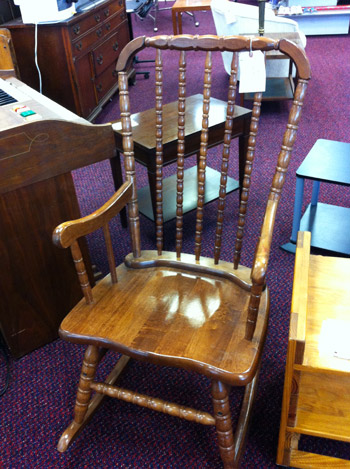 And then there was this sexiness (I didn't even know that John had instagramed this exact same mannequin a few weeks back when he was in there snooping around). We're meant to be. And oddly enough, no one has bought the outfit in all that time. Strange…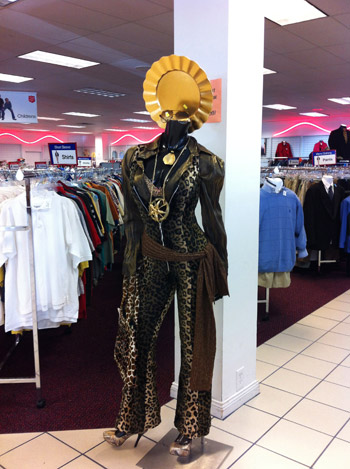 Then it was off to Diversity Thrift on the Northside near The Diamond. This doily stretcher (no idea what that is, other than guessing it's how people make or stretch doilies?!) was $4. I think it makes such a fun and interesting piece of wall decor to lean or hang. I totally got it. Sorry for the blurry picture, I owe you a crisp one of it hanging or leaning somewhere in our house when I find the perfect spot…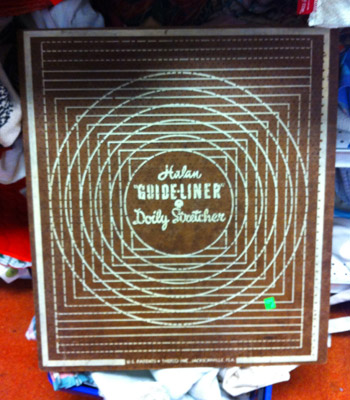 I also thought this sofa was pretty, even though the upholstery wasn't my style. I can totally see someone like Emily Henderson working it out and making it look super fresh with turquoise pillows or even a coat of glossy navy paint on the wood parts.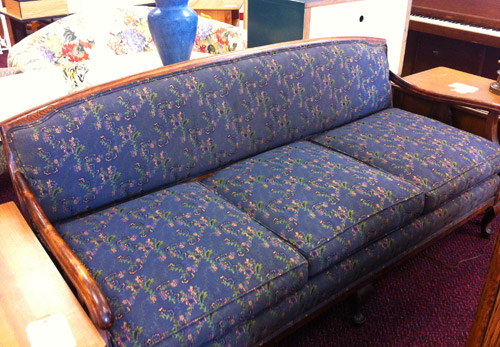 There was also this little (needlepoint?) scene that was actually really charming. I think it was ten bucks. I know you might think I'm crazy, but just imagine it hanging in a collection on a wall like this one in Will's room. Could be cute, right?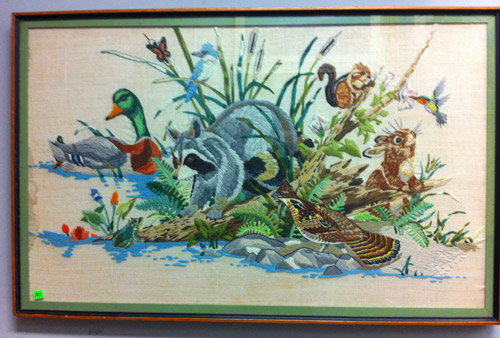 Oh and there was this faux-wicker yellow and white tray (the design was printed on it, so it wasn't bumpy or anything). That section was 50% off, so the $2 sticker is wrong-o and it was actually just a buck. I grabbed it. Could be cute in the guest room with a pitcher of water, some books, and a bowl of candy.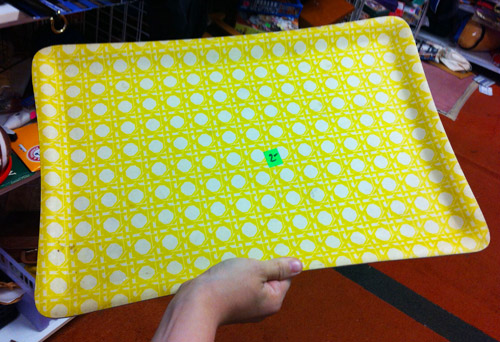 Oh and I mentioned that Clara was with us, so you might wonder how she likes a weekend thrift-fest. Well, let's ask her. Clara, what do you do when you see something you love? Her answer? I go "oooh" and then I go "ahhhh!"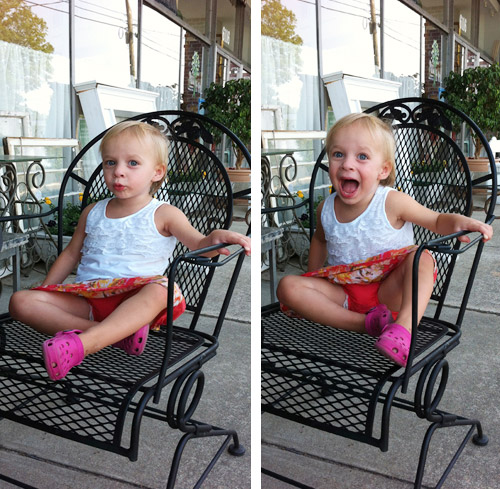 Next we swung by Pass It On in the Lakeside Towne Shops near Lewis Ginter, where I fell in love with these guys. They were still a bit too pricey for me (since I'd want to buy the whole set, and I think they were around $100+ total) but how awesome are they? I'm sure someone will give them a loving home.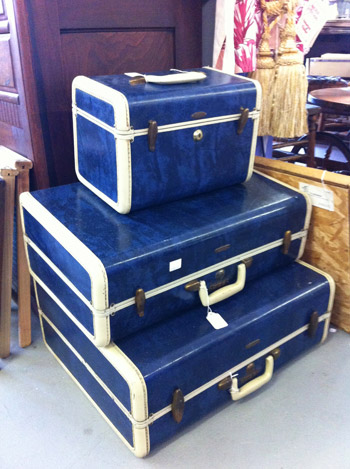 Then it was over to Consignment Connection, also on Lakeside. Clara usually comes into stores and pokes around with us, but this store is waaay too full of breakables and she had actually fallen asleep in her car seat, which was perfect since John could stay in the car with her while I ran in to see what I found.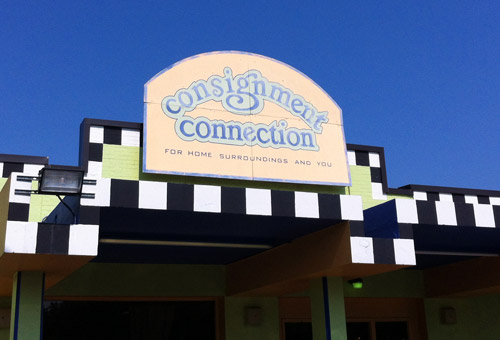 This gorgeous table was already sold but I loved it. Picture it in a sunroom with the base painted a crisp white color. She was a beaut.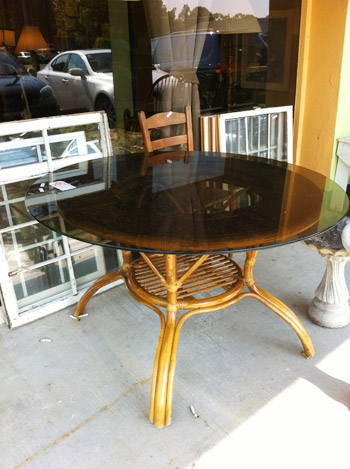 And I actually bought this guy for $19 for Clara. Definitely steep for a globe, but it was a white globe with a ton of bright colors (which I've never seen before) and it was BEING HELD UP BY A WHALE. Which just happens to be one of Clara's favorite animals since our trip to Hawaii where we went on a whale watching boat. So I just couldn't leave without it.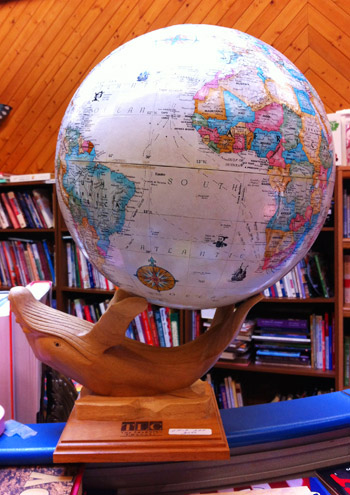 When she woke up from her nap and saw it sitting next to her in the backseat she was elated. And the checkout guy said he was so glad someone was getting it because he was in love with it and couldn't wait for it to get "adopted." Haha. It was meant to be.
And so ends our little thrifty adventure. Wait, first I'll show you where our little whale globe landed: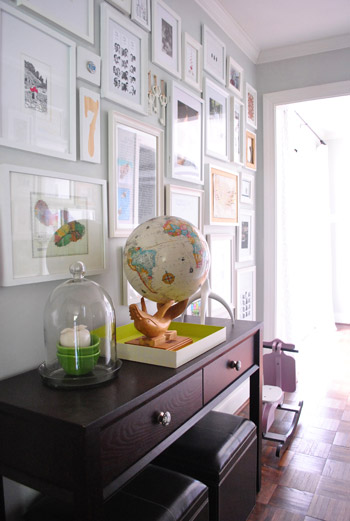 Yup, he's hanging out on the console table in our hallway full of frames. But things tend to move, so he might not be there for long…
I'll have to share photos of the rest of our thrifted booty in our house whenever they find a place to live (like the doily stretcher and the yellow tray). We also got a small table at Love of Jesus thrift, but I took so many photos of it that I decided he deserved his own little post this afternoon (complete with my cleaning/restoring ritual for old musty wood). In the meantime, have you guys been thrifting? Find anything good? Have you ever seen such a happy yellow OBGYN table? I'm telling you, that doc must have been whistling while he or she worked.
Psst- Still in a thrifty mood? Here are a bunch of our other secondhand shopping trips. Whee.