This morning we shared pics from our recent thrifting trip and I promised you more details about a certain table that we adopted (along with my cleaning/restoring ritual for old musty wood) so here's the rundown. We really liked this cool Moroccan accent table that we found at the first place we went (Love of Jesus Thrift here in Richmond). Especially since it reminded us of a few designer ones like this that are selling for $260+. So at $25 for a solid wood table with awesome lines, we took it home.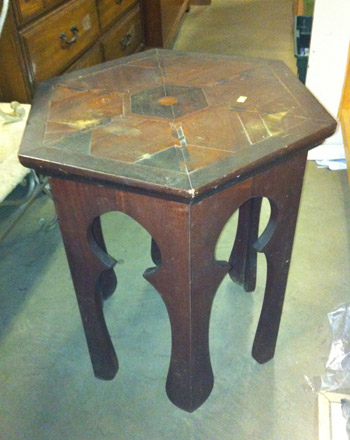 Boy was in rough shape, so I:
gave him a wipe down with a damp cloth with a tiny amount of Mrs Meyers soap on it, just to remove the crud in the cracks, cobwebs, etc
let him dry completely outside in the sun for a few hours
gave him another wipe down with a damp cloth moistened with white vinegar (that helps to get rid of musty odors)
let him completely dry out in the sun for a few more hours (vinegar + sunlight is the best way that we've found to get that musty old smell out of wood)
brought him in and introduced him to our bedroom
Another optional step is to apply some sort of wood conditioner or oil to gloss things up if the wood is dry/matte, but I usually only do that when I'm sure we're leaving something as-is (more on that in a minute). He's still definitely not mint looking (his pretty ornate top is gorgeous in some areas, but still a little beat up in others) but a lot of the items that we bring home are in what we call a "trial phase" at first anyway.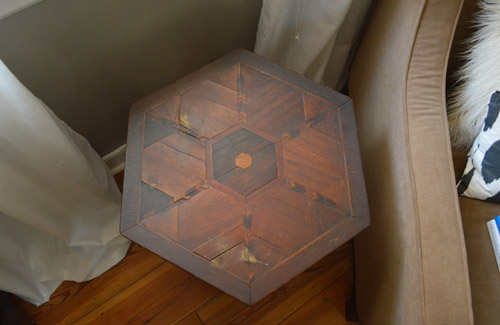 That means before we rush to refinishing them or painting them or somehow adapting them for a certain spot, sometimes we like to leave them as-is, just to think things through a little more and see how we like them before doing anything too hasty slash hard to undo (like painting something we'd later wish we had left well enough alone). Hence waiting to oil or condition the wood, just in case we later decide we want to refinish or paint something, which is then all greased up and glossy.
Although his top wasn't perfect when it was bare, once we added a stack of colorful books and a small potted plant, you could hardly tell. Totally works for now during his "trial phase," right?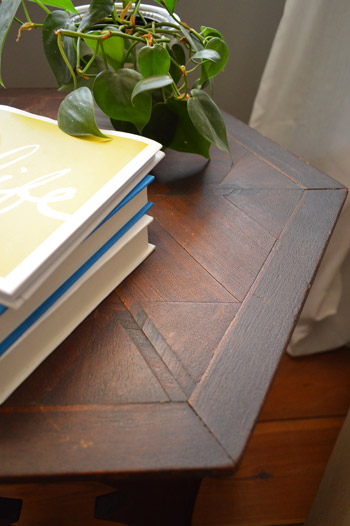 Here he is from afar. Don't mind the weird rug placement, we've been meaning to shift that so it's less awkward. I just need to ask John before he sinks into the sofa late at night, never to stand up again. Haha.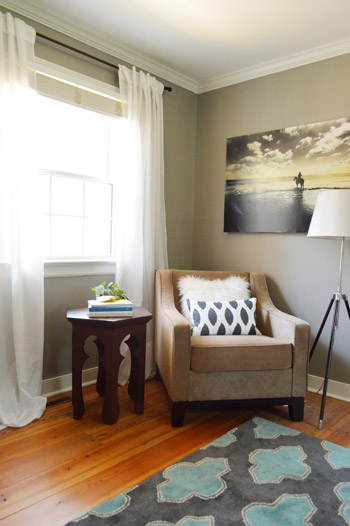 It's kind of cute how the legs of the table tie into the pattern on the rug. We like that it's subtle so we don't have any plans to paint the table turquoise or anything too obvious. It's actually really nice to have some dark hits of mocha in the room (thanks to the big leaning wall mirror and some oil-rubbed bronze frames around the rest of the room, which you can see here).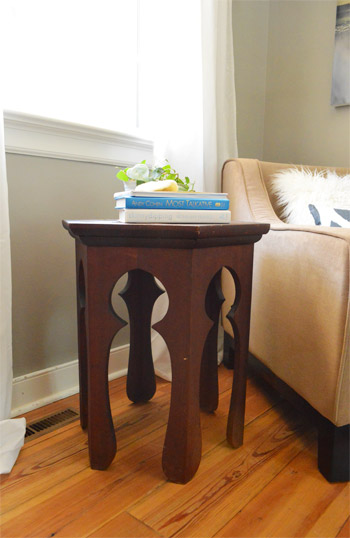 My favorite thing about the whole piece is that ornate wooden top. So I went picture happy and snapped another close up for all the wood-loving folks at home. It almost looks like a big Moroccan puzzle.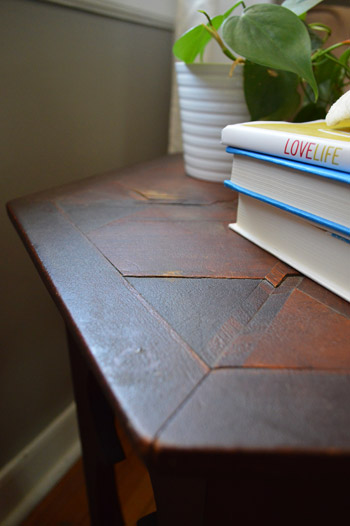 One idea that I had was to paint just the inside edge of each table leg white, so it would highlight the shape ever so slightly.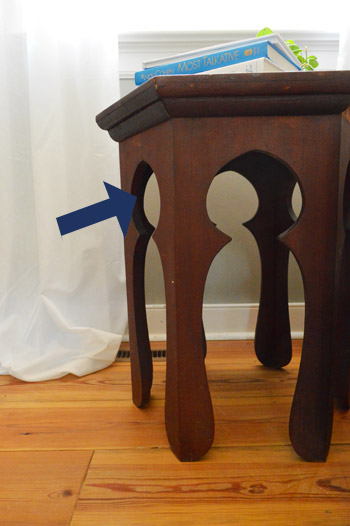 See how in this picture the legs sort of turn into one big blob because they're all the same color and you can't make out that cool keyhole shape as well from afar?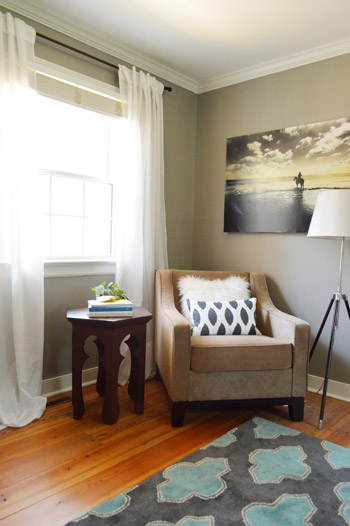 Now imagine just the lip on the inside of each leg being a clean white color? Might be a fun mix of old and new.
What do you guys think? Is it crazy to touch this guy at all? Would you paint the whole thing? Or just refinish it to clean things up a bit more?
Psst- We picked this week's giveaway winner – click here to see if it's you.