Archive for June, 2011
Paneling = oy. Update tomorrow. But while we're here…
Can you believe that Clara's b-day bash was the largest party (weighing in at 25 attendees) that we've thrown since our backyard wedding almost four years ago? How lame of us. And I know, it's been over a month – enough already about the party. But since a lot of our posts are actually just notes to self (how else would we remember what color we painted our old bedroom?) we figured we better record what we lizz-earned now (or forever hold our peace forget it all).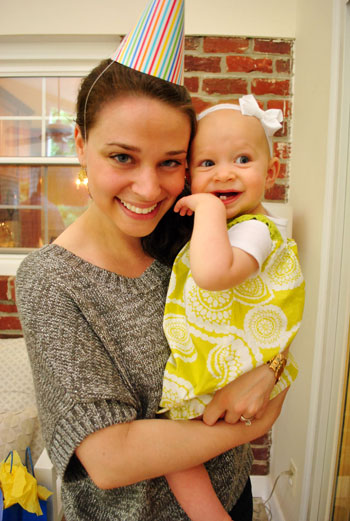 1. Keep the focus on a few carefully selected rooms (and don't put stuff for guests to peruse in other rooms or they won't stay where you want 'em). This seems obvious, right? We had such a hard time with it! At first we were going to keep all the fabric letter magnets on the fridge in the kitchen (for the kids) and have photos of Clara looping on John's laptop in the office (just in case anyone wandered in there). Finally it dawned on us that if we wanted our guests to hang out in the living room, sunroom, side patio, backyard, and carport… we shouldn't put stuff for kids or adults in any other space. Duh. Talk about sending mixed signals.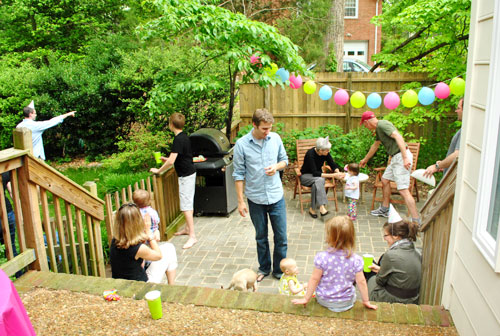 2. Simplify the menu whenever possible. At first we worried that serving only pizza, veggie sticks, chips & salsa, spice cookies, and cupcakes (along with lemonade, limeade, and a few soda choices) might be a little… um… boring. But everyone seemed to enjoy the fare (including a few vegetarians) and not having fifty bowls and platters to dispense and refill allowed us to pay attention to the friends and family surrounding us – and really enjoy our day with the bean.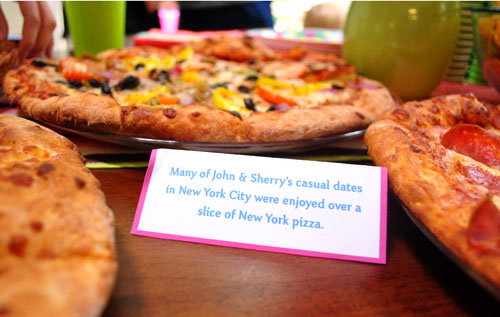 3. But don't underbuy those key items. At the end of the day we had eight remaining slices of pizza, a bowl of chips, about ten cookies, and around 15 cupcakes leftover (along with a few bottles of soda/lemonade). So we sent people home with stuff and enjoyed some delicious leftover pizza for the rest of the weekend. Sure beats worrying that things might run out and guests might go hungry.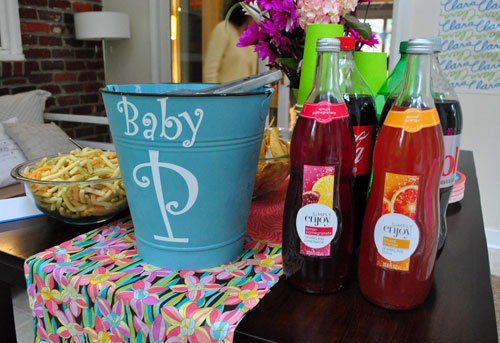 4. Have things for little ones to play with to keep 'em busy (and from trashing the place). We had a lot of giant balloons, a big rubber ball, a bubble blowing bug that scooted around outside (they loved chasing it), sidewalk chalk for the patio, some wooden puzzles and toys in a big basket in the living room, and small bubble containers for each kid with their names written on them (which also served as their party favors).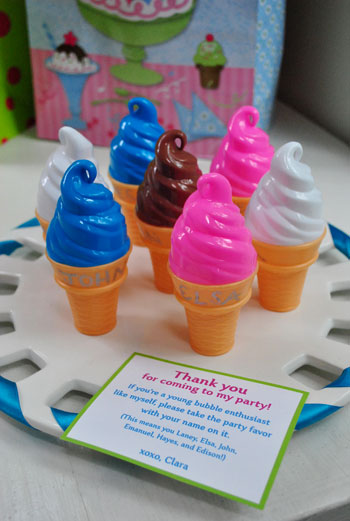 5. Rearranging furniture isn't as intense as it sounds. At first when we started tossing around the idea of moving the kitchen table into the sunroom to serve food in there it sounded kind of complicated. But the sunroom is a nice airy room right off of the new patio (as opposed to a dark paneled kitchen that we didn't envision as "the perfect backdrop" for Clara's big day). So the night before the party we decided to go for it. It took five minutes to drag the table in there and stash the chairs in the playroom since they looked weird in the table-less kitchen (we didn't need additional chairs thanks to the big sectional in the living room, the daybed in the sunroom, and all the patio chairs we had out). It was SO worth it. And now all of our b-day pictures don't have the dastardly paneling that's currently torturing us in the background. Priceless.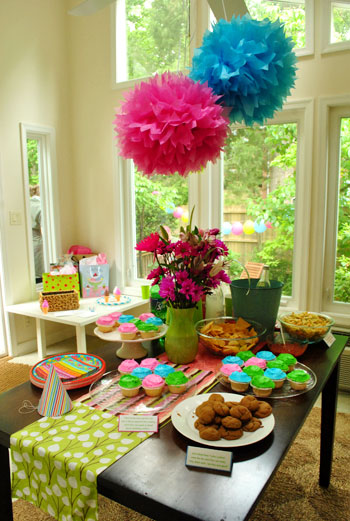 6. Have a few keep-the-party-going "activities" (but keep it loose). We didn't have a regimented schedule or anything, but the "flow" of the party went a little something like this:
everyone arrived and we snapped some photos of guests posing in front of Clara's fabric
we served pizza and other snacks in the sunroom
people started venturing outside to blow bubbles, bounce balls around, and eat/drink/chat
since everyone was outside already we decided it was piñata time
we brought Clara's highchair outside to watch her demolish her smash cake
cupcake time
we all watched Clara's video to cap off the par-tay
It was nice to have a few things planned like the homemade piñata and the video just to keep people from feeling "stagnant."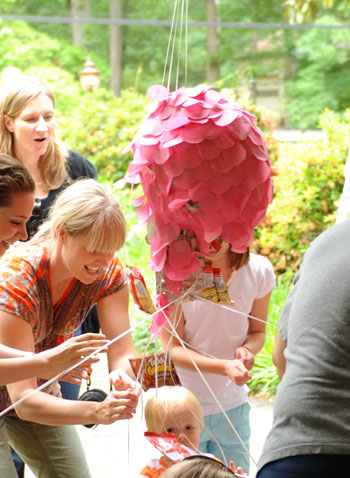 7. Remember the point of the par-tay. We wanted to make sure we weren't so busy running around that we forgot to honor Clara and revel in every is-she-really-one-already moment. So we asked our brother in law to snap photos (he's a pro photographer, which is remarkably handy and we're forever grateful). Beforehand I also recruited my mom to help make the food-to-cupcake switch when it was time for dessert so it wasn't something John or I would have to do all by our lonesome. Little beforehand arrangements like this made it possible for us to soak up every last cake-in-our-hair moment that made the day so special in the first place.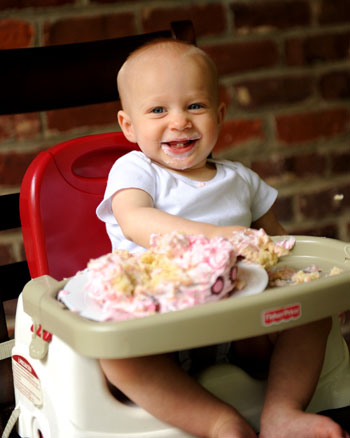 So whoop, there it is. Party hosting learnings from over a month ago. One thing we took away from the whole shebang was that we love hosting things at our house (so we have no idea why it took us four years to do it again). Sure home-hosted gatherings can be more work than a park or a restaurant but it feels so good to have everyone gathered around having fun in your stomping ground. And a house never feels so much like home as when it's full of people, balloons, and paper poms poms.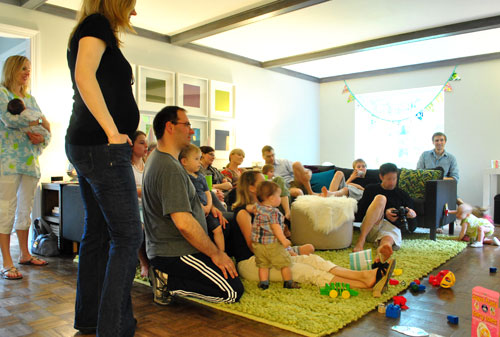 Do you guys have other party tips that you reference when you're tossing together an at-home bash? Have you made any epic party mistakes that were only funny a few years later (but were mortifying at the time?). Feel free to share your what-I-learned hosting tips (we still have a lot to learn).
Psst- Check out more of the party play-by-play in this original Clara b-day post of yore.
&nbsp&nbsp&nbsp
The bleeping paneling is taking a wee bit longer than we expected. Le sigh. Hopefully we'll have an update for you soon. In the meantime…
Every once in a while a shop or office inspires us so much that we decide to crash it (just like we did when it came to this fun kids consignment shop). And we weaseled our way into this office space for Towne & Reese (a jewelry company named after two Charlotte ladies' kids) thanks to a house crashing adventure from a few years back. You have to remember this one, right? Here are a few shots to jog your memory: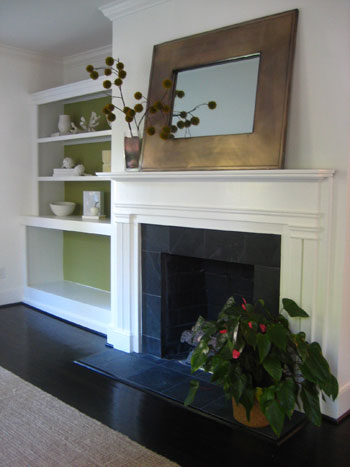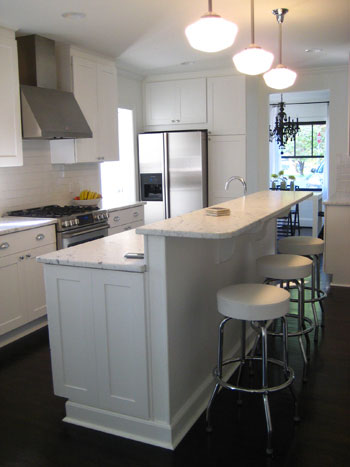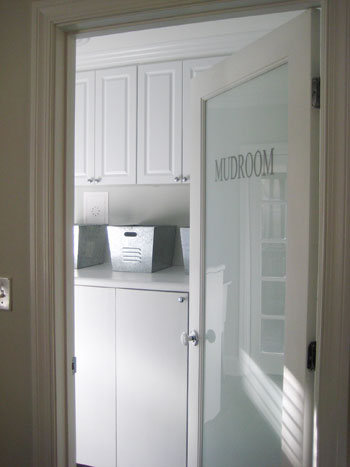 And here's a pic of the cute couple with their darling daughter Towne out front (from back when we house crashed them):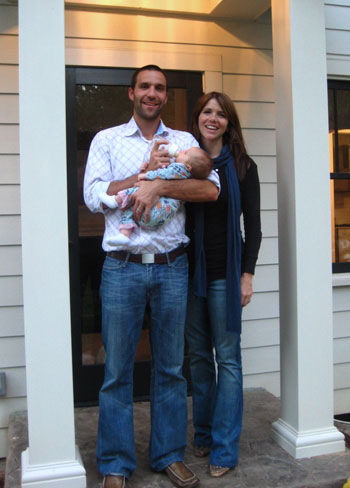 That good looking couple happen to be Christi and Barret. And Christi happens to be 50% of Towne & Reese (which makes sense of the fact that her daughter's name is 50% of the moniker). You still with me? Anyway, since Christi's brain runneth over with amazing style, we couldn't leave Charlotte without stopping in to see what she did with a bland blank-slate office space. Here's what it looked like before she got to work: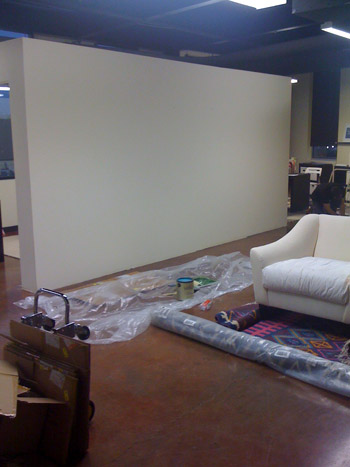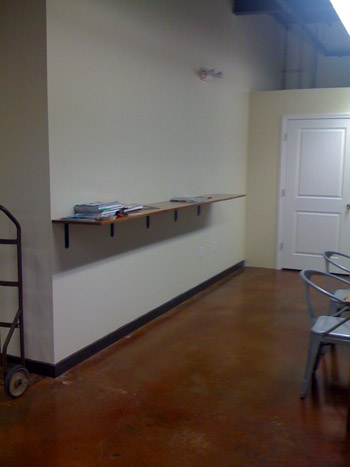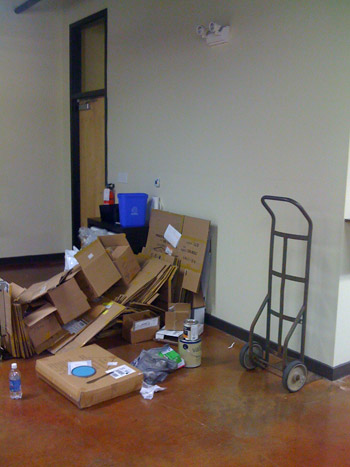 And here's what it looks like these days. When you walk in you see a charming bright blue wall emblazoned with their sweet company logo (created by this amazing couple that we've also House Crashed – Charlotte is a small town, haha). Gotta love that they put a bird on it.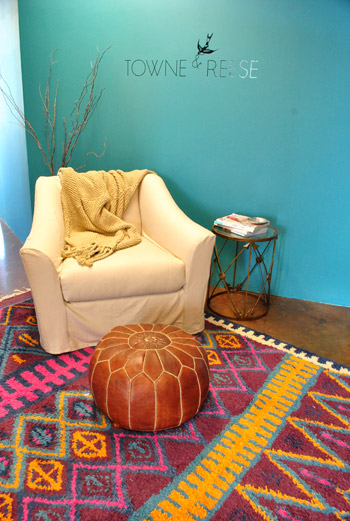 And see that lovely rug (scored on sale at Anthropologie)? That was the inspiration for the entire office makeover. For example Christi plucked the blue for the wall (Valspar's Tropical Oasis) right out of the rug (she also got another accent color from the rug that she used in another area, but more on that in a minute). Oh and the leather pouf and awesome side table are from a local shop called Post & Gray.
To the right of the logo wall with the rug-that-inspired-it-all is another teal wall (still Valspar's Tropical Oasis) covered with their jewelry.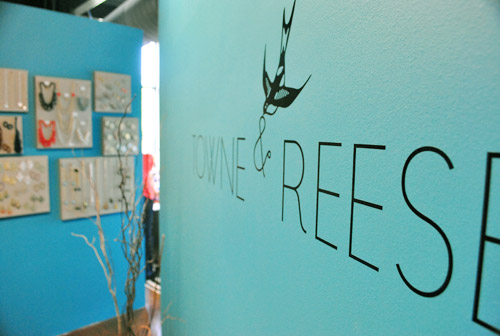 How creative and sweet are the linen canvases that Christi picked up in a variety of shapes and sizes which she uses to pin up all of their gorgeous bling? Sidenote: I know that the word bling was supposed to be dead once our parents started using it, but I just can't let it die.
Intermixed with the linen canvases is a giant secondhand mirror that Christi got at Post & Gray. It's huge and such a statement piece among all the jewelry. And it's even functional (if a buyer shows up and wants to toss on a necklace from the wall there's a spot to check out the goods).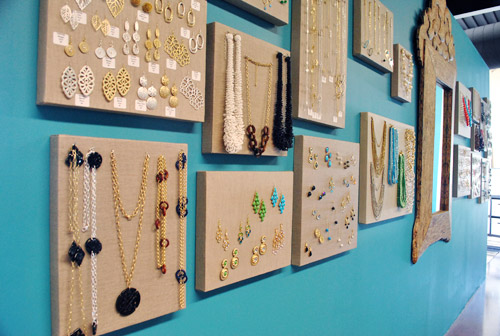 Christi got the linen canvases really inexpensively from Binders (there's a location in Charlotte, but they have a website too). Never wanting to pay more than she needs to Christi signed up to be a "preferred customer" (which is completely free) to score some pretty amazing canvas deals. She says that she's never found better canvas sales anywhere else.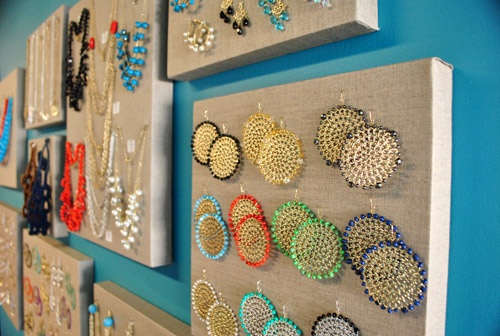 Here's a better shot of the insanely cool giant mirror. It was literally as tall as I am and I loved the cool grass-cloth-ish texture and ornate design at the top. Oh and from this POV you can see a sliver of the other color that Christi pulled from the rug for another punchy accent wall in a zone beyond the wall of canvases: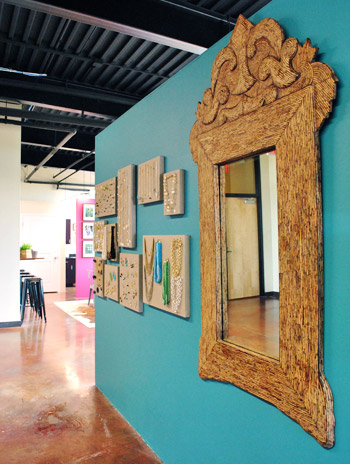 How much fun is that splash of raspberry on the wall beyond their charming old meeting/conference table? That paint color is Panama Rose by Olympic. The rugs both came from Ikea and the table was a secondhand score at a local shop called The Sleepy Poet.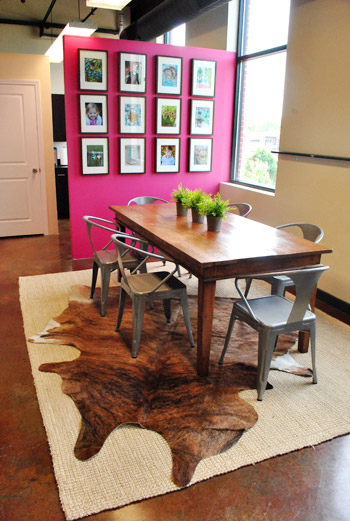 As for those great metal chairs, they were from Overstock. Four are just $193, which made them just 48 beans each (she has two extras in another area). Oh and the extremely convincing greenery on the table is Ikea too. I thought it was real. That was embarrassing.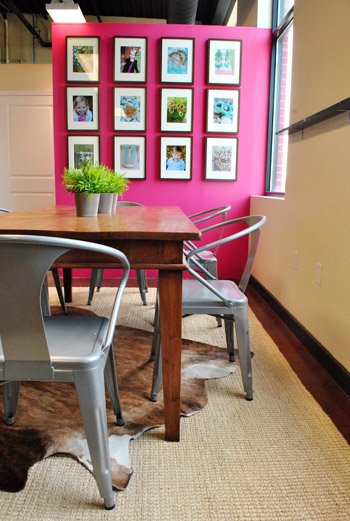 Here's the view if you walk up to the raspberry wall of frames and turn around to face the table. On the right there's a little shelf with some great black stools lined up (those are also from Overstock, scored for $45 a pop) and the richest darkest not-cloudy-est chalkboard paint we've seen. Ever.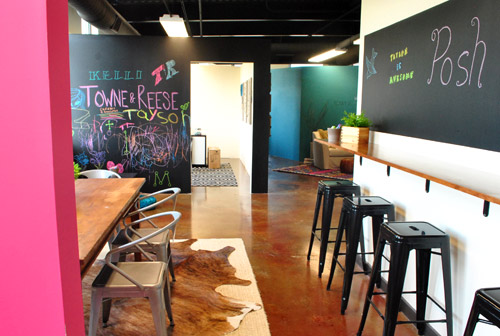 And that chalkboard paint is carried over to the other wall across from the raspberry frame wall as well. We had to know the exact type of paint that came out so deep and rich (sometimes it looks kind of cloudy and gray) so Christi hooked us up with the info: it's Valspar's Chalkboard Paint from Lowe's. Good to know.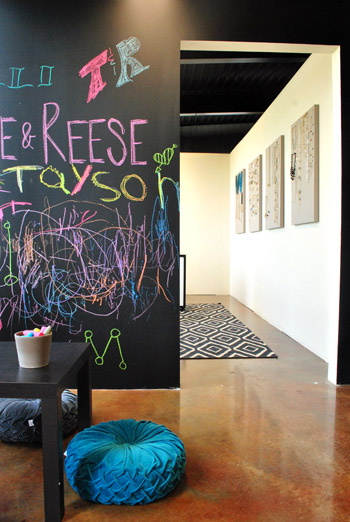 Guess who made those scribbles? Hint: remember the name of the company. Yup, that's Towne and Reese's handiwork along with a few of their buddies. Gotta love a kid-friendly office complete with a small Ikea table with sweet little colored poufs from Urban Outfitters.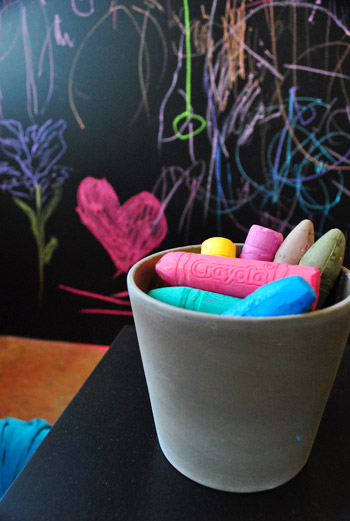 Is Christi not a total genius at mixing elegant stylish industrial pieces (those metal chairs and black stools) with secondhand finds (the conference table, the giant mirror), inexpensive finds (Ikea and Urban Outfitters items), bold colors (those pink and blue accent walls) and fun touches (the grid of kid and jewelry photos, the chalkboard wall, the linen canvases of jewelry, the kid station in the corner)? I was running around drooling and squealing. It was not a good look. Forgive me oh fashionable and composed jewelry designing women.
Here's one last peek into their gorgeous space (once again Christi brought in a little bit of old thanks to this secondhand buffet from Post & Gray). But look how great it looks with the sleek industrial metal seating and the raspberry wall peeking out from around the corner.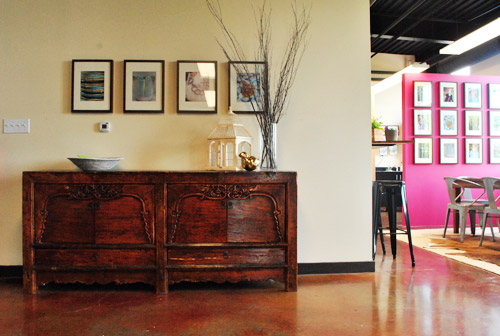 Oh and file this under so-charming-and-boutique-y-that-I-want-to-do-it-at-home: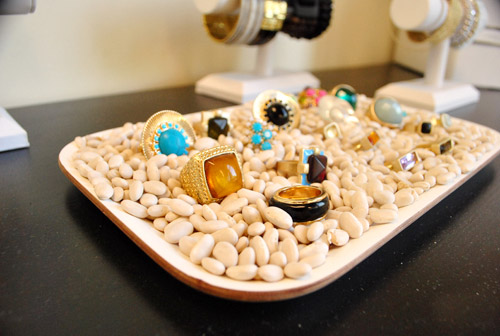 Yup those are just dry beans on a plate with rings happily bathing in them. Once again, I bow to Christi and her fun creative approach to decorating on a budget and making her space feel so happy and inviting. What a great place to work, eh? Snaps for Christi. And a big thank you to Jessica, the other 50% of Towne & Reese (yup, you guessed it, she's Reese's mom). She was just as sweet as Christi. And on top of letting me traipse around drooling and shouting unintelligible things like "Ohmygooooooooons!" and "Chalkblort paint!" they wanted to hook you guys up with a discount code for their entire line of jewelry. So feel free to drop by this online dealer of their lovely wares and enter YOUNGHOUSELOVE15 to score 15% off. Anyway, thanks for showing us a good time in an office building of all places, Christi and Jessica. Smooch those sweet jewelry-inspiring kiddos of yours for us.
So, who wants to play the what's your favorite part game? I'm having a hard time narrowing things down, but I think the linen canvases, the black stools, and that happy raspberry wall are awesome with a capital AWE.
Psst- Check out other awesome places that we've crashed here.
Psssst- We crashed an nursery-turned-big-girl-room over on BabyCenter today. Come on ovah (ovah is the new over).
&nbsp&nbsp&nbsp