Archive for June, 2011
Note: This is a retroactive post that I cobbled together in December of 2011 so I could make this page full of monthly recaps for the entire year (our first in our new house!). Yup, I'm just a bit type A. So here's what we tackled throughout the month of June – high school yearbook style.
Most Improved: Finally painting our kitchen paneling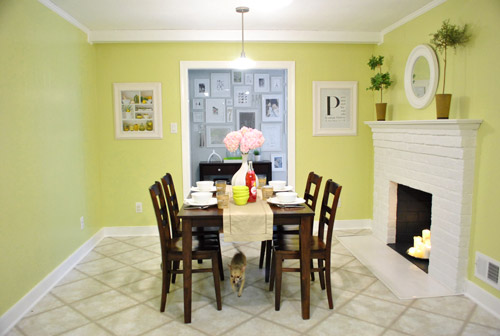 Most Annoying: Priming the paneling (which took more than a few tries)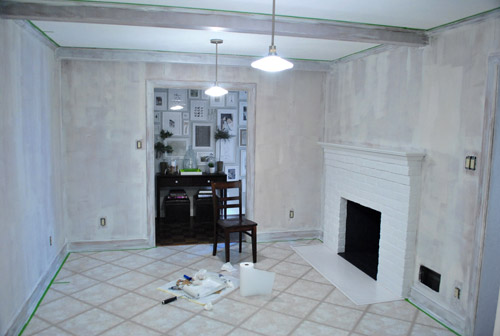 Most Destructive: Removing a few cabinets & patching the floor (to make way for our impending paneling makeover)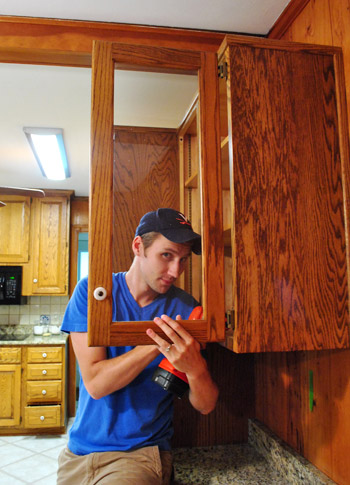 Most Goal Oriented: Announced a new initiative to clear the kitchen table of miscellaneous clutter every night before bed (we're still hit or miss on this).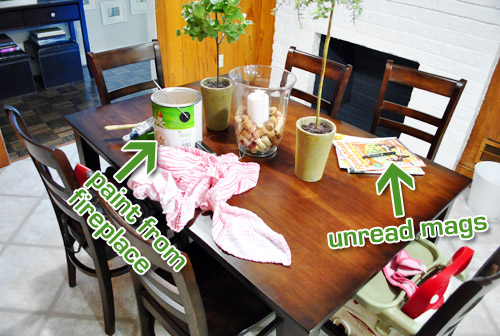 Most Snow White-esque: Planting some fast-growing evergreens while making friends with a frog & a duck (to add some much-needed privacy to the side of our house)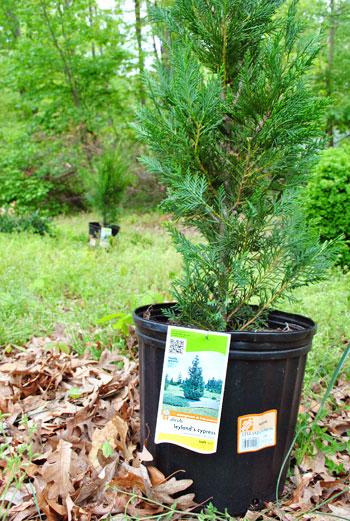 Most Gifted: Commissioning (that sounds so fancy) a sketch of our first house for our hallway frame wall as John's Father's Day gift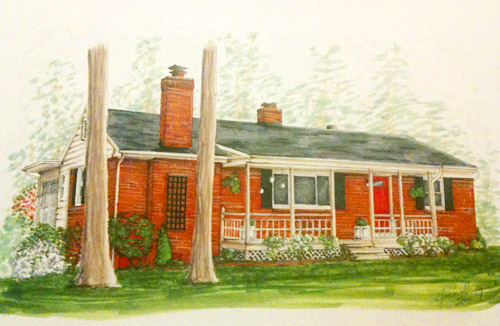 Most Organized: Relocating and organizing the junk drawer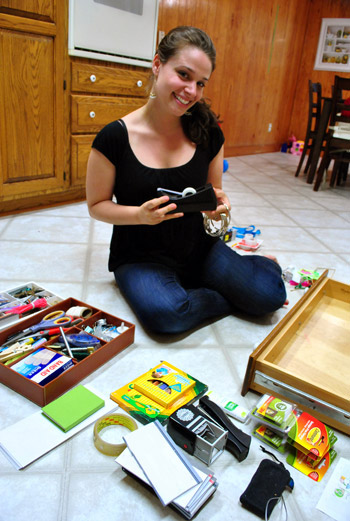 Most Likely To Get Dirt Under Our Nails: Weeding, landscape-fabric-ing, planting, mulching, & removing/relocating a few signs on our horrifically overgrown mailbox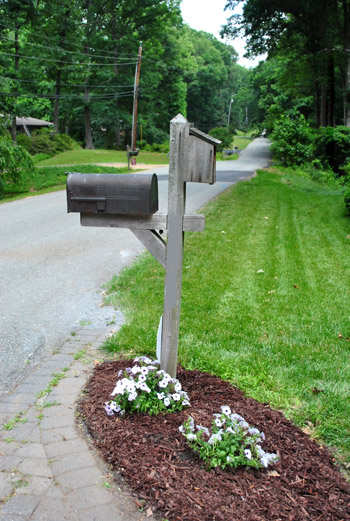 Most Edible: Making a little container garden for our farmer's market herbs (with a galvanized tin and a drill)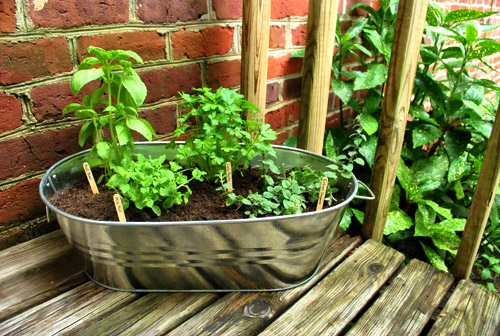 Most Desperate: Making eight curtain panels for our living room (by halving and hemming some no-longer-sold Ikea ones)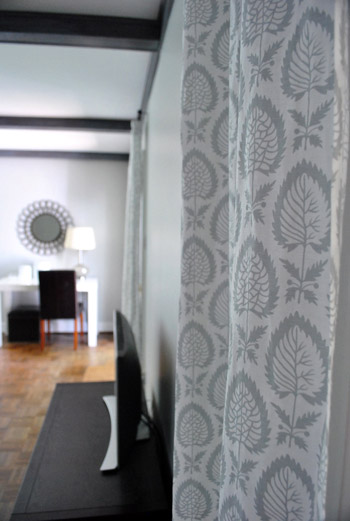 Biggest Heart Hearth: Painting our fireplace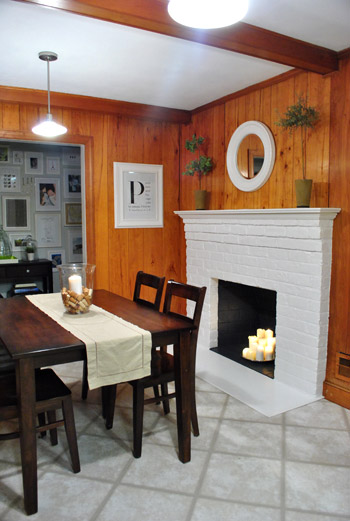 Class Hothead: Removing an old wood stove (that Clara was unsafely enamored with)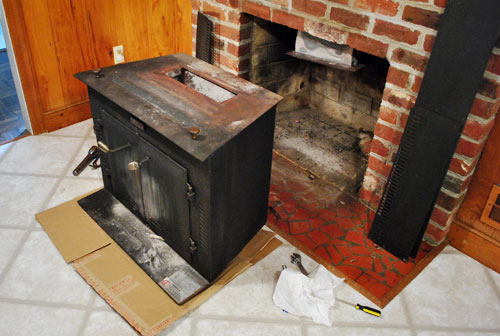 Most Circus-esque: Sharing a really (really) weird elephant-related dream
Most Incoherent: Going thrifting in Georgia with Katie B (and getting waaay too hyper, as usual)
Most Colorful: Sewing curtains from imperfect discount fabric for the dining room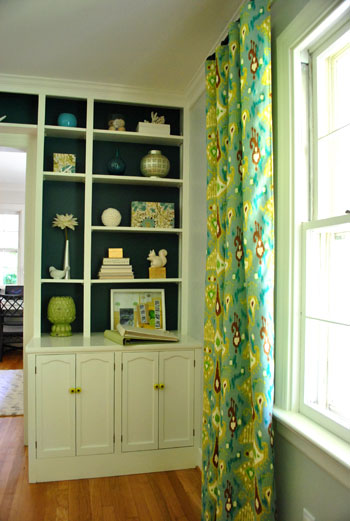 Class Nomad: Relocating a dresser and a mirror to the guest room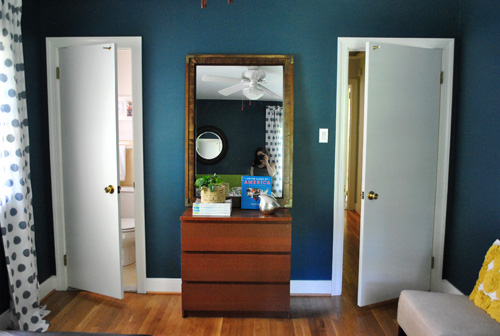 Most Superstitious: Making some "lucky seven" art (with painters tape and a scrap of wood)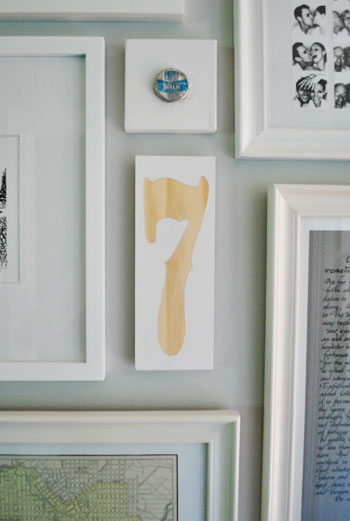 Most Likely To (Not) Succeed (At Least The First Attempt): Dyeing some inexpensive slipcovers (a few times) for our dining room chairs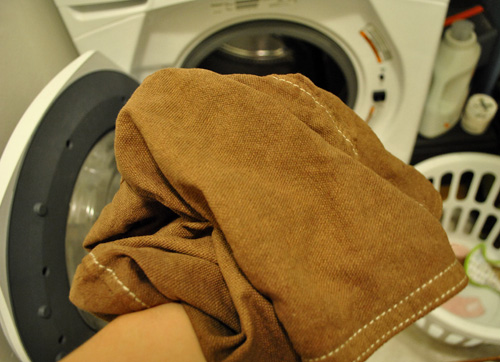 &nbsp&nbsp&nbsp
As our arms continue to recover from our recent kitchen priming and painting marathon (shared here this morning) we thought we'd take it down a notch or two with a post about sinks. That's right, it's like a slow jam following a spirited chicken dance or an energetic Macarena.
One thing's that been fascinating about owning our second home is comparing its features to our first home and noting pros and cons (especially as we think about what improvements we want to make). There are many things that we prefer over our previous digs – like the larger rooms, opens hallways, en suite master bath, etc. And of course some things that make us miss our old set-up, such as our former more open laundry area, enclosed garage, etc. But when it comes to some things, we're still unsure if they're upgrades or downgrades… like our kitchen sink.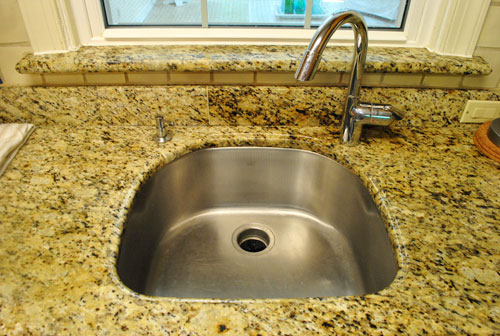 It's a deep single sink (call me Captain Obvious). I like it. No, wait, I love it. I think. Okay, no, it's probably just a like. Honestly I can't decide whether or not I prefer it over the double sink that we had in our last kitchen (seen below).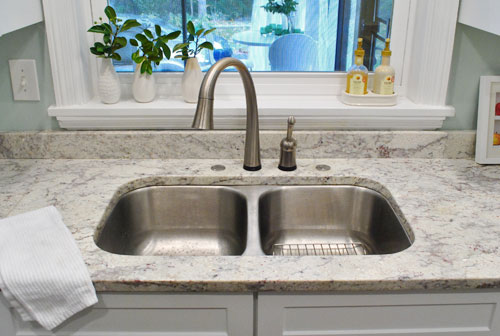 Why do I love the single sink? It fits everything. Okay, not literally – but at least I finally can get my pots and pans (including handles!) fully in the sink to clean them. Seems silly, but the double sink we chose for the last kitchen did get on my nerves sometimes. Pan handles would protrude over the countertop. Water would splash everywhere during half-submerged rinse sessions. Frustrated husbands would curse the act of doing dishes. So this new situation is a welcome relief (the pan shown is 22″ including handles).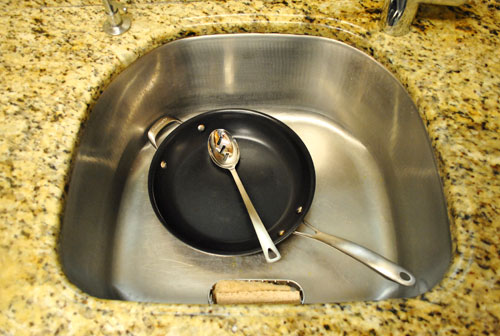 Some of the few of you who were reading way-back-then even questioned our double-sink decision. But despite my affection for the our single sink, I don't completely regret choosing a double. Here's why: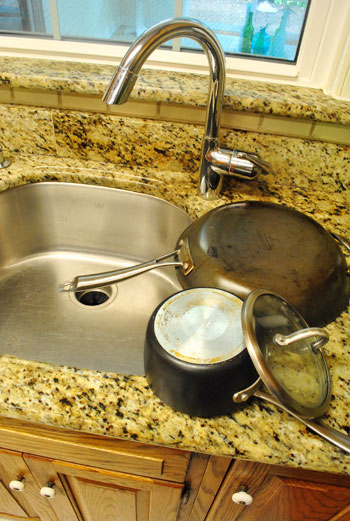 Now that I'm without a "Washing Side" and a "Drying Side" my pans end up on the counter post-wash. Yes, I realize it looks lame and messy (and that our pans are definitely past-their-prime). I know we could get a drying rack, but (no offense drying rack makers of the world) it's hard to find something that looks good enough to earn a permanent spot on the already-limited counter space (my crazy pot drying method above only means that the side of the sink is occupied for an hour or two after dinner as opposed to hosting a drying rack 24/7). This is where my parents would probably tell me just to buck up, dry them by hand, and put them away immediately. But yeah, that's not going to happen.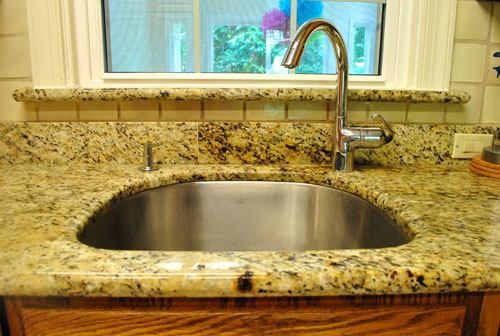 The other thing that makes us indecisive about this set up is the faucet placement. Usually we're fans of a centered faucet, but such a square shaped sink must have required it be nudged to one side (it doesn't look like it would have fit in the center). But in a surprise turn of sink-related events I've been enjoying the ability to fill up a pot while it rests on the counter (rather than having to hold it as it grows heavier with water in the sink). Life's small pleasures, ya know?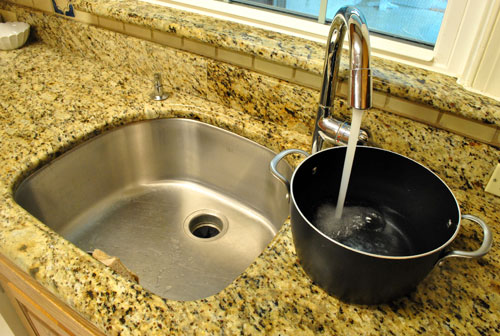 In the end, we're not planning to replace this sink and I'm still not sure which I prefer – though I think I now lean towards the single sink camp. What about you guys. Are you on the fence too? Or do you feel passionately about one set up over the other?
&nbsp&nbsp&nbsp