Paneling = oy. Update tomorrow. But while we're here…
Can you believe that Clara's b-day bash was the largest party (weighing in at 25 attendees) that we've thrown since our backyard wedding almost four years ago? How lame of us. And I know, it's been over a month – enough already about the party. But since a lot of our posts are actually just notes to self (how else would we remember what color we painted our old bedroom?) we figured we better record what we lizz-earned now (or forever hold our peace forget it all).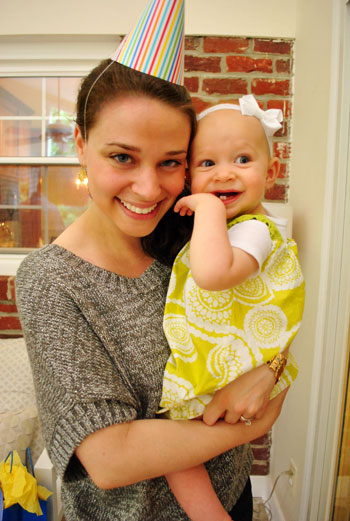 1. Keep the focus on a few carefully selected rooms (and don't put stuff for guests to peruse in other rooms or they won't stay where you want 'em). This seems obvious, right? We had such a hard time with it! At first we were going to keep all the fabric letter magnets on the fridge in the kitchen (for the kids) and have photos of Clara looping on John's laptop in the office (just in case anyone wandered in there). Finally it dawned on us that if we wanted our guests to hang out in the living room, sunroom, side patio, backyard, and carport… we shouldn't put stuff for kids or adults in any other space. Duh. Talk about sending mixed signals.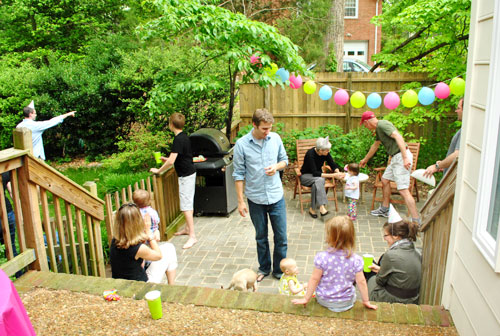 2. Simplify the menu whenever possible. At first we worried that serving only pizza, veggie sticks, chips & salsa, spice cookies, and cupcakes (along with lemonade, limeade, and a few soda choices) might be a little… um… boring. But everyone seemed to enjoy the fare (including a few vegetarians) and not having fifty bowls and platters to dispense and refill allowed us to pay attention to the friends and family surrounding us – and really enjoy our day with the bean.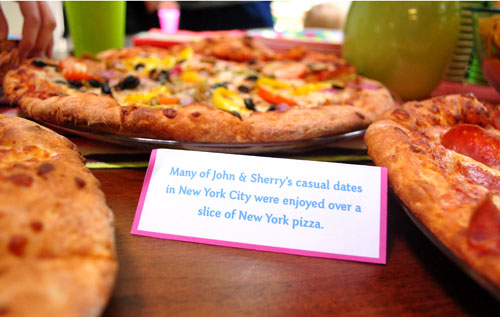 3. But don't underbuy those key items. At the end of the day we had eight remaining slices of pizza, a bowl of chips, about ten cookies, and around 15 cupcakes leftover (along with a few bottles of soda/lemonade). So we sent people home with stuff and enjoyed some delicious leftover pizza for the rest of the weekend. Sure beats worrying that things might run out and guests might go hungry.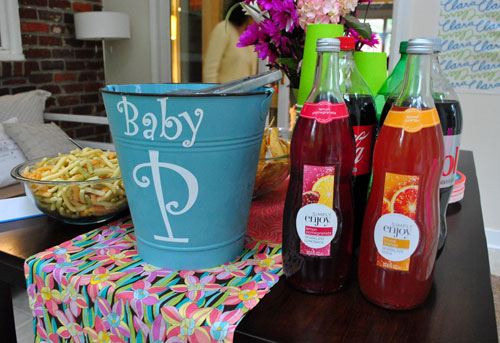 4. Have things for little ones to play with to keep 'em busy (and from trashing the place). We had a lot of giant balloons, a big rubber ball, a bubble blowing bug that scooted around outside (they loved chasing it), sidewalk chalk for the patio, some wooden puzzles and toys in a big basket in the living room, and small bubble containers for each kid with their names written on them (which also served as their party favors).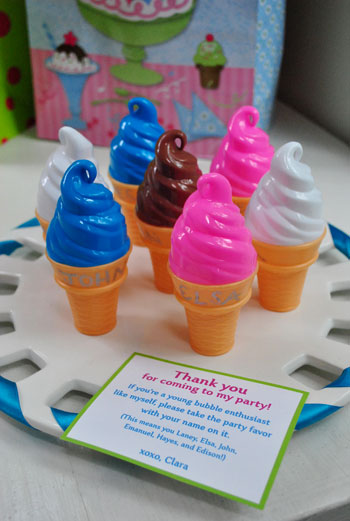 5. Rearranging furniture isn't as intense as it sounds. At first when we started tossing around the idea of moving the kitchen table into the sunroom to serve food in there it sounded kind of complicated. But the sunroom is a nice airy room right off of the new patio (as opposed to a dark paneled kitchen that we didn't envision as "the perfect backdrop" for Clara's big day). So the night before the party we decided to go for it. It took five minutes to drag the table in there and stash the chairs in the playroom since they looked weird in the table-less kitchen (we didn't need additional chairs thanks to the big sectional in the living room, the daybed in the sunroom, and all the patio chairs we had out). It was SO worth it. And now all of our b-day pictures don't have the dastardly paneling that's currently torturing us in the background. Priceless.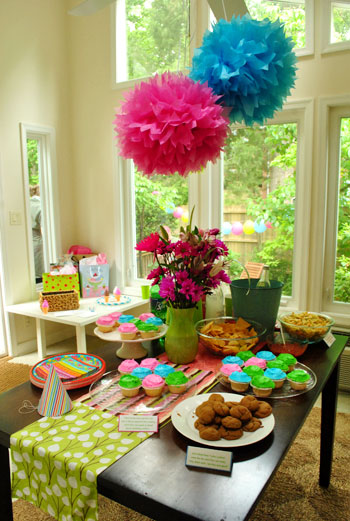 6. Have a few keep-the-party-going "activities" (but keep it loose). We didn't have a regimented schedule or anything, but the "flow" of the party went a little something like this:
everyone arrived and we snapped some photos of guests posing in front of Clara's fabric
we served pizza and other snacks in the sunroom
people started venturing outside to blow bubbles, bounce balls around, and eat/drink/chat
since everyone was outside already we decided it was piñata time
we brought Clara's highchair outside to watch her demolish her smash cake
cupcake time
we all watched Clara's video to cap off the par-tay
It was nice to have a few things planned like the homemade piñata and the video just to keep people from feeling "stagnant."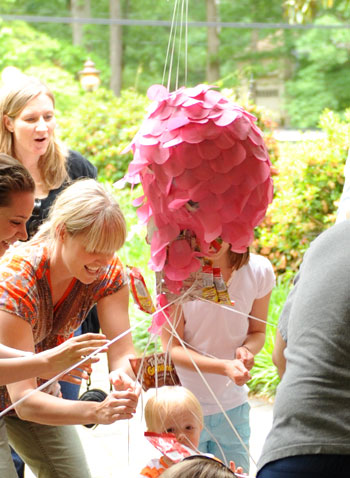 7. Remember the point of the par-tay. We wanted to make sure we weren't so busy running around that we forgot to honor Clara and revel in every is-she-really-one-already moment. So we asked our brother in law to snap photos (he's a pro photographer, which is remarkably handy and we're forever grateful). Beforehand I also recruited my mom to help make the food-to-cupcake switch when it was time for dessert so it wasn't something John or I would have to do all by our lonesome. Little beforehand arrangements like this made it possible for us to soak up every last cake-in-our-hair moment that made the day so special in the first place.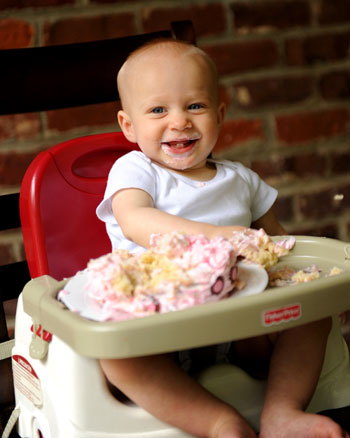 So whoop, there it is. Party hosting learnings from over a month ago. One thing we took away from the whole shebang was that we love hosting things at our house (so we have no idea why it took us four years to do it again). Sure home-hosted gatherings can be more work than a park or a restaurant but it feels so good to have everyone gathered around having fun in your stomping ground. And a house never feels so much like home as when it's full of people, balloons, and paper poms poms.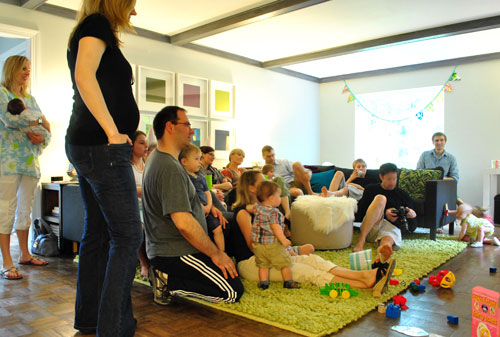 Do you guys have other party tips that you reference when you're tossing together an at-home bash? Have you made any epic party mistakes that were only funny a few years later (but were mortifying at the time?). Feel free to share your what-I-learned hosting tips (we still have a lot to learn).
Psst- Check out more of the party play-by-play in this original Clara b-day post of yore.