Archive for April, 2011
Note: This is a retroactive post that I cobbled together in December of 2011 so I could make this page full of monthly recaps for the entire year (our first in our new house!). Yup, I'm just a bit type A. So here's what we tackled throughout the month of April – high school yearbook style.
Most Outdoorsy: Digging Out The Liriope That Covered Nearly 80% Of The Future Patio Area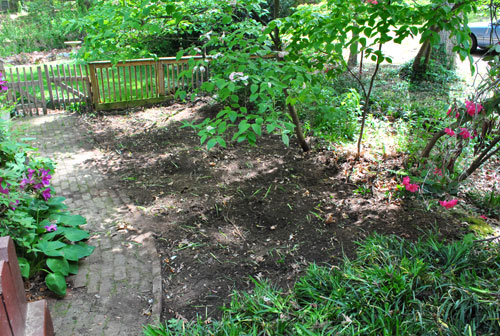 Most Domestic: Making Sue The Napkin into Sue The Pillow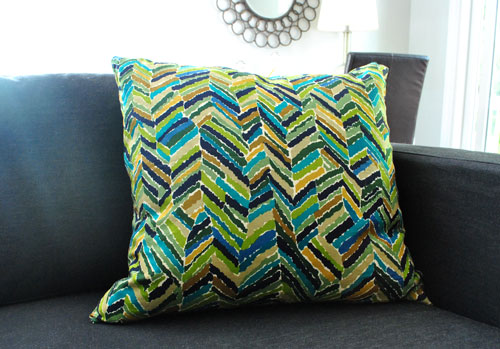 Biggest Crybaby: Sharing Clara's Terrifying Slash Miraculous Birth Story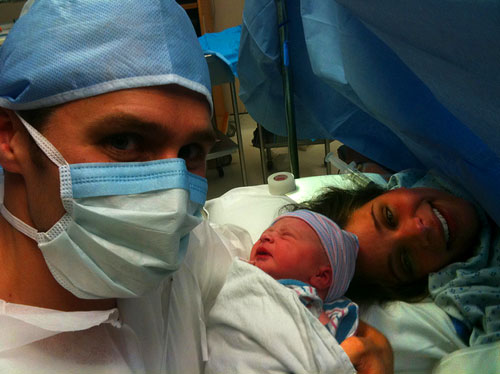 Most Likely To Result In Cursing: Having An Epic Battle With My Sewing Machine And Squeezing Out A Party Banner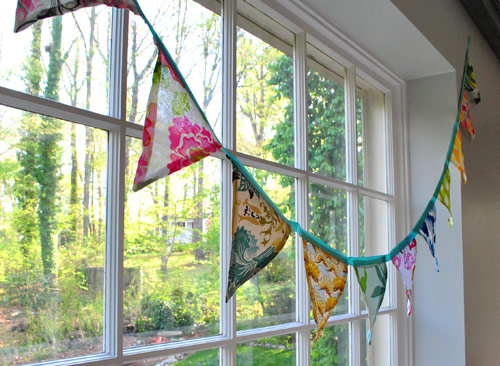 Hoppiest: DIYing An Easter Basket For Clara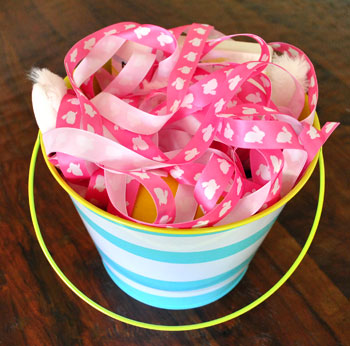 Most Illuminating: Finishing Off The Freshly Built Console Table With Some Lamps & Other Accessories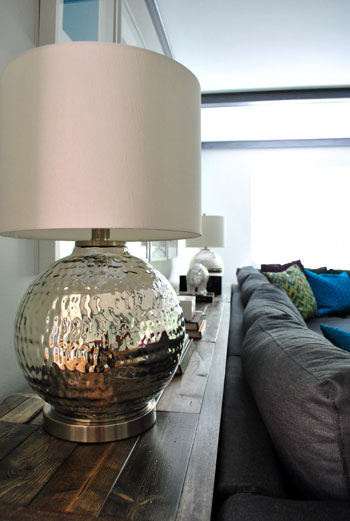 Most Eco: Getting A Rain Barrel On Earth Day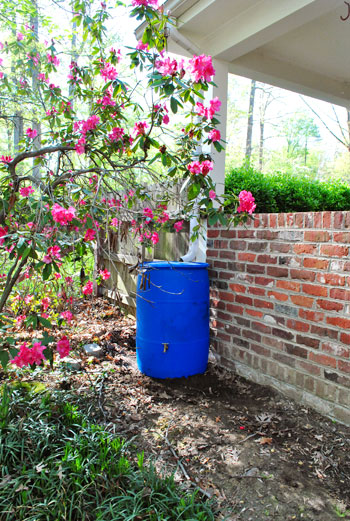 Most Mature: Making New Wood Look Old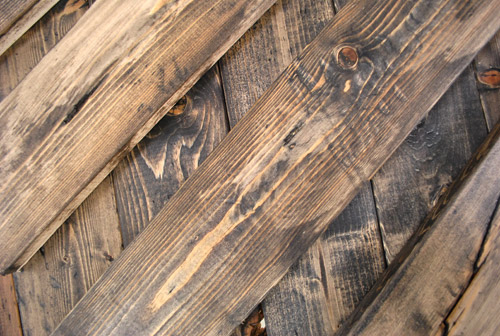 Most Likely To Result In Paint In Your Hair: Painting John's Sister's Apartment (along with making a photo wall for another relative and another DIY baby book)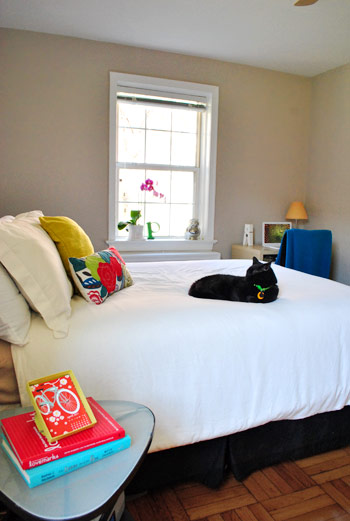 Biggest Relief: Finishing The Big Console Table Build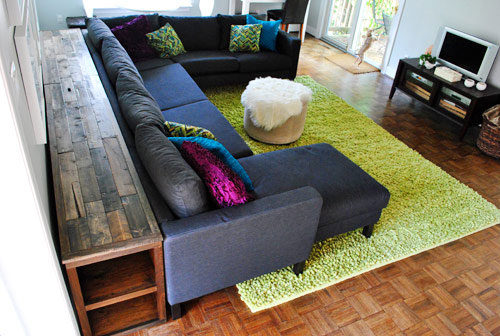 Best Editing: Removing One Of The Most Oddly Placed Lights In The History Of The World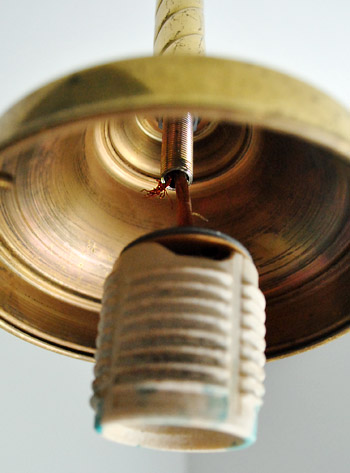 Most Festive: Making Party Invitations & Custom Clara Fabric (Thanks To John's Scanned Handwriting & The Magic Of Spoonflower)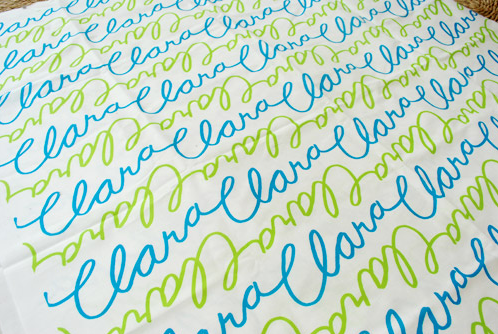 Most Well Hung: Finally Completing Our Hallway's Double Sided Frame Gallery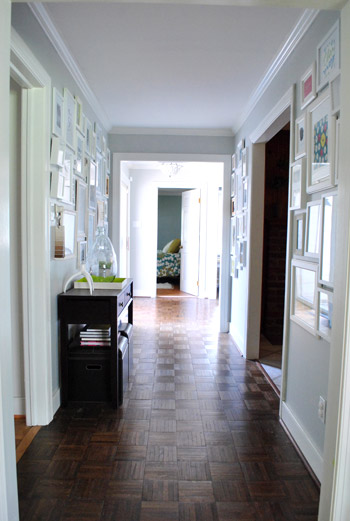 Most Type-A: Hanging Two Mirrors-Turned-Dry-Erase-Boards In The Office For Compulsive List-Making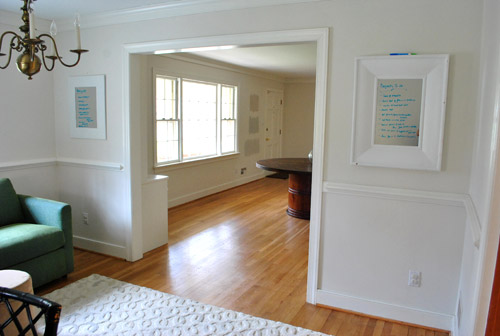 Least Type-A: Confessing My Goo-Related Secret (ok, and rectifying it with some good old fashioned elbow grease)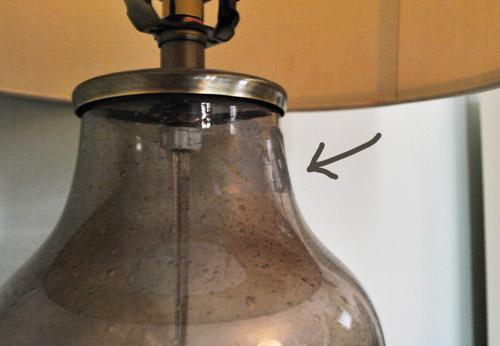 Most Likely To Take A Few Installments: Starting Our Console Table Project & Continuing Our Console Table Project & Further Continuing Our Console Table Project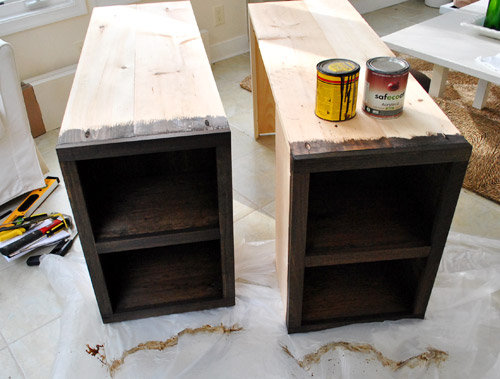 Biggest Metal Heads: Tweaking A Large Set Of Iron Keys (and hanging them with twine as art)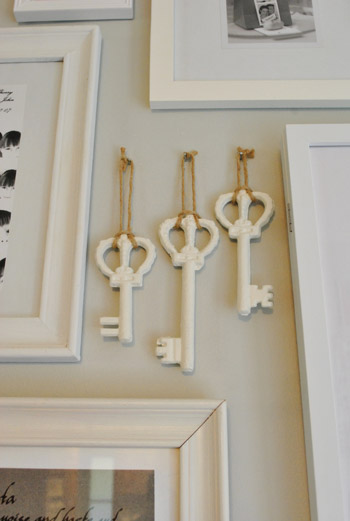 Most Rebellious: Painting A Chair (yeah… it didn't work)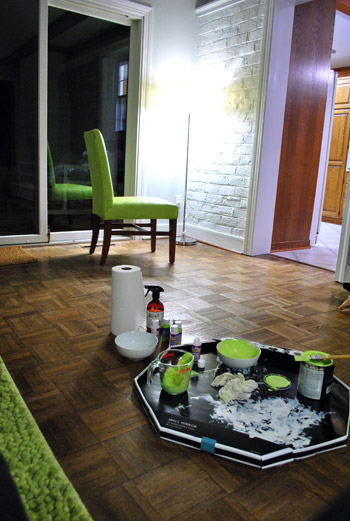 Biggest Procrastinator: Organizing Our Closet (it only took us four whole months)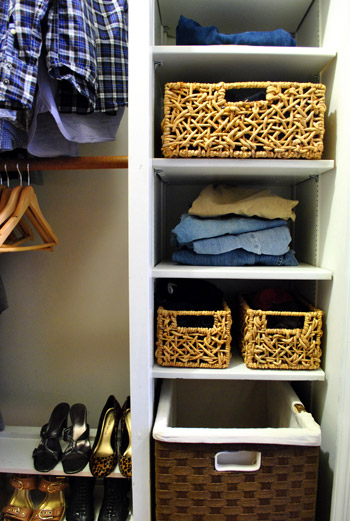 Biggest Slob: Sharing A Tour Of Our Not-So-Perfect (aka: Pretty Darn Messy) House
Least Successful: Attempting To Save My Brutally Injured Ceramic Dog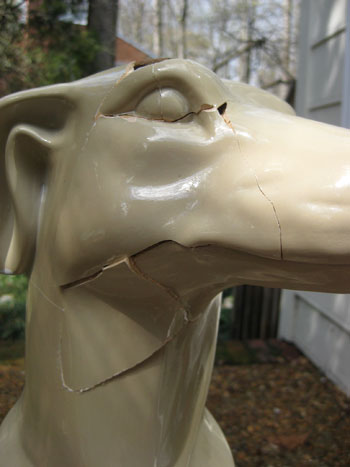 &nbsp&nbsp&nbsp
Note: For those reading this post during happy hour, feel free to turn it into a drinking game and take a sip every time you read the word liriope. Or maybe just a half-sip. Don't want things to get crazy.
Woot. We've officially started to attack the side patio (previously mentioned here and here) that we want to bang out in time for Clara's big b-day bash in two short weeks.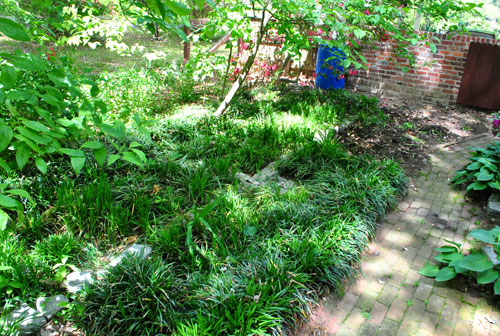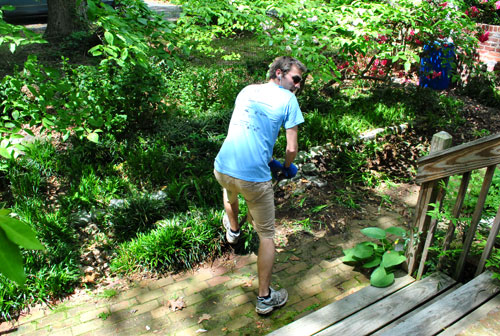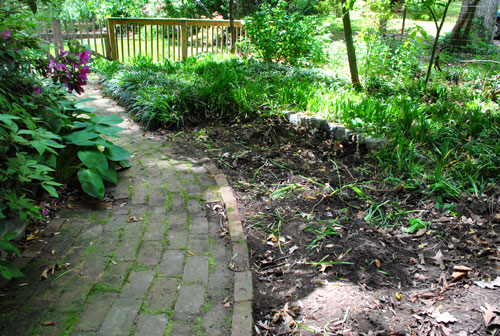 That's right, in the words of Cee Lo we said "forget you" (yes, we prudes sing the PG version) to the insane ten-ish rows of liriope. And John only had to dig about half of it up thanks to two friends of ours who came over to help / steal some for their own homes in the liriope digging party to end all parties (we were happy to repay them with all the free liriope they could grab). Everyone used the shove-the-shovel-under-each-clump-and-step-on-it-to-pop-it-out method, and it worked like a charm. I think with three people the whole thing took a total of around 2.5 to 3 hours. And I got to hang out inside with Clara, except when we were making various patio-digging appearances to boost morale and bring ice water to the crew.
After the dirt settled we were left with a nice bare area that will soon become about two-thirds of our patio (the brick path still needs to be removed before we can begin digging out and leveling the soil for the next phase of the project which involves tamping, gravel, and sand).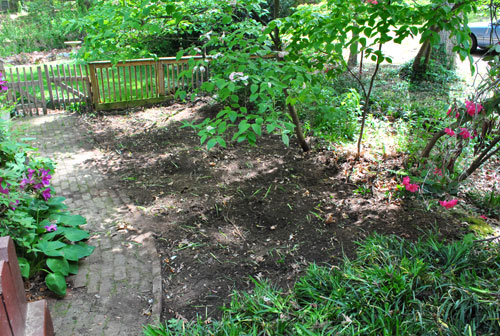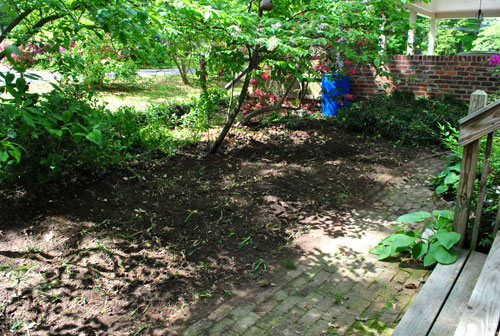 So although we have a lot ahead of us, we're just happy to finally be getting started after lots of talk. And there's something about looking at a newly bare area that enables you to envision things so much more easily (like, say, a patio) that you couldn't quite picture as well with all that dastardly liriope around.
We already shared this odd little photoshopped sketch to give you a vague idea of what we're envisioning…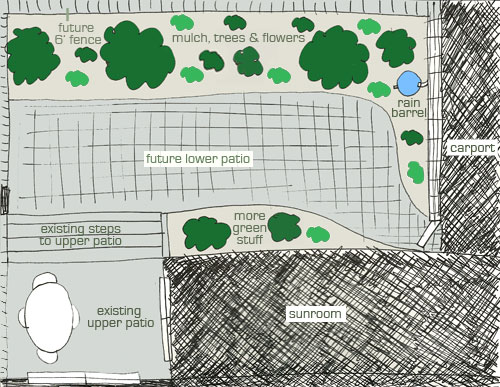 … and when it comes to the materials, we're planning to use cobblestone pavers very similar to the ones in our driveway…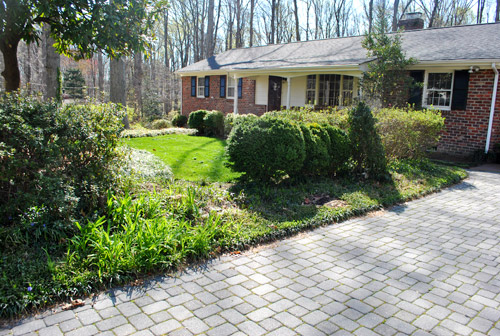 … but in order to get the best deal we priced some out at Home Depot, Lowe's, and a local place called Southside Building Supply. The local guys won out with the best price per square foot by around 40 cents (and happily had just a two day delivery turnaround), but we'll share more info, photos, and prices of the actual pavers once they arrive and we (hopefully) get 'em laid (that's what she said). And you know we like to overshare when it comes to the deets, so here's the boring stuff that we did first for anyone at home who'd like to play along with us patio-fy with us:
talked for way too long about possible dimensions and even used a garden hose to map out possible shapes
schlepped around to those paver places that we mentioned above to find the best deal (more on that when the pavers arrive)
called Miss Utility to confirm that there's nothing buried under that area that we could dig into and somehow ruin (Miss Utility might be the local name, but they're a public service group who contacts gas and water and electrical companies who then come out to mark things that are underground)
dug out that pesky liriope (but we still have to remove the brick path, dig out more dirt, level things, add gravel, add sand, etc)
made sure our bank account could support a pretty pricey project (well at least to us – the stone and other supplies like gravel, sand, & tools along with delivery costs may be around 1K, but considering we paid nearly 3K for our last patio, which was smaller, to be put in by the pros just weeks before our backyard wedding, we're psyched to hopefully save a lot by doing it ourselves this time)
Thankfully we got confirmation that there's nothing lurking under that side of the house from Miss Utility and we think we've even finalized a plan when it comes to cobblestone paver type as well as patio shape. More info/pics/sweating/rambling as we go. In the meantime, have any of you guys laid your own patios complete with digging, leveling, tamping, and lots of gravel and sand? We're obnoxiously excited about it. Seriously, we need to get a life.
Psst- We announced this week's contest winners, so click here to see if you're one of them.
Psssst- Liriope, liriope, liriope. Just kidding.

&nbsp&nbsp&nbsp