***This giveaway is no longer accepting entries – look below to see who won!***
First, a reminder that you can always get 15% off your WallQuotes.com order with code YHL15. But the three people who are getting $100 credit to go along with that (thanks to random.org) are… Kaycie Christine (whose walls would talk about episodes of shows like American Idol and Real Housewives of Beverly Hills), Michelle (whose walls would say "these people are nuts!") and Bette (whose walls would complain "too many photos already!!"). Congrats ladies!
WallQuotes.com is hopping on the giveaway train this week and hooking up a trio of winners with $100 worth of vinyl wall quote-y goodness. They're removable and damage-free, so there's nothing to fear (even if you rent). There are lots of design to love, from something cheeky for the laundry room to something romantic for your master suite – and even something playful for a kids room (you can design something custom if you'd like as well). Plus they've got a bunch of graphic and ornate decals if text ain't your thang, chicken wang (sorry, had to finish what I started there).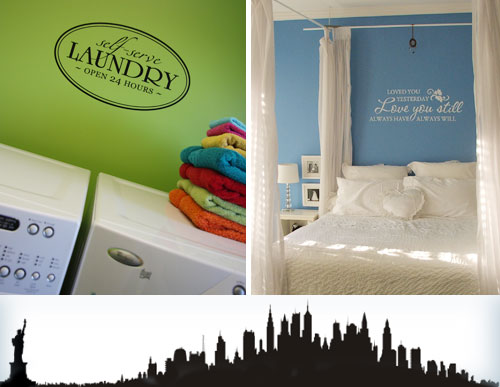 PRIZE: A $100 credit towards WallQuotes.com
TO ENTER: Comment on this post with the words "QUOTE ME!" and…
BONUS QUESTION: … if your walls could talk, what would they say about you and your household? Would they divulge how secretly boring / existing / hectic your daily life really is? Would they have hilarious stories about you dancing and singing while you clean? Or would they whisper that you strut around in your birthday suit all the time?
GIVEAWAY CLOSES: Wednesday, April 27th at 8pm EST
NUMBER OF WINNERS: Three
PRIZE SHIPS: Anywhere in the world!
USUAL STUFF: One entry per e-mail address is permitted. The winners will be selected using random.org and announced on Thursday as an update to this post. That's right, come right back here on Thursday morning for the announcement of our winners. Good luck…
Note: We weren't paid or perk'd for hosting this giveaway, we just like rewarding our lovely readers! See our Giveaway FAQs page for more info. Pics from WallQuotes.com.