Archive for February, 2009
Once again, thanks to the many, many, many of you who entered this week's giveaway from Shades of Light. Sherry and I were especially entertained by reading all of the things that light you up, whether you were talking sweets, sweethearts or some other sweet surprise (like Colleen's UPS man). And speaking of surprises, we've got nice one for everyone right now…
Shades of Light is giving all Young House Love readers a special discount: 10% off of any purchase now through next Thursday, March 5th*. Just enter code 09YHL at checkout to get the discount. And since they have a national presence, you can shop Shades of Light online and by catalog, so you don't need to be a local to snag lighting, furniture or accessories from their diverse collection. That should help light you guys up a little bit more.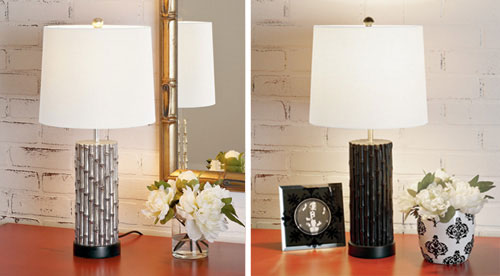 But there's only one person who was randomly selected to get the 100% off discount for one of these great bamboo lamps shown above. And that lucky lamp winner is… Kalee! Looks like she'll have a nice treat waiting for her at her parents' house once she moves back stateside and begins house hunting. Congrats Kalee!
And as usual, don't fret if your number didn't come up this time. We've got another "illuminating" freebie headed your way next week.
*No other discounts apply. Cannot be combined with any other discounts. Offer does not apply to retail locations. Offer good through Thursday March 5, 2009 at 11:59pm EST. All images courtesy of Shades of Light.
&nbsp&nbsp&nbsp
When Katie & Deb from down under contacted us for decorating help we couldn't help but be excited. While most of our clients live here in the US (along with the occasion Canadian consult) we actually offer to help anyone across the globe, as long as they can provide some links from their area that we can "shop" to make their mood board. There's not much of a difference between 70 miles and 7000 when you're dishing out virtual decorating advice, right? Here's their letter:
We're so excited to be getting your advice!! Deb and I moved into a brand new townhouse but it lacks personality & warmth. We're struggling to arrange the furniture in the living area and make best use of the space while infusing it with some style. We like clean & modern but relaxed– nothing too slick/fancy. When it comes to accent colours our favourites are blue & green- along with natural tones like brown, white, straw. Pottery Barn is our favourite store but we don't have it in Australia so we like Freedom, Oz Design Furniture and IKEA. We'd like a new sofa/chairs that are more informal and can seat more people. The piano stays along with the TV stand and the white walls. We'd like new lamps, curtains (those blinds have to go!), and a rug. The bookshelves are going upstairs so please ignore these. Really looking forward to your advice!! -Katie and Deb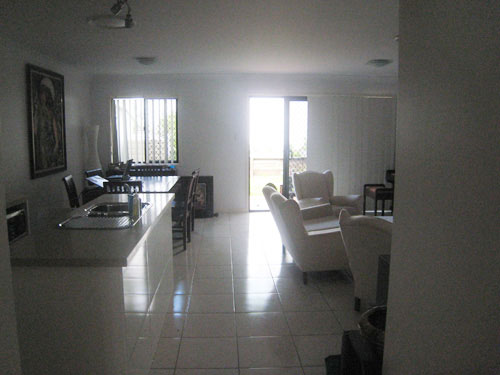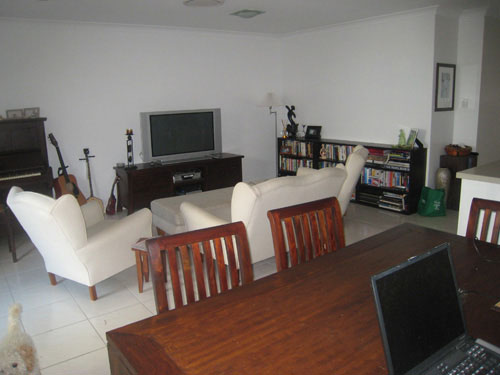 This bright open space is primed for a transformation. Here's the mood board we whipped up for a casual, warm, and relaxing space where Katie and Deb can feel right at home:
And now for the mood board breakdown.

Read the rest of this entry »
&nbsp&nbsp&nbsp