We recently got a few emails from readers requesting some fun things to do/buy for Valentine's Day. The web is already teeming with ideas (we forgot that people start talking about V-day before New Years!) but we finally caught up with the times and had a moment to put a little something together based on a few of our favorite ways to celebrate the occasion. Happy smooch day!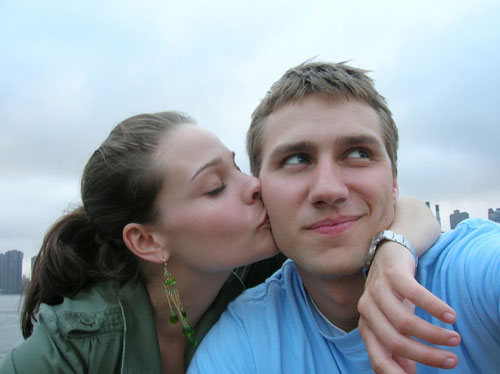 Get a cute heart shaped pancake mold (we've seen 'em everywhere from Target and Kroger to William's Sonoma and Sur La Table) and get up early to surprise your man with some heart shaped raspberry or strawberry pancakes with whipped cream for breakfast.
Go to the dollar store together and split up and spend ten dollars each on supplies to create hand made Valentine's Day cards for each other in secret. Then reveal your masterpiece to each other and laugh at all the weird things you glued/tied/painted/etc. Didn't Nick & Jessica do this on one episode of The Newlyweds? Either way, it's a fun way to spend an afternoon.
Surprise your man at work for a lunch date (since V-day falls on a Saturday this year, sneak up on him and do it Friday to kick off the V-day celebration early). If it's warm enough you can eat in a local park (maybe pack some goat cheese, crackers, strawberries and Orangina) and if it's too cold you can drive him somewhere scenic and dine in the car together. It can actually be quite romantic when there's not greasy fast food in your lap and the smell of fried potatoes in the air.
Start a new tradition together. From finally putting a year's worth of photos into an album together (and taking a fun walk down memory lane) or learning a new recipe and baking cookies together to sketching funny caricatures of each other while sipping red wine- it's cute to brainstorm something you can do look forward to doing together every V-day. Heck you can even vow to take an annual trip to the zoo and pose for a picture with the same amorous monkeys each year. Or a faux-bear… take your pick.
Stage a scavenger hunt around the house with clues that lead to other clues that lead to other clues that finally lead to a little something you know he'll love (a new pair of running shoes, a CD you know he'll enjoy, concert tickets).
Splurge on something in the bedroom that you'll both enjoy like a plush new featherbed, down pillows, high thread count sheets or even a thinner duvet for summer if he's always complaining he's too hot with the all-season one you have. It might not be something your man would buy for himself, but guys love to be comfy cozy so it's something he'll endlessly appreciate in the long run.
Make your man's life easier somehow. This might be the gift that actually takes the most thought so it's sure to be appreciated. If you notice that he has a million belts that are always all over the place get him a belt hanger from The Container Store and hang them all up to get him started (and show him how much it beats digging around on the floor for 'em). If you notice that he loves to go running and laments when it's too cold, get him Under Armour and some thin running gloves. Just pay attention to how you can make his life a little better and he'll love that you took the time to notice.
Enjoy a romantic dinner "picnic" laid out on a blanket in the living room with champagne, candles and all the foods that he loves. Is he crazy for Ring Dings? Get a whole box. Serve 'em on a silver platter with a red rose. How about pancakes for dinner or Oreos and Twizzlers. Whatever he loves, it's on the menu.
Learn something new side by side. Sign up for cooking classes at Sur La Table, or pottery classes at a local college. Heck, you can even surprise your man with a day of snowboarding lessons at a nearby ski slope. Guys love doing. This is pretty much guaranteed to keep his interest more than the latest Meg Ryan flick.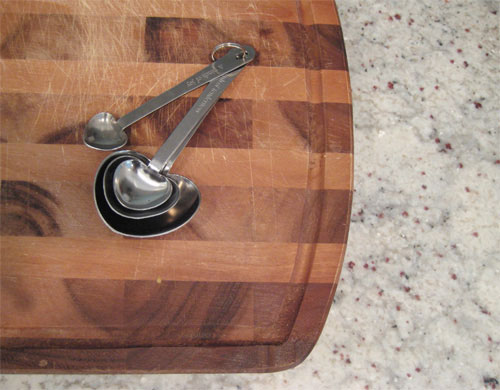 And whatever you do, make sure your loved one knows that they're appreciated 365 days a year, not just on a Hallmark holiday like V-day!
For more great V-day ideas, check out some cute suggestions here and here from thenest.com