I just received these updated pictures of Janis' living room and I almost fell out of my chair. Talk about a major transformation. As a reminder, here's the before picture that she submitted along with her design dilemma: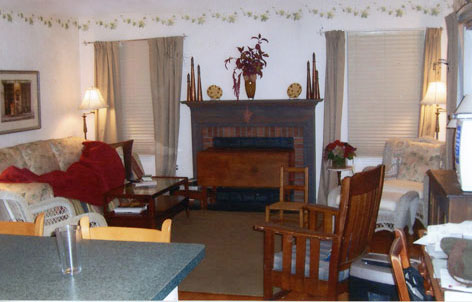 Here are a few snapshots of her updated space after she put our mood board makeover into action: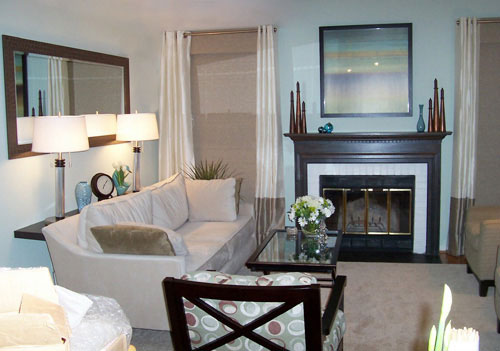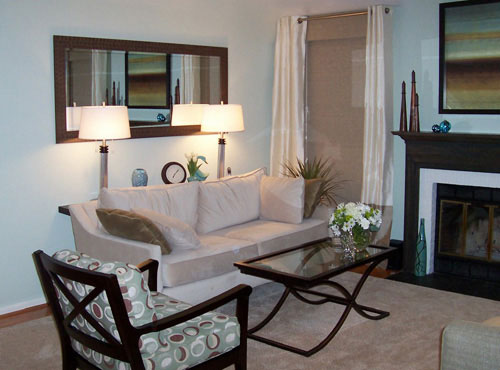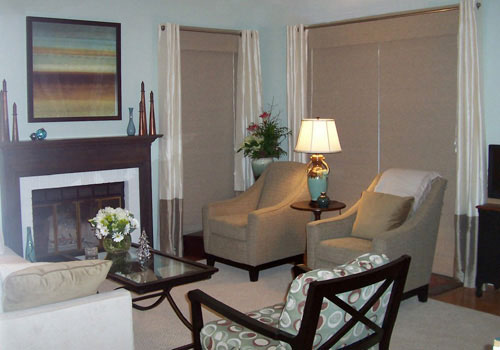 And here's her letter:
So here it is – the new look! I am still tweaking the accessories, but we got a ton of compliments over the holidays and even my kids approved! You told me that getting rid of that stencil would give height to the room, well there were 2 or 3 people who came by who have been in my house many many times and they asked if we had raised the roof! We are astounded at the difference and we love spending time in the room now. Thanks so much for your guidance. We really love the new look! I redid the dining room at the same time and am now moving on to the bathroom, which is the last of the dated rooms on the first floor. Thanks for getting the projects off to a great start! – Janis
Gotta love that fresh pop of color on the walls, that leggy glass coffee table, those two-toned silk curtains and every other aspect of the room that took it from dated to pretty darn fabulous. And we especially love that Janis achieved a totally new fireplace look with a coat of white paint on the bricks and some dark stain on the mantel. She eventually plans to incorporate the travertine tile that we suggested but painting the bricks was a quick fix for the time being- and it looks amazing. Hooray for white paint. And hooray for Janis and her gorgeous new living room. We're so glad that she's pleased with the result and we couldn't be more excited to share the afters with you guys! What do you think?
And if you're in need of some decorating advice of your very own, click here for a mood board makeover. You can also click here to see all the other rooms we've helped transform with custom mood boards and even in the flesh. Oh and if anyone out there is withholding their after pictures, please please please send them our way!
Update: We sadly can no longer find the time to take on client commissioned mood boards (we now whip up general inspiration boards instead) but if we ever reinstate them we'll make a big announcement!