Archive for September, 2008
Well, technically, a doggie birthday.  Yep, Hamburger "Burger" Petersik is celebrating his second birthday today.  So we've been treating the old man to a fun day, including a trip to Three Dog Bakery for a birthday treat and a new harness (it's easier on his tiny neck than the collar we've been using).  Here's the birthday boy having his cake and eating it too.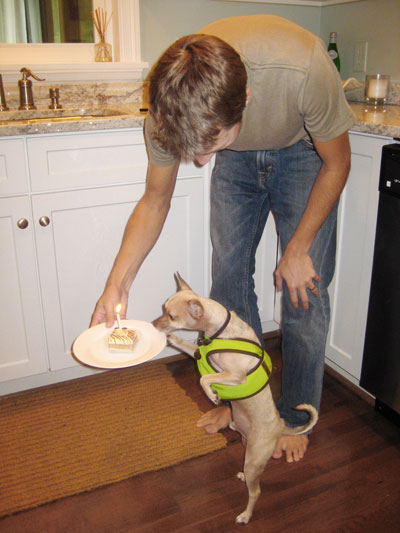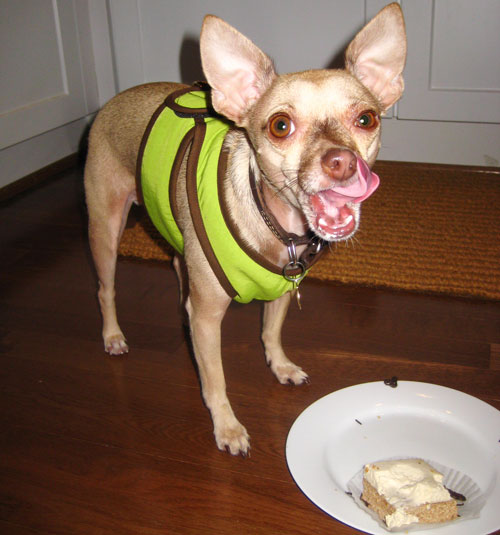 Seems like only yesterday we brought home a teeny two-pound, two-month old puppy who had no clue he just signed up for two years of renovation (and internet exploitation).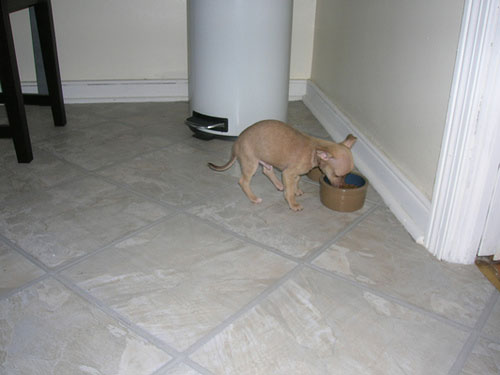 And speaking of renovation, check out our former kitchen floor above. This was the new vinyl tile we laid over the tacky linoleum that came with the house.  Which reminds us that we owe you a vinyl floor laying tutorial.  But that'll have to wait 'til another day when we're not busy spoiling our pup.  Stay tuned…
&nbsp&nbsp&nbsp
As soon as we laid eyes on Kim's adorable adobe kitchen, we knew we could reinvent the space with a few perfect paint color pairings. Here's her letter:
We live in an adobe house in Santa Fe and need some color help in our kitchen. We can paint the walls of the kitchen as well as the crazy blue kitchen cabinets (which look like they were done in a hurry). I'd love for the new color palette to work with the existing floor, backsplash tile, and the counter. I LOVE taupe, chocolate, lime, and turquoise but would like to stay away from orange, red, purple, pink, gray, and white in the kitchen. We love earthy colors since we live in an adobe but we have a pop of color in every room. Thanks so much for your help! – Kim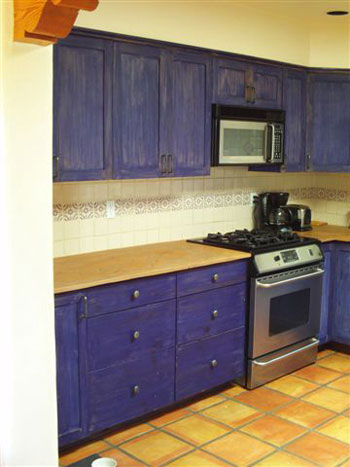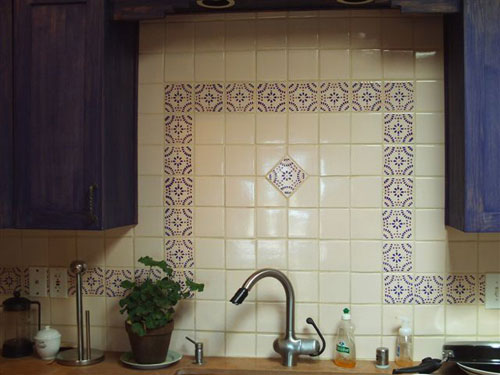 We're seriously loving Kim's warm tile floors, stainless appliances, and that sweet patterned backsplash. So we put our heads together to find a few fabulous wall colors & cabinet hues to flaunt all of her adobe kitchen's fantastic features: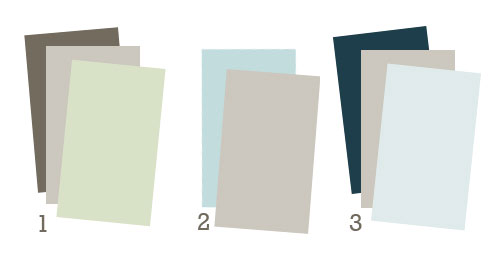 Here's the color scheme breakdown.

Read the rest of this entry »
&nbsp&nbsp&nbsp