This post was actually requested by one of our lovely readers who was experiencing a harrowing dog crate decorating debacle (she couldn't make it blend at all with her home's decor). So when she asked for a few great crate solutions, we put our heads together to come up with a pretty swanky DIY idea and then trolled the internet for a few crates that are already fit to be seen.
But first we thought we'd share our very own creative crate solution, which seems to work perfectly for us thanks the fact that we have an empty guest room closet and a delightfully petite pooch. Of course the door is always open when Hamburger's hanging out in his crate (it only gets closed when we have company and Burger's running around entertaining everyone):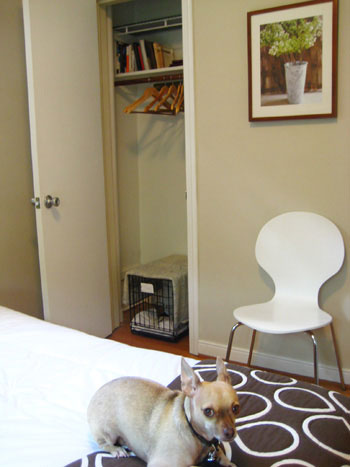 But for everyone with a bigger crate (or nary a closet to spare) we think a skirted dog crate/side table would be a nice little DIY solution. We've seen a lot of ready-made fabric slipcovers that can fit around a crate (like this one) but we also think it's definitely a DIY project that some of you crafty readers could take on for yourselves. So why not try skirting your pup's crate in a fabric that coordinates with your bedroom, living room, or wherever you keep your crate?
Of course you can always employ a tailor if you're not exactly Martha, and we love the idea of adding a coordinating pillow to the inside of the crate as well. We even thought it would look oh so chic to rest a stained or painted piece of plywood cut to fit the top of the crate to create a "table top" to display everything from a lamp to a few decorative objects beside your bed or your living room couch. And of course the fabric can feature a subtle doggy-door-esque fabric flap for easy Fido entry, or can even be left open like the crate above (but angled so that the opening is a lot less obvious).
For every DIY fan out there, there's someone who just wants to cut right to the chase and snag a dog crate that's already ready for its close up. And for those people (which admittedly, is sometimes us) we dug up an exciting array of swoonworthy crates. Now they're not what we'd call inexpensive, but not completely unreasonable when you stop and think about how much an ugly old regular dog crate costs (which isn't what we'd call inexpensive either). And when you realize that it's a piece of furniture you'll probably have in your house for a decade or two, it suddenly seems like a good investment. Or at least a better deal than trying to decorate around a big plastic and metal crate for the next twenty years.
We hope our dogalicious crate-fest inspires a few pooch palace upgrades. And of course we'd love to see any and all before and after pics (preferably with your precious pooch posing in his or her new digs).