When Erin emailed us to share her insanely cool DIY art project (all the way from Spain!), we couldn't wait to pass it along. It's so creative it not only made us excited, it actually made us hungry. Here's her letter:
I just discovered your site today from a link at AT. It immediately became one of my permanent favorites! I've been inspired by the thrifty makeovers you've featured and wanted to share one of my own. My hubby & I live in an apartment in Spain. We're only here temporarily and our apartment is owned by the organization that we work for so we're not even allowed to paint the mint green walls. Last week after finally becoming weary of blank walls, I succumbed to the crafty bug and created some "artwork" for our bedroom. My mom brought me some Mod Podge when she came to visit, so I did my first decoupage project using laser prints of something I threw together in Photoshop and a large pizza box. I'd been saving the (clean!) pizza box for several months under the conviction that I could use it for something creative. The Browning poem I used is one that we had on our wedding invitations, so it means a lot to us personally. I'm pretty proud of how it turned out and wanted to share! Thanks for all the inspiration! – Erin
Here's Erin's arsenal of unexpected supplies: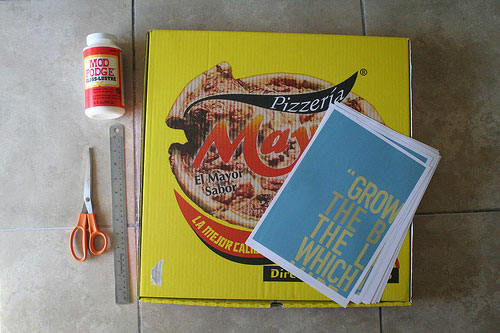 And the finished product: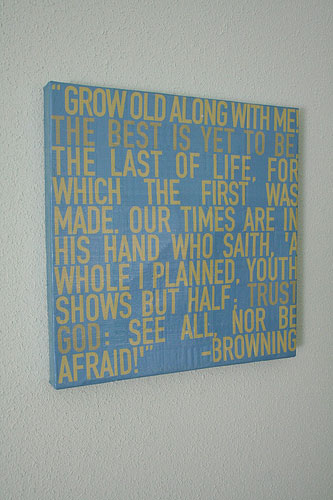 Gotta love wall art that's personalized and pizza-inspried. Mmmm.