You all may remember how much we hate painting ceilings. So you can imagine my disappointment when "Repaint The Living Room Ceiling" recently popped up on our to-do list. Woe is me.
But, I can't deny that a fresh coat of white paint does wonders for a ceiling, especially when it has issues like ours did. When we moved in there were some less-than-perfect ceiling problems. One of which occurred when we revealed a long unpainted stripe by removing a big ugly divider by the door. Back then, in our naiveté, we quickly slapped up some semi-gloss trim paint and called it a day.
Well… semi-gloss paint doesn't exactly blend seamlessy with flat paint, because- duh- it's glossy.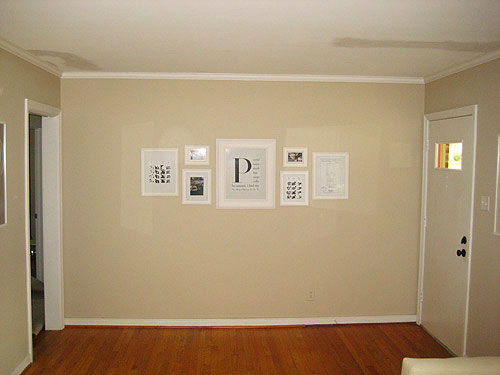 So after ignoring the shiny spots for two whole years, we finally worked up the energy to move all the furniture out of the room and fix the problem. This meant repainting the entire ceiling (with flat paint!) to avoid a patchy outcome (we've been advised by a painter friend that patching up a paint job doesn't work well on ceilings, especially white ceilings, so painting the whole plane was the only way to ensure a smooth and even look). It wasn't the quickest home improvement project in the world, but it ensured that "Repaint The Living Room Ceiling AGAIN" wouldn't be on our to-do list any time soon.