Or it could be off. I don't really know anymore, to be honest. Now that we've installed a new programmable thermostat I don't really have to think about our heating and cooling anymore. Plus, it's another step towards turning our house a few shades greener (and making our wallets a tad thicker).
Here's the deal. The average household can save $180 a year by installing a programmable thermostat. You know, the one that automatically regulates the temperature in your home based on the time of day (i.e. turns off while you're at work or asleep, and cranks things up before you wake up or return home). That means you cut down on unnecessarily heating or cooling when you're not around (or awake) to enjoy it. Less energy = less money = happier people + a happier planet. It's win/win people.
And for us, it was the perfect excuse to replace this old clunker that came with the house: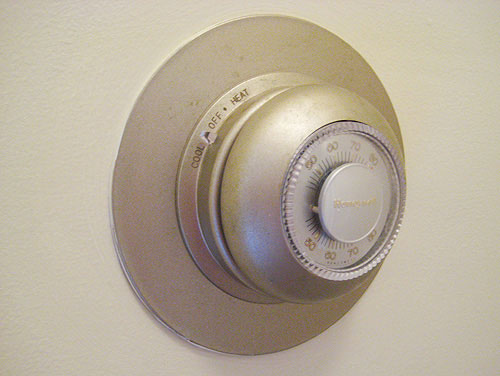 So, after turning off the electricity, we happily ripped down (well, carefully detached) the existing thermostat to reveal this pretty lil hole, while also making sure not to let the wires slip back into the wall.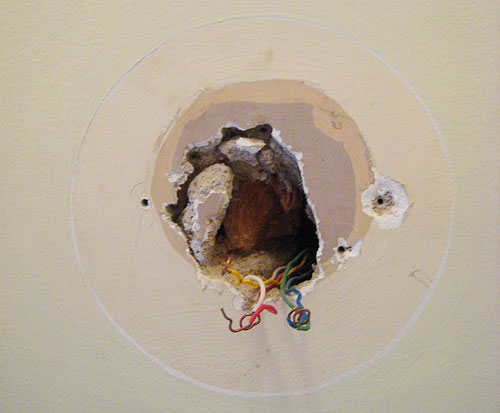 After that came the straightforward task of installing our new Hunter 5+2 Programmable Thermostat which allows us to program two unique settings: one for the weekdays and another for the weekend. It was on sale at Lowe's for $25 last weekend (down from $29), but there were other options if you're looking to customize your setting day-by-day. Just make sure that it's Energy Star certified and compatible with your old system.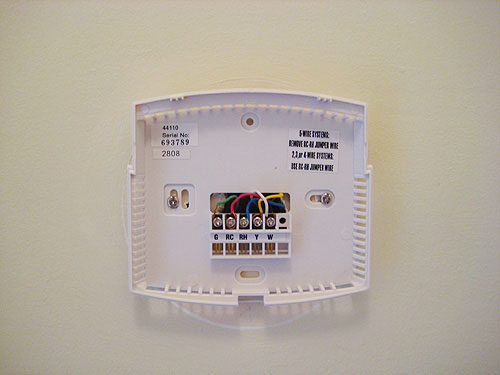 Once we finished connecting the wires (it felt a little bit like building a bomb – blue wire goes here, red wire goes here), we simply snapped the cover in place, popped in a couple batteries and then KABLOOEY. Just kidding, nothing exploded. Unless you count the little excited outburst from Sherry as she celebrated the fact that we got it right on the first try. Ain't our new thermostat a beauty?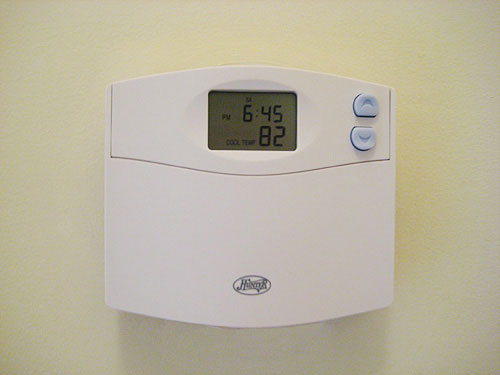 So not only will this new gadget help us go green and save green, it also creates the illusion that we've got a fancy new heating and air conditioning system. When in reality, we only invested 25 bucks in a brand spankin' new thermostat. And if you're trying to sell your house, this is a super easy upgrade that just might be the clincher. Not that we're selling ours. Ever. But if we were, which of the pictures below would seal the deal for you?