This weekend we got these vintage kids chairs (they're just 2 feet tall) for $7.50 each at a local yard sale. They were marked as $10 a pop but we bartered using the old "how about two for $15?" method. Sold!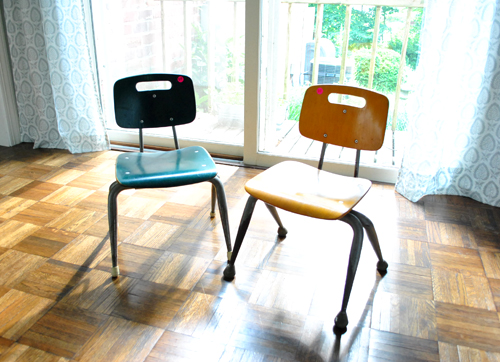 We knew they looked like oldies (we loved the solid construction, steel legs, clean lines) and were pleased when we tipped them both over and saw the word "Brunswick" engraved on the bottom. Not that we knew what it meant, but we thought google might. A little bit of searching turned up this description here:
This original vintage 1950's children's chair, with its mid-century danish-modern design is actually made by Brunswick – the same designer/maker of the famed bowling equipment and supplies. In fact, it was also in the 1950's that Brunswick introduced the machine that automated the resetting of bowling pins. This is a very sturdy chair.
Cool. And guess how much one of them was going for online? $125!

Our reaction pretty much went a little something like this: Holy cow, are you telling me that we paid $15 for two chairs that could retail for $250? Oh yard sales, how do I love thee. Let me count the ways. And how cool is it that current 65-ish year olds probably used these as kids? Gotta love stuff that's built to last and handed down to total strangers (and their children) thanks to the phenomenon that is yard sale-ing.
As for what we'll do to our chairs & what table we'll pair them with, check out our BabyCenter post (where we whipped up a little mood board of sorts with three options that we're currently debating). On some monitors the one on the left in that top photo seems to be reading as teal, but it's a murky forest green in real life. Which is really not our thing. And we're more partial to darker and less yellow wood tones too – so change is a brewing.
Some folks wouldn't touch something from the 50's, but we're all about it in the name of making them fit into our home and not look so mismatched. After all, we didn't buy them to make a profit (or to keep them in mint condition as "collectables") – we bought them to use for the long haul (hopefully with multiple kiddos over the years) since we love their look and their solid and sturdy construction. And you know we love a good refinishing project (like this 50's dresser that we redid for Clara's nursery). It might take us a while to actually do anything with them though (since our playroom is also our crazy storage room for now). But someday we'll get 'er done. And it's never too early to start planning, right?
Update: After closer examination we realized that the forest green chair (which looks teal on some monitors) has already been painted. It was originally blonde like the other one. So I thought I'd share that update for the don't-paint-them peeps. Looks like 50% of them are already painted! Too funny. We're still un-enamored with the scratched blonde wood and murky green color so we'll definitely be staining or painting them – but we completely understand that other people might do things differently if they were their chairs!