Ok, we know we said our sunroom's mini makeover was next on the agenda but we just had to share this fun rug switcheroo first because we often get reader questions about how we choose room-making things like the right art or the perfect rug. Our reply is always that there's no such thing as "the right" or "the perfect" formula or item because there are multiple ways to finish off a room that you're sure to love. Think of it as a buffet with more than one delicious meal to choose from. So the good news is that there's not just one "solution" when it comes to polishing off a room and calling it done.
Another pretty common misconception is that deals just fall into our laps when we're usually doing some pretty major legwork to sniff things down that we love. In fact, just to demonstrate that the best deals (and the items that you'll love for the long haul) usually have to be seriously stalked, we thought we'd share the play by play of our loooong rug pilgrimage.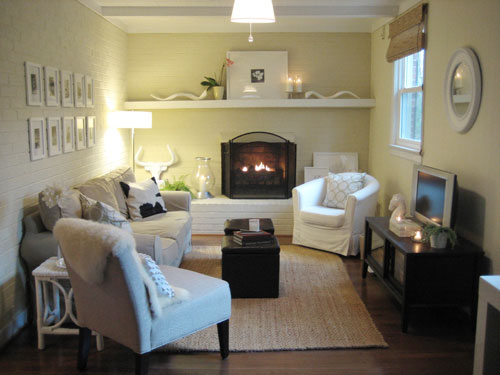 Why the need for a new rug in there? Well, let's just say we were living with a dirty little secret: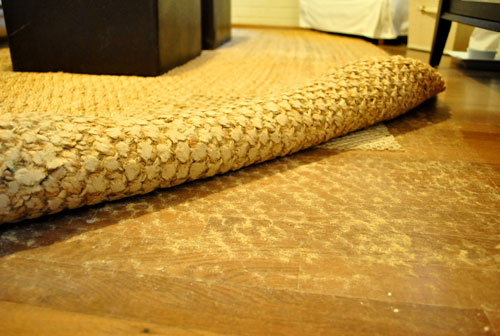 The $70 Lowe's rug that we scored four years ago was, well, dirty. The natural jute fibers were somehow breaking down and shaking loose underneath the rug every time we walked on it (which is definitely not par for the jute-rug-course, we have other jute rugs in our kitchen and bedroom which never give us the same problem after years of use). And with a tiny human around, we weren't willing to stand for those dirty little could-be-inhaled particles anymore. So it was out with the old rug and in with the new.
But which new 5 x 8′ rug would we be taking home? When we began our rug search it was much like the first episode of The Bachelorette. So many options, so little time (not to be confused with the smutty new show Bachelor Pad- there was no skimpily clothed Twister game). But after "courting" over 30 rugs and imagining them in our lives for a few decades, we were left with five finalists so to speak. Let's meet the contenders.
First we came across this celery and beige beauty at a local lighting and rug outlet (pardon the terrible iPhone pic).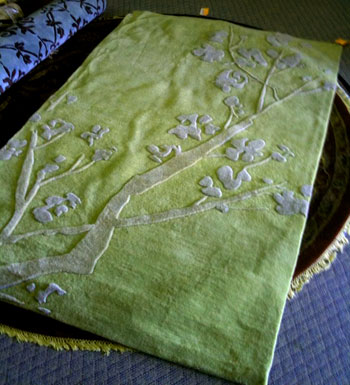 We loved it for the 100% wool construction (we like our rugs to be made from natural materials like cotton, wool, or jute without any rubber backing so we don't have to worry about synthetics, offgassing, or unnecessary chemicals). We also liked the soft and serene colors. We definitely wanted to replace the shedding jute rug with something cushy and soft (since we know Clara will appreciate that once she's a bit more mobile) but because our den has two storage ottomans that sit in the center of the rug, we didn't know if the design, which was raised about a half inch, would make those ottomans sit oddly on the rug. So we asked for their best price ($200 on sale down from over $550!) and snapped this photo before leaving to "think things over." Ideally our new rug would come in under $150, but we know how hard that is to accomplish when you're looking for something so big made from a cushy & natural material like wool.
With rug number one still on our minds, we hit up a slew of other stores (including TJ Maxx, HomeGoods, Crate & Barrel, Pottery Barn, Lowe's, Target, and Home Depot). No dice. Everything was either too pricey for our taste, made from something synthetic like acrylic, too rough and un-cushy (remember part of the criteria was that we wanted something softer underfoot for the beanette), or just not our style. So then it was time to let our fingers do the walking. We checked out overstock.com to no avail and also took a look around CB2.com and crateandbarrel.com – just in case they had something we hadn't seen in the C&B store. Nada. Insert sad emoticon here.
Then we remembered that we had a $100 gift card to West Elm burning a hole in our pocket, so we reasoned that if we saw a 5 x 8 rug on their site that we loved, it probably wouldn't be as cost prohibitive after we applied our gift card towards the purchase price. And it was there that we found our next three contenders. First there was this guy, who was full of interest and just enough color to be on the fun side (much like our yellow living room rug). But unlike the plush wool rug in our living room, this guy was a bit thinner and not nearly as soft. Happily though, it would only be $129 with our $100 gift card, which really wasn't bad for such a large area rug. It was definitely something to think about.
Next we flirted with this guy, who also scored major points in the pattern & interest category. Our only fear was that since our house has dark mocha hardwood flooring throughout, it might blend in a bit too much with the brown wood floors instead of anchoring and defining the sitting area in the den as we hoped. And this option was also not as plush and cushy as we would have liked. Although the price wouldn't have stung too much since it would have been just $129 after our $100 credit.
Then we considered giving the rose to this plush and lovely alternative. We really liked how soft and squishy it looked, and the fact that it was made from natural and undyed wool had us at hello (doesn't get much more pure than that). But this one was a bit more costly ($179 after our $100 gift card) and although the subtle ribs were gorgeous, it didn't really offer as much in the personality department as the other rugs with more hue and pattern. And the last thing we wanted was to replace our texture-rich woven jute rug for something that just looked like a blah brown rectangle on the floor- no matter how soft it would be on the ol' feet.
At this point we were feeling a bit woe-is-me about the whole rug hunt. We had visited a ton of stores (both virtually and in person) and each "finalist" that we had hand-picked still felt like it was missing one crucial personality trait (either some cush-factor or some pattern & interest to keep our neutral toned den from feeling to yawn-inducing). Then inspiration struck. I had heard that it was possible to redeem West Elm gift cards at some of their sister stores, and after some quick google research I learned that they could be redeemed at Pottery Barn and even PB Kids and PB Teen. First we flipped through the options on PB Kids and PB Teen without seeing anything that fit the bill, and then hit up big poppa: Pottery Barn.
We had already visited our local Pottery Barn in person a few days back, but we reasoned that the online store probably had a lot more than the actual brick & mortar store had on hand. And we were right. In fact, we stumbled upon an 100% wool 5 x 8 rug that was both cushy & soft underfoot and full of pattern & interest. The big floral pattern was definitely modern and fun enough for our tastes, and the colors would really work perfectly in our cream, tan and chocolate toned den scheme.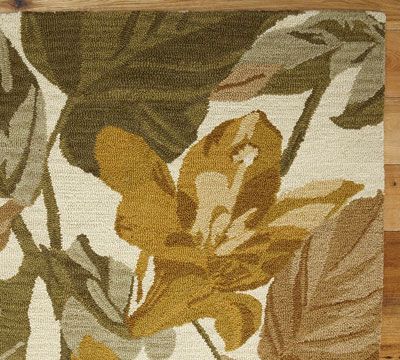 We braced ourselves for the dealbreaker as we scrolled down to look at the price. Happily, it was on clearance (yessssssss) and would only set us back 130 beans after we applied our $100 gift card. Things were looking up. And speaking of looking up, when we scrolled back up to have another peek at the might-be-it rug, we noticed the name. Are you ready for this? It was called the Clara Rug. Not kidding. So of course that pushed us over the edge. Within ten minutes we had redeemed our West Elm gift card online and paid the remaining $130 while victoriously high-fiving and gleefully explaining to Clara that we just added a rug named after her to the family.
So here's our new favorite rug living it up by the fireplace. Oh and we sprinkled in some already-owned accessories in a soft lime hue to tie things together and add a hint of freshness without spending another dime: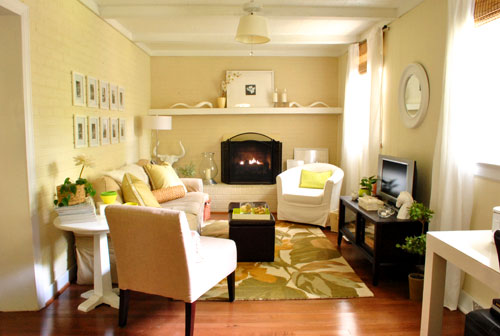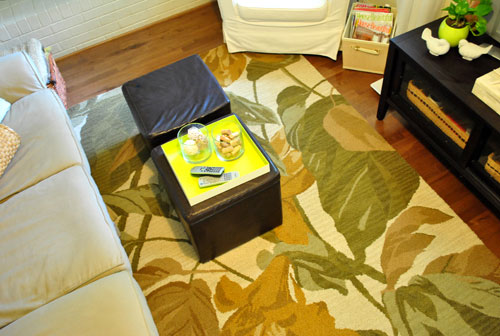 We definitely wouldn't describe our hunt as easy (things that are worthwhile rarely are!) but we're so glad that we searched our brains out both in person and online to find the best rug for our family- one that that scored high marks for price, material, softness, color, and pattern (thanks to our insane must-have list). Are there other rugs out there that would look great in our den? Definitely. But we love that we found our sweet new Clara Rug and we couldn't wait to share the not-always-easy process with anyone else out there who's still waiting for the table/lamp/print/mirror/chair/bed/sofa of their dreams. Don't despair! Just keep your chin up and look like crazy and the right thing just might find you. And since there's more than one right thing, the odds really are with you as long as you don't give up or settle for something that's not exactly what you want. No matter how crazy your criteria may seem…
Psst- Wanna know more about our (admittedly very subjective) rug rules? Check out this post and this post.