Ok, not the whole world, but a good smattering of it. For those of you who watched our house tour video yesterday, you've seen a shot of these babies in action (and by these babies, I mean eight freshly framed prints that we hung in our hallway above the board & batten that we added). But here are some close ups with all the how-we-did-it deets.
It was a really easy project actually. First, we bought an awesome calendar at Anthropologie on sale after the new year for $13 (gotta love how calendars go half price the second that January begins) but we had zero intention of using it in the traditional sense since we make a quirky little homemade calendar each year.
We just loved the awesome illustrations of each city. And we knew they'd look nice in a collection of frames on the wall. Psst- It's still for sale here, if you're in the market for one.
At first we debated hanging all 12 of them in a grid in the guest room, but we've been craving something large (as opposed to a collection of smaller frames) for the big bare wall above the chairs in there.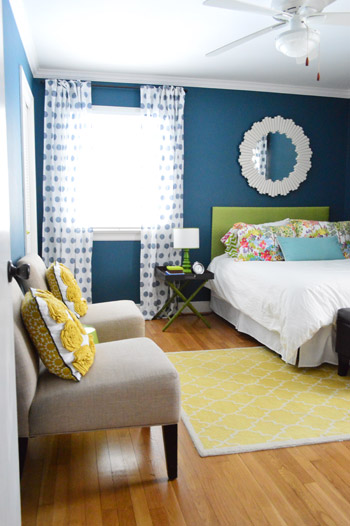 And then when we finished the board & batten hallway project (here's a pic from before we painted the walls)…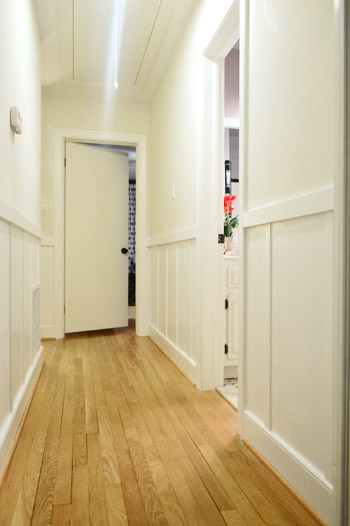 … it dawned on us that they might look cute spaced out as you walk down the hall.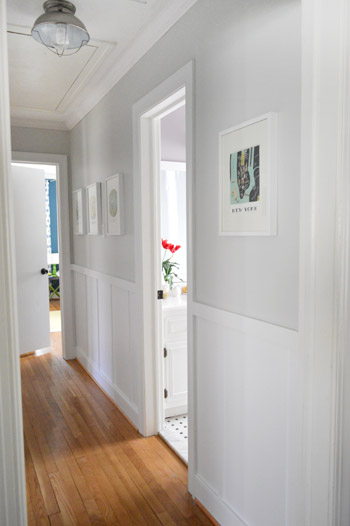 Turns out they do.
As for how we hung them all at the same height, we just shot our laser level down the hall, and marked two dots for each frame that were 5″ apart (there are 10″ of space between each frame).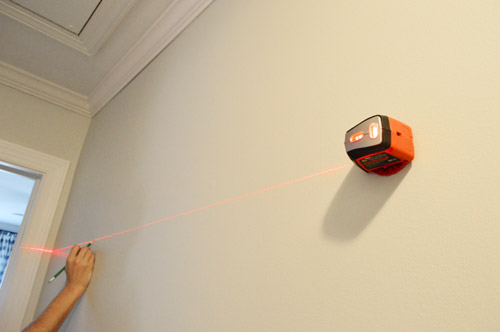 Then we just hammered nails into those two dots for each frame.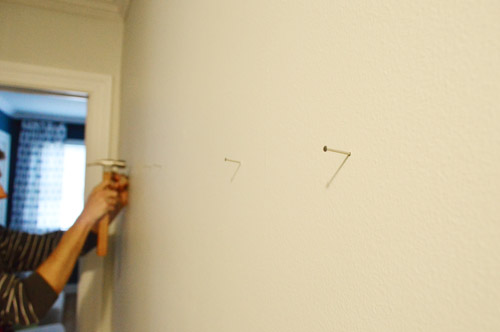 Why two nails for each frame? Well, since the back of these Ikea ribba frames rest on a nail to stay up, two nails about 5″ apart are nice and sturdy – and you'll never need to straighten the frame like you do when it hangs on one nail). Plus you can slide the frame a bit from the left or the right, so it helps make the spacing extra easy to control, even if you pre-measure it all with the laser level like we did.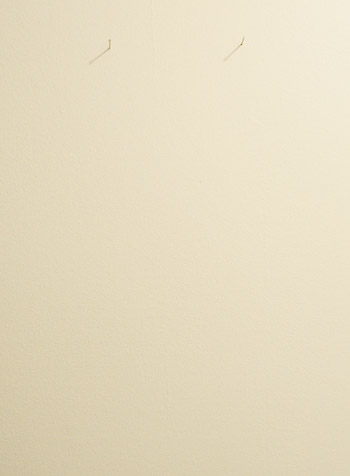 Then when you pop a frame onto them, it looks like this:
Since the eight Ribba frames are from Ikea, they're just $9 a pop (and we already had four, so we just had to buy four more to complete the collection). So that's how we got an entire hallway full of art for $49 – which breaks down to $36 for frames and $13 for the calendar.
Not bad to go from here…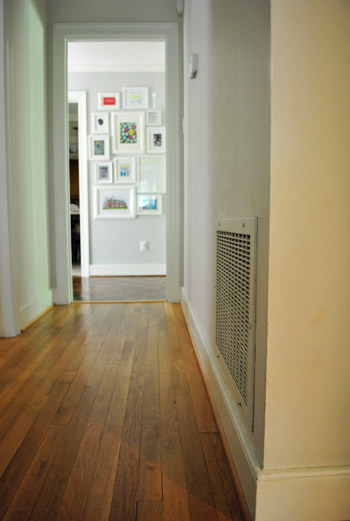 … to here in about a month.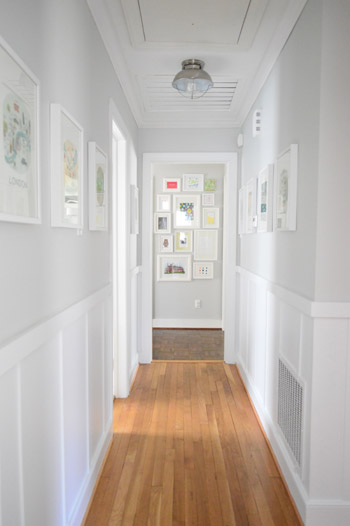 Especially since we walk up and down that hallway at least a dozen times a day. And although we've only been to one of the eight places: NY (do we get extra point for living there for a while?) John has already started calling this our travel bucket list. So here's hoping we get to visit Rome, Paris, Istanbul, Sydney, London, Amsterdam, and Rio De Janeiro someday.
Odd confession of the day: I have three favorite spots in this house, and two of them aren't rooms. They're:
the frame hallway that leads to the living room, kitchen, and our bedroom
this hallway that leads to the other three bedrooms
Clara's big girl room, just because I'm beyond thankful that it no longer looks like this…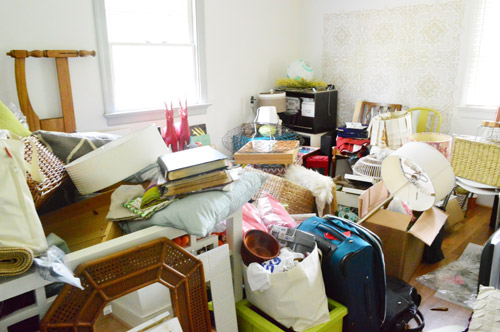 What are your favorite areas of your house? Are they unusual, like a closet or a bathroom or a specific nook (the wall o' penny tile in the kitchen is up there for me too)? Or are your picks more traditional like the living room, the sunroom, or the bedroom?
Update: Wanna know where we got something in our house or what paint color we used? Just click on this button: