A lot of people were interested in the details when it came to the thrift store chair that we refreshed for our latest column in R. Home magazine. Here's the play by play.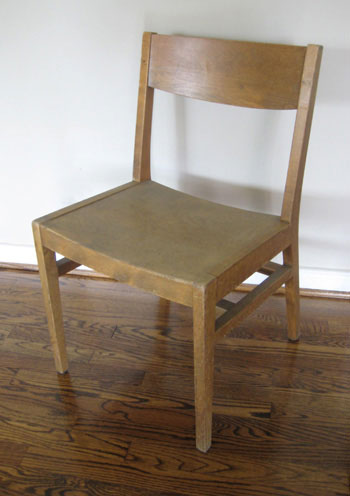 We picked up the chair for $10 at Diversity Thrift here in Richmond. Then we lugged it home and I got down to business sanding it. We used 100 grit sandpaper to rough up the semi-shiny finish until we got down to the bare wood. Another way to prepare a piece for painting is to prime it with oil-based primer. However, since the chair was very old and we were able to get down to the bare wood with some gentle sanding, we opted to skip that step. Had we been planning to paint it white or any other pale color, we probably would have primed it as well.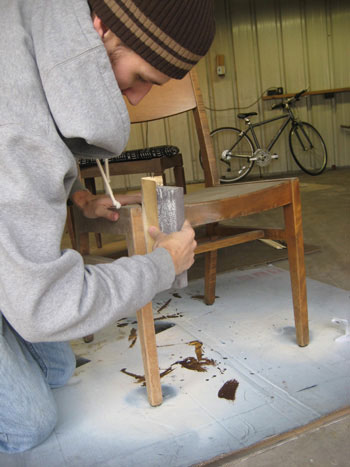 Then we applied three thin, even coats of semi-gloss latex paint (in Valspar's Fabulous Red- the same color we used on our front door). Red always calls for at least one more coat than most other colors to capture that true tone without any hints of pink. The key to getting a smooth finish when it comes to painting furniture is to use a brush. You can see that we briefly used a mini roller, but any roller creates small pricks (tiny spiky things) as it applies the paint, so we went back to our trusty paint brush for a smooth, even finish. You might also notice some leaves in the background of this picture. That shows you how far ahead we work when it comes to our column (we actually completed this project last fall for the March/April issue of this year).
After three coats of the semi-gloss red paint, we just waited for that baby to dry (we always give things at least 24-48 hours to avoid hair-pullingly-frustrating smudges or dings). Sometimes we suggest an optional coat of protective polyurethane for pieces that should be super durable and wipe-able (a kitchen table for example) but because this piece is more of an accent chair, we left it well enough alone (and the semi-gloss finish of the paint still gives it a nice sheen, along with a functional wipe-able finish).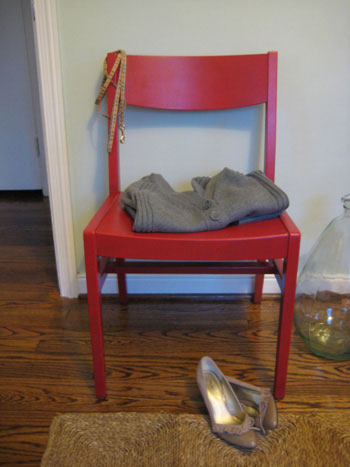 Not only was this total chair makeover quick and easy, it was also super affordable. The entire makeover cost us just $25 for the $10 chair and some paint. And if you use semi-gloss paint that you already have laying around, you can transform a thrift store chair for even less in under a few hours.
You may ask what happened to this lovely chair. Well, R. Home is actually giving it away to one lucky local, so if you live in or around Richmond you could make this totally refreshed accent chair yours. And if you're not local, just make your own! We promise it's easy. And totally rewarding too.