The last few weeks have been deliciously random and so productive for us! I think we should bounce around from room to room all the time like this… at least until we dive into a big renovation that demands all of our attention. So far this week we've painted raindrops & a pink door in Clara's room, had some fun with Shannon's design dilemma, finally finished our big sunroom floor project, and we're actually starting to work on something in the kitchen for Monday (ahhh! that room needs more help than I did in Calculus class).
And this week's little crafty project didn't bomb, which is a huge relief because there were definitely a few moments of doubt. I decided to tackle something I've been meaning to do for, oh, about two years: displaying our vacation keepsakes in a charming and easy-to-see way. So here's where I ended up…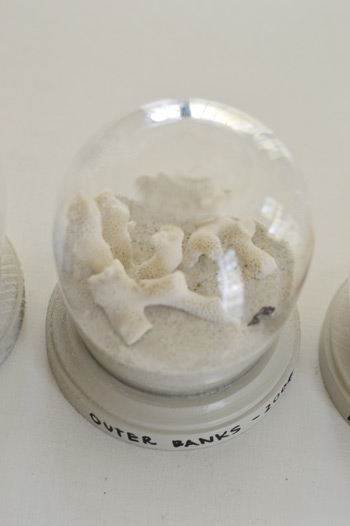 It's sort of like a vacation-memory-jar-meets-snowglobe-or-cloche, and it was actually really easy and only ran me $2.79 to make each one.
But let's grab a ride in the Delorean and go back in time for a second. Once upon a time (back in 2008) I made six vacation time capsules here… but I haven't been displaying them for the last few years because I just don't love them anymore. Which is sad because I love the keepsakes – I just didn't like the containers as much anymore.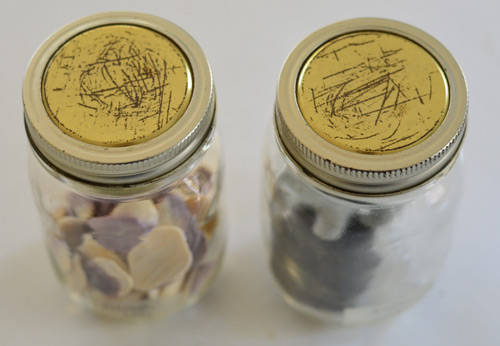 I certainly think canning jars are crazy charming (and they're probably more "in" now than ever) but I didn't like that when you looked down at them on surfaces like console tables or desks or dressers, almost all that you saw was the lid instead of whatever was inside (see above).
And I also didn't love that when you lowered your gaze to stare at them head-on (or placed them in high places like up on a bookcase) the glass was wavy, so it blurred the items inside. Here's a comparison of how the canning jars obscured the contents compared to a regular stemless wine glass. See how much clearer the objects in the glass on the right are?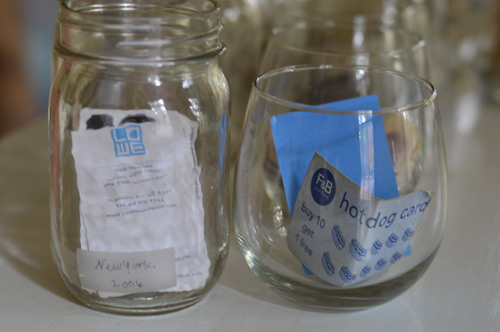 I also thought the scotch tape labels that I had added so many years ago were hard to read, especially depending on what's behind it (you can see one in the picture above). So I wanted to come up with a way to accomplish three things:
more clearly label the contents of each jar
display our keepsakes behind non-wavy glass
make them visible from above and the side instead of just from the side if at all possible
At first it felt like a tall order, but I was inspired after coming across this project, which made me realize that there might be a way to use inexpensive stemless wine glasses or vases from the craft store along with little slices of wood and some type of adhesive or caulk to connect them. It definitely could have bombed (uh… sand everywhere) but I had a few lucky breaks along the way.
For one, I couldn't find any tree branches of the right thickness to slice in our yard or at a local firewood spot (they were all triangular or too narrow, and free of bark) and I couldn't even locate any pre-made wood slices in the craft store (other than some too-large birch ones for $15 a pop online). But when I walked around JoAnn I did notice these little 4 x 4″ round wood plaques for 79 cents each (in their wooden box/birdhouse/plaque area). They also sold stemless wine glasses (in their party/glassware area) for $1.99.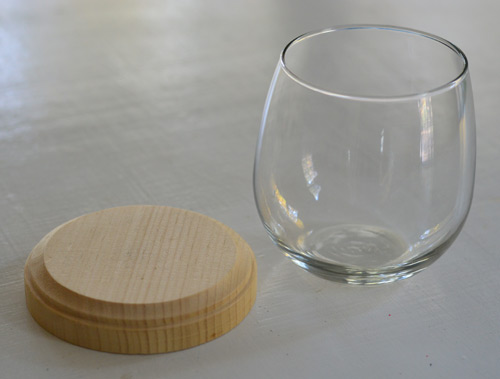 It was nice to find both potential items at the same store because I could flip the glass over on top of the wood plaque to see how they'd work together. It kind of felt like a miracle when they lined up so well.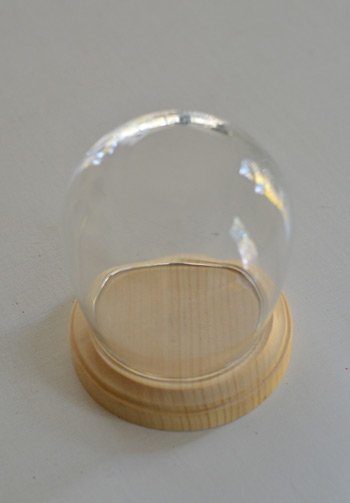 So as soon as I got home, I jumped right into painting the wood plaques. I debated everything from a bold color to white or charcoal or even a whitewash or a stain, but in the end I liked the idea of a timeless neutral taupe-y color the best so the items in each jar could be the focus – and I already had leftover Revere Pewter from the bathroom project upstairs. Two coats did the trick without any bleed-through from the wood (which is nice because I didn't use primer, so it was sort of a gamble).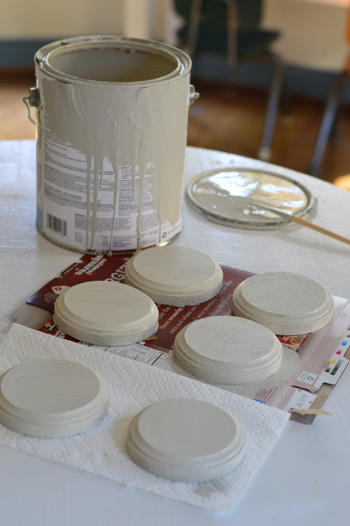 After they dried I used a sharpie to write each of the places we'd been on the side of each one, along with the year that we traveled there. It's so much clearer and easier to read than tape on a wavy glass jar!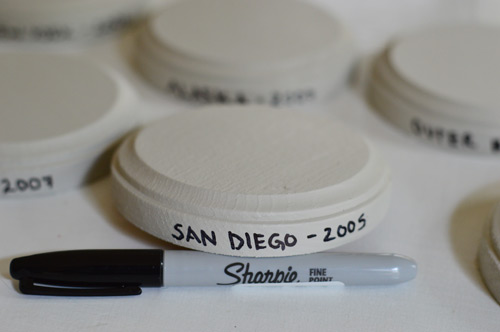 Next I decided that clear silicone caulk would be a good way to seal the glass to the wood. Here's why: some types of adhesives/glues are thinner/runnier and I worried the seal wouldn't be as tight as it would with a more thick/dense line of something to stick them together. The other reason that I went with clear caulk is that it can easily be sliced with an exacto knife and peeled back to free up the contents of these jars. So I don't have to Hulk-smash them like an old school piggy bank to access things (which definitely could have been the case with crazy glue). Instead, I can just score and peel the silicone caulk to open these up again whenever I'd like. But in the meantime they'll be nice and secure – even with things like sand floating around inside.
I just ran a thin line of it around the top of the glass like this (I used GE Premium Waterproof Silicone II Caulk in the clear color). Tip: try not to make the opening in your caulk tube too wide or caulk will pour out a lot faster/thicker and you'll end up with a drippy ol' mess (this is universally true for practically every caulking project, so it's a good skill to master).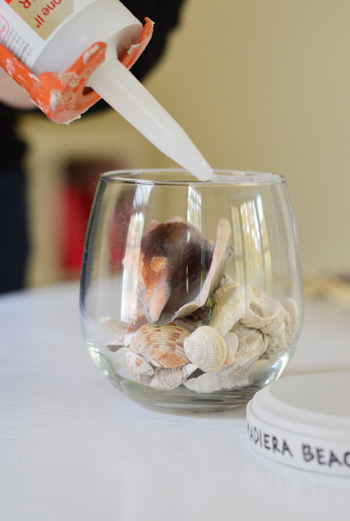 Update: I'm a paranoid prego, so I wore a ventilator and worked the caulk gun like Darth Vader (since caulk can get fumey sometimes), but I later learned that this type of caulk is on the green list. Hurrah!
After getting a thin ring of caulk around the top of the glass, I pressed the wood round onto the cup while it was still in the upright position (didn't want things to spill all over the floor, which I was certain would happen if I flipped it over before joining it to the wooden plaque).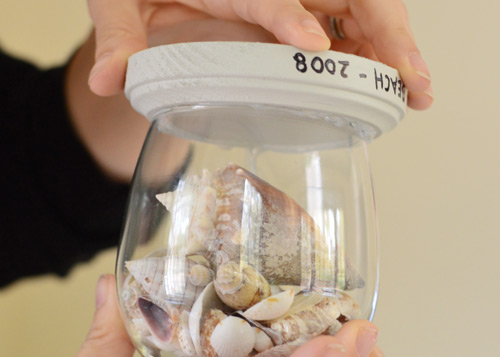 Once they were joined, I could easily turn it over without anything spilling. So I placed it on the table and made sure the glass dome was centered. Then I pressed the glass down with one hand (to keep it centered, since it can slide around a little before things start to set) and used the other hand to wipe the edge down with a paper towel to remove any extra caulk that was oozing out.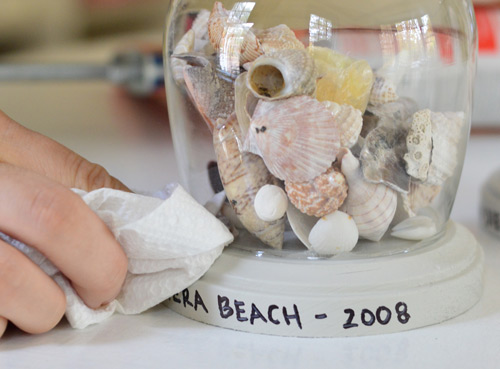 It only took them three hours to dry, and they were sealed up and pretty dang seamless looking. Here's the sand, all nice and contained (you can sort of make out the clear shiny line around the base, which is the caulk doing its job). I shook that thing like a snow globe and there wasn't a sand explosion or anything. So glad.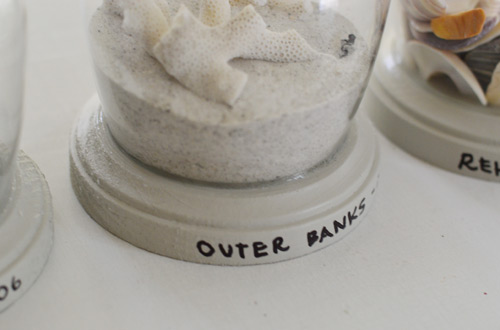 Right now they're chilling on various surfaces in the office and living room, but my dream is for them to eventually end up all together in our bedroom (we'd love to add a wall of built-in cabinetry in there to make our bed feel like it's tucked into a nook – and I can just picture them all lined up on one of the shelves). Sigh. Can't you see it?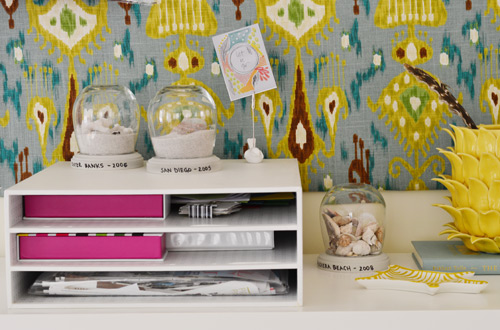 I'd love to keep making more over time as we travel to new places, so the paranoid collector in me is tempted to buy at least ten more wood plaques and glasses just to keep around for future vacations so they all match. Is that crazy? What do you think?
Is anyone else out there displaying vacation keepsakes? How do you do it? In shadow boxes? Scrapbooks? With framed photos? I read somewhere once that "experiential purchases" bring you the most happiness. So instead of buying a new car, if you spend money on an amazing vacation, the effects can last longer and you won't take the purchase for granted like you might if you upgraded something that you'd use everyday and would soon become accustomed to (I found an article here about it, although I'm not sure this is the same one). Certainly makes me want to make the most of our little vacations and memorialize them when we're back home – even though they're usually just road trips as opposed to exotic foreign locales. Maybe someday I'll have a vacation jar for Morocco or Australia. A girl can dream…
Psst- Wanna know where we got something in our house or what paint color we used? Just click on this button: