We've had a few moments lately where I've thought to myself, "self, this is not ideal." And you know we like sharing the good, the bad, and the ugly around here, so here are three things that fall into the latter two categories.
First we have this page I saw in Domino magazine with a mixture of black and white frames, which inspired me to add some black frames to the grouping over our TV in the living room (initially I was leaning towards a few black mats and some darker art).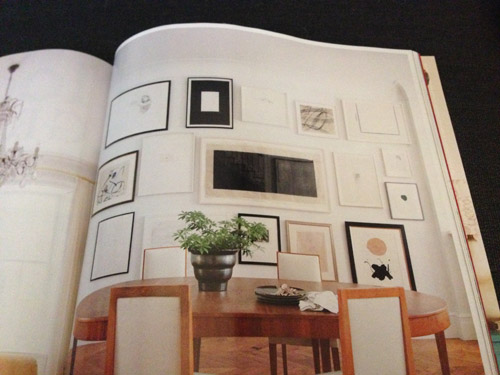 So I thought I'd be clever and use black electrical tape on the front of a few of our frames to "get the look" without breaking out any paint (or committing to anything permanent, in case I hated the result).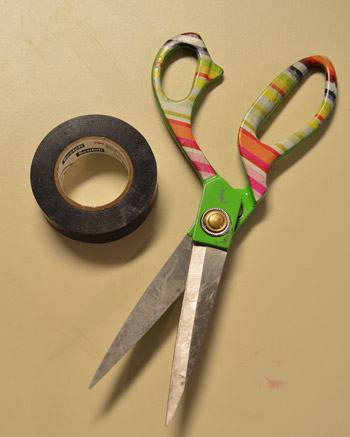 About a half-hour later I had some really fun black-fronted frames (I like the contrast of the white on the side) and even cut the tape into eight 3-inch strips to make the corner detail on that frame in the top right.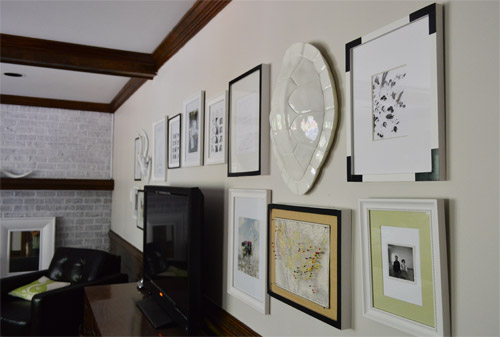 They definitely helped to tie into the dark TV and in general I was pretty proud of myself for a while there.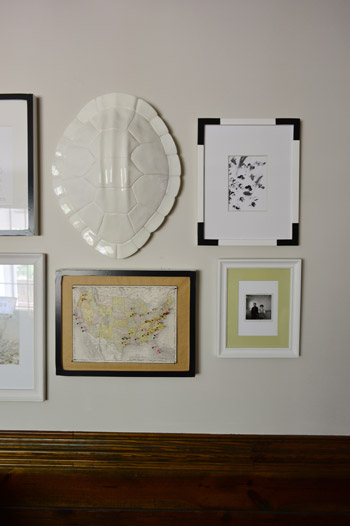 And then a few days later I noticed it. The tape was puckering up and peeling and generally just looked terrible. Maybe washi tape is cool for projects like these, but electrcial tape…? No dice. It seems that it shrinks up over time and literally pulls itself right off the corners and eventually falls on the floor in a jumbled mess. It only took a few days for some of the frames to completely detach. But that wasn't the worst part. Some of the glossier frames were unscathed, but the chalkier white matte frames ended up with black smudges on them from the tape. Boo! I tried some Goo Gone on a few of them and it didn't seem to work, so I'm thinking I'll break out the Magic Eraser and see if that does. If not, I'll be re-painting these bad boys to get them back from their smudged and dirty looking state.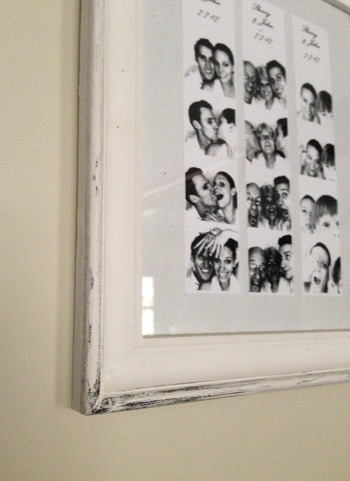 So let that be a lesson to you. Washi tape or black paint or even contact paper might have worked, but electrical tape = no bueno. Onto the next oops moment! Remember when we posted about how we have transplanted this maple tree in our last three homes? It's an offshoot from a gorgeous maple at John's childhood home and was a gift from his parents to us in our first house that we've moved with us each time. When we wrote that post, all was well in Mapleville, and it was looking like this…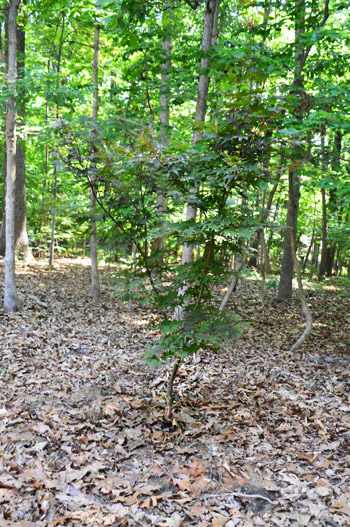 But maybe it just took the deer a few weeks to decide that they wanted to have it for brunch? We never quite caught them in the act, but over the following weeks we noticed it was looking less full and a little nibbled, especially down below. Noooo! We didn't want to lose this tree baby of ours, so we ran out to Home Depot and grabbed some black netting to throw over it. We've seen neighbors deter deer in the same way (we chatted a few of them up about what didn't work for them as well, which was everything from human hair and Irish Spring soap to deer sprays and – cringe – animal urine). So since the black netting was neighborhood approved, we went straight for that.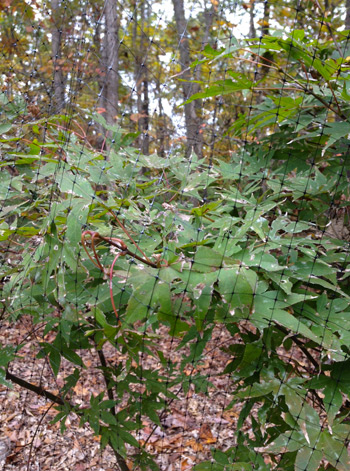 And I'm happy to report that this oops has a happy ending, because the deer don't seem interested in the maple anymore, and you can only see the netting if you're literally about an inch away from the tree (it's on in the shot below, but it's nearly impossible to see). So… so far, so good.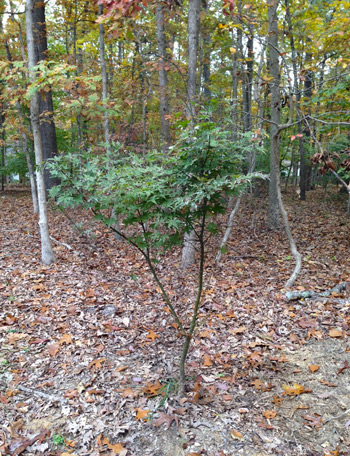 The cool thing is that there are a ton of healthy bigger maples in our neighborhood that the deer don't bother at all (they only nibble low branches that they can reach) so we're holding out hope that in a few years our tree will be all "haha, you can't reach me!" to those deer, and we can free it from its netted prison.
For our third act, we have the biggest "bad" in this group. Especially since I'm a paranoid prego person. LEAD! I don't know if it was mommy intuition or what, but something in my head kept saying "check the doors in the dining room for lead, since those metal frames around each pane look suspect"). It was probably because there was a black powdery dust in the cabinets when I wiped them down back when we moved in (which in my head said "wait, if that's coming off the metal frames, I should test those because it's clearly not staying contained). We don't hang out in there much at all (maybe once a month) and Clara doesn't play there and we don't store anything in those cabinets yet, but I still wouldn't put something dangerous in two corners of a room and say "heck, we don't hang out in there much so it's fine." So I guess that realization is what drove me to break out a lead test kit.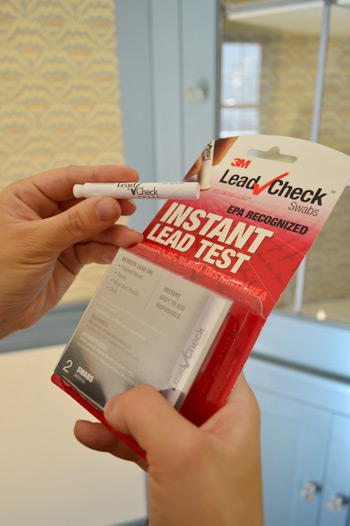 I love these things. They're cheap from Home Depot and you just snap them and shake them and then rub the tip on any surface that you want to test for lead. I, being the super-freaked-out-by-potentially-dangerous-things person that I am, never touched the metal grates around the glass during testing (I didn't want to actually get any potential lead dust on my hands or anything) so I just let the stick touch them for me as I rubbed them gently for a quick test. Within about ten seconds…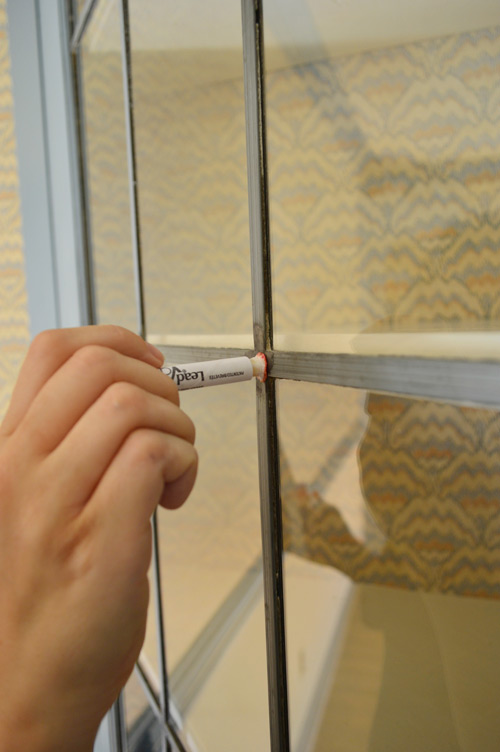 …they came up positive. Ahhh! If the test stick stays white or turns slightly yellow, it's negative, but if it's pink or red (or in this case, neon red) you got some serious lead on ya hands.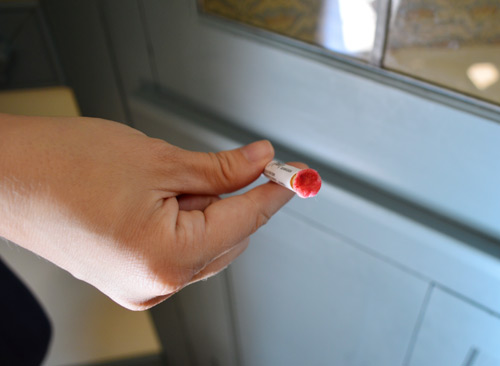 It was this strange feeling of "gotta wash my hands even thought I didn't touch it!" and "I KNEW it! For some reason I just knew it!" – so the doors have since been removed by John and placed in the corner of the garage that Clara and Burger can't even access if they wanted to (they're blocked in by a bunch of other buckets). Update: As for what we'll do with the doors, we're hoping to find an antiques vendor who knows how to handle lead to see if they're interested instead of sending them straight to the hazardous waste area of our recycling center (I hope someone who knows how to safely seal them or rebuild them will rescue them).
Another update: When it comes to lead paint (both of our previous houses had it) the recommendation is usually just to paint over it with fresh paint to seal it in, but in this case we worried that black dust in the cabinets was lead dust, so we didn't want it falling all over our cabinets and the floor to be breathed in by anyone since the two main ways to get lead poisoning are 1) by ingesting it or 2) by inhaling lead dust. We also realized if we ever wanted to store serving dishes and platters in those cabinets, they could end up with lead dust on them if the doors stayed, which sounds like a bad time.
John also wiped down all the shelves and the floor and the walls around the doors with TSP, just to be safe (you can read more about lead safety/testing/protocols, etc here).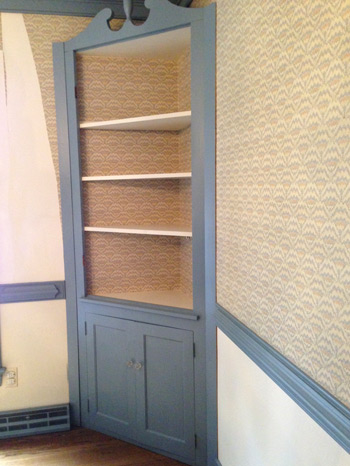 Thankfully we've seen pretty corner built-ins without doors (like these over on A Beautiful Mess) so we still hope to make those cabinets over someday, and in the meantime, it's nice to know there's not any lead lurking in the corners of the dining room anymore. Any oops moments going on at your house? Are you breaking out the black netting or some magic erasers to remedy them? Do they tend to happen in threes to you too?