Ruthy's kitchen makeover immediately got our attention, since it's a style of house (and therefore kitchen) that we don't often come across here in Richmond. So we were totally digging the dose of Pacific Northwest that she and her husband Andy sent us (via Tacoma, WA) along with a stylish shot of mid-century modernness. We love sharing kitchen diversity whenever we can, so we thought it was really interesting to see their choice of dark cabinetry without any upper cabinets at all. Here's her story:
Hi John and Sherry! I wanted to send over some info about our newly remodeled kitchen. We absolutely loved the open floor plan of this mid century modern home…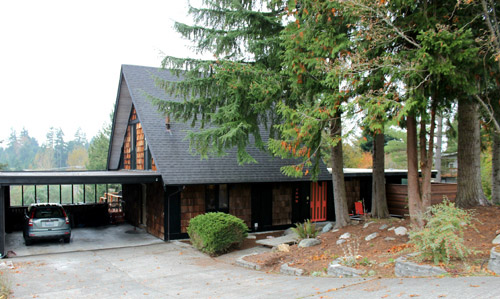 … but we didn't love the original cabinets and counters.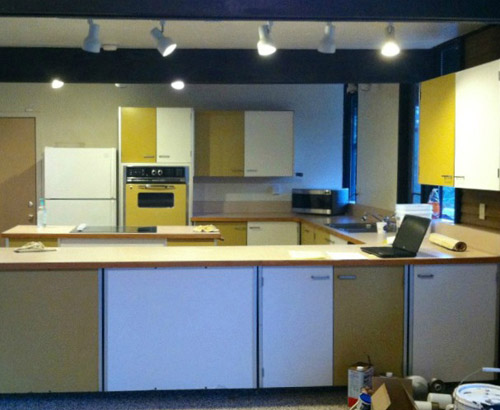 To say I love being in the kitchen now is an understatement. I actually enjoy cleaning it.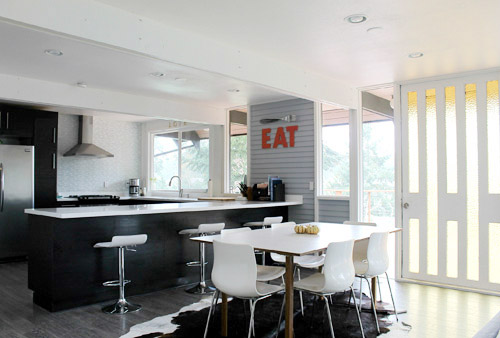 We chose to go with Ikea cabinets. The main reason we went with Ikea is because they had the style I wanted (flat front, not shaker) for an affordable price (we paid about $2,500). I was nervous about designing the kitchen with no upper cabinets, but I love how it turned out, and really love using drawers instead.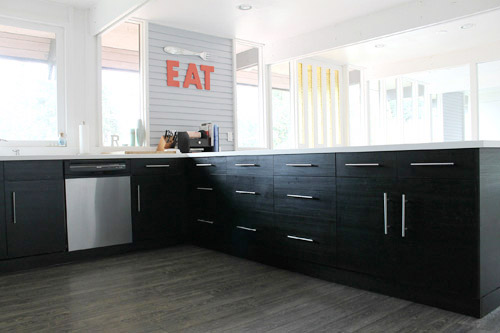 I really, really wanted quartz countertops, but if you haven't noticed, we've got countertops for days. It just would've cost way too much money. After doing a ton of research, I decided to go with acrylic. (I was sold after reading that you guys had the same countertops but a different brand). The very best price we found was at Lowe's for their Allen + Roth brand at $33 a square foot.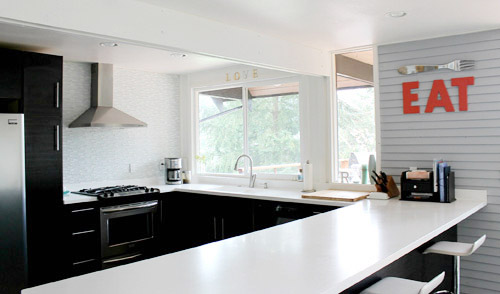 We debated about the sink. I wanted stainless steel and Andy wanted an integrated sink. I had done some research on integrated sinks and the results were 50/50. People loved it or hated it. Andy won the debate, and so far we have had zero problems keeping it clean. I use a magic eraser every now and then and a quick spray of bleach once a week and it is still sparkling white.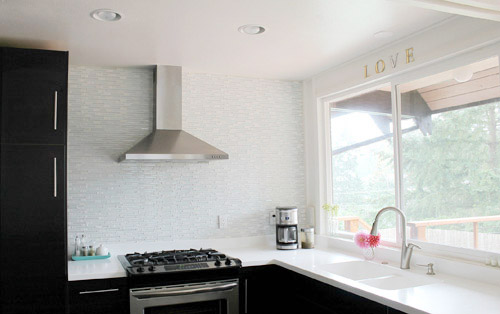 Your posts helped so much in choosing our appliances and countertops! Thank you! -Ruthy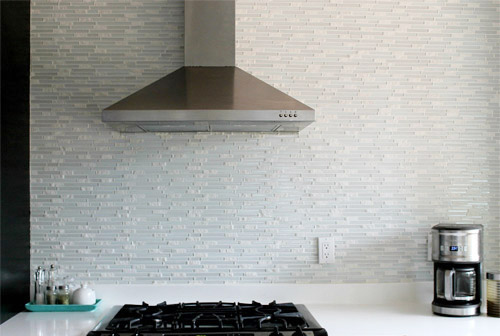 This kitchen totally rocks my socks. I know, did you ever think you'd hear me say that about a kitchen without white cabinets? My horizons are expanding people. It's official. I think my favorite parts are that big expansive backsplash and the exposed range hood without any other cabinets around it. Meanwhile Sherry loves the integrated sink, the planked wall, and that great cabinet hardware. Feel free to play the favorite part game with us. Oh and Ruthy's got some more pics and links (including her full review of the Ikea cabinets) on her blog if you'd like to know more. Thanks for sharing, Ruthy!