Oh happy day! We have more design dilemma after pictures to share with you makeover-lovin' guys and gals. A few months ago Corinne and her husband Keith came to us for help with their formerly cluttered den. They had been working with a designer but the budget got a bit tight so they came to us for help transforming their melting-pot of a room into a minimalist & modern TV room. Here's their letter:
We absolutely LOVE, LOVE, LOVE everything!!! We have shown it to our friends and family and they all love it too. You should expect some e-mail orders from them in the near future. Thanks a million. We already told you this but we LOVE the room!!!!! – Corinne & Keith
Here are the before photos to refresh your memory: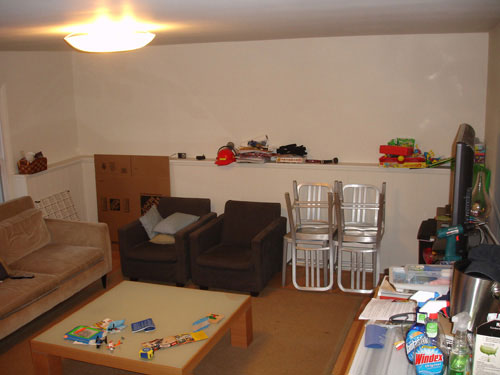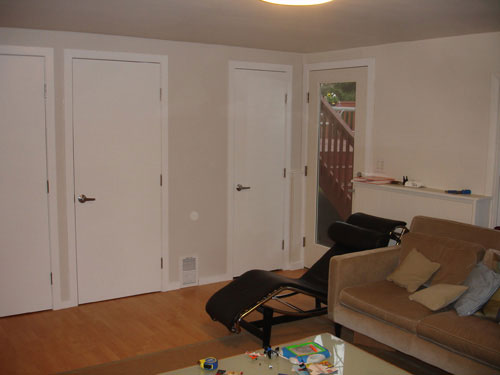 And here's the mood board we whipped up to take the room from cluttered to crisp (check out the detailed breakdown here):
Here are the mod and minimal after photos of the very same space: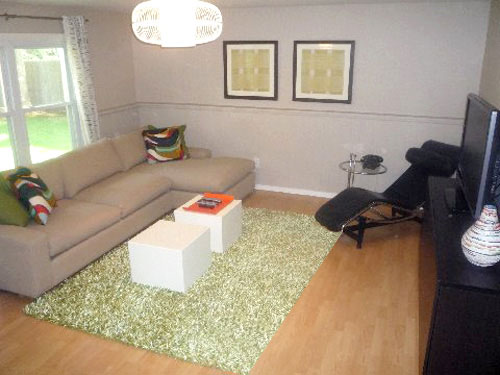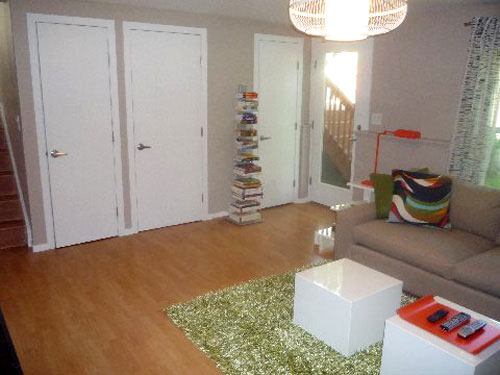 Didn't Keith and Corinne do a fabulous job? We love the sculptural light fixture and the hits of orange paired with the textured green rug and curtains. The room feels clean and modern yet cheerful and fun, which we love! What do you guys think? Isn't it funny how a room full of old furniture can become such a lovely little lounge with a few new furnishings and accessories? And kuddos to Keith and Corinne for sending us their after pictures! We eat makeovers like this for breakfast.
Update: We sadly can no longer find the time to take on client commissioned mood boards (we now whip up general inspiration boards instead) but if we ever reinstate them we'll make a big announcement!