John's close friend/cousin Travis is about to marry my best friend Cat, so my best buddy of almost nine years is about to become a bona fide relative. Insane, right? The prospect of seeing each other at Christmas every year gets us beyond giddy, and John and I cannot wait to attend their nuptials this weekend. But when two super fantastic people find each other, fall in love, get engaged, and plan a wedding… the pressure to find the perfect gift for such fabulous friends (and soon-to-be family!) is officially ON.
So we put our heads together to come up with a fun and fitting wedding gift for Cat & Travis. We really wanted to get them something personalized for their home, so when we came across these vintage maps at a local flea market (from each of their home states: West Virginia and Iowa) we sprung for them on the spot. Then all it took were some sleek black frames to create meaningful and personal art for our besties: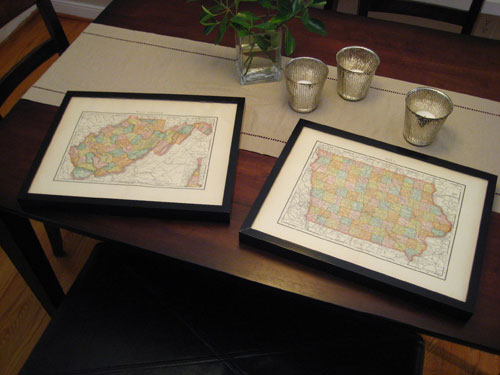 But we also wanted to give them something super practical and useful, so we used their Hawaiian honeymoon as inspiration to create the ultimate Hawaiian Honeymoon Care Package chock full of goodies for their trip to paradise. From luggage tags and snacks for the plane to rain ponchos and postcard stamps we snagged anything and everything we thought might come in handy: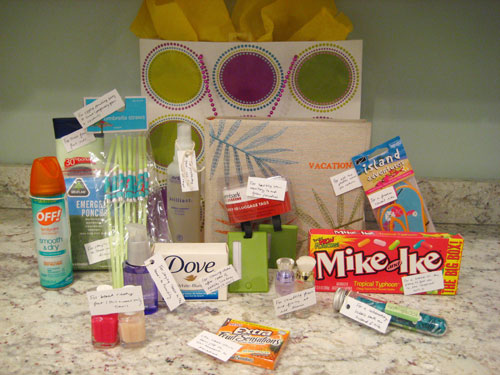 And for an extra dose of personalization, we tagged each item with a little note to explain its significance:
Bright green luggage tags for fast bag-grabbing
Tropical Typhoon Mike & Ike for some exotic plane snacking
Essie nail polish for beach-ready feet
Bath confetti for celebrating as husband and wife
Post card stamps for sending Hawaiian hellos
Flip-flop-shaped air fresheners for the rental car
Straws with little umbrellas for a few celebratory drinks- preferably from a coconut
Two emergency ponchos for rainforest drizzle
Frizz-Ease for beating the humidity
Aveda hair sunscreen for keeping their locks protected from the elements
Bug spray for telling the bugs to bug off
Lotion for their famous foot massages (they're always rubbing each other's feet)
Exotic perfume to keep Cat smelling sweet in paradise
Dove soap for coming clean after all the activities (biking! hiking! scuba diving!)
Exotic Island chewing gum for a taste of paradise at all times
An island inspired photo album for all the pictures of an unforgettable trip
We're happy to report that Cat and Travis loved their framed vintage maps and their Hawaiian Honeymoon Care Package (they already opened 'em so this won't ruin the s'prise). Whew. So now the only thing left on our to-do list is to thoroughly enjoy ourselves at their wedding this Saturday (and of course share all the pics with you guys). And speaking of you guys, do you have any fun and creative wedding gifts that you love to give? How about a favorite wedding present that you've received. Spill the beans!
For more wedding gift ideas, check out the comments on this post along with this post over at theknot.com