You all know by now that we're in love with our master bedroom. And after much trial-and-error we were convinced that we'd thought of every last thing to make it comfy cozy meets hotel chic. But the other day we looked down and realized there was something missing…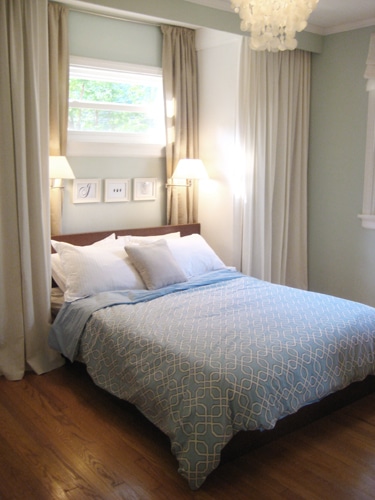 …and thus begun a hunt for the perfect rug.
Fortunately the search ended quickly when we found the most amazing thing (at the most amazing price) courtesy of World Market. In addition to their normal collection of global rugs, they offer a cool customizable option that we haven't seen anywhere else. It's basically seagrass rug by the foot. First you choose from three different grass colors (from off-white straw to a honey brown seagrass). Then you chose the length (while the width is a standard 9 feet). See, the rugs come in 9 foot wide strips that are tied together in one long accordion ream, so you just tell the salesperson how long you want your rug to be (and whether you want a 3×9 runner, a 12×9 area rug, or anything in between, they'll cut it for you on the spot). I know it sounds strange (or like it might fray when they cut it) but the strips are tied together with twine that weaves through the seagrass so it doesn't disturb the weave of the rug when the twine is cut. And at only $10 per strip (our 6×9 foot version cost us a mere sixty beans!) we challenge you to find a better deal.
But enough chitchat. Here's what it looks like in our bedroom (you can clearly see the six horizontal rows below, so hopefully the above description is less perplexing with a visual):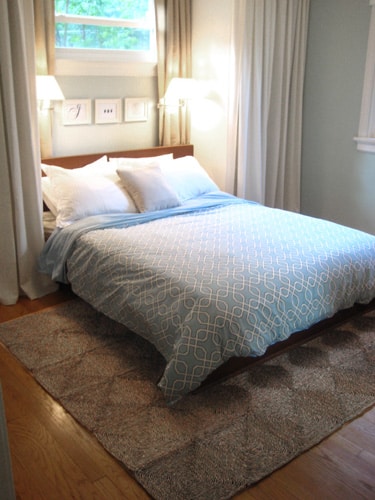 We love how it anchors the bedroom and injects that soothing natural element into the room. I will admit it's no mohair rug underfoot, but the stiff seagrass texture feels kinda spa-ish and akin to a walk around a private hut in Bali as opposed to a walk on the back of a sheep (which is still pretty great). At first when we ran our hands over the rugs in the store we thought they might be a bit rough, but when we laid a strip on the floor and walked on them we realized our hands must be a lot more delicate than the bottoms of our feet because it felt a lot less rough/stiff on our feet. And for the value and flexibility that this type of rug offers, we're completely sold. Innovative and affordable. Gotta love it. Down the line we could even snip it apart to create two runners or even a few smaller mats for the sunroom, but for now it's not going anywhere. We're obsessed with how the subtle diamond pattern works with our geometric West Elm bedspread.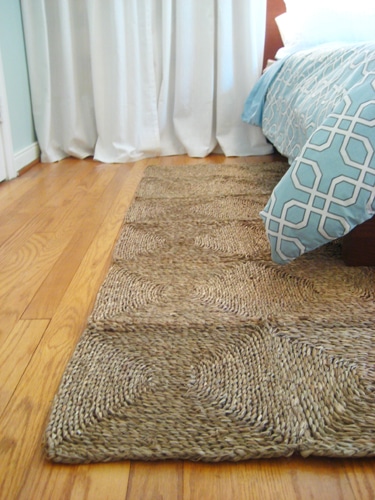 Oh and before you run out the door in search of your own cheap & chic floor covering, it should be noted that you'll probably find 'em at the front of the store near the cash register (and not the in the rug section) since a salesperson has to cut the rug to your desired size. We almost missed 'em ourselves, so we thought we'd pass along that crucial detail. Now go cut a rug.