It feels like forever since we posted about any gardening we've done (over a month, actually), but that doesn't mean nothing's happened. We're just a little behind on writing about it (I like to think that we were waiting for things to fill in a bit so we could snap some pics for ya). So let's play catch up. Remember when we transplanted some bushes to perk up the area behind our patio?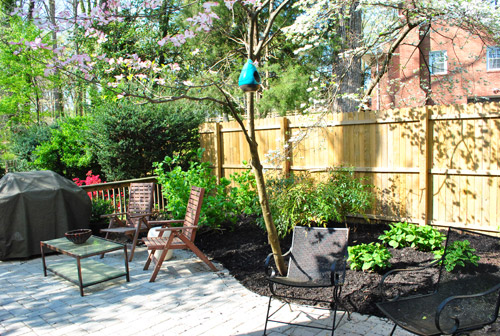 Well, that was all fine and good for that side of the patio. But it left this big empty, ugly spot in its wake.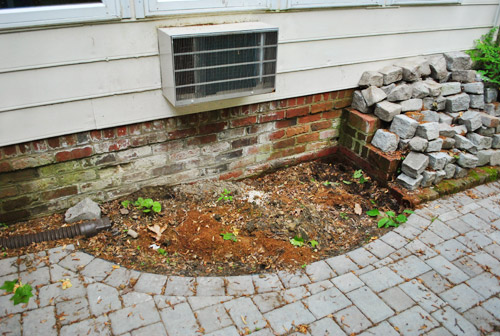 So a couple of weeks ago we got our hydrangea on again (thanks to a pair we picked up at Home Depot – along with a pot of petunias) and decided to breathe some life back into that side of the patio.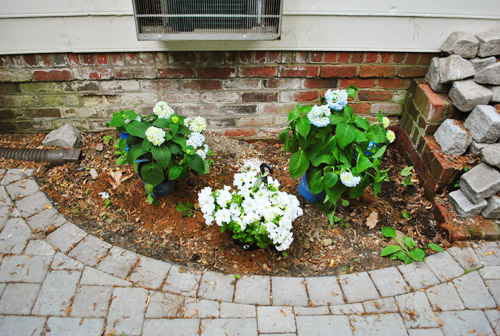 While it certainly was an improvement to have flowers and fresh mulch over there, we hoped the hydrangeas would fill things in a bit more over time. And thankfully…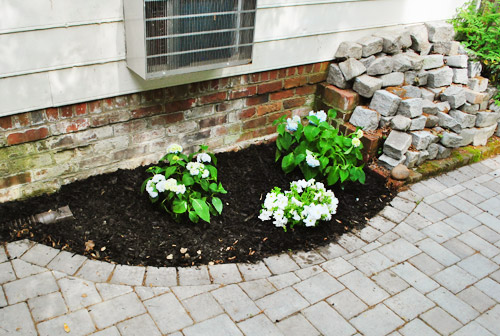 … they did!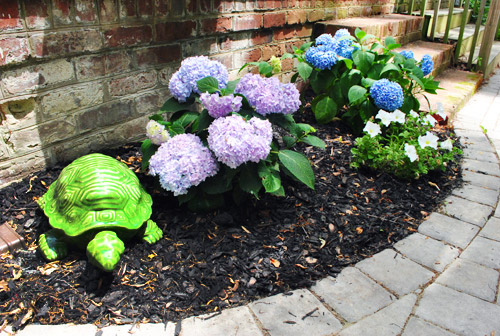 Fast-forward to this week and the area is already looking a lot better thanks to some blooms in full force and the addition of a ceramic garden friend (Sherry found him at HomeGoods). You'll also notice that we FINALLY got rid of all of the garden stones that had been sitting on those brick steps for over a year. Some friends down the street bought them from us for their garden so we made about $90 in the process!
The turtle was $16 and I didn't even put up a fight about it, since our outdoor ceramic animal collection is pretty much zero at this point. Actually, when we first toured this house before putting in an offer, there was a white stone turtle in the back that Sherry loved (he was gone when we moved in though, so Sherry argued that we needed to replace him with this green guy). Clara loves him. Almost as much as my 30 year old wife.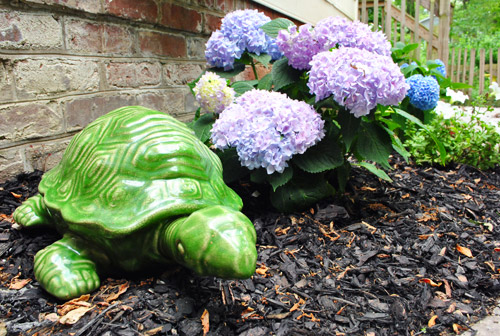 The hydrangeas didn't waste any time getting their color (we thought they were both going to be blue – but something funny must have happened with the soil under one of them to make it more purple).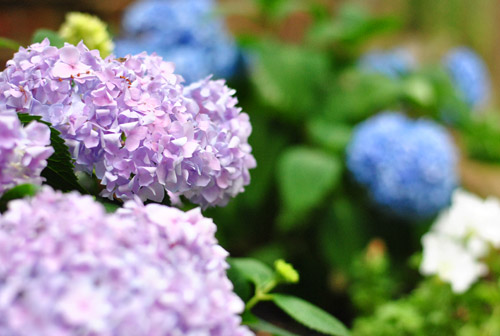 I know you can only see so many soft-focus shots of flowers before your eyes start to glaze over, but I had to include this one since a certain someone blurry-photo-bombed the background.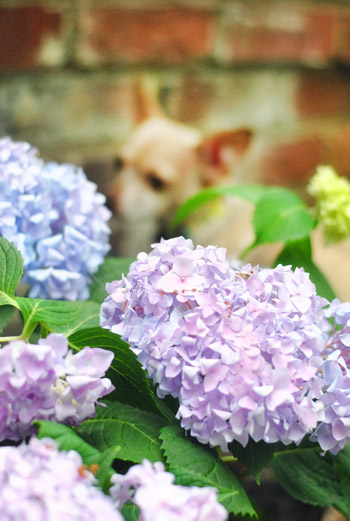 He was busy hunting his newest prey best friend, a tiny lizard that suns on those brick steps but hides as soon as Burger is near.
Poor Burger. You'll get to hang out with him someday, buddy. Okay, probably not.
Perhaps Burger should starting hunting turtles. I'd venture a guess that this one would be pretty easy to catch.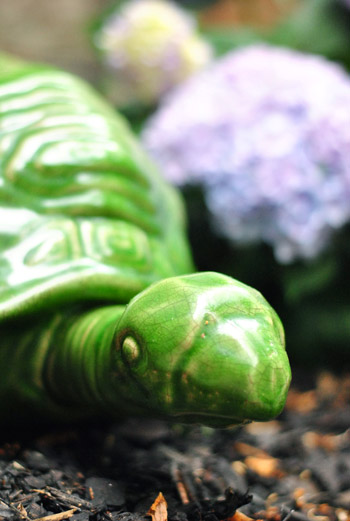 Sprucing up that little patio nook hasn't been all that we've tackled. We also decided to address these random black planters that have been migrating around the patio area since we moved. It's been a miracle that the boxwoods we planted in them back at our old house are still going strong!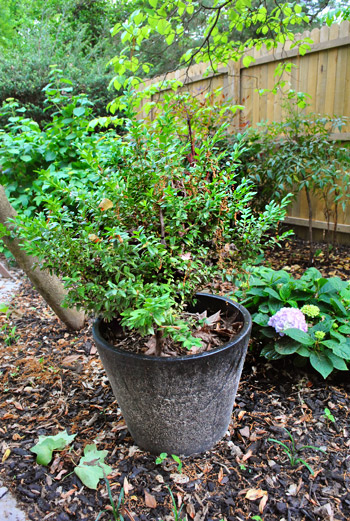 But since those hearty boxwoods weren't doing us much good back there – and since Katherine The Landscape Gal had recommended some boxwoods for the empty planters flanking our front door (which had previously held some seasonal mums) – it seemed like it was meant to be.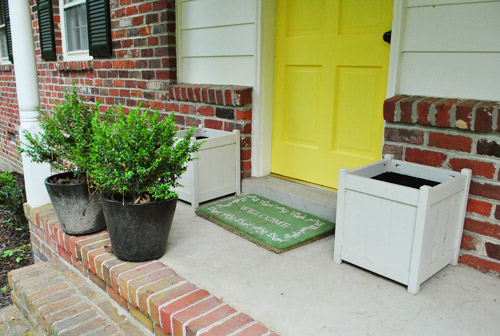 So we carefully extracted the boxwood from each of the planters…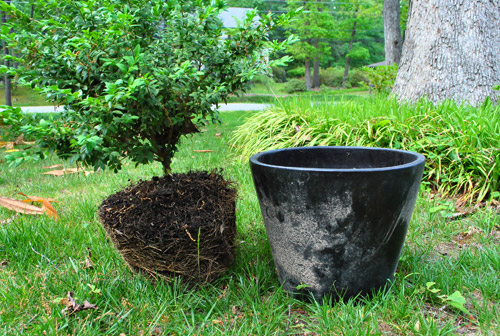 …and replanted them on the front porch.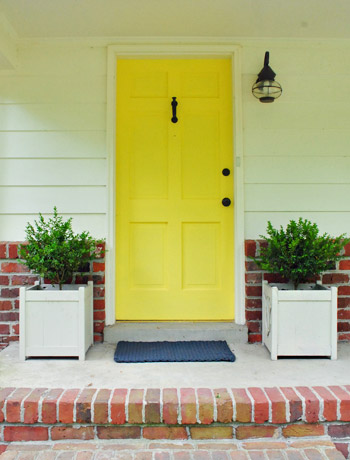 Now here's hoping that move wasn't a death sentence, since so far those wooden planters have not treated plants all that well (like how I'm deflecting blame and putting it on the planters?). We promise to water them this time.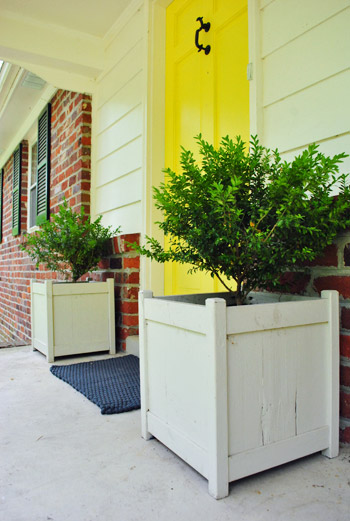 As for the now-empty black planters? We picked up a couple more of those white petunias from Home Depot and plopped 'em in there.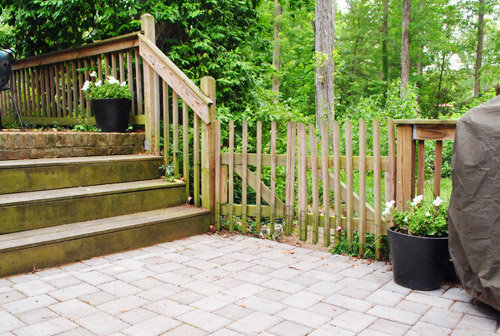 Nothing terribly special, but at least now they're providing a smidge of flower-age to this otherwise flower-less side of the patio.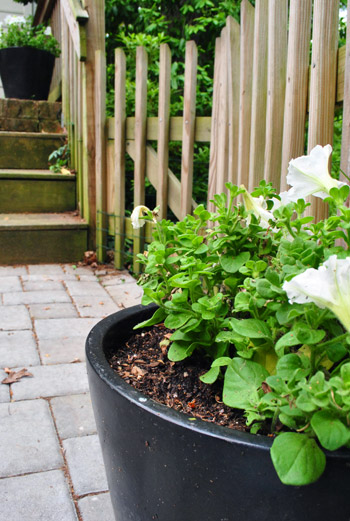 And since I don't think we've filled our dreamy flower photo quota yet for this post, here's one last shot for good measure.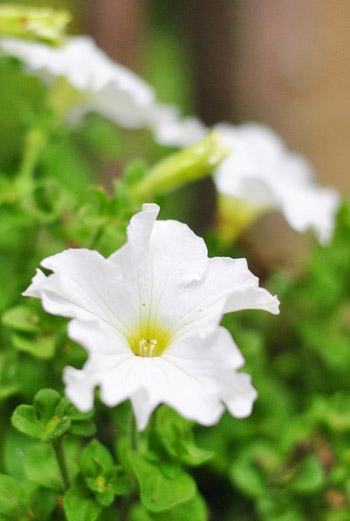 What about you guys? Are you still in full outdoor sprucing mode? Or are you starting to lose momentum now that we're dancing on the edge of summer?