Earlier this morning we mentioned that we slipped through Mary Jo's fabric store outside of Charlotte, NC again (read about our first trip here) where they have bolts of discount fabric stacked higher than my 5'2″ self.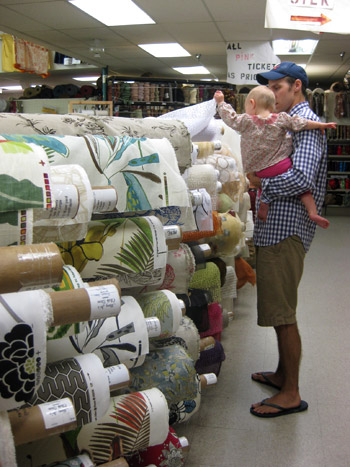 We thought it would be fun to share what caught our eye along with what we actually bought since some of you guys might be on a fabric pilgrimage of your own. And the good news is that a lot of this fabric should be sold by multiple places (although MJ's prices are hard to beat) so if you see something you love, I've tried to include as many details as possible so you can sleuth it out online or in a local place near you. Enough jibber-jabber. Here we go.
The first fabric that caught my eye was this pretty yellow & gray ikat loveliness, and at $13.98 a yard (down from $35+) you could reupholster 2 dining chairs for under $15 (manufacturer: Richloom, style: Modesto, color: Charmom).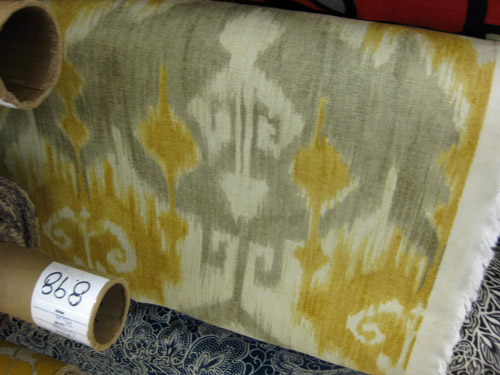 This red and blue floral-but-not-stuffy fabric also struck me as fun yet sophisticated thanks to the color and intricate pattern. It was also $13.98, so you could make a great little headboard out of it for under $28, assuming you need two yards (manufacturer: Richloom, style: Cornwall, color: Garden).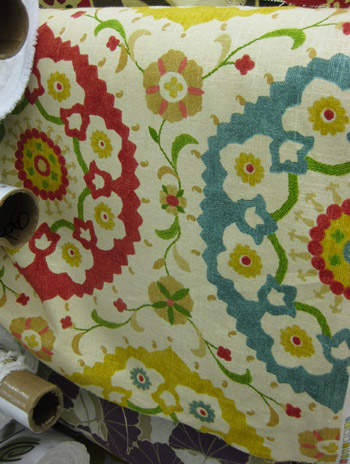 And then we have my favorite find: this gorgeous oversized medallion fabric with tons of texture, color, and associated cheerfulness (I stood there and grinned at it like a crazy person). Oh as for the details, the manufacturer was Richloom, the style was Brompton, and the color was Citrin.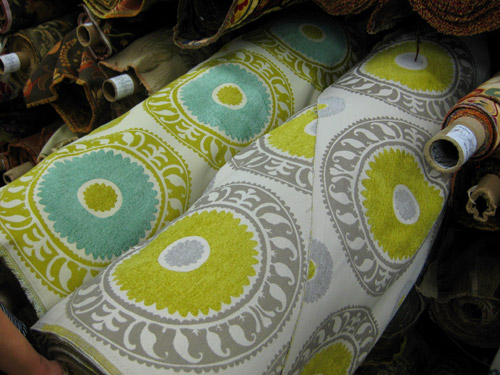 This designer suzani fabric was on clearance for $16.98 a yard (down from $50.95 per yard!) and I couldn't walk out without one yard of the one I loved best. After vacillating between each bolt (I love aqua and greeny-yellow but in the end thought the gray one with the greeny-yellow detail might be the most versatile) we left with one yard of the one on the right. I actually have plans to use it for some giant wall art – kind of like a tapestry. So more on that when I get there.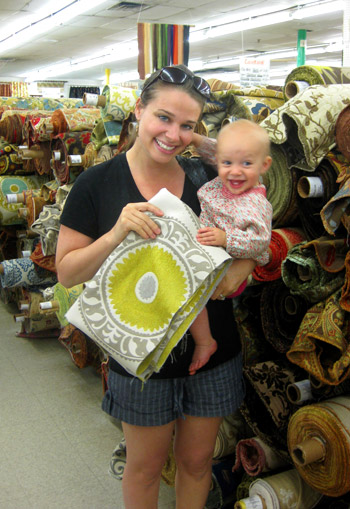 We didn't find any curtain fabric (boo) but we talked about a few ideas on the ride home so we just have to sleep on them a bit more to decide which direction we want to go. Then you know we'll blog about every last detail (I'm guessing in at least 1,500 words, because we're anything but concise).
But now let's switch gears to our Pottery Barn Outlet trip in Gaffney, SC (also mentioned in this morning's post). Here's the rundown of what we saw (and the one item that we couldn't leave the store without). And so sorry about the terrible pics, my camera battery died so I took most of them with my phone.
First we have this charming little jewelry box with pretty gray-purple velvet lining and a crackled metallic leather-ish exterior. At $34.99 (down from $50) it still wasn't cheap enough for me, but it did look like something you'd pay $75 for at Anthropologie.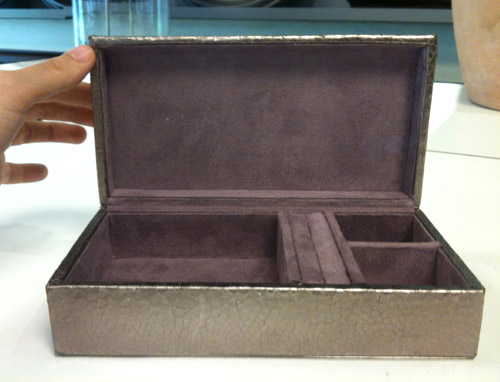 This cool upholstered bar stool was $149 (down from $229) but I snapped a photo more for the DIY idea than the notion of actually buying this specific stool. Places like HomeGoods and Target and Garden Ridge sell extremely similar stools with basic brown upholstery on top for under $50- so you could get this look with a quarter of a yard of fabric and a staple gun (just unscrew the top of the stool from the underside and staple the new fabric nice and tightly before putting the seat back on).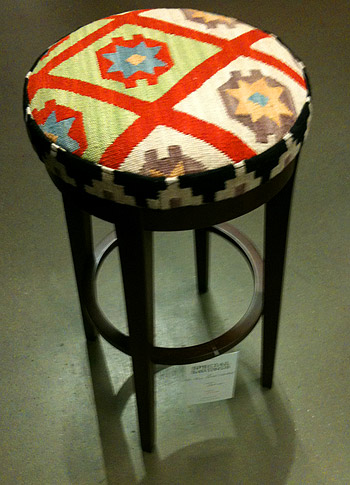 These pretty tiered plates would look sweet on a kitchen counter (or party table) full of goodies or fruit. I forgot to note the price but I think they were $14 or $19.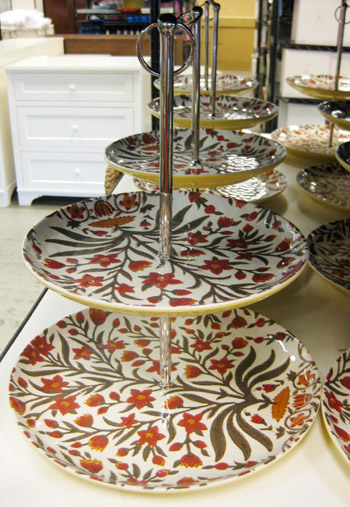 This big round mirror looked Restoration Hardware-ish and would be one of those pieces that makes a room. It was also marked down by almost $100 (from $279 to $194). Still steep but pretty darn gorgeous.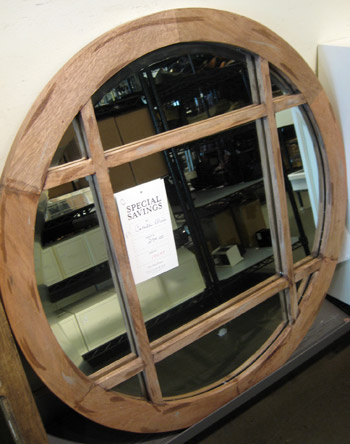 This window-looking mirror was $208 (down from $299) but for a dark room that's missing a window (like a basement) or even a large span of wall that could use some architecture, two hundred bucks is a lot cheaper than actually adding a window. Or you could use it as inspiration and DIY something with an old mirror from a salvage yard and some add-on mirrors.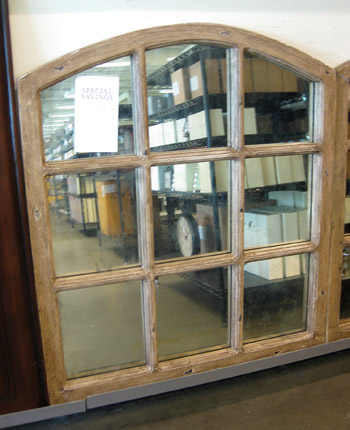 John died for this oversized clock but after drawing a blank when it came to where the heck we'd hang it we decided to leave it for the next person. It was marked down from $249 to $124. Still semi spendy, but this is another one of those room-making things.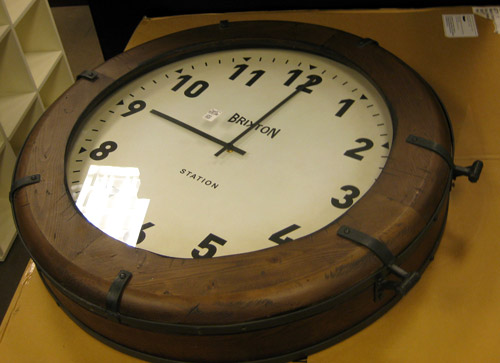 This is also a photo that I took more for the idea than the concept of buying this specific item. This charming chalk board easel might be something we could DIY someday (it was $169 down from $199, but I bet the materials would be substantially less expensive if someone were to make it themselves).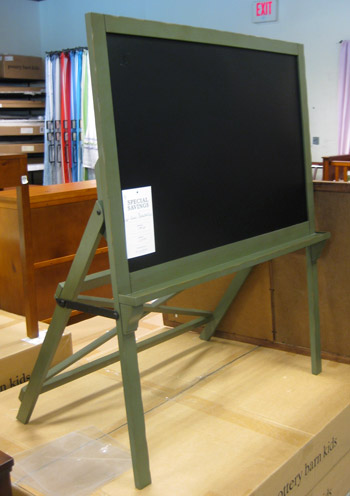 These urchin bowls were textured and fun (priced at $9.99 each, down from $15).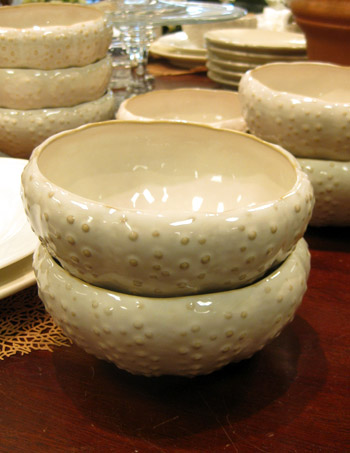 I wish I could have taken a picture of this out of the box (none were on display and I cracked a box open but it was disassembled). Apparently PB sells a pink kids version of a Dyson vacuum complete with realistic sounds and little beads that jump around when you push it back and forth. It was $24 (down from $50) and I actually debated it for the bean (it's a lot cheaper than a real Dyson and it never hurts to get the young ones into cleaning from the get-go) but the car was pretty packed already (baby stuff + dog stuff = tons of stuff). So we left it behind.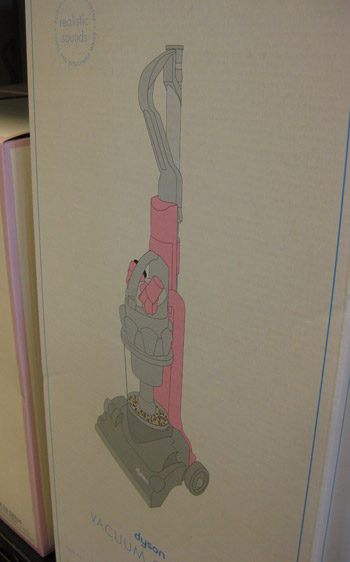 I could totally envision a few of these chairs painted white (or soft gray) with chic cushions at our future kitchen island (I love the idea of comfortable stool seating with a back). They were priced at $99 a pop (down from $200 each) but since we don't even had an island yet (and there was no room in the car) I tearfully walked away.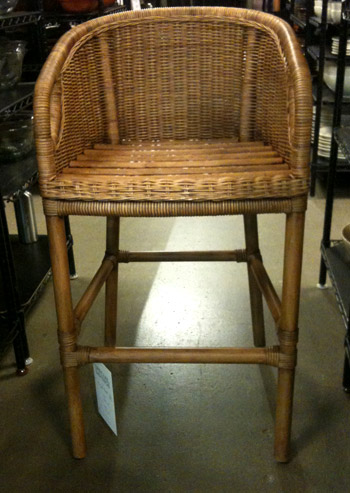 These little silver ornament frames were just $5.99 (down from $10 a pop). Cute for adding family photos to the tree (and pics of your dog in a Santa hat if you're weird like us).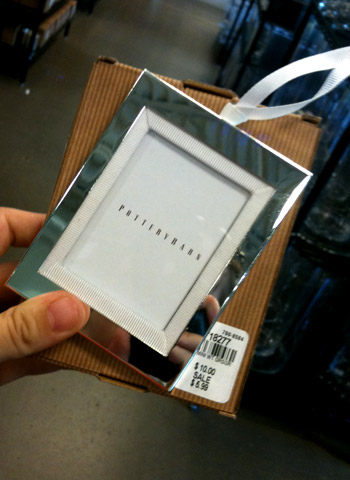 I loved the idea of someone getting this faux sea fan "placemat" (it was made of flexible cut-out rubber) and then spray painting it a bold color (navy?) and framing it on a homemade burlap or linen backdrop. It was $9.99 (down from $16).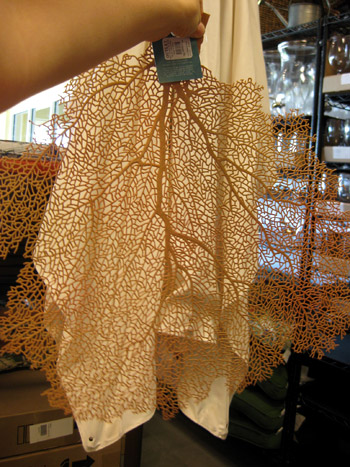 These cute braided red lamp shades could definitely add texture to a room in need of a shot of color or interest (they were on sale for $19 each):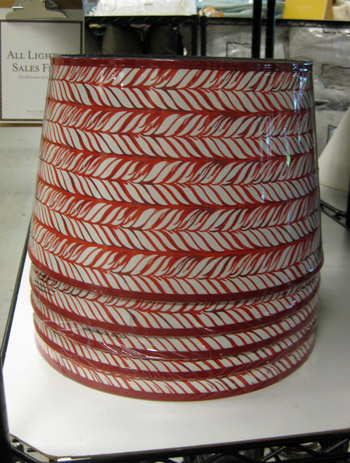 This pretty pillow sham was so textured and tonal (priced at $32, it was still a little not-outlet-y enough for me thought).
And then there was the lighting. Oh the lighting. There were so many great sales in that department I could hardly contain myself. Especially since our house has a whole lotta lighting to be updated. This charming bronze sconce with the oversized seeded glass bulb cover had me at hello (and it was just $39). But the color isn't exactly what we're going for (I'm an oil-rubbed bronze or silver/stainless/nickel girl lately) so I left it for the next light-hunter to pounce on.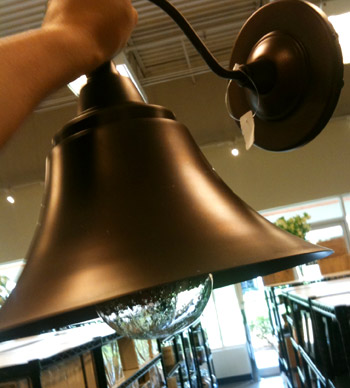 But I couldn't leave this baby behind. At just $29 (cheaper than most lamp shades and down from $80) this 8″ wide hardwired pendant will be perfect for over the sink when we start upgrading the kitchen.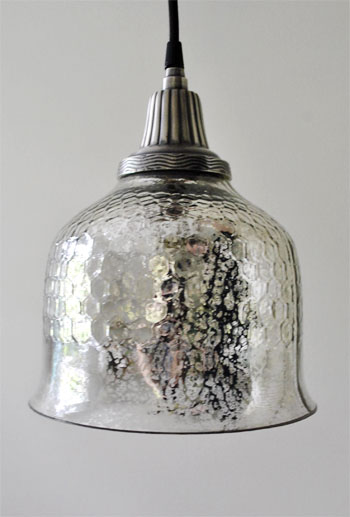 Everything from the mercury glass tone to the subtle honeycomb shape on the shade (you guys know we have a thing for bees right?) screamed buy me. So we listened.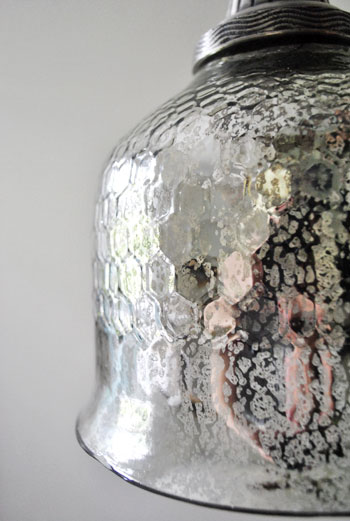 Which explains why these pendant photos were snapped at home (and not with my iPhone in the store). Now it's just sitting in the playroom until the big kitchen makeover gears up (soon I hope, J and I were brainstorming stuff on the drive home along with writing our book – yes we had laptops charged and Microsoft Word open for most of the trip). So that's what we saw while window shopping slash actual shopping. Any favorites? Have you guys seen anything lately that you couldn't not buy? Let's talk shop shopping.