We're long overdue on our front walkway project update, but now that we're getting a bit of rain, the grass is finally filling in between the slate that we painstakingly arranged and dug-in over the course of a few weekends in May (click those links for more pics and a step by step slate-laying tutorial). There are still a few spots that will fill in even more over the next month or so (thanks to a few hurricanes that will send some much needed rain our way) but we figured you waited long enough for the big reveal, so here it is. But first a walk down memory lane.
Here's the path we inherited with the house. A shoddy old tripping hazard with wooden beams, loose slate and overgrown leaf filled grasses: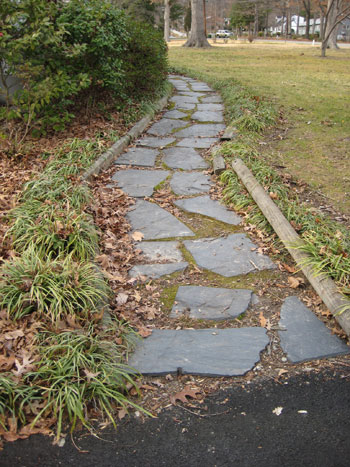 And here's what we were left with once we dug up the overgrown grasses on the right side of the path along with the old rickety slate: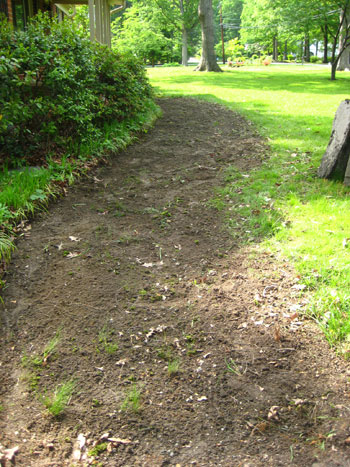 After widening the path, and making sure things were a lot more level, we tackled the backbreaking task of placing each tile along the path for a much more deliberate and clean appearance. And since we didn't have a wet saw to cut the edges of the slate, we just had to piece things together to achieve a clean edge along the right side of the path. Thank goodness we had some extra slate from our old patio to choose from: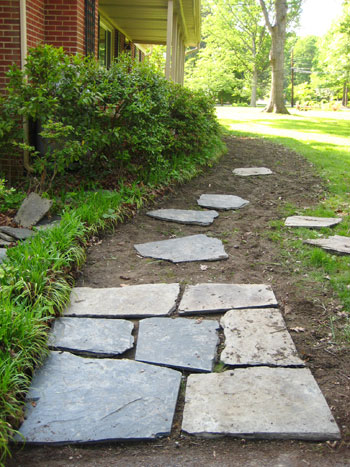 It ended up taking us a looooong time, but the outcome was something that we're both really happy with. And the varied colors and tones in the slate have an unexpectedly luxe effect- almost like a bluestone walkway: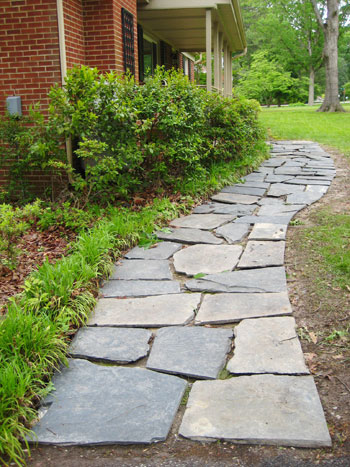 Then we had to dig everything in to keep the slate from teetering as visitors approached our front door. And of course this ended up being a super long process as well, but the result was oh so worth it: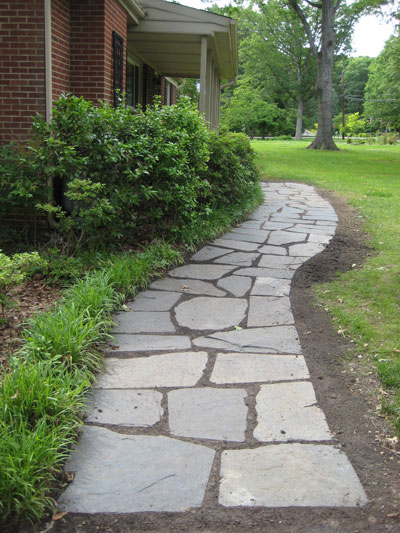 Then all we needed was some grass seed and a little water. The summer months were so hot that our sprinkler didn't cut the mustard, but a few natural rainstorms just swept through… and lo and behold, we have grass: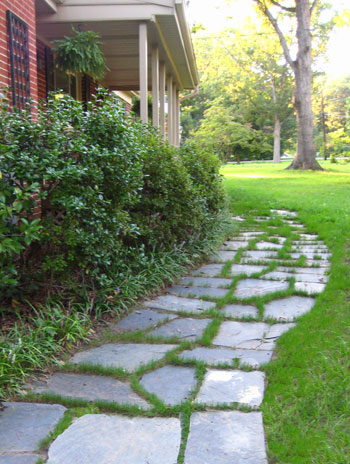 We love the wider, more open pathway to our front door (that feels a lot less invasive thanks to the removal of that dastardly monkey grass). And we really like how the traditional material (slate) works with the traditional exterior of our home (red brick, black shutters, red door- we even dream of a slate roof one day). But it doesn't look too formal and rigid thanks to the soft curve and the cottagy-grass growing in between the stones. Hooray for a delicate balance. If you can refer to 900 pounds of rock as delicate. And thanks to our super thorough job of digging everything in, there's nary a rickety slab in sight- which we know the Fed-Ex guy appreciates.