We just had to share this mini makeover for almost no money, especially since you guys really seemed to enjoy reading about Carrie's swankified Philly apartment. See, while we were working on the living/dining/kitchen area we couldn't neglect the blindingly white bathroom, so we showed Carrie how spending next to nothing could actually yield a pretty dramatic change in her blank slate of a bathroom. Without further ado, the loo.
Here's the before picture. We're not kidding when we said it was a blank slate. White on white was certainly a clean look…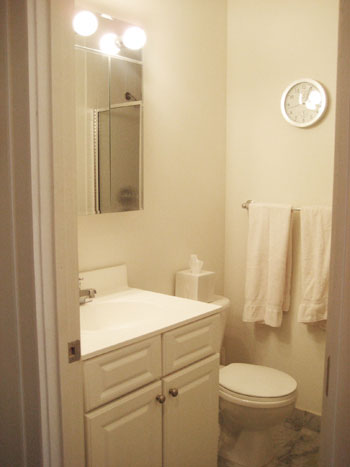 … but we thought it would be cute to tie in some of the green that we added to her living space (along with a pop of red) to liven things up a little: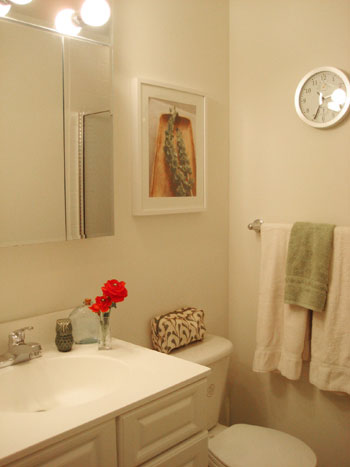 All it took was some cute collectibles that Carrie already had in her home, a few red blooms for a burst of color, a green hand towel for a few buckaroos, and a leafy Ikea print for more of our spa-like green accent color. Even Carrie's make-up bag matched our new color scheme, so we dug it out from under the sink and put it on display atop the toilet for another nature inspired dash of green. Gotta love how a few accessories can take a bathroom from stark to sweet.