It's been so long that I betcha forgot about our front walkway project, didn't you? You can get a full refresher here, but the gist is that we ripped up our shoddy old path and used leftover slate to piece together a bigger and better walkway to our front door. It was a weekend full of work and we left off with the simple task of digging all the slate into the ground. Here's a pic to jog your memory (before the big dig):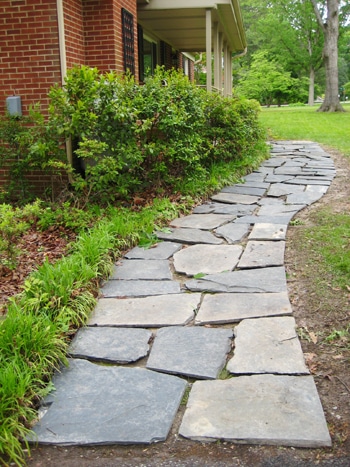 That simple task of digging in 48 pieces of stone turned into a four-day back-breaking adventure, all in hopes of engineering a wobble-free perfectly-graded welcoming walkway to our house. Which is why my follow-up post is coming so late. But in the end, victory was ours.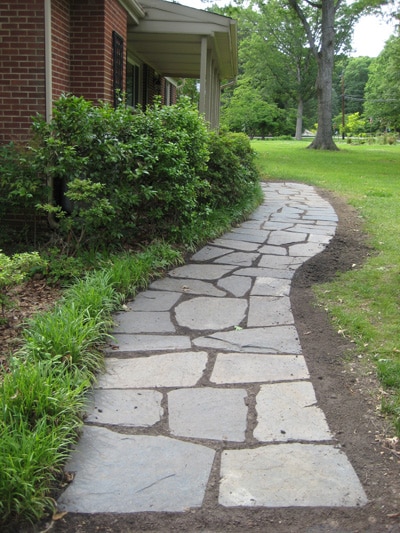 Why did it take so long? Let's just say there was a lot of trial-and-error involved in digging perfectly shaped holes for each piece of slate. Some people use a bed of sand to make this process easier, but we feared that it might jeopardize our chances of getting grass to sprout in between the slabs of slate, so we did it the hard way. No guts no glory, right? Making sure the stones didn't rock when we walked across them ended up being more art than science, and it typically took 4 or 5 tries to get it just right. Not to mention keeping all the pieces level with the slope of the yard.
But it's done and you can now walk to our front door without twisting an ankle. And as of last night we laid grass seed along the seams and are now just waiting for some green to show. So there's one more "after" photo still to come… just don't hold your breath.