Last year was our very first year spent playing farmer. Perhaps I should rephrase that. Last year we enthusiastically planted some herbs, veggies, and fruits in a small backyard garden that we created just for that purpose. Farmer might be a bit of a stretch, but for two not-always-great-with-plants people, it was quite a lofty goal… and it worked! Now that spring is back in full bloom (and the local farmer's market is finally open again) we were able to replant a ton of new stuff and some old favorites too. You can read about how we originally prepped and planted our edible garden right here (tip: we used some non-edible evergreen shrubs to fill things out and keep it looking good year round). And you can see how that garden did thanks to a little update that we posted a few months later right here. And now for this year's edible garden status report…
We're not gonna lie. Things were looking a little bleak when we started. Overgrown seen-better-days daffodil leaves were all floppy on the ends of our planting bed, and don't ask how many leaves were somehow still living among the evergreen shrubs since last fall.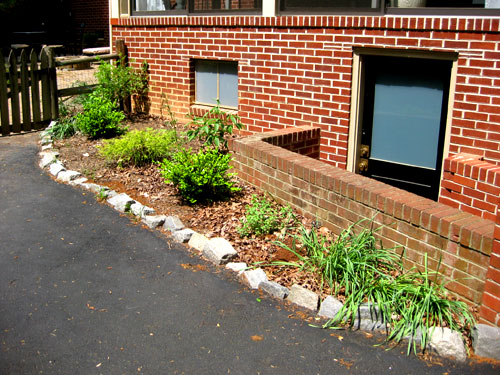 But it was nothing that a little raking and daffodil-stem-cutting couldn't solve. And once the garden was a bit less unkempt looking, we were able to start playing around with the placement of the new herbs and veggies that we picked up this year at the farmer's market (the first day it opened actually, we were seriously missing our free backyard eats).
This time we grabbed some old favorites from last year like three sweet basil plants and two different types of tomato (two Roma tomato plants and two cherry tomato stalks called Riesentraube) along with some new additions (two chive plants, some mint, some rosemary, a bit of cilantro, and a Charleston bell pepper). Oh and we can't forget that some things shocked us by coming back from the dead, so there was no need to replant them (our oregano and parsley sprung up to surprise us this spring). Plus the raspberry bush that we planted last year is a perennial, so we expected that to come back and are happy to report that it has been thriving since the warmer weather hit a few months back. We should have some fruit on that in a month or so.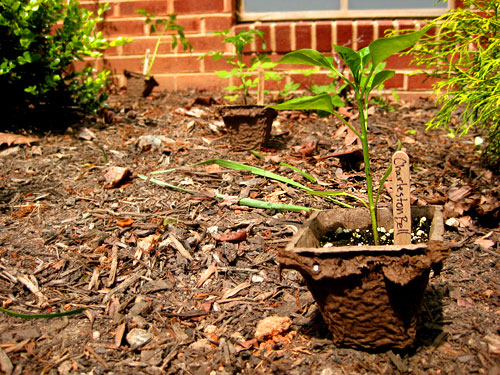 As we mentioned we also already had some shrubs in the garden (planted as part of last year's garden-establishing project) that look great year-round and fill out the area so it looks a bit less like a random hodge-podge of dinky herbs and veggies. Of course the existing peony bush and rose bush (both inherited with the house) on either side of the back row in front of that frosted window help to keep things looking good. And the two Winter Gem Boxwoods and the feathery Cypress King's Gold bush in the front row also lend structure and form to the garden so our smaller sprouts don't look too piddly and alone.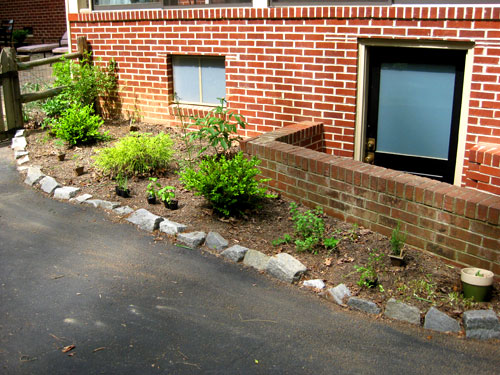 That other leafy thing you can barely see between the peony and the rose bush in that back row in front of the frosted window is the aforementioned raspberry bush that we planted last year (we can't wait for that to sprout up- it actually gets pretty big and anchors the whole back row even more). So with those shrubs already in place, we just spaced out the smaller herbs among the larger established plants for a nice balanced look. We put the smaller low-growing herbs in the front row and the ones that we knew would get bigger (like the tomatoes) towards the back and in spots that had more room for them to fill out. There wasn't much more of a method to our madness, except that we grouped like herbs (so all three of our basil sprigs were planted together, as were both of our chive plants).
Oh and we also learned a tip about the mint that we added to the mix this year: plant it in a pot and bury that in the ground (see the green pot in the right corner of the shot above?). It'll look like all of the other herbs since the pot will be completely hidden, but mint is a spreading plant that can threaten to take over your whole garden, so by keeping the roots confined to a pot you'll save it from monopolizing your garden by the end of the season.
So after we dug that pot in for our mint and planted the rest of our farmer's market finds (we used some free backyard compost to give them all the nutrients they'll need) it was time to mulch. And before we knew it we had a nice little edible garden staring back at us. We even used a few popsicle sticks to label things, just to keep them straight. Besides, it looks kind of charming and homegrown, which adds to the sweetness of the little herbs and veggies interspersed between the larger bushes and shrubs that live there year-round.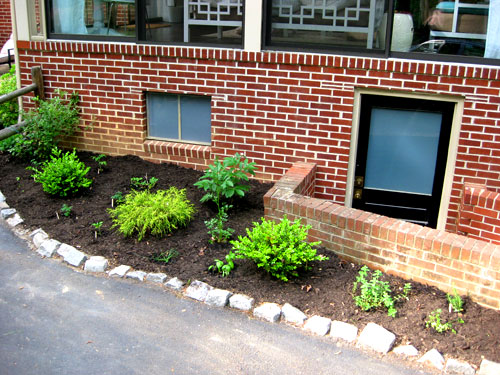 Here's the view from above (peering down from the sunroom):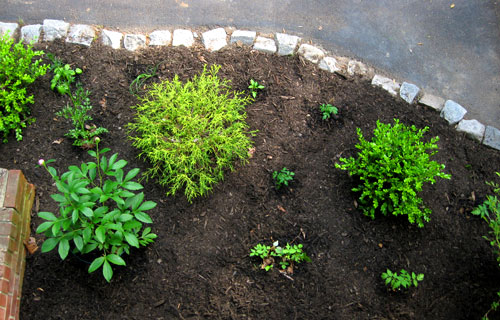 Since these photos were taken we've already eaten a good amount of oregano, rosemary, and pretty much all of the basil (thank goodness it grows back quickly). And we already have requests from friends and family members for some tomatoes (they're so easy to bring when you're visiting- and of course you feel so fancy when you get to mention that you grew them yourself).
In other news, pretty much right after we mulched everything in our garden, the pretty pink peony started to bloom. Sweet.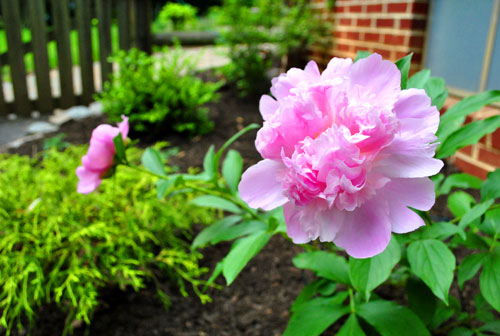 Oh and we suppose we should talk about the cost of our little garden habit since we know you love a good budget breakdown. Last year we spent less than $60 prepping the soil and planting all the foundation shrubs along with the first round of herbs, veggies and fruits. And this year we only spent $19 for all of our new herbs and veggies to replenish and substantially add to our original supply (and that cost also includes two bags of mulch to keep things moist). Considering you can easily pay $16 for a store bought container of basil and oregano along with one small basket of raspberries and a small tub of cherry tomatoes- an entire season's worth of fruits, veggies and herbs for that price is definitely worth about an hour of planting and mulching. We really can't emphasize enough how black our thumbs were last year when we decided to start an edible garden, but they're super easy so there's really no green thumb necessary. Just try to water things if they're looking super dry, but other than that they're pretty much an auto-pilot thing. So if you're wondering if you can do it, trust us… you can.
And on a totally random tangent-type note, our backyard irises (planted by the lovely original homeowners nearly 50 years ago- so they're HUGE!) are back in bloom. But on an edible-garden-related note, they smell good enough to eat.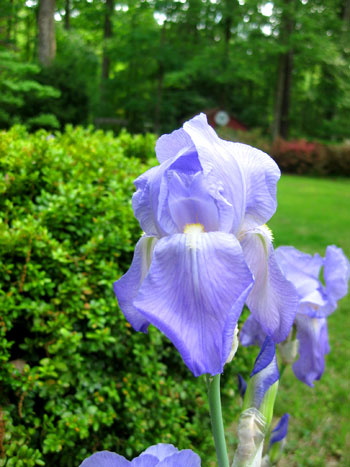 So that ends the garden update. What are you guys planting these days? Any other edible gardeners out there? Any favorite fruits, veggies or herbs that you plant (or wish you could plant) each year (we're always so jealous that Meyer lemon trees can't live outside in our climate)? Any container gardeners (or windowsill gardeners) out there making optimal use of a small space? Tell us all about it.
Psst- Wanna know how we water our garden for free (courtesy of mother nature). Check out this post all about how we built a rain barrel. And learn how we created a super simple backyard composting bin right here.